Momyer Creek Trail to Alger Camp is located in Forest Falls in the San Bernardino Forest. When it's 96 degrees in the valley and we want to hike we have to head to the mountains. We decided that since we were hiking with dogs and we did not want to push them too hard in the heat we would try the Momyer Creek Trail because there are water crossings and some shade. Our hike was 9 miles roundtrip.
Momyer Creek Trailhead
It was an easy one-hour drive to the trailhead for us. Momyer Creek trailhead is reached by turning east off Highway 38 to Forest Falls, continue up the road 3 miles to the large parking area on your left 100 yards before the fire station. The address is 40560 Valley of the Falls Dr. in Forest Falls, CA. There is a dirt parking lot with trail signs, trash cans, and picnic tables, however, there are no bathrooms.
Crossing the Creek
The trail immediately descends into a wash and you have to cross Mill Creek. There is no bridge, so use extreme caution. We were able to pick our way across on rocks and logs. The water was moving rapidly and looked a little too deep to plunge in and try to cross that way. Flash floods have occurred in the area that has resulted in many hikers needing to be rescued so make sure you are aware of the weather conditions before you cross.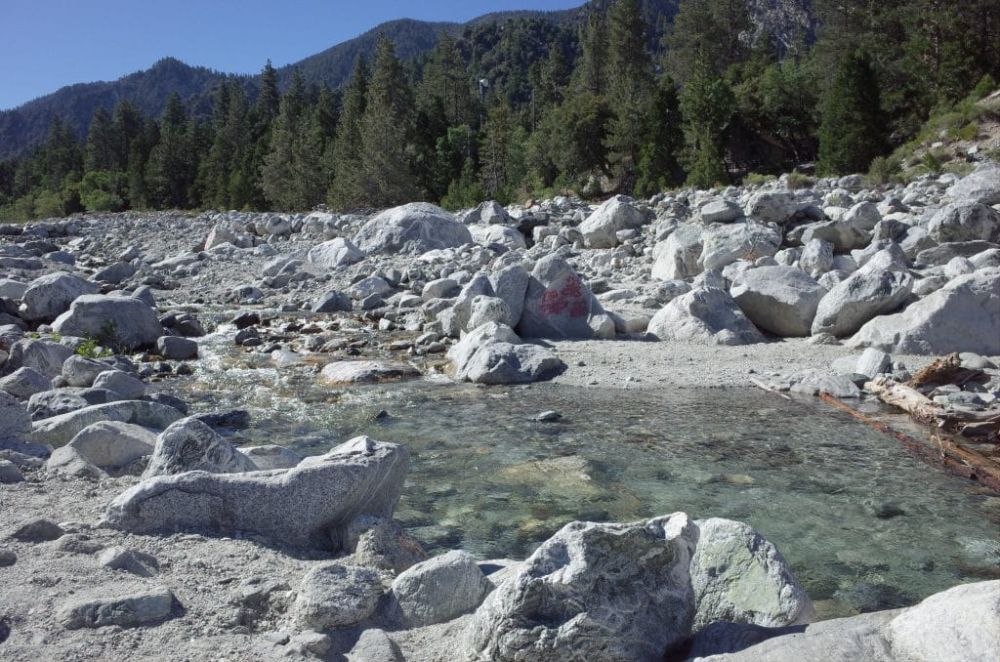 Heading up Momyer Creek Trail
Immediately after crossing Mill Creek, we saw a sign that stated in 3 miles we would need a wilderness permit, however, we were heading towards Alger Camp and we wouldn't be needing a permit. At this point, the trail starts to head up via switchbacks. The trail gains bout 1,800 feet in 3 miles and is moderately strenuous. A lot of the trail is shaded by big oak trees on the way up, so it makes it a great option for a hot day. We were hiking in June and the wildflowers were amazing. There were large patches of Lupine and Indian Paintbrush along with some flowers that we did not know the name of. After we had hiked 2 miles we stopped on a log and gave the dogs a drink. We were able to find the perfect place in the shade.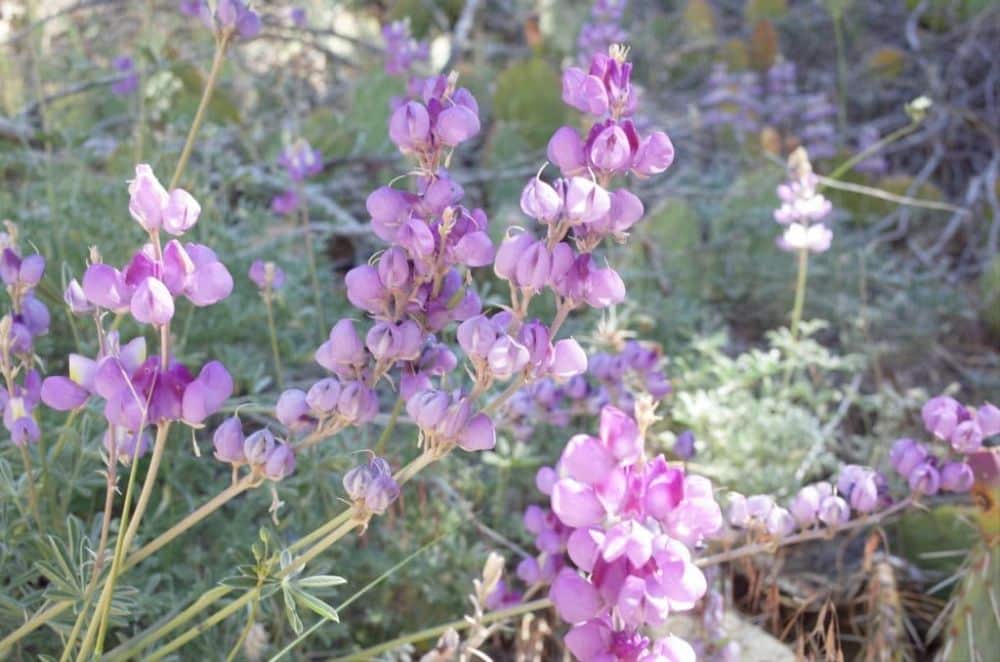 Entering San Gorgonio Wilderness
At approximately the 3-mile mark we saw the sign for San Gorgonio Wilderness. Shortly after the sign, we came to the juncture for San Bernardino Peak, Alger Creek, and Dobbs Cabin. There was a sign for Alger Creek and Dobbs Cabin, but nothing for San Bernardino Peak. If you would like to head to the peak there is a small trail on the left side that heads straight up the mountain. It's another 3,000 feet of climbing to reach San Bernardino Peak. In order to continue on that trail, you do need a wilderness permit. We followed the trail that veers right towards Alger Creek.
Heading Down to Alger Creek
The trail down to Alger Creek follows a series of small switchbacks. This is a shady section of the trail. At one point we walked into a small patch of Redwoods. The Redwoods are towering above the other trees. We also walked past a small spring that is bubbling out of the side of the mountain. The extra water in the area is helping the ferns grow. The path down to Alger Creek is just .7 miles. We saw a sign when we got to the creek and in order to get to Alger Camp, we needed to cross the creek. Again we were able to get across on a combination of rocks and logs.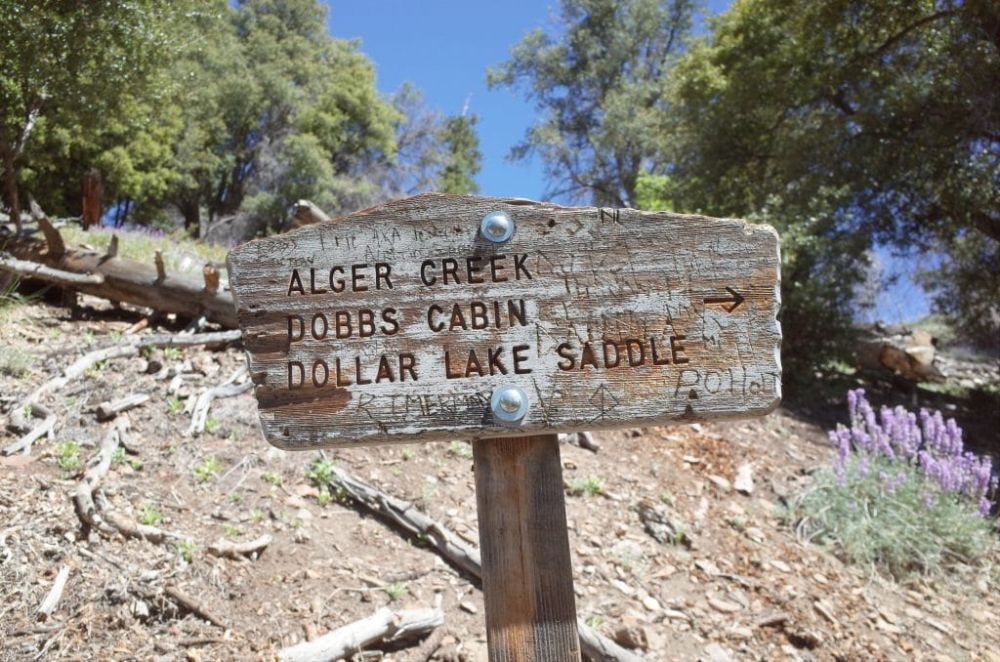 Alger Camp
Alger Camp is located .25 miles below the creek. There are some big logs to sit on. We saw where someone had set up a tent before, but there wasn't anyone camping there. Alger Camp might be a good location for an overnight backpacking trip. No fires are allowed, but you can use your gas stoves. With the creek running by there is an endless supply of water as long as you are filtering it. We ate our lunch and let the dogs rest in the cool shade. It was a peaceful location if you don't take into account the biting flies. We could have continued on the trail for another 2 miles to Dobbs Cabin, but according to AllTrails, there isn't much to see there so we turned around and headed back the way we came.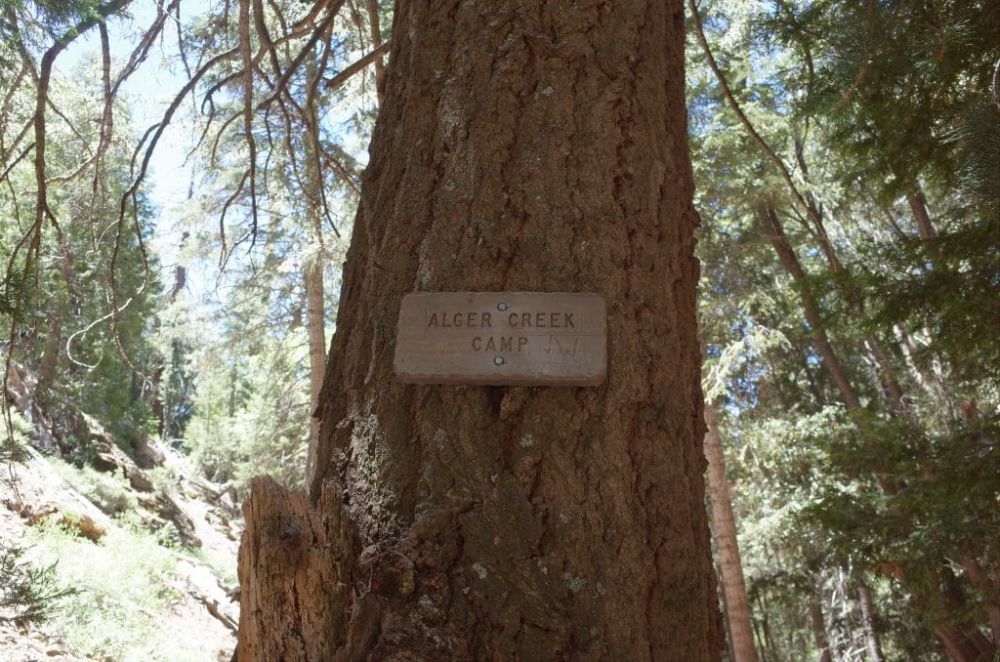 Hiking Back to The Car
The first .7 mile was uphill and after that, we were pretty much headed downhill until we got to Mill Creek. The way back was much warmer and we had to stop several times to give the dogs water. The views were great. We could see Yucaipa Ridge, San Bernardino Peak, and Mill Creek Canyon. According to the Forest Service, this is one of the most underused trails in the San Gorgonio Wilderness within the Sand to Snow National Monument. We saw a total of 3 people the entire day. We were again able to cross Mill Creek safely. There is not a clear path back to the car we just had to carefully step over rocks along the wash. Although this hike doesn't have a big pay off it is a beautiful trail with good views and plenty of shade for a warm day.