Big Dalton Dam Trail in Glendora, CA is a family-friendly trail that is rated as easy on Alltrails. The trail is 2.6 miles out and back and there is a tiny man-made waterfall at the end.
Parking
You can find parking easily for this hike on Big Dalton Canyon Road. There is parking on the south side of the street. In front of the parking is a large sign that has a map of all the trails in the area. In addition to the map, there are also some warnings such as beware of rattlesnakes, mountain lions, and poison oak.
Big Dalton Dam Trailhead
Across from the parking area is a giant signpost that is labeled (Big Dalton Canyon) this is the way you want to head. At the trailhead, there is also a trash can, a container with empty poop bags, and a Rotary Club-sponsored box that sometimes has trail maps in it.
The Hike
The hike is easy and is the perfect trail to take children and dogs. Dogs are allowed on the trail as long as they are leashed. The trail is relatively flat with plenty of shade because you are walking through a canopy of oak trees. Kids will love the fact that the trail is next to a stream the whole way and furthermore there are lots of places you can walk down to the water. I saw kids sitting on rocks in the middle of the stream and hopping back and forth.
The Waterfall
The word (waterfall) is used very loosely here. At around 1 mile into the trail, there is a dirt path that leads down to the water. Here you will find a small man-made waterfall. Your kids will be way more impressed than you, but it is a serene place to take in nature.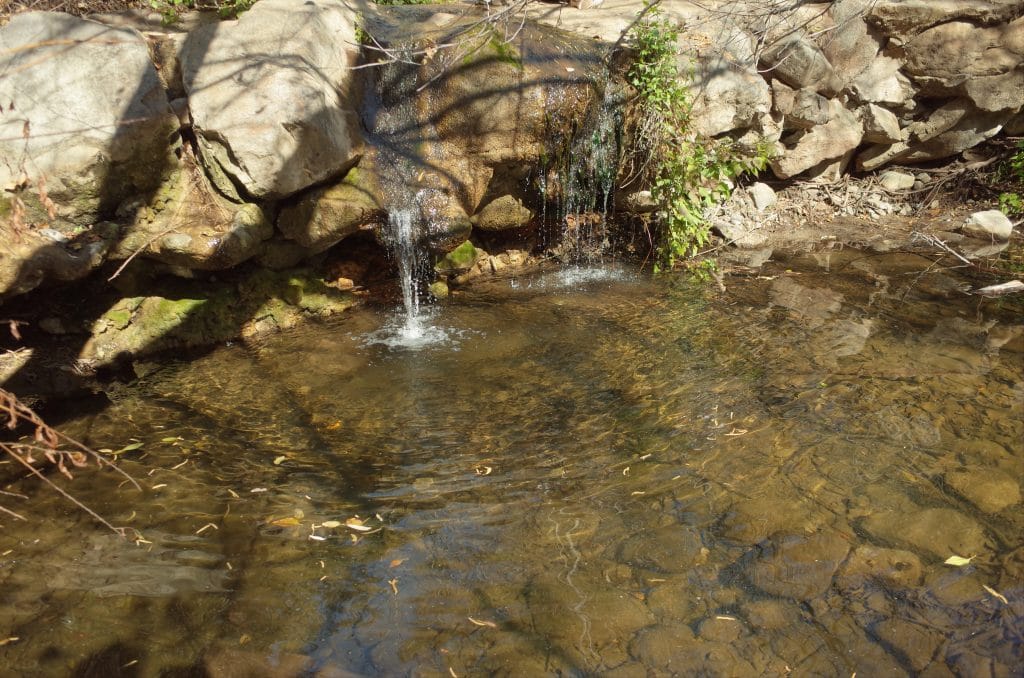 Returning to Your Car
Unfortunately, as of March 2021, the waterfall is the end of your hike. They are currently doing construction and the rest of the trail that heads towards the dam is closed. However, if you are in the Inland Empire and looking for a short hike to take kids or dogs I think Big Dalton Dam Trail fits the bill. We saw birds, squirrels, and crayfish and we heard frogs in the stream. The trail would even be okay to hike in the summer because of it being short and lots of shade and since you are already in Glendora after your hike, you could stop at the World Famous Donut Man for a strawberry donut or a Tiger's Tail.