It's not just thru-hikers that need to be prepared, your backpack should have the 10 essentials for a day hike. It's easy to think that you won't need all 10 on what you hope will be a short enjoyable 5-mile hike, but it's better to be prepared.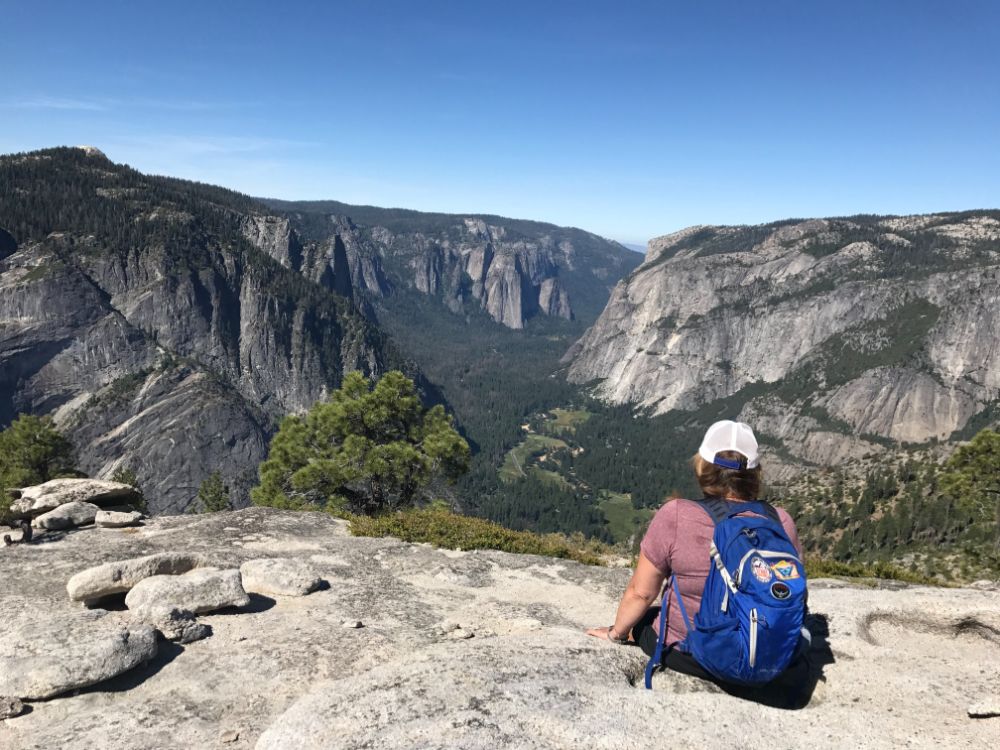 The 10 Essentials for a day hike are
Appropriate Footwear
Maps & Compass
Water
Food
Layers & Rain Gear
Safety Items
First Aid Kit
A multi-tool or knife
Sun protection
Shelter
Appropriate Footwear
If you spent any time hiking you realize quickly how important it is to take care of your feet. A good pair of hiking boots or trail runners can make all the difference. I own both and switch them off depending on where I'm hiking. My boots are Salomon X Ultra 3 Mid GTX Hiking Boots. They are waterproof so if the weather is going to be wet I definitely choose them. I also prefer my boots if I know the trail is going to be covered in rocks. I feel like they protect my toes and my soles from the pain of stepping on a rock. My trail runners are Altra Lone Peak 6 Trail-Running. They are perfect for when it's hot and I know I'm mostly going to be hiking on a clear trail.
In addition to shoes, socks are important. Good socks can help prevent blisters. I love my Darn Tough socks and I would never hike in a 100% cotton sock again.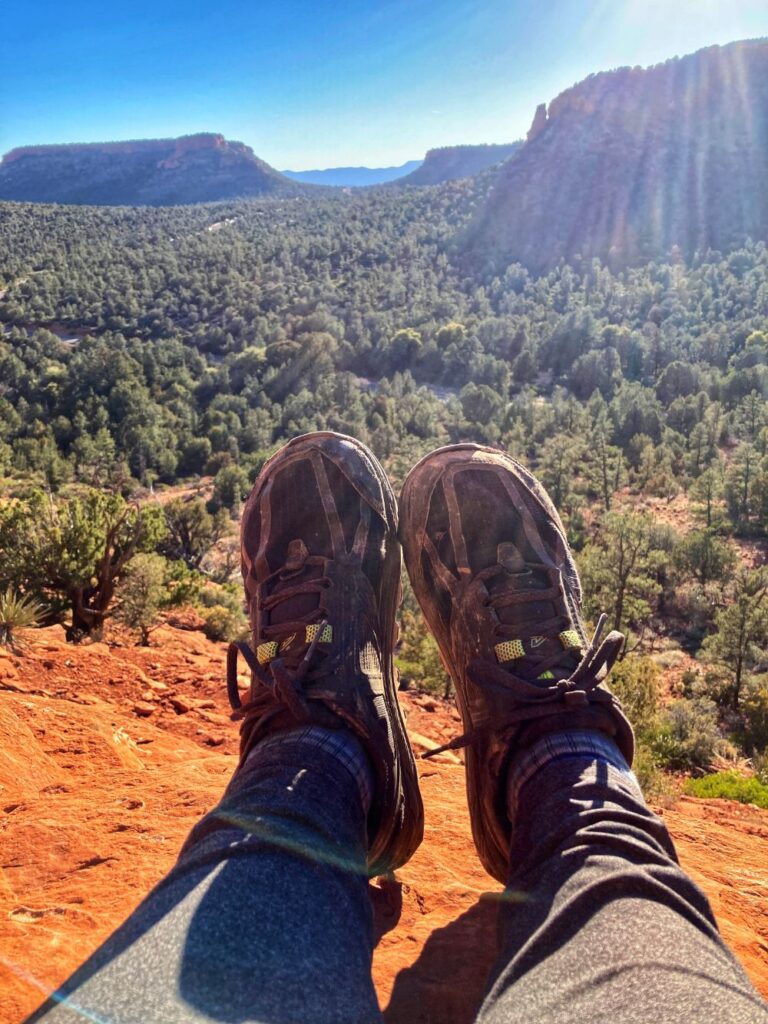 Maps & Compass
My cell phone is a great tool, but 9 times out of 10 I don't have service where I'm hiking. I do use my phone when hiking. The Alltrails Pro App lets you download the map before leaving the house, however, it is a good idea to have a paper map with you for the area you are hiking in. I live in Southern, California and a forest fire is always a possibility. In case of a fire or another natural disaster, a map and a compass will help you navigate another way out.
Water
A good rule of thumb is to plan for ½ liter of water for every hour you'll be hiking for moderate or strenuous hikes. For longer hikes, I also bring a water filter if I think there might be a water source that I can filter from. Some hikers keep a Life Straw in their backpacks for emergencies. The Life Straw lets you drink directly from the source because the filter is built into the straw.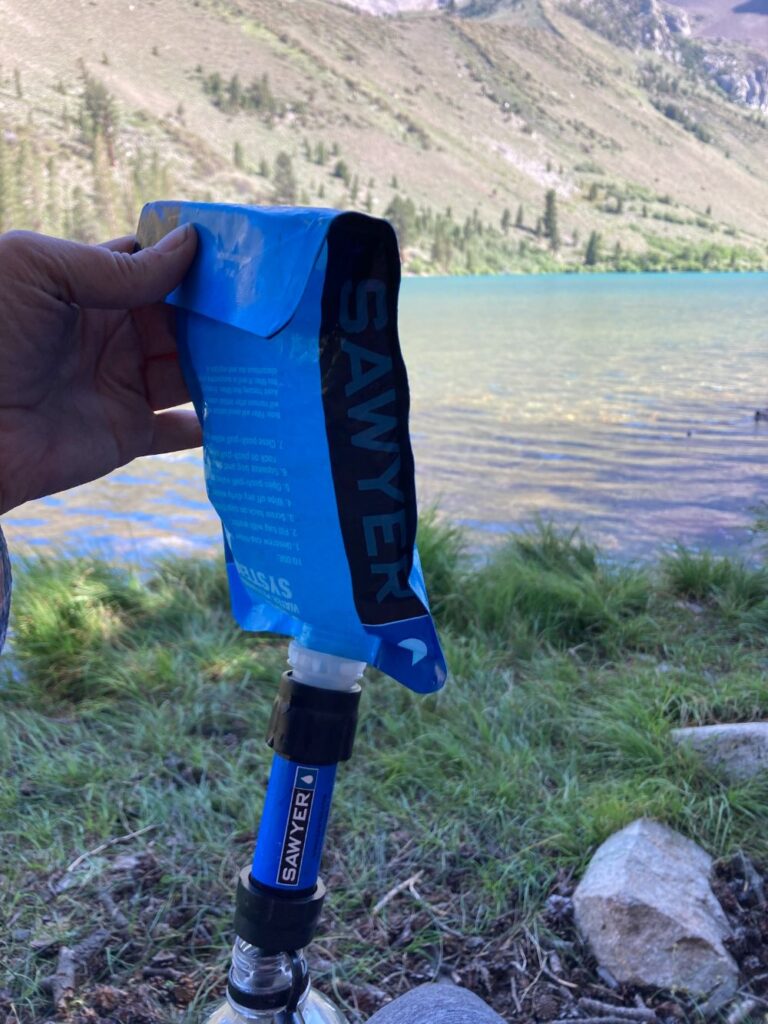 Food
Snacks are essential for a hike. It's a good idea to bring calorie-dense snacks. Ask any hiker and they will tell you their favorite snack that gives them a little boost on a tough hike. Sometimes a few gummy worms will give you enough energy to make it up the last hill. In addition to something for lunch, I always have a protein bar and some almonds in my backpack in case I have to spend the night in the woods.
Layers & Rain Gear
For day hikes you should dress in fast-drying moisture-wicking layers and remember the rule, "start out bold." If it's cold outside you should be a little cold when you start hiking. If you are too bundled you will have to stop to take off layers. Even worse if you keep hiking and sweat through all your layers. When you are covered in sweat as soon as you take a break you will get chilled and if it's cold outside it's hard to get warm when you're wet. Avoiding getting wet while hiking will help keep you comfortable so bring a raincoat. You can find an inexpensive raincoat that only weighs a few ounces and you can just leave it in your backpack. I also have a beanie and gloves in my backpack just in case.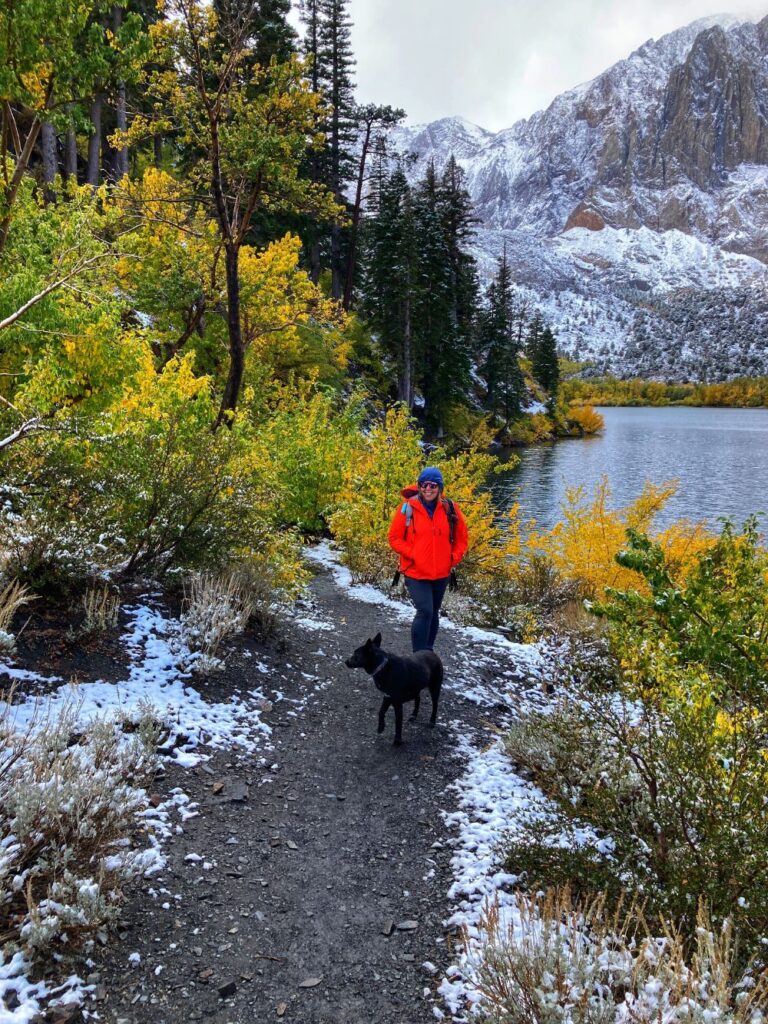 Safety Items
Some of your safety items should be a light, matches, a whistle, and a satellite messenger. I always have a headlight with a fully charged battery in my backpack. Things happen and if you have to hike out in the dark you will be thankful for a light source. In case you have to spend the night it is a good idea to bring waterproof matches or something else to start a fire. Hang a whistle on the strap of your backpack in case you need to get someone's attention. Satellite messengers are pricey and they require a subscription, however, after many years of debating I bought a Garmin GPS Mini. It gives both me and my family peace of mind that I can call for help even if I don't have a cell signal.
First Aid Kit
A small first aid kit that has supplies for injuries and illness. I'm allergic to bees so my kit also contains an epi-pen. If you hike with your dog make sure you have supplies for your dog too like extra gauze and large bandaids. I also have extra baby socks in case I need to put them over my dogs' paws. If you keep Duct Tape wrapped around your hiking pole you can use that to keep the socks on your dog.
A Multi-tool or Knife
I'm surprised by the number of times I have used my multi-tool. I've used it to get out a splinter, cut duct tape, and to tighten screws.
Sun Protection
The sun can be brutal on hikes. Sunscreen is a must and a hat will help keep the sun off your face. Don't forget your sunglasses even when you're hiking in the snow during the winter.
Shelter
I know what you're thinking, "I'm just doing a day hike I don't need shelter." There have been plenty of hikers that have either gotten lost or injured and ended up spending the night on the trail. I only bring a tent with me when I'm backpacking, but I always have an emergency space blanket in case I need to shelter in place. These blankets weigh a few ounces and can really make a difference if you get stuck.
A Few More Good Practices
In addition to the 10 essentials, you should have for a day hike leave a copy of your hiking plans with someone at home. It should include where you're hiking, the name of the trailhead, and your anticipated return time. It's always better to be prepared