Just outside of Death Valley, California are the small towns of Tecopa and Shoshone. They are about 56 miles from Baker on 127 N (The Old Spanish Trail.) Over a 3 day weekend, Sally and I packed up our tents and dogs and headed to the desert.
Camping in The Desert
Our plan was to camp in Death Valley, however, only 1 campground takes reservations and because it was a holiday weekend we decided to stay outside of the park. I made reservations on The Dyrt.com. Basically, we paid money to stay on a person's private land in the middle of the desert with zero amenities. Sally and I left the Los Angeles area early on Saturday and drove to the Tecopa area in about 3 1/2 hours. We followed the directions from our host and found our patch of dirt. We pitched our tents, let the dogs run around while we ate a sandwich and we were ready to go explore.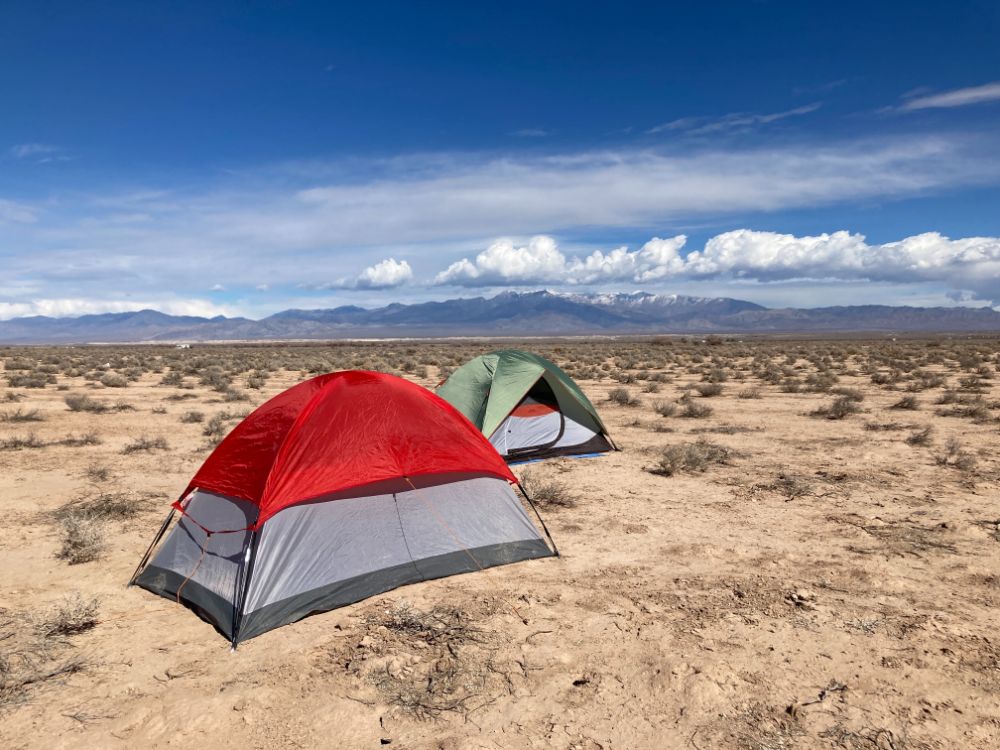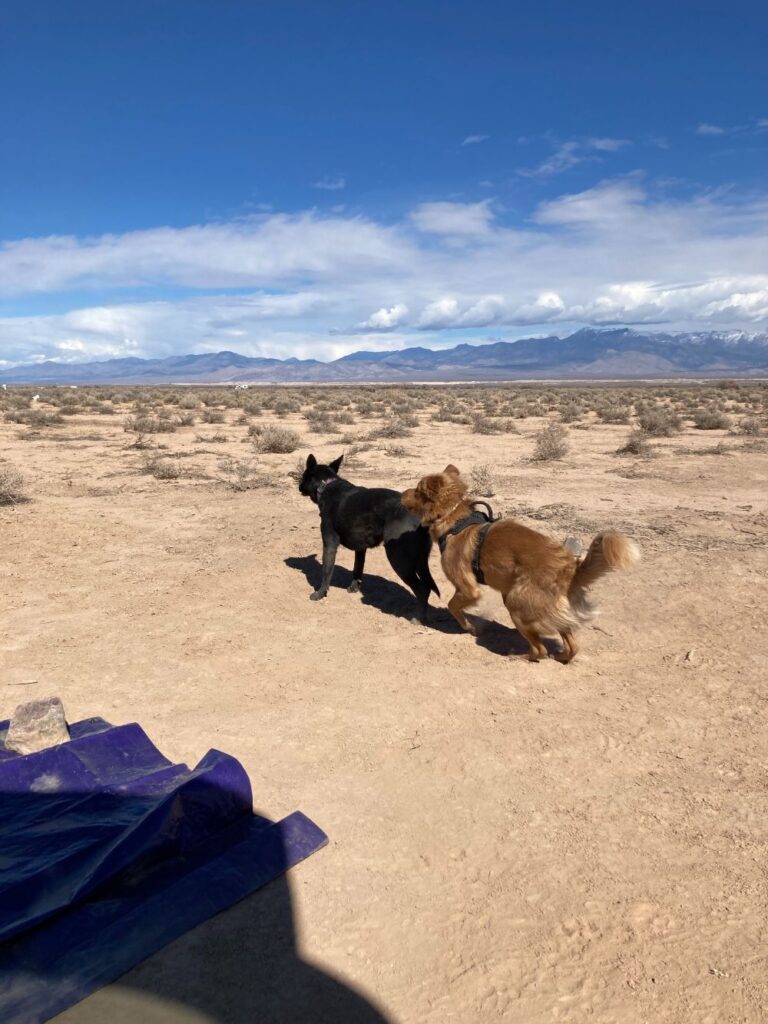 Shoshone, CA (Just Outside of Death Valley)
I looked on Alltrails for a nearby hike. We decided to visit Dublin Gulch Cave Homes in Shoshone. The town of Shoshone is located at the intersection of 127 N and 178 which heads towards Pahrump, Nevada.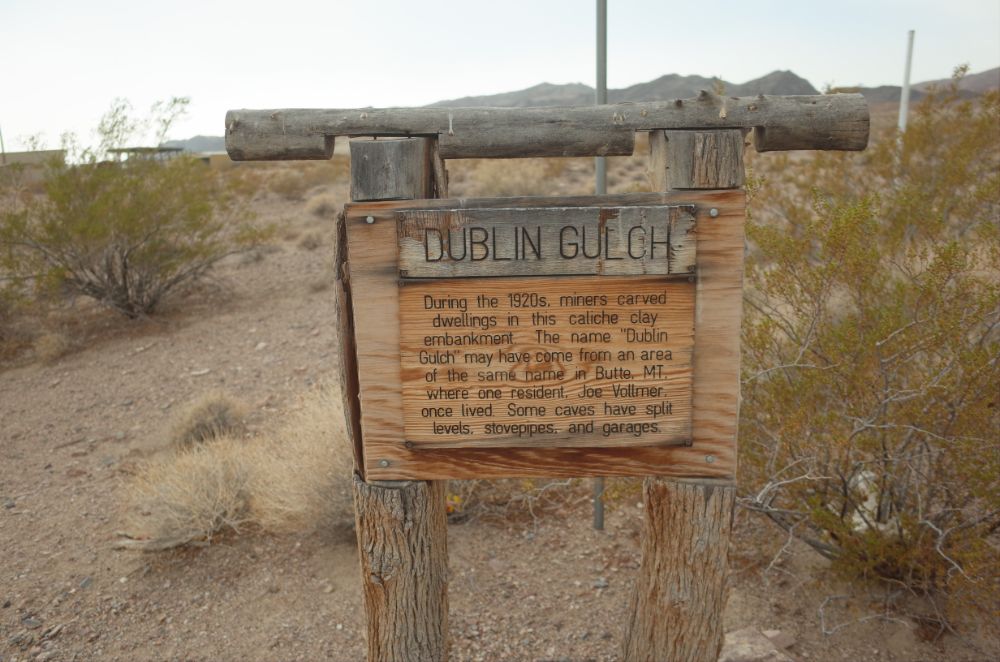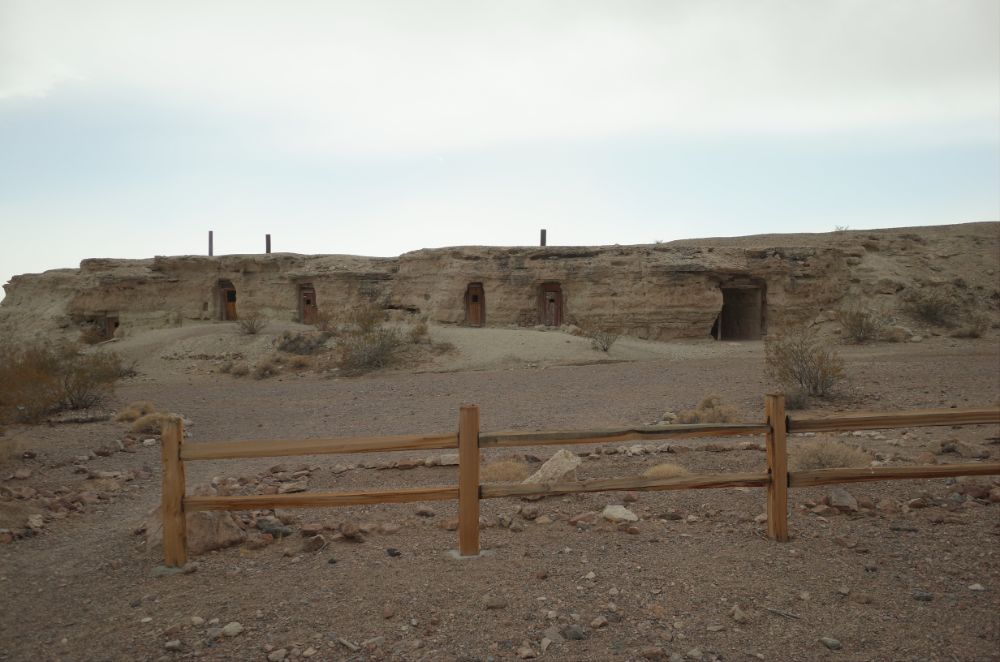 Modern Day Flintstones
The hike to the cave homes starts from the gravel parking lot and I'm using the word hike very loosely. It is really just a walk. First, we walked past an old cemetery that had more wooden crosses than actual gravestones. Next, we headed to the cave homes. The history of these cave homes is a little vague, but it seems that in the 1920s there was a silver boom in the area and Miners carved these houses into the solidified volcanic ash. The silver boom didn't last long and when those miners moved out Borax miners moved in.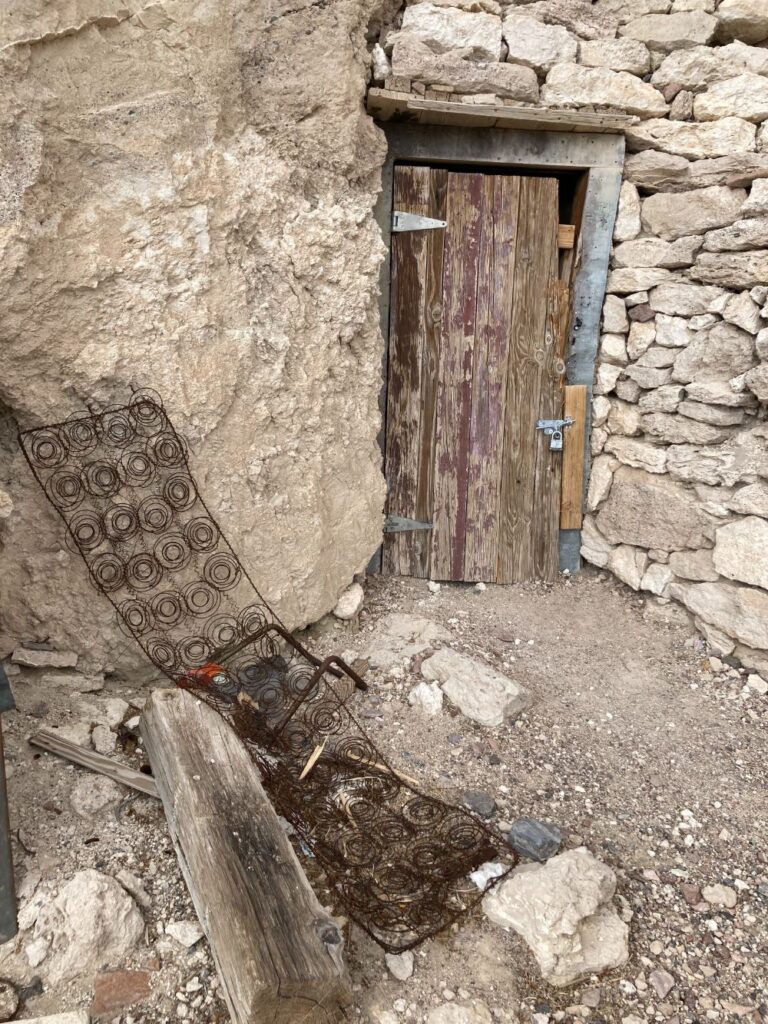 Miners Lived Here Until the 1970s
Miners and vagabonds lived in these cave homes until the 1970s. There is also a rumor that members of Mason's Clan even took refuge in the caves. There are doors on the cave homes and some have stovepipes popping out of the roofs. Today the doors are locked and the area is maintained by the Shoshone Historical Society. One industrious miner even carved a garage for a car. We were thankful for the garage because we had to hide out inside it when we got caught in an unexpected rainstorm.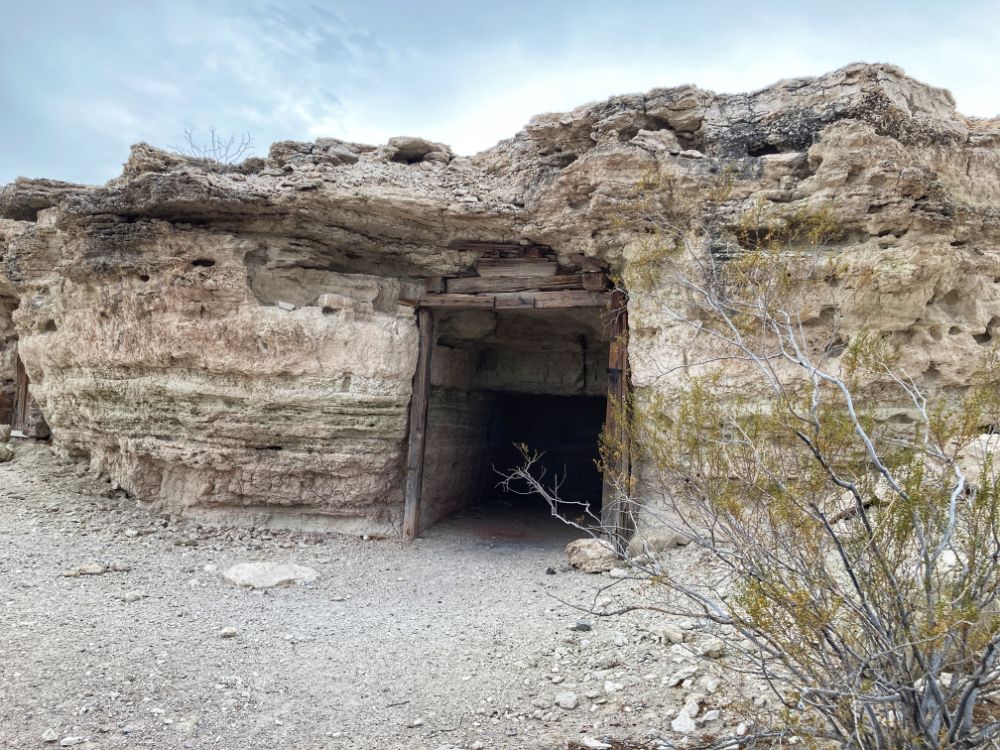 The Orginal Tiny Homes
Most of the cave homes are just one room, although the doors are locked we could still peek through the cracks and see inside. The caves helped to keep the occupants warm in the winter and a little cooler in summer. Privacy might have been a problem. The caves share walls and there was only one outhouse, however, it was a double-seater so you could sit with a friend. After the caves, we were going to continue on the trail for 3 miles as part of the Shoshone Historical Trail, but since it was raining we had to turn around.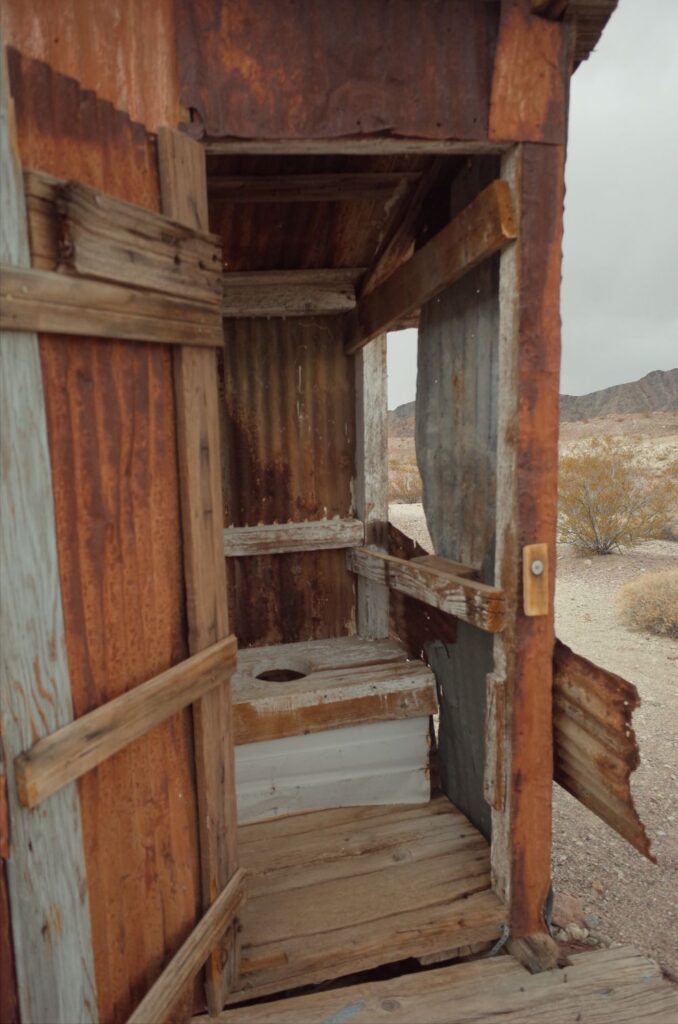 Tecopa Hot Springs
The whole area of Tecopa is known for its natural hot springs. These springs are geothermal and are being heated from magma below the earth's surface. There are hot springs right off of 127 and also hot springs located at the Tecopa Hot Springs Resorts. Unfortunately, we didn't get to explore the hot springs because we had our dogs with us. FYI: it looks like clothing might be optional in a few of these locations. People were wandering around in bathrobes.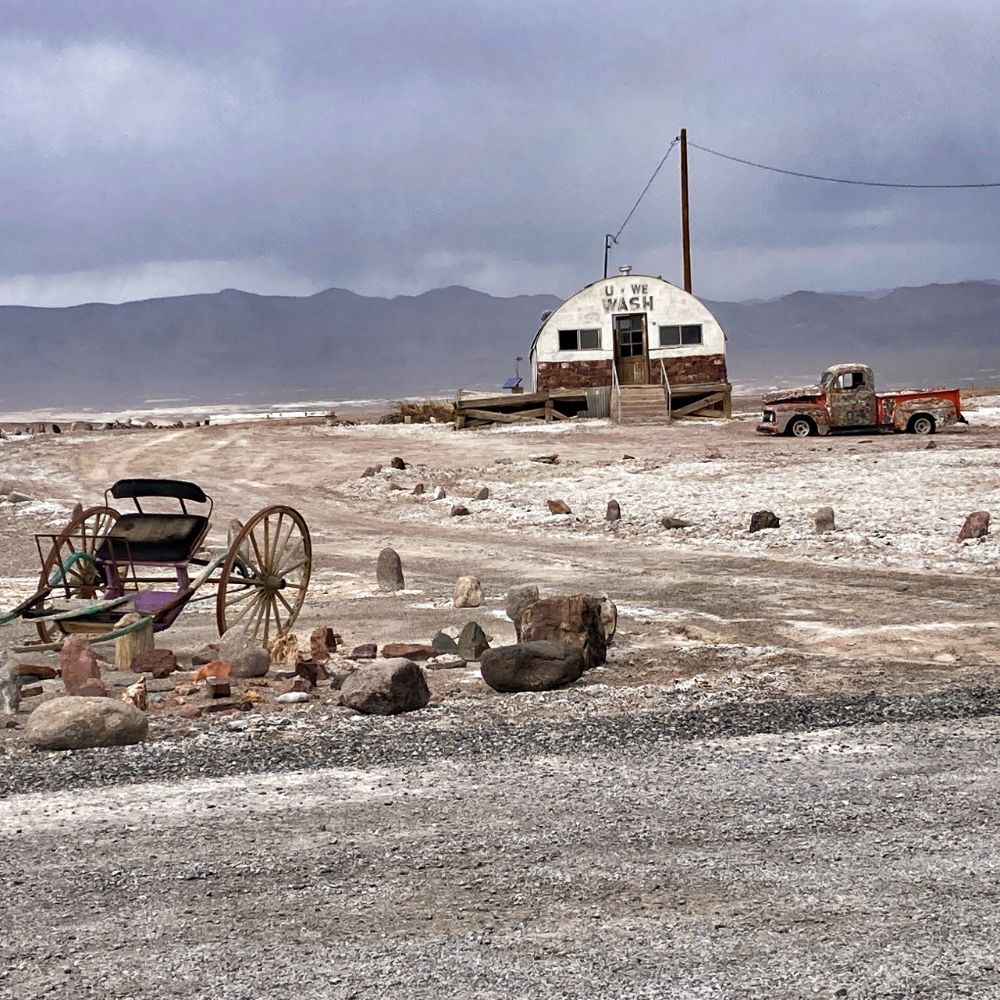 Tecopa Brewing Company
We stopped at Tecopa Brewing Company for a beer, however, our visit was during COVID and we had to sit outside. Our server warned us that the rain was coming. She served our beer in plastic glasses and we drank quickly. The wind picked up dramatically and when it blew Sally's beer away we knew it was time to go.
Death Valley Brewing
Miles and miles of nothing and then there are two breweries and two restaurants within 2 miles of each other. Our next stop was Death Valley Brewing. Again because of COVID restrictions we had to sit outside, but this time the building provided a little break from the wind. Sally ordered a Pecan Porter that she liked. I ordered the Habanero Wheat which was amazing. It has a kick from the habanero, but it is smooth and not bitter. We spent the afternoon chatting with people on the patio and we ordered a veggie pizza that was also great. I highly recommend stopping at this brewery if you are ever in the area.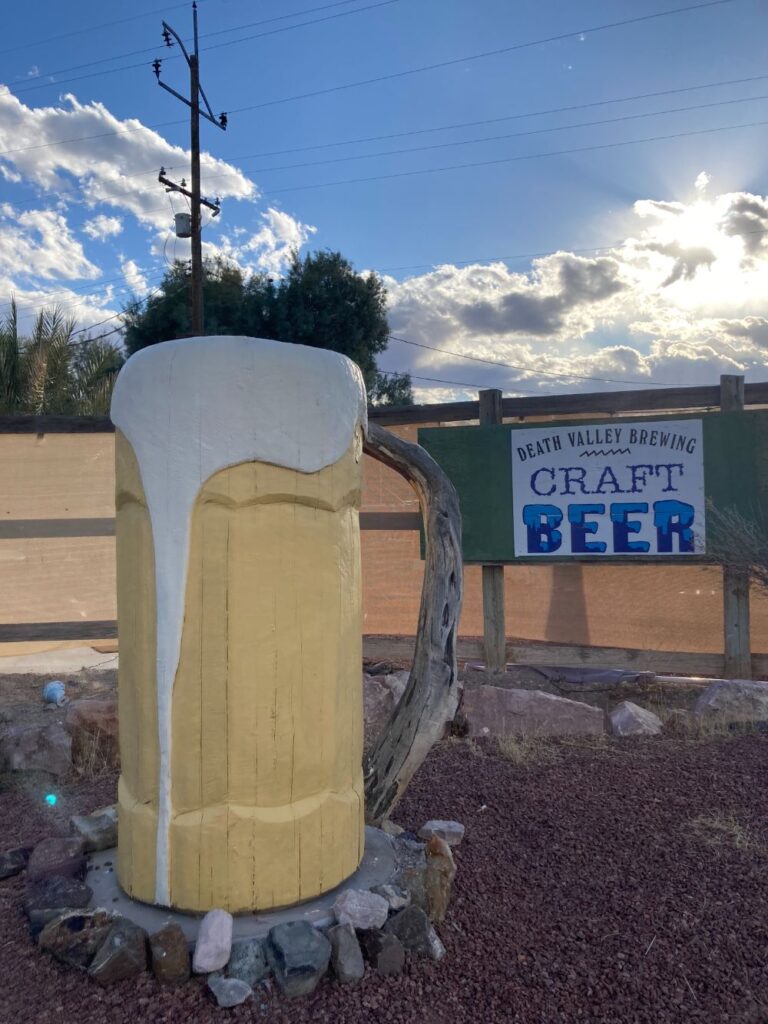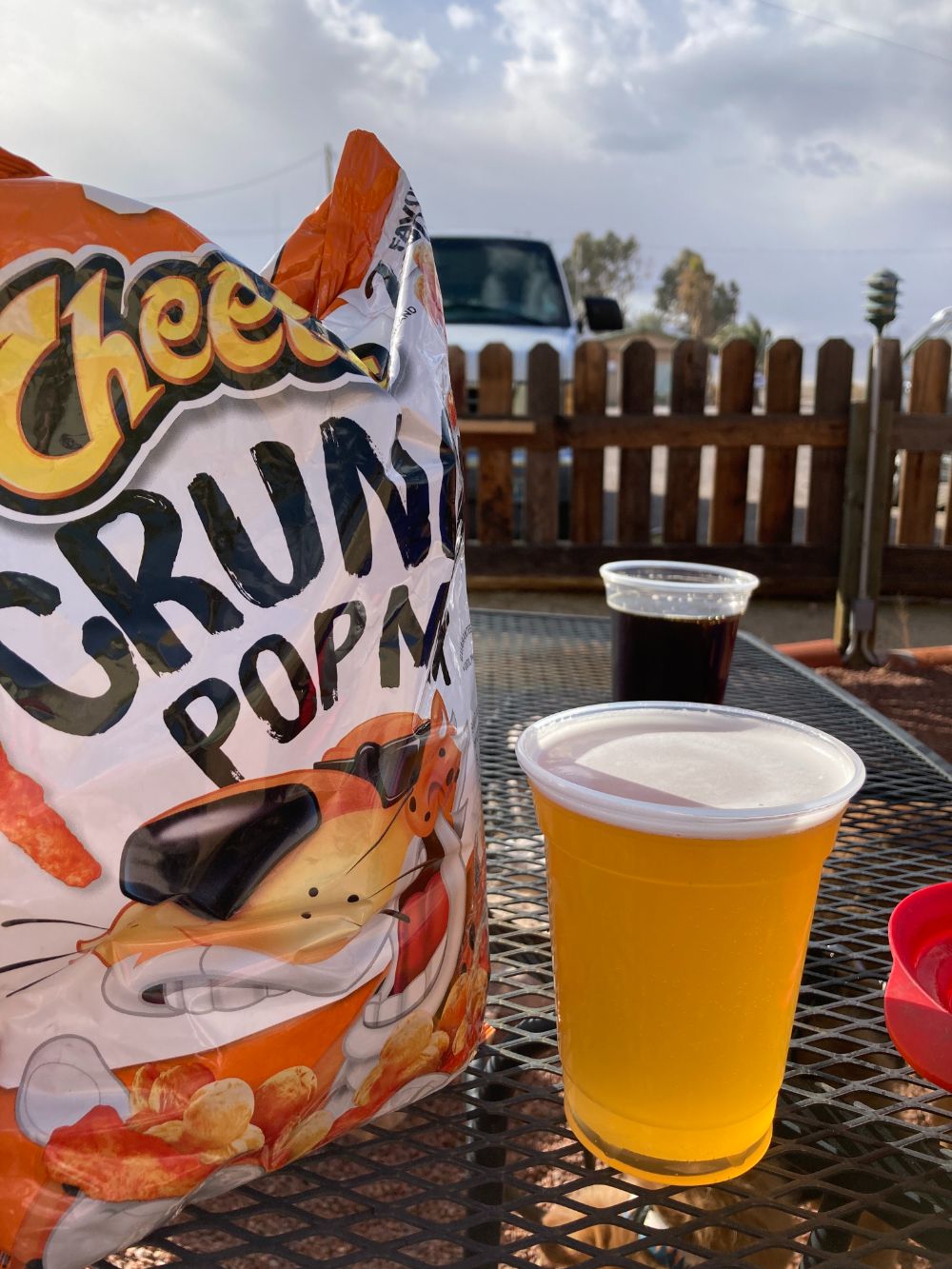 A Failed Camping Trip
After the breweries, we went back to camp, and as soon as we stepped out of the car we knew we had a huge problem. The wind was gale force. Our tents were completely flattened. With about 15 minutes of daylight left, we decided to pack up everything and head home. I have never been in such strong wind before and we couldn't get our tents to stand up. Last year we camped in the Anza Borenga Desert and we had no problems with the wind, however, when Sally took the tent stakes out, her tent became airborne, thankfully it got caught on the host's yurt and she was able to wrangle it back to the car. With everything loaded up, I made the long drive back home.
One Good Day
We packed a lot of fun and laughs into one day, unfortunately, we didn't get to see Death Valley. Of course, that means we need to plan another trip. Our next trip will probably not involve tents and we will leave the dogs at home. Jinx and Arlo had lots of fun running around and exploring, but Death Valley National Park isn't very pet-friendly. Maybe next Spring, that will give us plenty of time to plan the perfect getaway.