Anza-Borrego Desert offers a multitude of camping options. There are four developed campgrounds with over 175 sites. These campgrounds also include group sites and Tamarisk Grove has primitive cabins for rent if you really want to get away from it all Anza-Borrego allows roadside camping.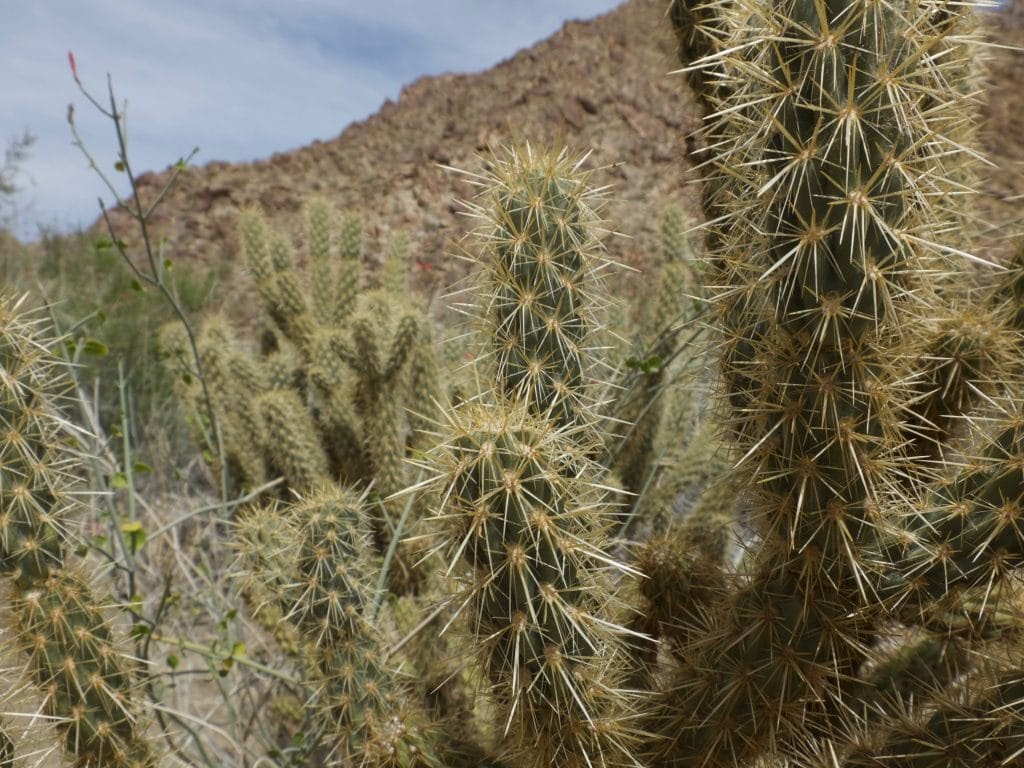 Anza-Borrego State Park
Anza-Borrego State Park is located about 2 hours away from both San Diego and Los Angeles. The park is open 7 days a week and there is a $10 fee for day use. After paying the entrance fee your first stop should be the visitor's center. Inside volunteers and rangers have a wealth of information about the wildflowers, cacti, palm groves, and wildlife you might encounter in the park. They can also provide maps and current conditions for hikes. There are a small gift shop and restrooms located outside the doors.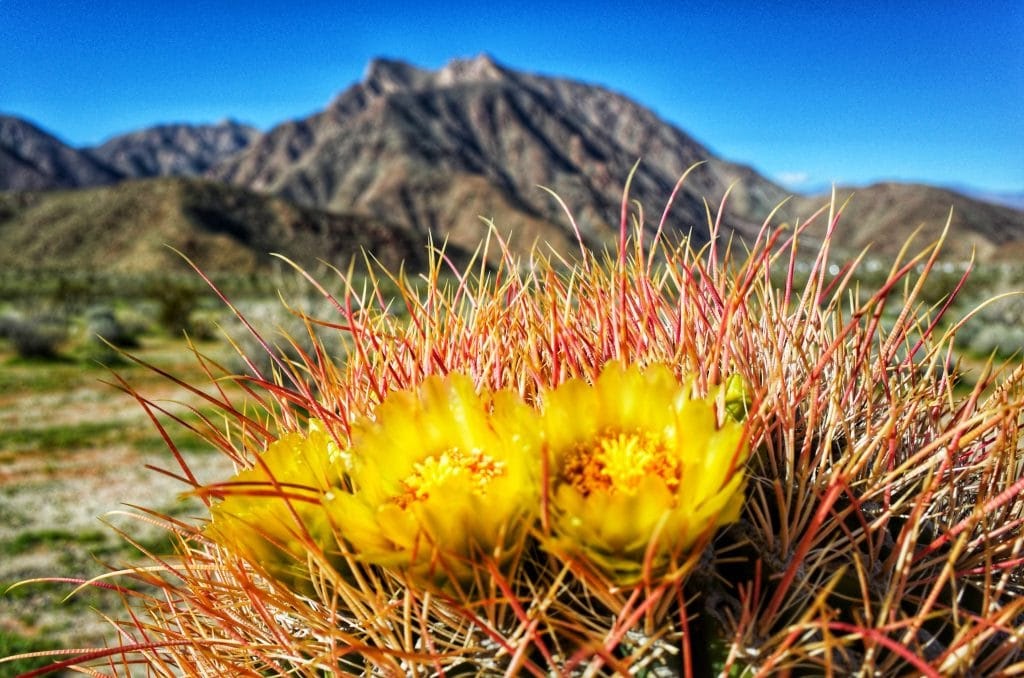 The Best Season to Camp at Anza-Borrego
Winter and Spring are the preferred seasons to camp at Anza-Borrego. Reservations can be made through Reserve California. Weekends in February book up far in advance. A regular site is $25 a night. Each site includes a picnic table, a shade awning, and a fire ring. There are a variety of bathrooms spread amongst the campsites including some pit toilets, some flushing toilets, and a few you just have to see to believe.
Tamarisk Grove in Anza-Borrego State Park
I have camped in Anza-Borrego State Park two times. The first time the only reservation I could find was at Tamarisk Grove for a cabin. I was leery about the definition of a cabin, but I made the reservations. The cabins cost $60 a night and are basically a large shed with a door and two windows. There is room for 8 to sleep and inside are bunk beds and a loft, however, there are no mattresses provided. You need to bring an inflatable or you will be sleeping on plywood. There are a table and two chairs, no electricity or running water, and the door locks. Overall, the cabin provided protection from the howling wind and it was a cozy place to spend the night.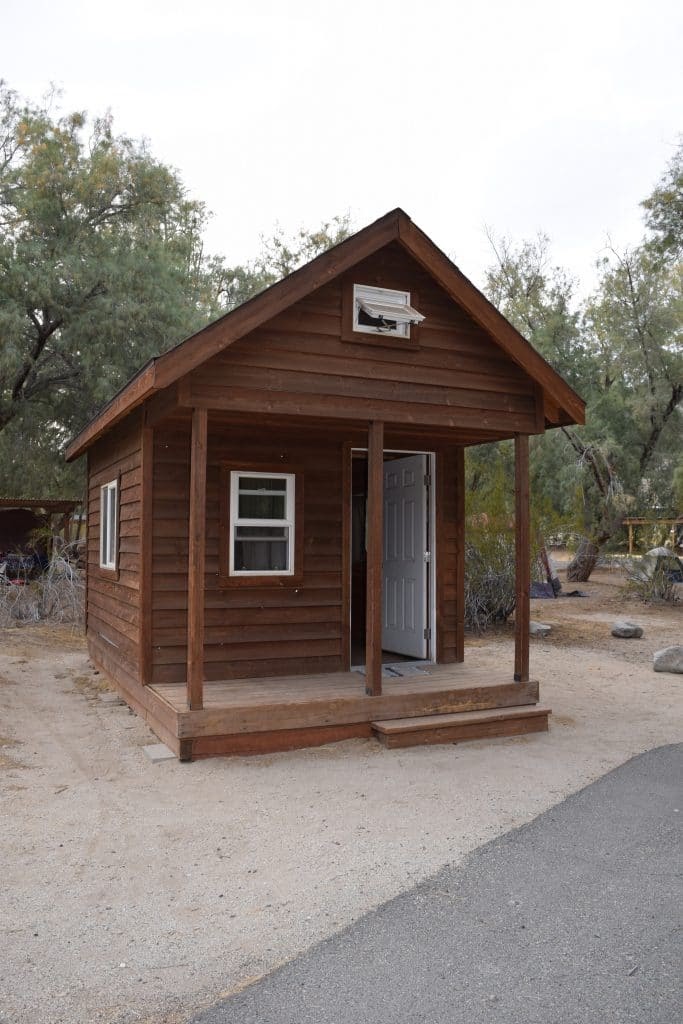 A Cabin in The Desert
We were able to hang our hammocks outside in between the poles of the shade awning. The hammocks were a perfect place to relax and read a book. When it was time for dinner we set up my jet boil on the picnic table and cooked on top. After dinner, we made a fire in the fire ring and made s' mores. The bathrooms at Tamarisk were nice, clean, and flushed. Because we only stayed one night we didn't try the coin-operated showers. There are two easy hikes that start across the street from Tamarisk. They are the Yaqui Well Nature Trail and the Cactus Loop Trail.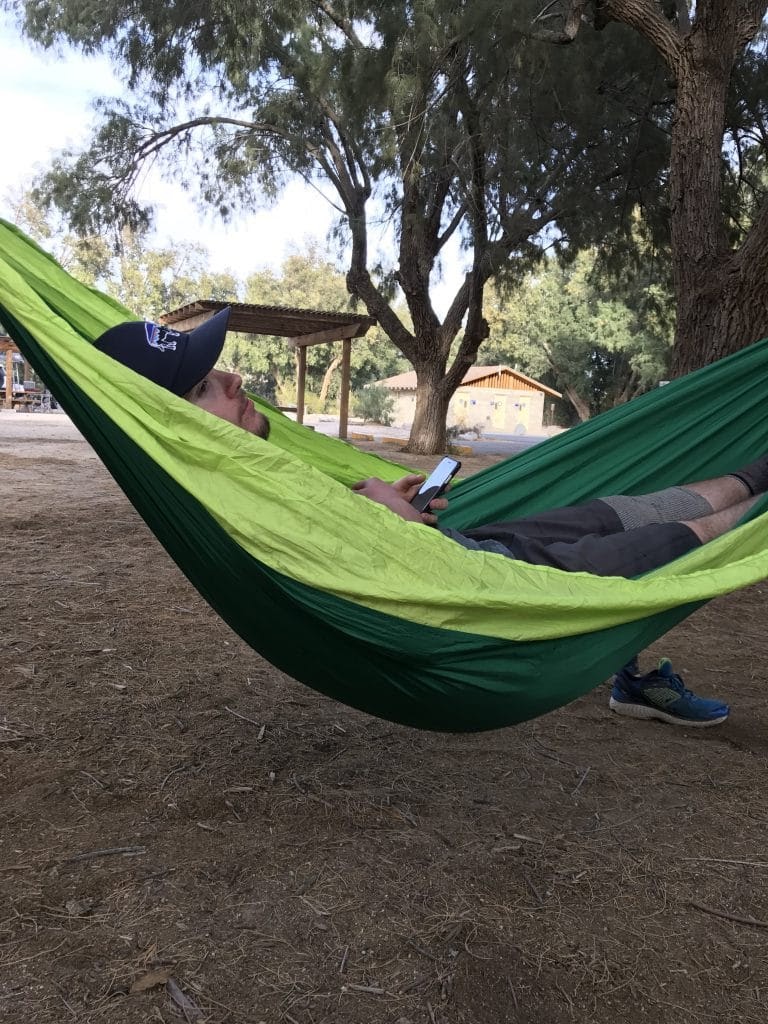 Desert Camping
For our second overnight, we stayed in the main campground for Anza-Borrego State Park. We stayed in February during the rainy season and we didn't make reservations, because we thought it was going to rain and we would have to cancel. When we arrived at the main gate they told us that they were completely booked for the night. We asked them lots of questions about the group site or the hike-in site and the ranger decided to let us camp in a hike-in site. Again at this site, we had a picnic table, a shade awning, and a fire pit. The bathroom by our site did not have a roof and it had two toilets with a wall in between, but no doors. Not a toilet for the modest. We decided it was best to go to the bathroom in pairs and use one person as a lookout.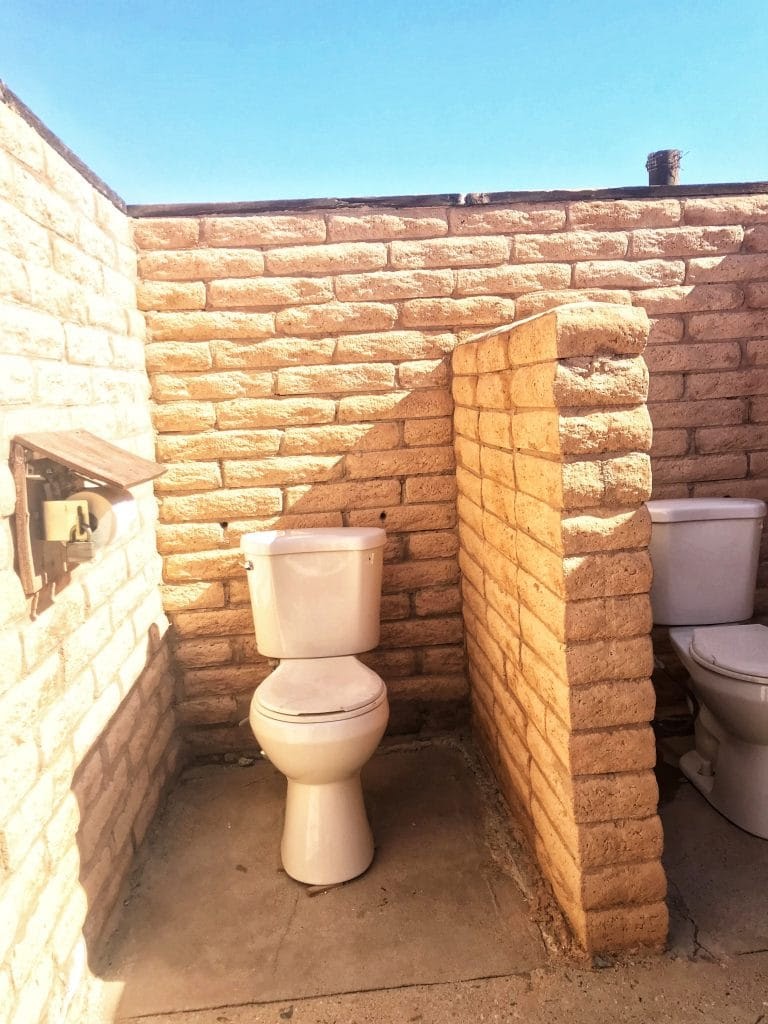 A Hike That Leaves From The Campground
There are various hikes that start throughout the campground. One of the most popular hikes is Borrego Palm Canyon Trail. It is a moderate 2.9 miles roundtrip hike. There are signs warning you of the importance of bringing enough water with you for this hike. There is no drinkable water and you will not find any shade until you get to the palms. In the spring if it has been a rainy year there is a stream that runs down along the trail. It is possible to see a variety of animals on this hike including iguanas, Chuckwallas, and Bighorn Sheep. Once you get to the palms you will feel like you have made it to an oasis. The palms are huge and tower over you. They provide the much-needed shade from the scorching desert sun.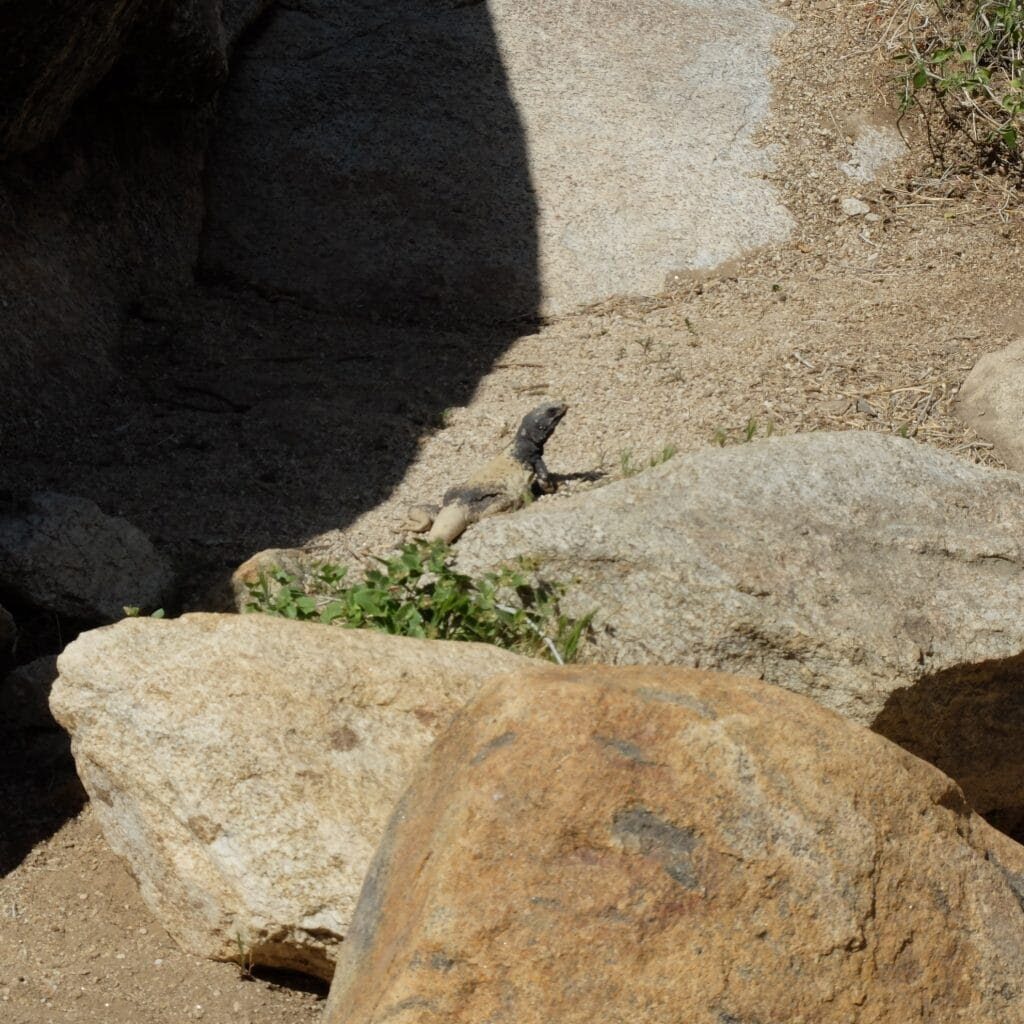 A Small Desert Town
The little town of Borrego Springs is right outside the entrance to Anza-Borrego State Park. In the center of town is Christmas Tree Circle. Here you can find a grassy common area, bathrooms, and free wi-fi. There are a few restaurants, gas stations, and little stores, however, be sure and check the hours, because some of the places close early.
Dragons in the Desert
During your camping trip make sure you leave time to visit some of the 130 life-size art sculptures that are located around the town of Borrego Springs. The Chamber of Commerce has a map that shows the locations of the sculptures and because they are spread out you will need to drive to see them all. If you are camping with kids, this should be on your list of fun things to do.
Free Dispersed Camping in Anza-Borrego
If you would like to camp in Anza-Borrego and are not able to get reservations you are allowed to camp for free as long as you follow the rules. Your car can't be parked more than one car length off of the road, however, your tent can be further you just need to walk. Another rule to remember is that you need to be at least 100 yards away from a water source. Furthermore, if you plan on having a campfire you need to have it in a metal container. No ground fires are allowed and lastly, you are responsible for hauling out your trash.
Staying in Anza-Borrego
Anza-Borrego has a lot to offer. There are plenty of both hiking and 4 x 4 trails. If you plan your visit right you might see the desert wildflowers in full bloom and at nighttime, you will get an amazing view of the stars. The desert just might surprise you, so get out there and start exploring.