The Finger Lakes area of New York is the perfect getaway destination. Even though the Finger Lakes are just a mere 5 hours away from New York City, it feels like they are on a different planet. Do you like wine tasting, waterfalls or relaxing in the countryside? If you answered yes, then book a trip ASAP.
August Getaway
In August Nicole and I rented a car at JFK and drove to the Fingers Lakes area. I'm going to share some of our favorites from our trip.
Finger Lakes History
Before my favorites, a little history about the area. Located between Lake Ontario and Pennsylvania, 11 lakes make the Finger Lakes area in upstate New York. Lake Seneca is the deepest at 618 feet and it is connected to the Erie Canal. It is possible to paddle all the way from Lake Seneca to Manhattan. The lakes were all formed by glaciers. In addition to the lakes, the receding glaciers carved gorges with a plethora of waterfalls.
Getaway Lodging
We rented an Airbnb studio for our stay. Our home base was is Hector, NY right on the path of the FLX Wine Trail. Hector is about 10 minutes from Watkins Glen. We rented a studio from the owners of StoneCat Cafe. The studio was just right for the two of us. There is a mini-fridge, a coffee maker and a microwave. It is in the perfect location. Stonecat is close to many wineries and hiking trails. Daphne is the owner of Stonecat and she is the perfect host. Available by text if we needed anything and she left us fresh baked cookies.
Fine Dining at Stonecat
Nicole and I made reservations and ate at StoneCat for dinner. In addition to the ambiance, their signature cocktails and food were amazing. The tables look out onto the rolling green of their garden. I didn't end trying the Stonecat (which is a type of fish), because the special for the night was Halibut that had been flown in that day and it was delicious.
Casual Dining
One of our favorite places that we ate in the area is The Elf in The Oak. In fact, we liked it so much that we ate there 3 times during our stay. We were there during COVID so the inside was closed, but we sat outside on their beautiful deck that overlooks Lake Seneca. The Elf in the Oak is open for breakfast and lunch. Their staff is friendly and their food is fresh and delicious. This is a don't miss stop.
Wine Slushies
Just a few miles from our studio is the Hazlitt Vineyard Winery. We ordered a wine flight and then sat outside on the grass. There are many options for seating and some lawn games set up. The wines are all on the sweeter side, but the star of the show is their frozen wine slushies. It was a very hot and humid day and the slushy hit the spot. They serve their slushies in reusable cups with metal straws.
Hiking in the Finger Lakes Area
Our studio was about 10 minutes from Watkins Glen State Park. The gorges in the park were created by the glaciers of the past. Today it feels likes hiking in a land of fairies. We visited in August and that is the peak tourist season so we started early before the crowds arrived. The Watkins Glen Gorge Trail is 1.5 miles one way and it passes many waterfalls and climb 800 stairs. Make sure and wear tennis shoes because the trails are wet with lots of puddles. In the summer months, there is a shuttle that will drive you to the top and then you can hike back down. Watkins Glen is a magical must-see when you are in the Finger Lakes Area.
Glass Blowing
30 miles from Hector is the town of Corning. Corning is well known for making glass and we visited the Corning Glass Museum. We toured the museum and bought a special ticket to blow our own glass ornament. We drove back the next day to pick up our glass ornaments, but if you can't return they will ship them to you for an extra fee.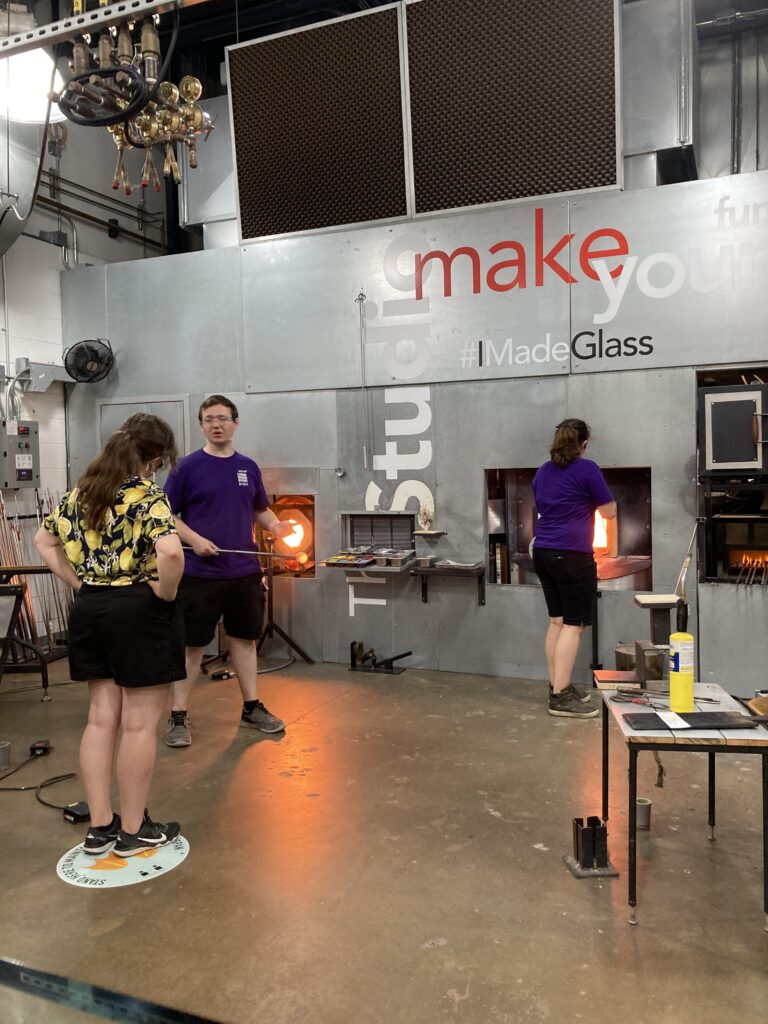 Craft Beer
We stopped at a few breweries on our trip and Ithaca Beer Co was our favorite. The brewery draws a mixture of college students and locals. We visited on a rainy Friday night and we started with a flight and picked a spot outside. The rain came and cooled off the hot humid air and it became a perfect summer evening. For dinner, we ordered a pizza and a kale salad to split and they were both excellent. Their beers were all good and the atmosphere was fun and you should definitely add this brewery to your list.
Country Life
It has to be said that the Finger Lakes area is in the middle of farmlands. Driving through the area we saw barn after barn and fields aplenty. We stopped at a few honor system fruit & vegetable stands and some even had baked goods for sale. It's important to note that restaurants, wineries, and breweries close earlier than in a big city. Also, preplanning transportation is a must. Ubers and taxis are far and few between. Overall, the Finger Lakes area is a nice mix of outdoor adventures and cute towns and it offers a little something for everyone.