During a spring break trip to Brooklyn Nicole and I decided to find the 3 best pizza slices in NYC. Everybody has their favorite style of pizza and the best part of visiting New York City is you can try it all. There is a pizza place on every block.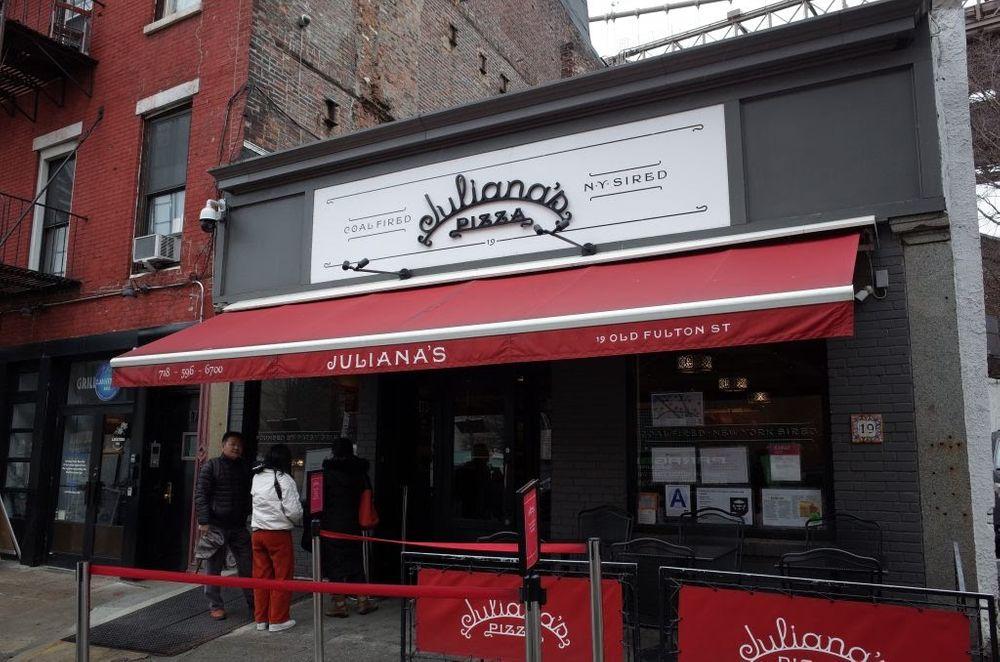 Juliana's Pizza
Our first stop was Juliana's Pizza on Old Fulton Street in Brooklyn. Juliana's is an old-school pizzeria that opened in 2012. The proprietor is Patsy Grimaldi. Patsy owned Grimaldi's under the Manhattan Bridge just a few doors down from Juliana's. Grimaldi's was a New York institution. Lines would snake down the street for blocks. About 10 years ago Patsy and his wife sold Grimaldi's and settled into retirement. Much to the delight of Brooklyn after a few years of retirement, he opened Juliana's Pizza named after his mother.
Waiting For Good Pizza
We went for lunch on a rainy afternoon. There was a line outside, but we were a party of two and we agreed to sit at the bar so we were seated quickly. We had an amazing view of the coal pizza oven.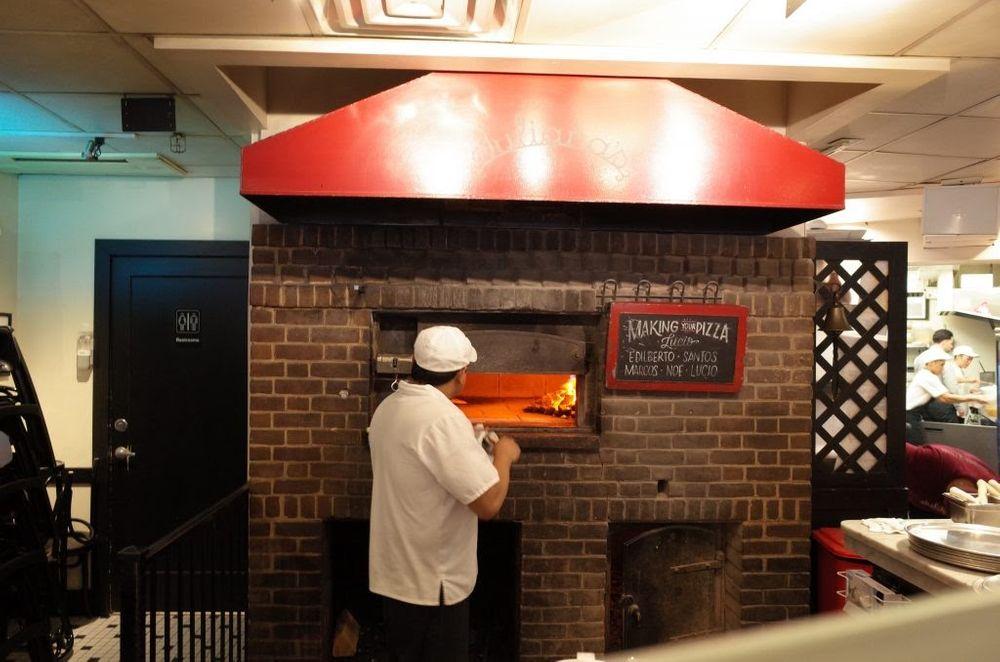 We split a salad and decided on the classic Margherita. It has a typical New York thin crust, with San Marzano tomatoes, fresh mozzarella, and basil. We also tried the War Flag an American Pilsner brewed in Brooklyn. The salad was a nice start. It was fresh and tasty. While we waited for our pizza we sipped our beer and watched the pizzas go in and out of the coal oven.
Our pizza came out piping hot. The crust was thin and golden. The cheese tasted fresh and it was gooey. The pizza was basically perfection. Between the two of us, we ate a whole pizza, and that left no room to try dessert. Maybe next time. I paid in cash, but I did notice that you can use your credit card, unlike at Grimaldi's which is cash only. The restaurant was very busy, but at no time did we feel rushed and the service was excellent. I believe Juliana's is a must-try for an authentic New York City Pizza.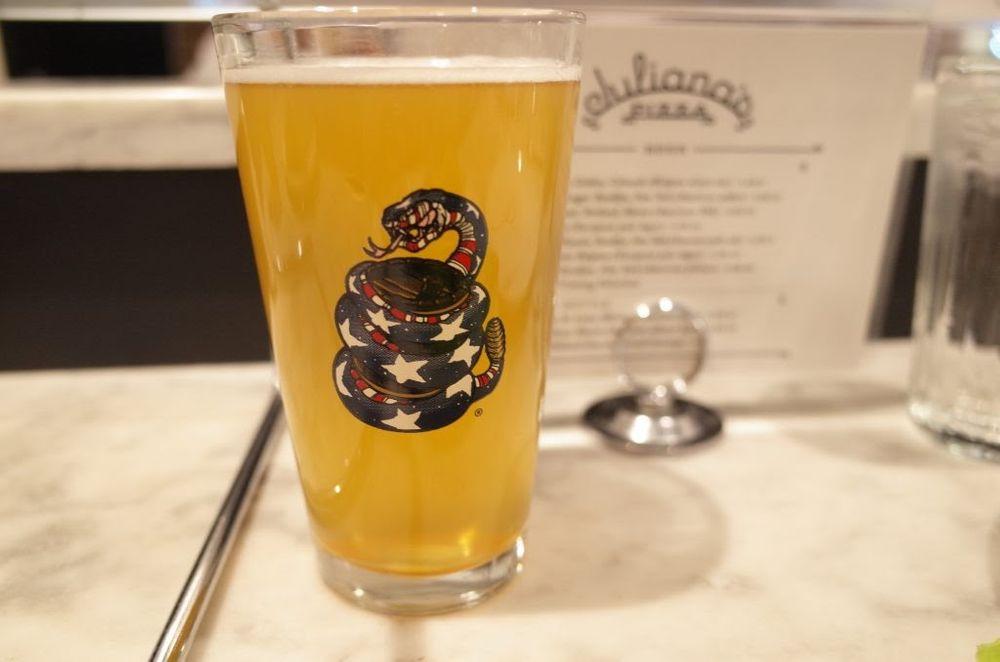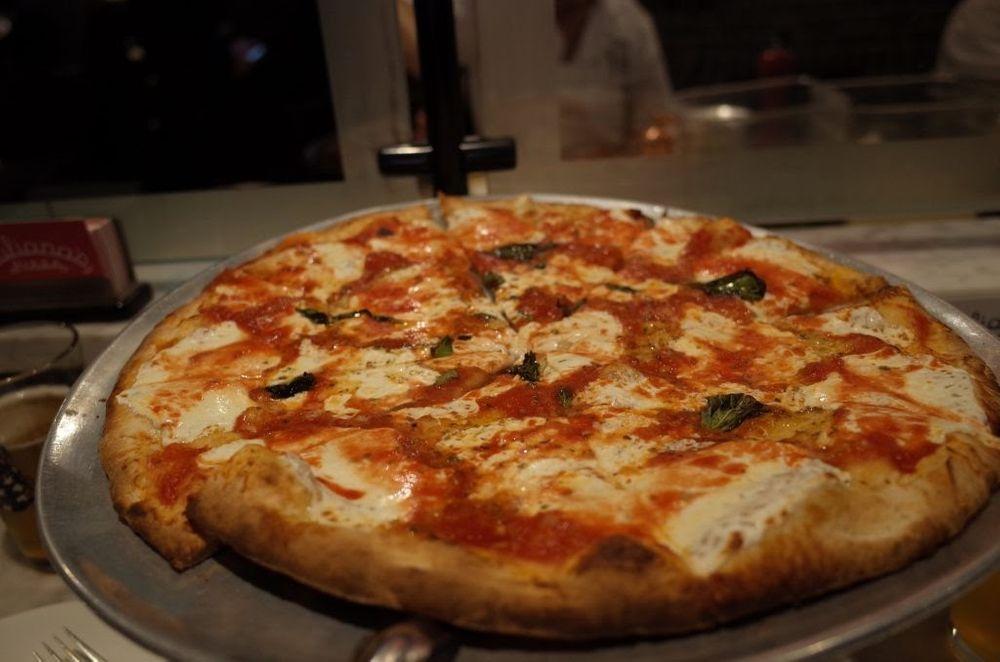 Spumoni Gardens
The first Saturday in April was opening day for Luna Park at Coney Island. We took the train to Coney Island and rode the old wooden Cyclone. After the roller coaster ride and the walk along the boardwalk, we decided to go try some pizza at Spumoni Gardens. We took the train one stop and then walked to the restaurant. Spumoni Gardens is located in Bensonhurst, Brooklyn.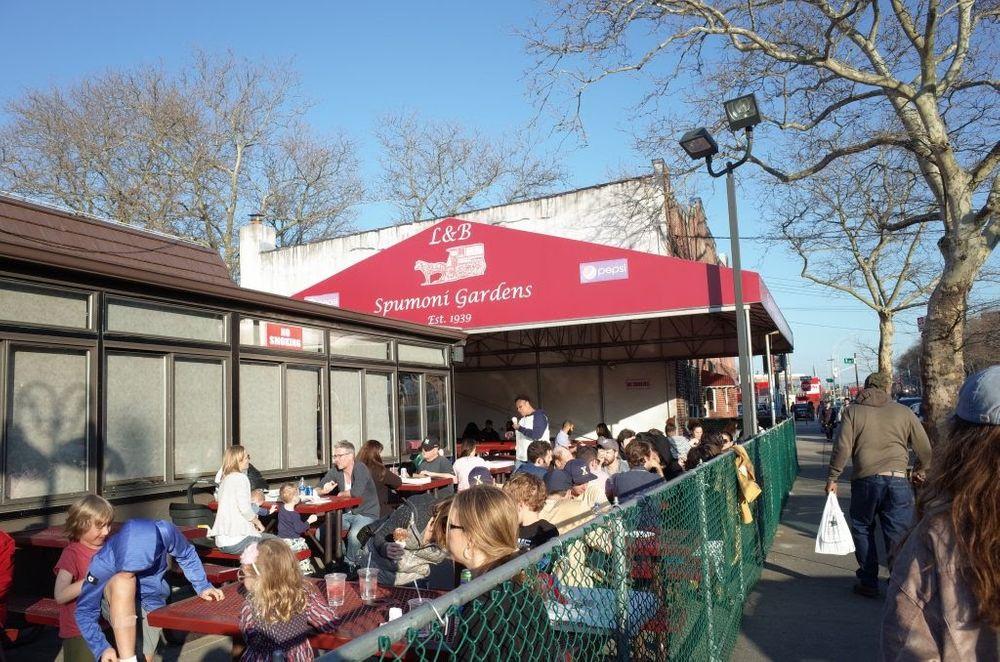 When we got there it was a lively Saturday afternoon on their patio. Spumoni Gardens is known for its Sicilian pizza. They sell their pizzas as whole pies or by the slice. Their Sicilian pizza is made in a rectangle. One slice is $3.00. It was a thick crust and the sauce is on top of the cheese. We ate on the patio and they serve it up on a paper plate. We each got a slice and sat on the patio with a lemonade. The crust is thick and the sauce is plentiful and it was easier to eat it with a fork. It was good and I'm glad we tried it.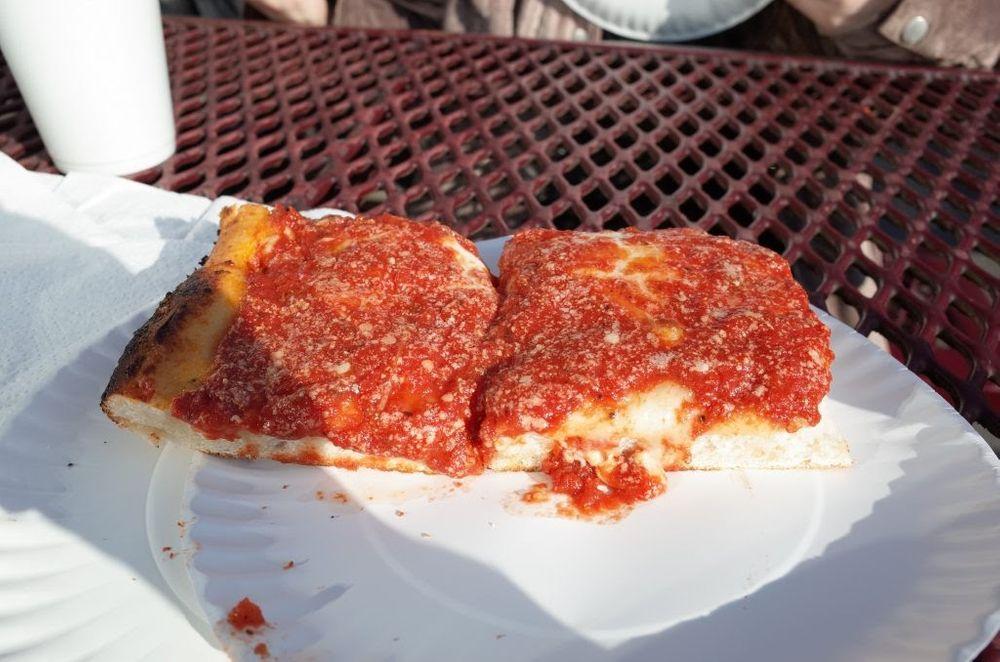 We both got a serving of Spumoni Ice Cream for dessert. Their Spumoni is a mix of Vanilla, Chocolate, and Pistachio. In my opinion, it was the star of the meal. We ate on the patio, but they have a full-service restaurant inside. The whole area had a down-home family vibe.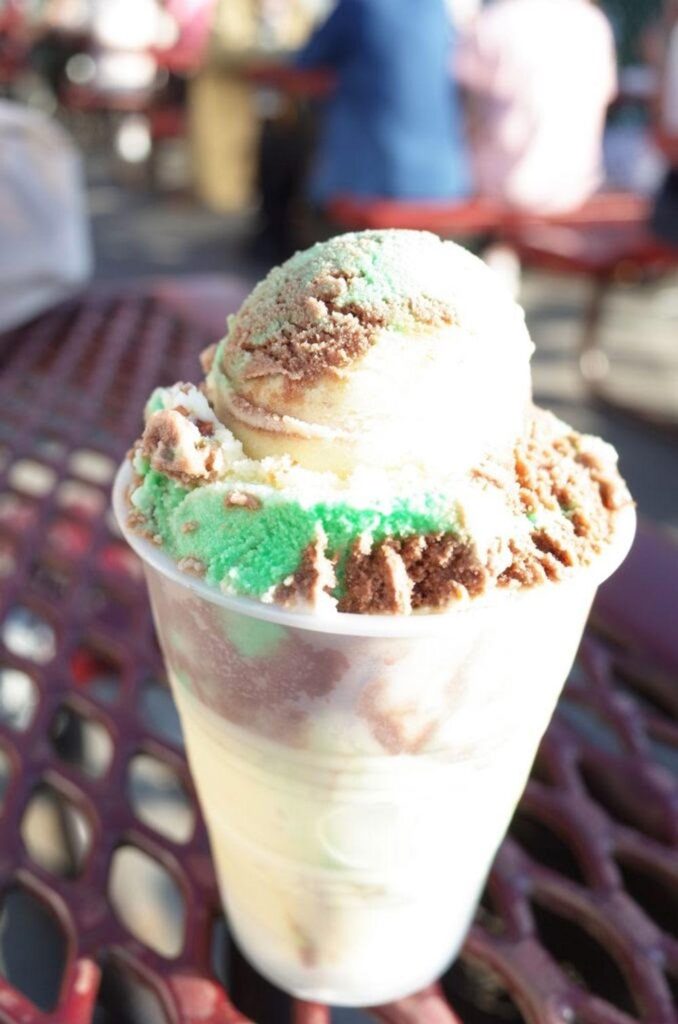 Joe's Pizza
Joe's Pizza is a Greenwich Village institution. It was founded in 1975 and has been listed on NYC's best pizzas over and over. They have a simple menu. Whole pies or by the slice. They also have Sicilian pizza on the menu, but I have never tried it.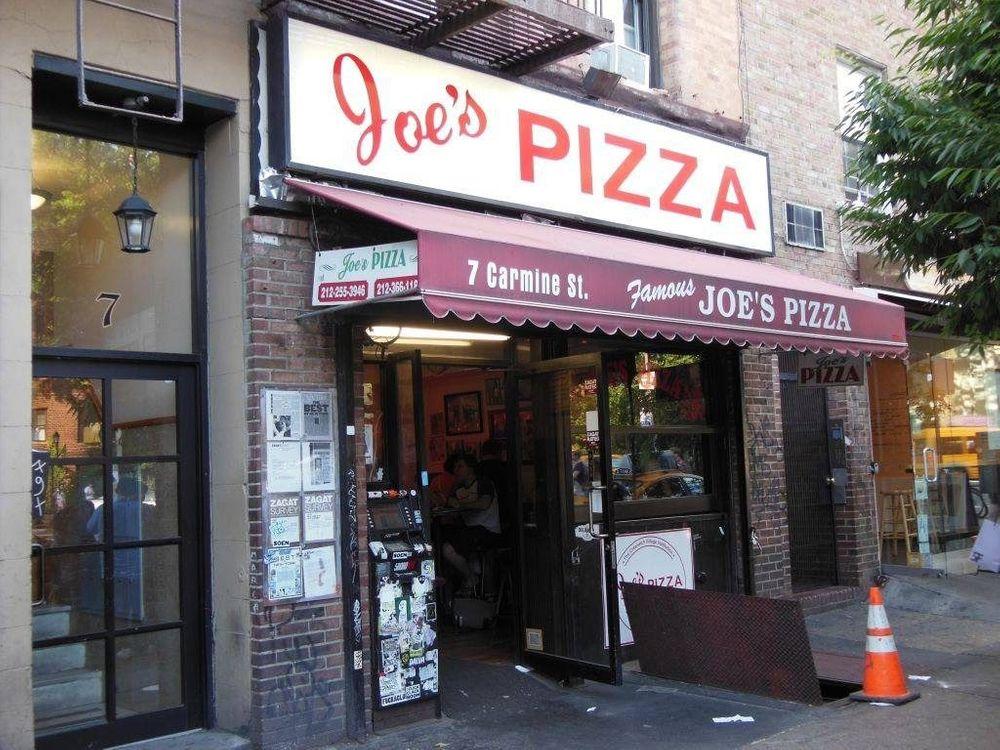 Joe's Pizza is a walk-up and order-at-the-counter pizzeria. There are a few stools and stand-up tables, but mostly you order to go. The day Nicole and I went she saved us seats on a bench in the square across the street. The square is officially Father Demo Square. It has a fountain and benches and is a good place to sit and people watch. I went and ordered our pizza.
We both chose a slice of cheese pizza. It is a huge slice and they serve it on a paper plate. They have cans of soda and bottled water for sale as well. They do not accept credit cards.
Joe's pizza is the quintessential New York slice of pizza. The crust is thin and if you look around you will see people folding their slices in half. This is what all walk-up pizza should taste like, flavorful and not greasy, and with a perfect, not floppy crust. Joe's Pizza serves both the local neighborhood and hungry tourists. Joe has become so popular they now have 4 other locations scattered throughout New York City.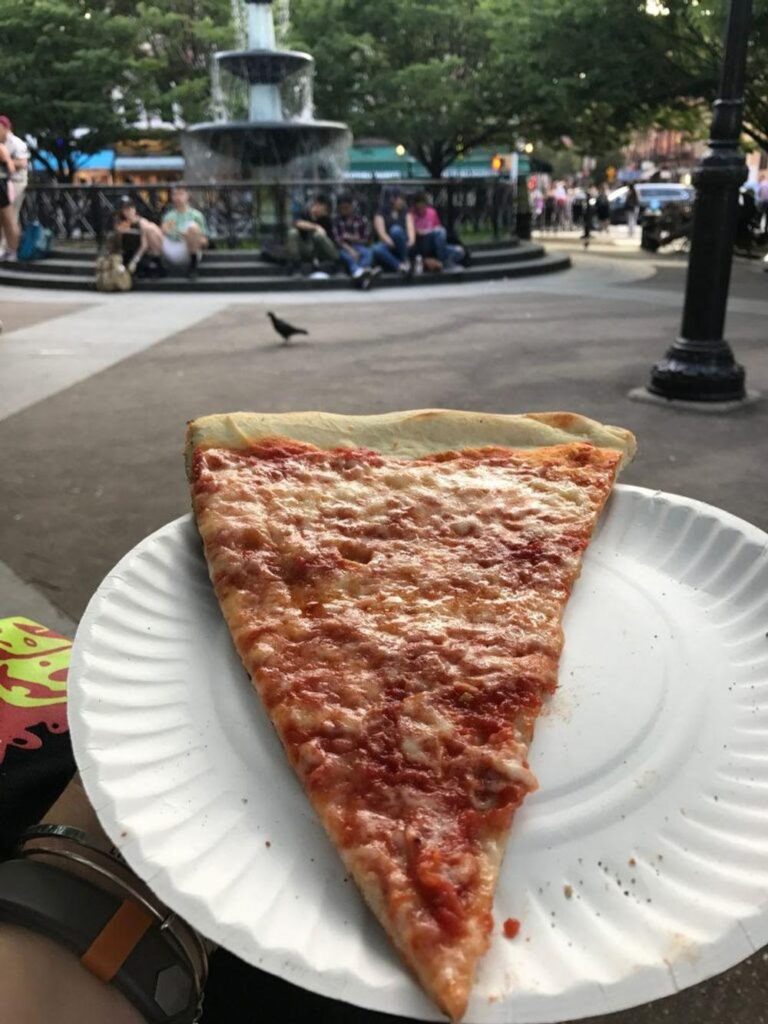 These 3 pizzas are just the tip of the iceberg. There are hundreds of other pizza places in New York City to try, but I would definitely make a return trip to all three of these locations.