You might think that while visiting New York the only round food you should try is a bagel, but then you will be missing out on some tasty donuts. While visiting NYC in April, my daughter and I decided to try out some of the specialty doughnuts the city has to offer and we found the 5 best doughnuts in NYC.
First Stop: Dough
The first stop was Dough in Brooklyn. Dough now has a few other locations throughout the city, but the Clinton Hill location in Brooklyn is the original. Dough makes traditional yeast doughnuts with untraditional glazes and toppings. Inside their storefront, you can take a peak and see them making their fresh doughnuts. There is not enough room to eat inside, so plan on taking your doughnuts to go. I decided on the Lemon Poppy Seed. The lemony glaze had the perfect ratio of tartness and sweetness. The poppy seeds were more for aesthetics than taste. The donut had a nice rise from the yeast and wasn't greasy or heavy. Overall, a very satisfying donut. Dough makes their doughnuts daily and they have seasonal as well as daily varieties to choose from.
Second Stop: Doughnut Plant
Day number 2 and our second stop for our donut tour was Doughnut Plant in Chelsea. Like Dough, they have other locations throughout Manhattan, but their Chelsea location was their first. We decided to order coffee and sit down and eat our doughnuts inside because there are tables and chairs. We both ordered coffee of the day and I ordered a Peanut Butter & Blackberry Jam Doughnut. Nicole ordered the Hazelnut Chocolate Filling covered with Roasted Hazelnut Glaze. The first thing to notice is Doughnut Plant is home to the square doughnuts. They have been in business since 1994 and they make their doughnuts without preservatives, eggs, or trans fats. The peanut butter & blackberry doughnut tasted just like mom's peanut butter & jam sandwich. It is a square donut filled with jam and covered with the peanut butter glaze and because of its square shape you get jam with every bite. It was yummy and super filling. The hazelnut doughnut was round, rich, and delicious. The Doughnut Plant has a nice mix of yeast and cake doughnuts to choose from. In addition to their delectable doughnuts, they also have some amazing stuffed doughnuts decorating their walls. There is a stuffed doughnut to represent each one of their doughnuts that they serve.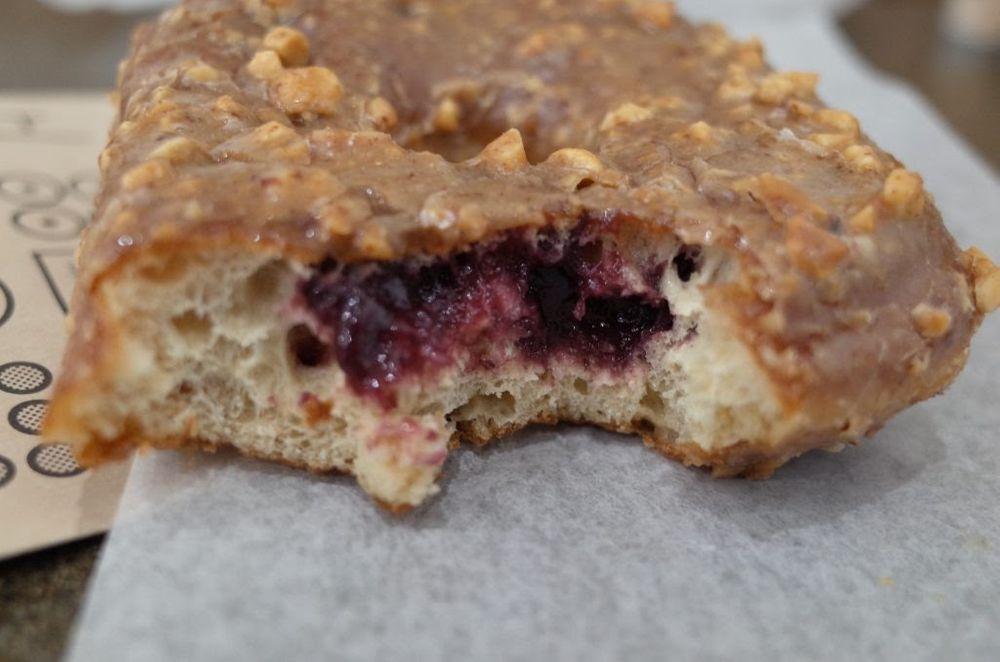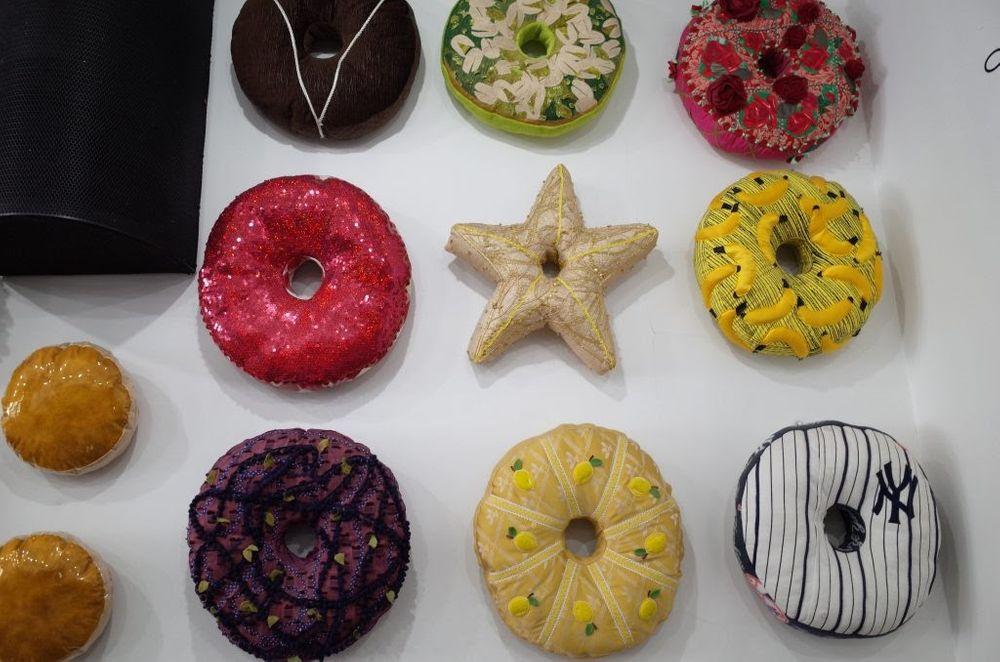 Third Stop: The Donut Pub
Stop number 3 on our doughnut tour was at The Donut Pub in the West Village. The Donut Pub is known for its doughnuts, pastries, and cookies. They are open 24 hours a day. Inside the Donut Pub is a small counter to sit at and also a few tables. We tried the French Cruller and the Croissant Donut. The Cruller was a fancy, twisted design. It was light and had a sugar glaze over the top. We sat at the counter and they served it to me on a paper plate and I need lots of napkins. It wasn't greasy, but the glaze stuck to my fingers. The Croissant Donut was served warmed up on a small paper plate. After the first bite, you could tell that butter had to be one of the main ingredients in this doughnut. Out of all the doughnuts that we tasted this one was definitely the richest and most filling. It had so much butter in it that it left a buttered ring on the paper plate. We were happy we tasted the cronut, but I don't think either of us needs to eat one again. I would go back for a cruller and maybe try one of their other flavors. I would also like to try their Black & White cookie. It's been rumored to be the best in New York City.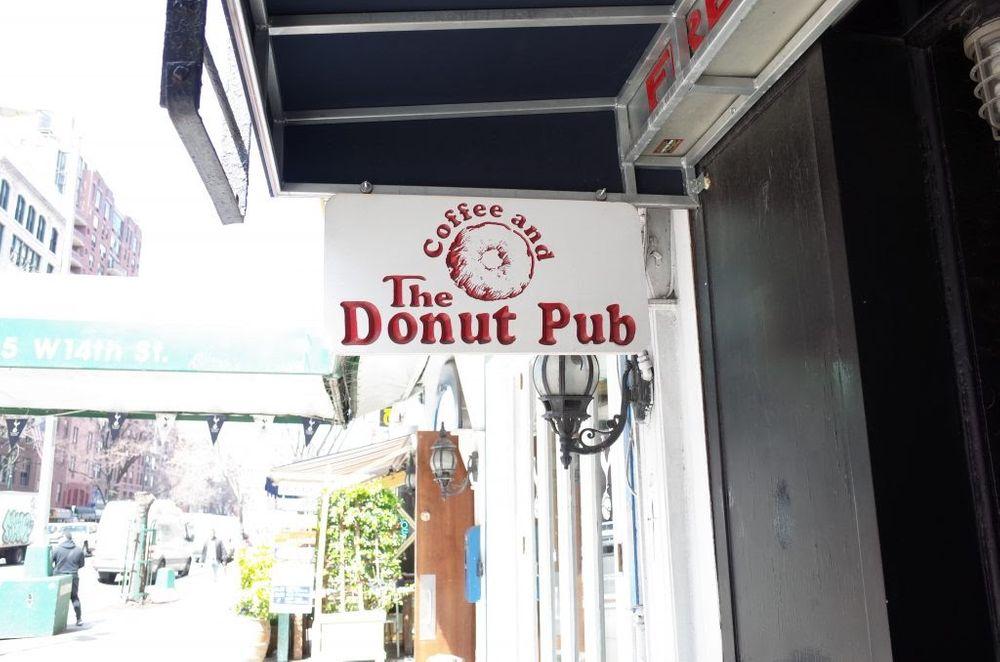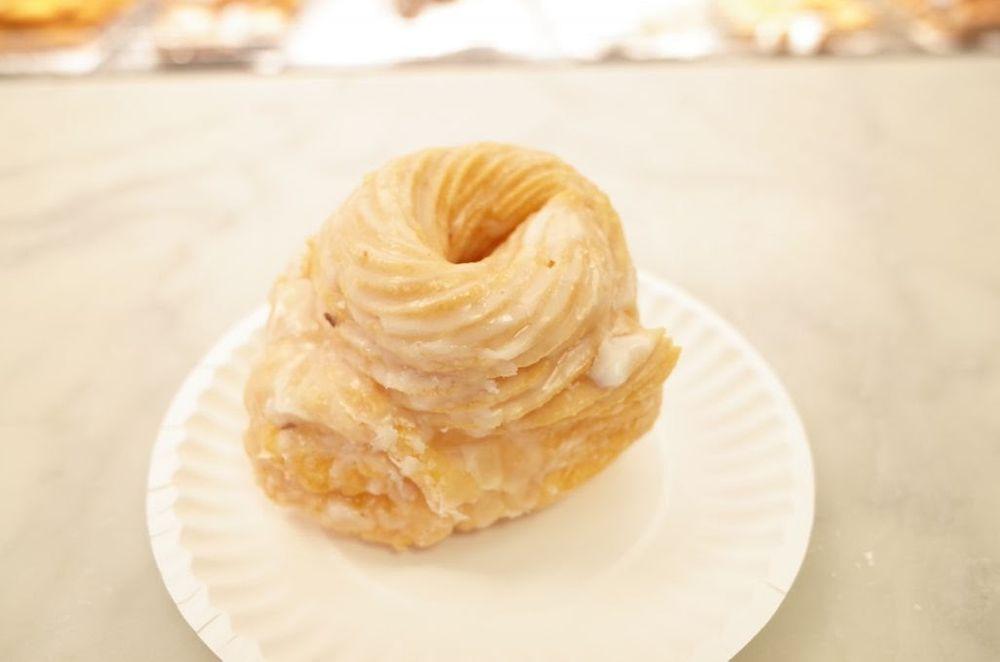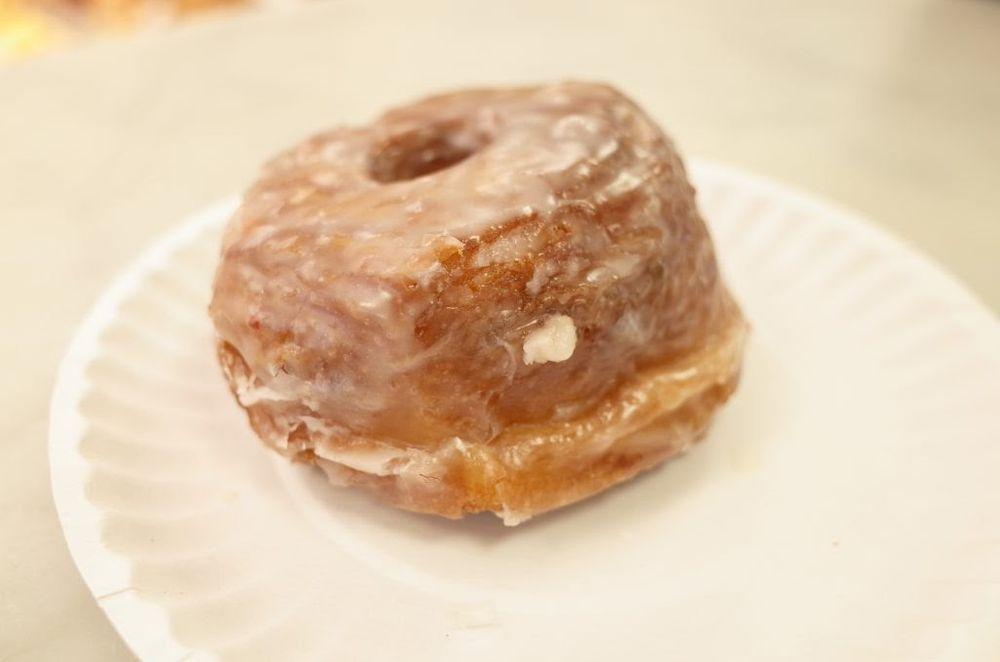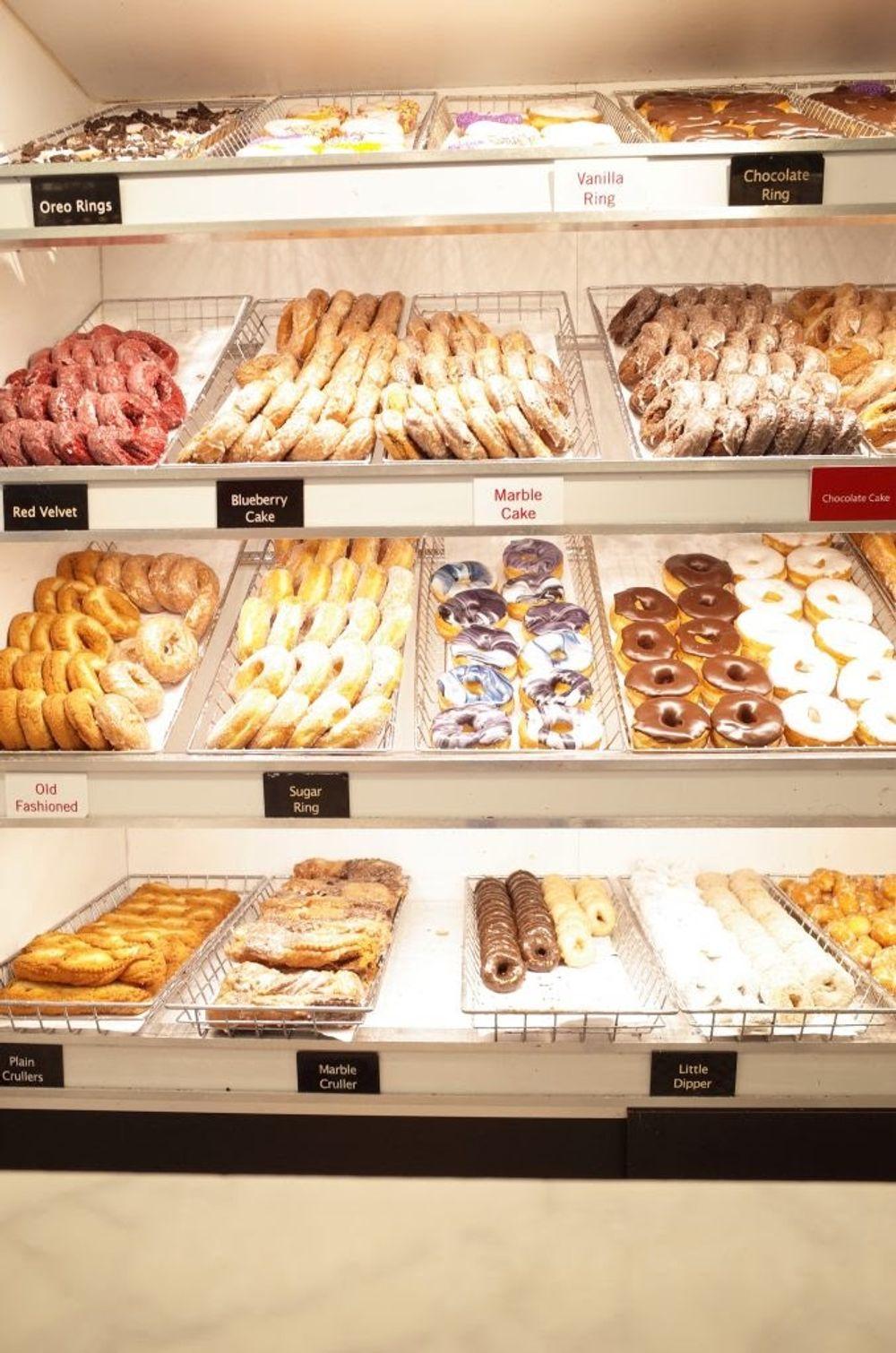 Fourth Stop: The Doughnuttery
Our 4th stop was The Doughnuttery in the Chelsea Market. While our other doughnuts were regular size, Doughnuttery makes their doughnuts in a small bite-size version. We ordered 6 minis for $6.00. We watched the small cake doughnuts plop into the fryer. They are then scooped out and covered with your choice of a sugar and spice topping. With the minis, you can pick two toppings. We choose House of Cardamon which was cardamon, orange zest, and star anise, and Paris Time which was lavender, vanilla, and pistachio. I liked the House of Cardamon best. The orange zest gave it a fresh taste. Nicole liked the Paris Time, because of the pistachio. The mix of sugar and spices coating the doughnuts made them flavorful without being too sweet, however, out of all the doughnuts we tasted these tasted the most fried. I would order them again to try a different topping, but these were not my favorite.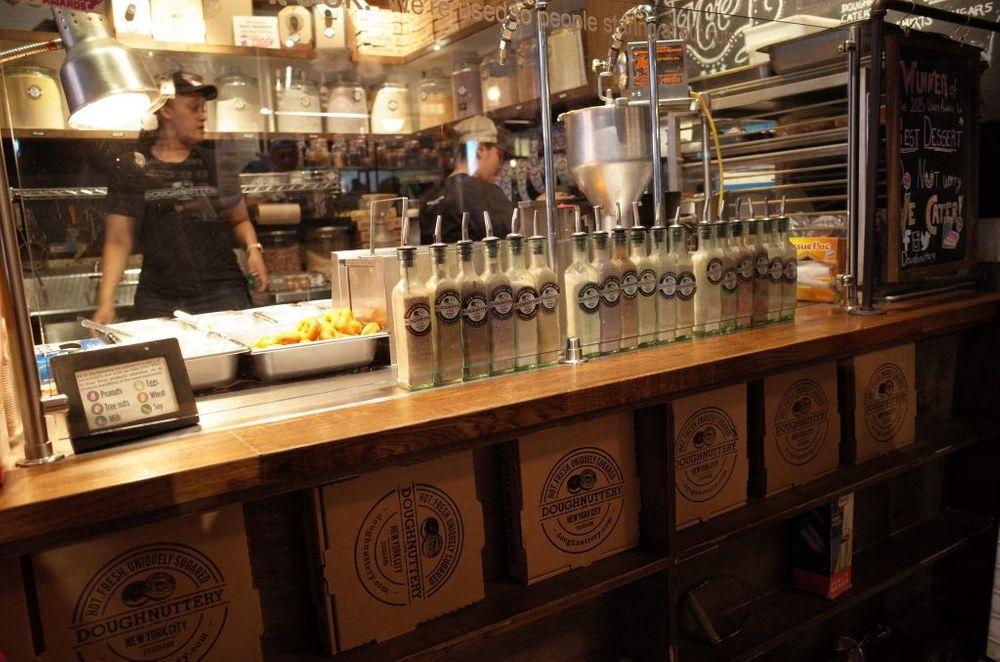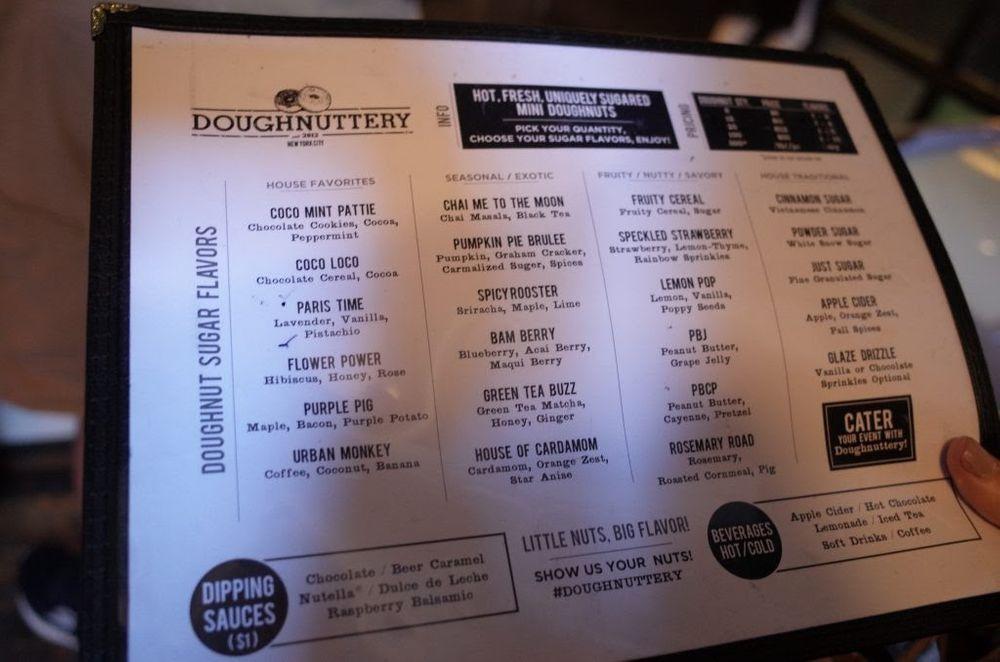 Fifth Stop: The Doughnut Project
Our 5th and final stop was The Doughnut Project in the West Village. They are now for their unique and seasonal doughnuts. I had previously been to the Doughnut Project and ordered their famous Everything Doughnut, so this time I wanted to try something different. I ordered The Black Gold AKA Brownie Batter and Nicole ordered the Bronx (Olive Oil and Black Pepper.) They have a few bar stools to sit at, but they were all occupied so we took out doughnuts to Washington Square Park to eat them. The Black Gold had an extra dark chocolate glaze with house-made chocolate cookie crumbles and sea salt. It was like biting into a light and airy brownie. If you are a chocolate lover then I say this is a must-try. Nicole's Bronx was also light and airy. You could taste the olive oil and you got a little zing from the black pepper.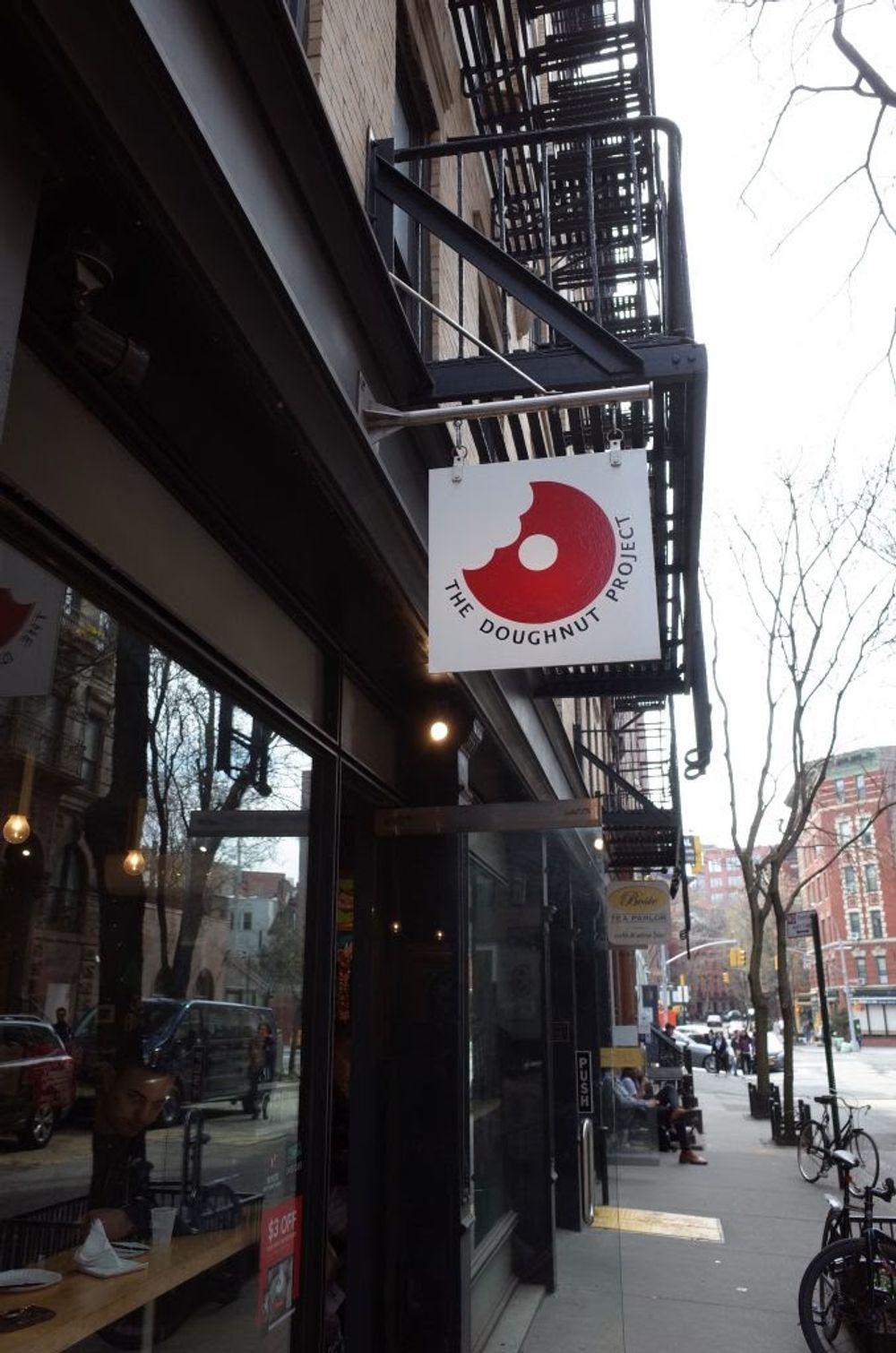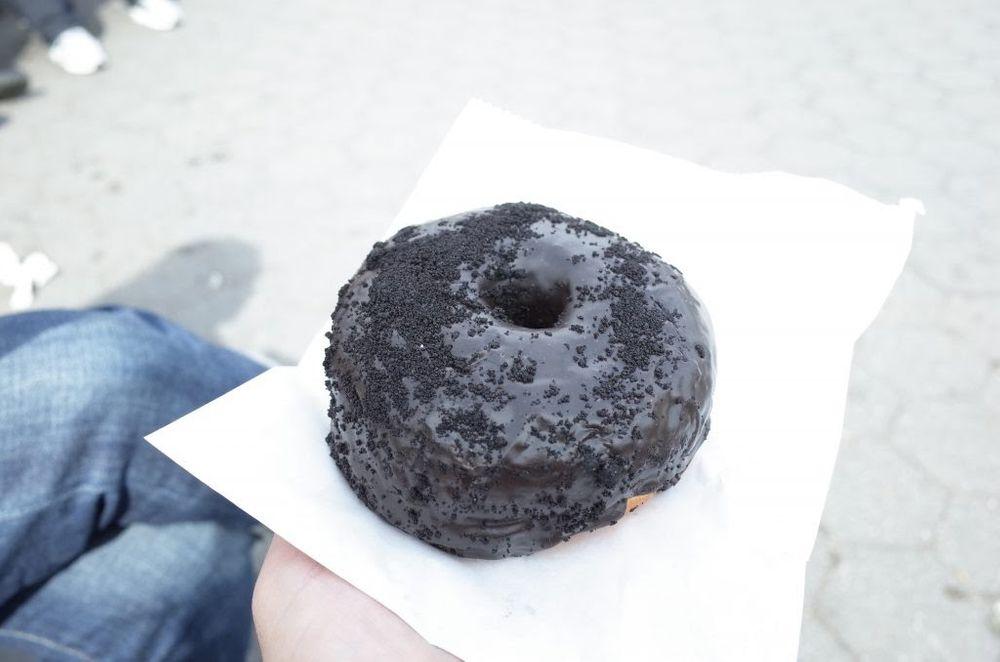 Overall, we have gone back and forth about which doughnut was our favorite and we can't come to a conclusion. All 5 locations were good and they all offered something a little different. I think it all comes down to what you are in the mood for.