I have 4 places you need to visit if you are wondering what to do in Ojai. In April we stopped in Ojai, CA before driving to our campground and then again on the way home. These four places make me want to plan my next trip to Ojai.
Topa Topa Brewing/ Little Sama Ojai
Fig Curated Living
Bart's Books
Hip Vegan
What to do in Ojai – Have a Drink at Topa Topa Brewing
On our way to a camping trip at Middle Lion Campground, we stopped for a beer and lunch at Topa Topa Brewing Company. Topa Topa is located at 345 E. Ojai Ave. They also have other locations in Santa Barabara, Ventura, and Camarillo. Topa Topa has both indoor and outdoor seating and they are dog friendly. We each ordered a tasting flight and brought them out to the patio. I was prepared not to like their beers because they have a lot of IPA but I'm pleased to say they have delicious beers.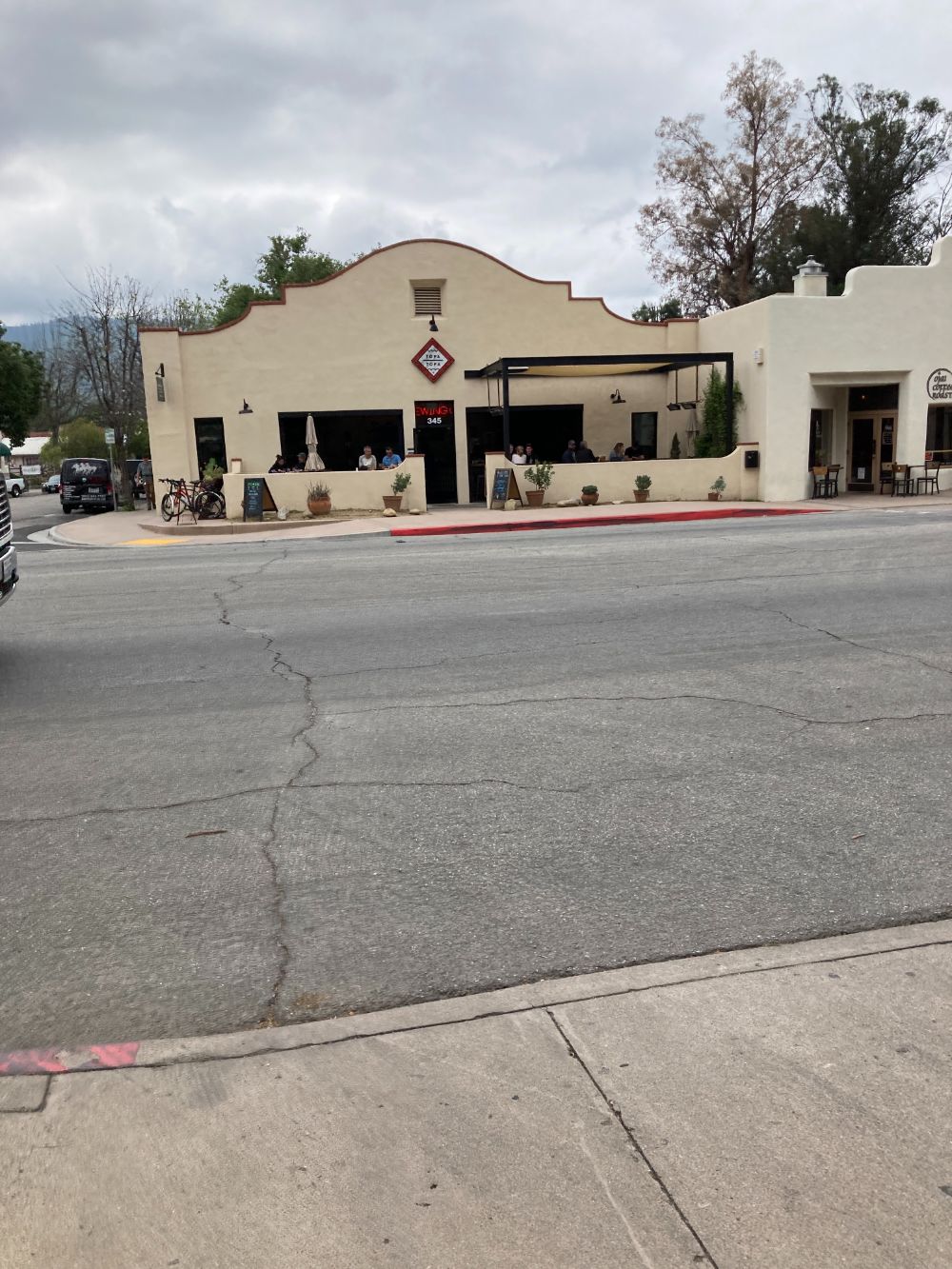 We wanted to have lunch before we drove out of town and Little Sama Ojai has a walk-up window inside Topa. I ordered one of their signature dishes the Sama Donburi Rice Bowl. It is Jasmine rice, pickled vegetables, a soy-marinated egg, Sriracha aioli, and your choice of protein. I had mine with Tofu Katsu and I loved the whole bowl it was flavorful and just the right amount for lunch. I highly recommend stopping at Topa Topa Brewing and Little Sama when you are in Ojai.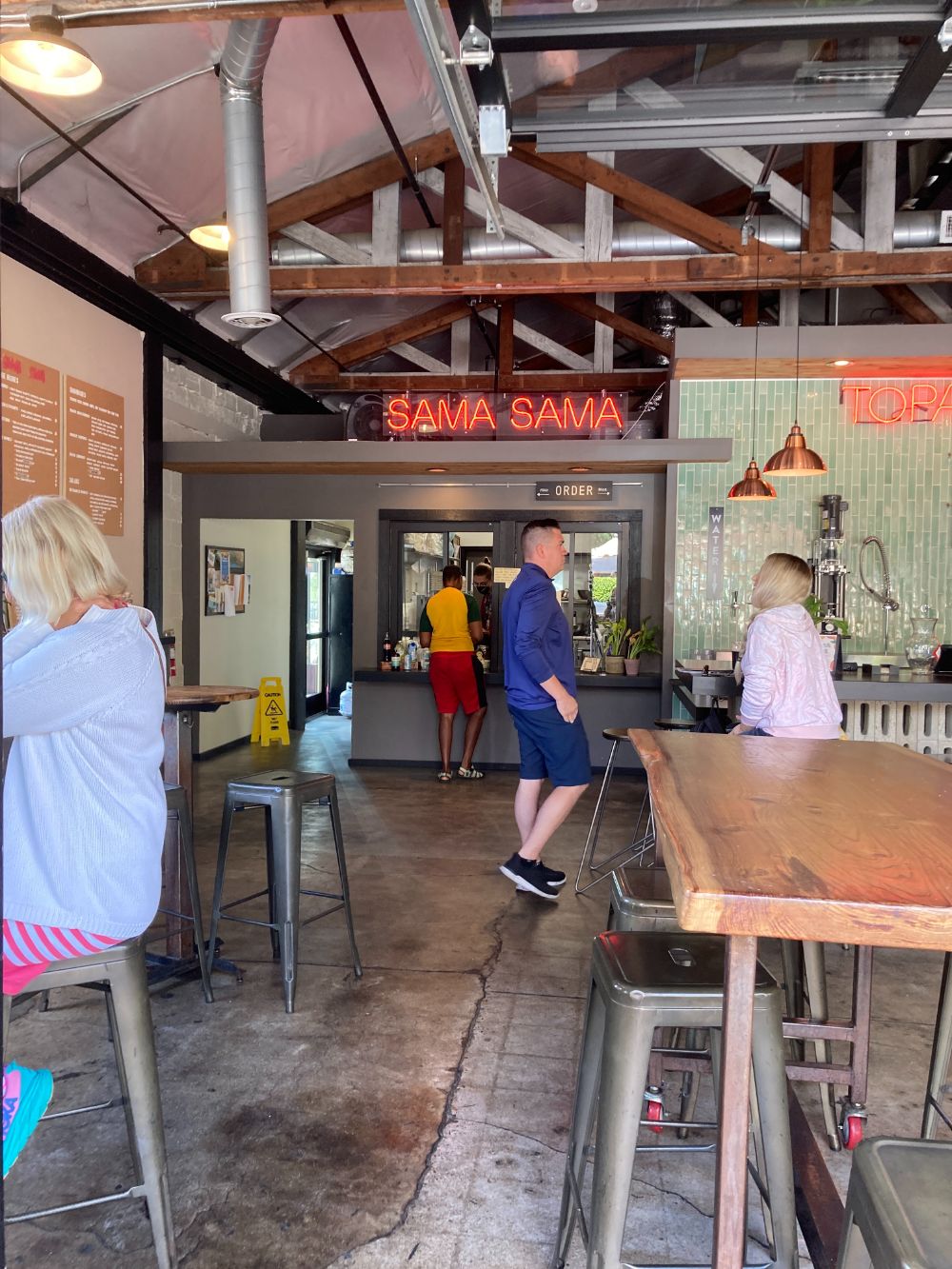 What to do in Ojai – Shopping at Fig Curated Living
Fig Curated Living packs a big punch for such a little space. I'm going out on a limb and saying I think it is one of the cutest stores that I have shopped at. They are located at 327 E. Ojai Ave. Look for the turquoise door and you will immediately step into a long open-air hallway of hanging air plants, wind chimes, fun tchotchkes for the garden, pillows, and a plethora of things you need. At the end of the hallway is a small enclosed store where they have cards, paper products, and jewelry. They let dogs shop with their owners and they are extremely friendly. I did a few laps around their displays and made my purchases and I can't wait to plan my next shopping trip.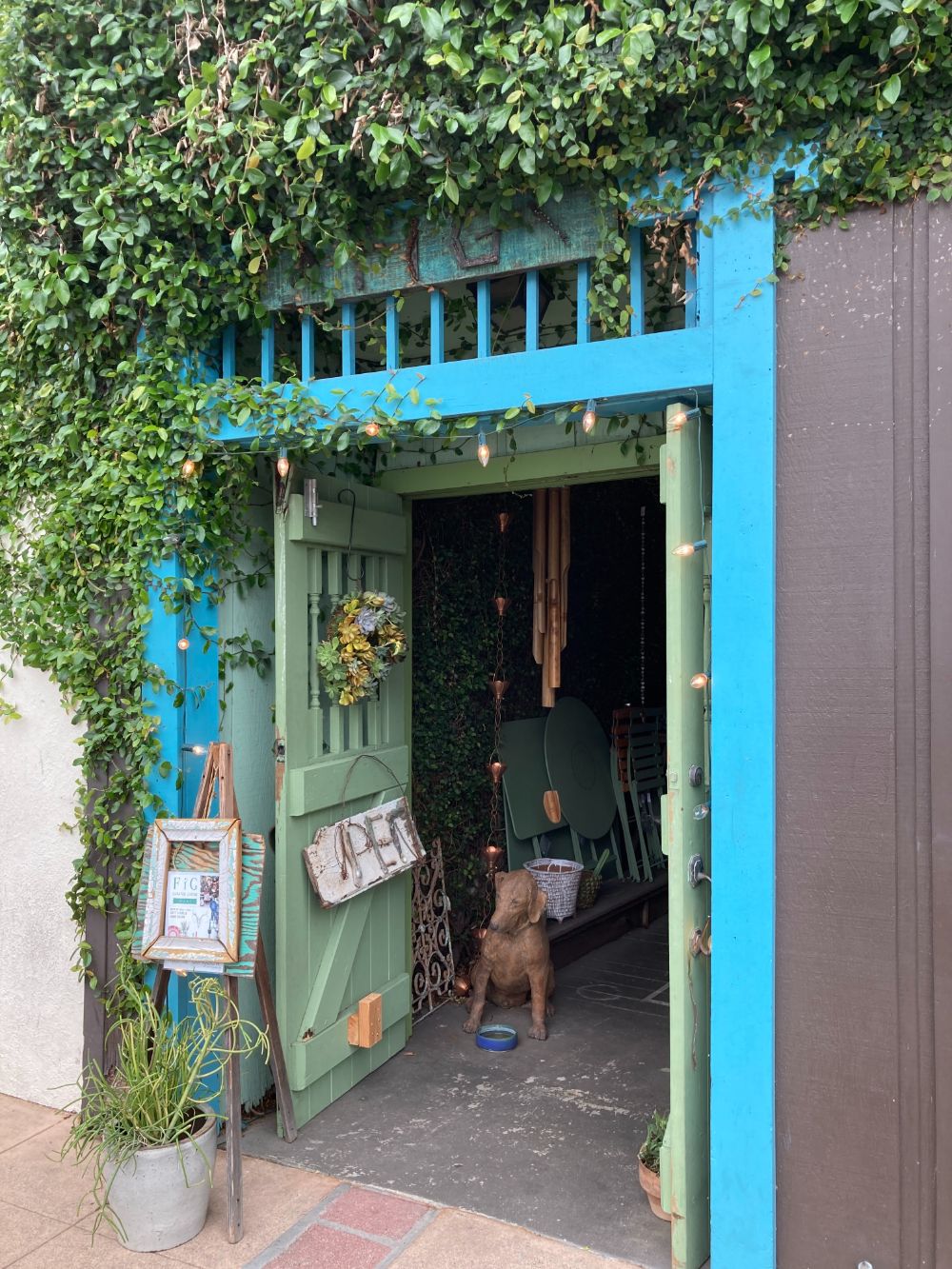 Bart's Books
Bart's Books is the world's largest outdoor bookstore. They are located at 302 W Matilija St. Imagine wandering around looking at shelves and shelves of books with the warm sun shining down on you and that is what shopping at Bart's is like. Their bookshelves are protected from the elements by a series of tin sheeting. The majority of their books are used, but they do have some new ones as well. I could have explored the stacks all day, but unfortunately, they don't allow dogs so I will have to visit again without Jinx.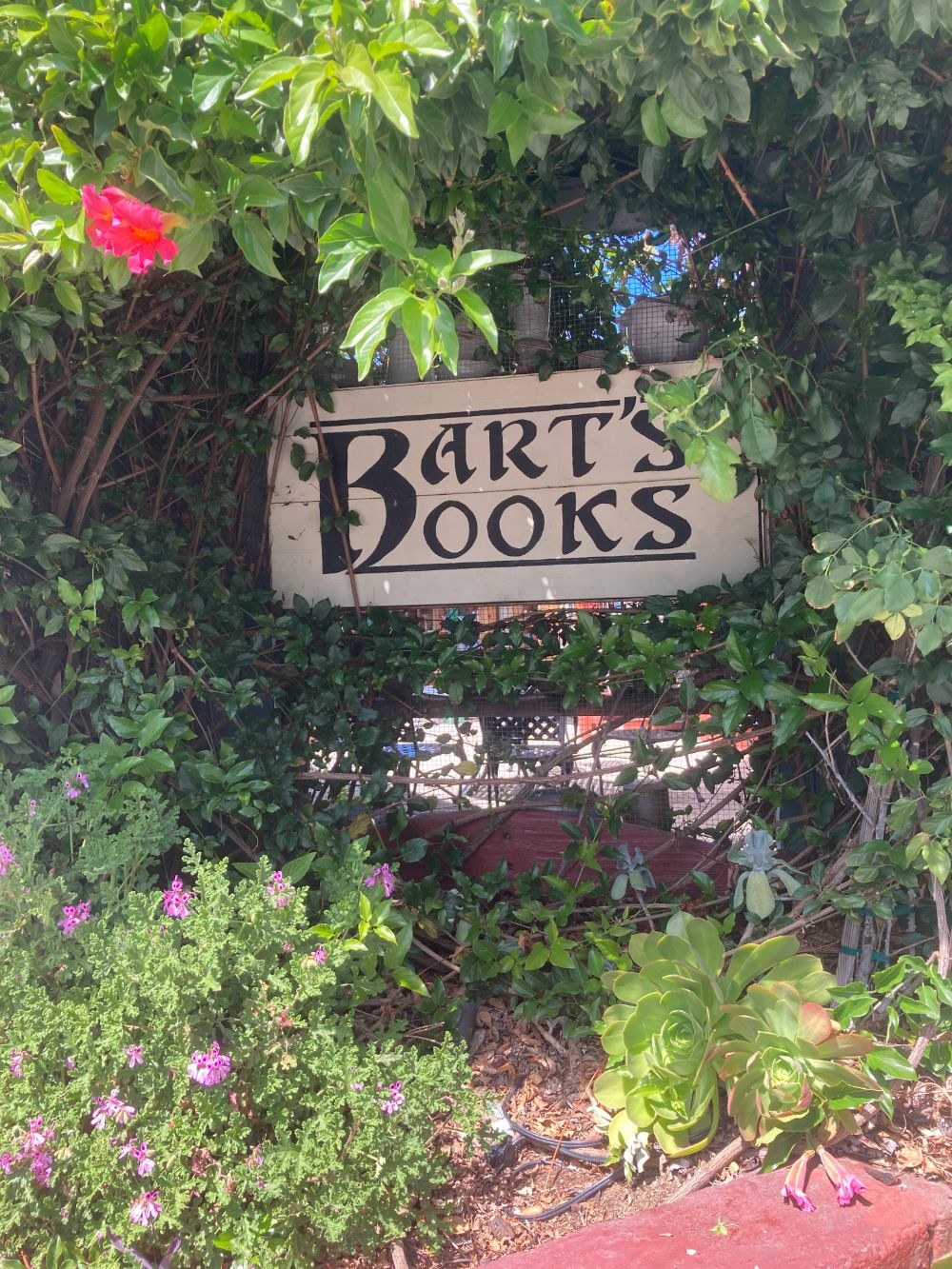 Hip Vegan
On our way home from camping, we stopped in Ojai for lunch again. This time we stopped at Hip Vegan at 201 N. Montgomery St. We picked the Hip Vegan because they are dog friendly. They allow dogs to come inside and order with their owners. I ordered a Tiger Bowl and it has grilled Tempeh, Tumeric rice, shredded veggie salad with fried shallots, garlic, and peanuts. My bowl was filling and delicious. I'm a sucker for Vietnamese Coffee and theirs doesn't disappoint. The rich dark coffee dripped into the sweetened condensed milk and it was yummy. We sat outside on the patio and they even have water bowls for the dogs. I'm looking forward to returning to the Hip Vegan and trying their Gunpowder Fries.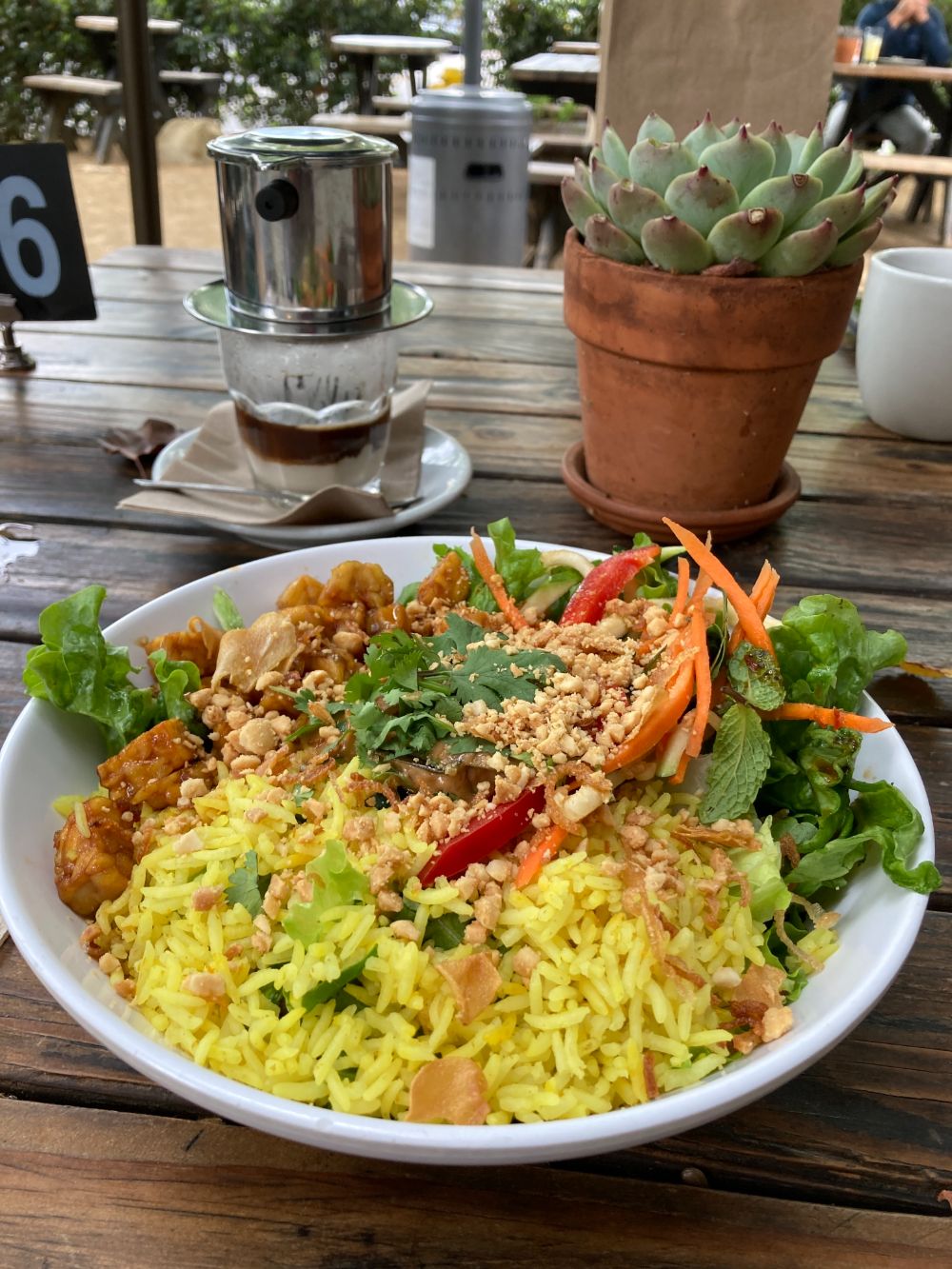 A Weekend in Ojai
Our 4 stops in Ojai just barely scratched the surface of all the things to do. Just looking around we saw cute boutiques and kitschy hotels to visit on our next trip. Ojai is the perfect weekend getaway if you live in Southern California and are looking for a small-town relaxed vibe.