An afternoon in Morro Bay even in the middle of winter is spectacular. Morro Bay is conventionally located halfway between Los Angeles and San Francisco. From Los Angeles, it is about a 3 ½ hour drive.  Nicole and I stayed in Cayucos with friends for New Year's Eve and on the way home, we stopped in Morro Bay. 
Two things dominate the iconic view when you are downtown. The first is Morro Rock which resides in the middle of the bay and the second is the smokestacks from an old power plant. The plant stopped operation in 2014 and the city just voted to permanently remove the smokestacks.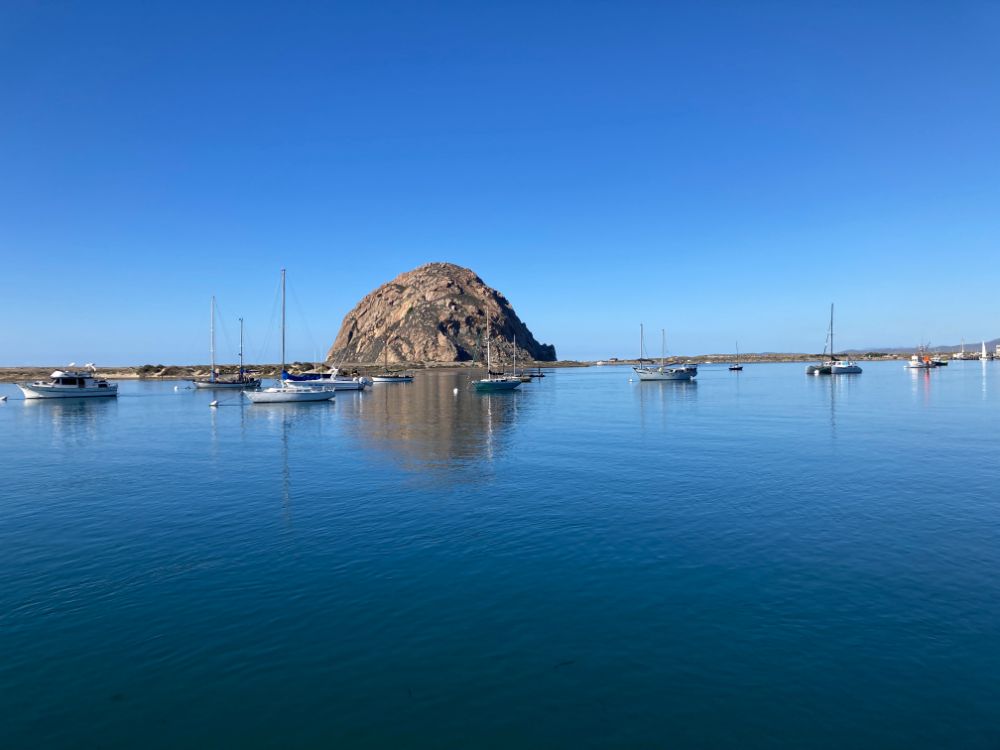 Walking the Embarcardaro in Morro Bay
We arrived in Morro Bay around 11:00 am on a Sunday morning and we headed towards the Embarcadero. It was early enough that we were able to find plenty of free street parking with a 3-hour time limit. It was a little too early for lunch so we took a walk. We poked our heads in a few stores. The highlight was The Garden Gallery. They have an amazing collection of succulents and native plants along with unique pottery for sale.
Along the Embarcadero there is also public access to the waterfront. We could hear the deep barking of elephant seals so we headed to the waterfront to look for them. They were basking on a floating dock anchored out in the bay. While we were watching the elephant seals we also noticed otters going back and forth. They looked like they were hard at work, maybe looking for lunch.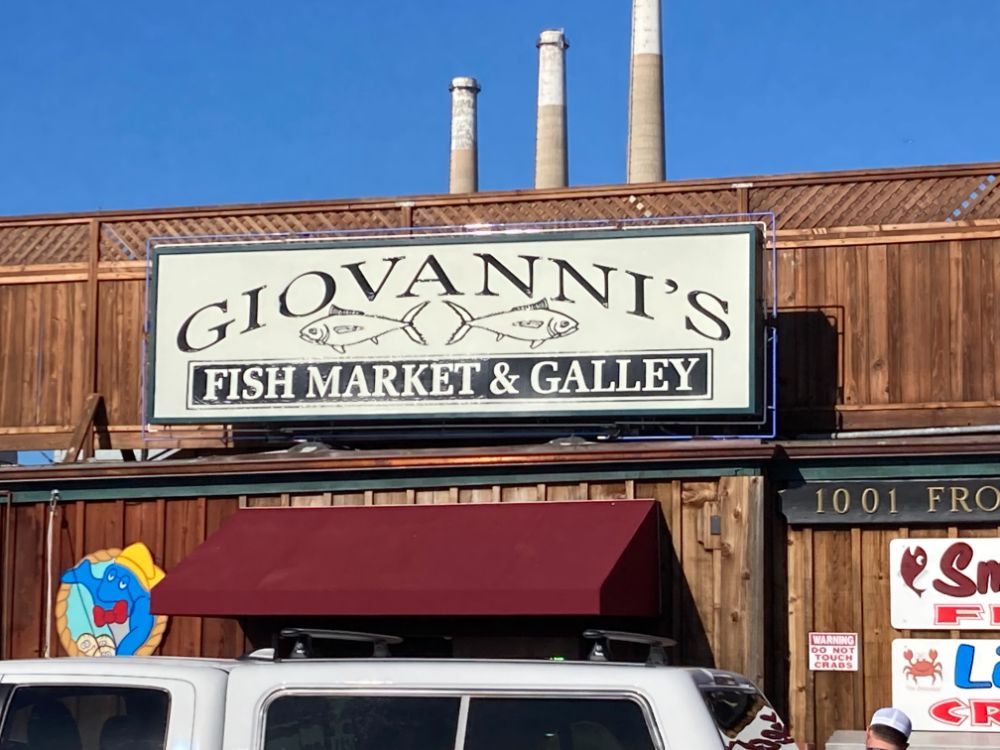 Lunch in Morro Bay
For lunch, we got in line at Giovanni's Fish Market. It's located directly on the wharf at 1001 Front St. You order at the window and they give you a buzzer to come collect your food when it's ready. I checked in with Yelp and got a complimentary cup of clam chowder and I ordered the halibut & chips with an 805 ale. Nicole ordered 6 oysters on the half shell, a Bluefin Wasabi Sando, and an 805. The patio seating is waterfront and part of it is covered with a net to keep out the seagulls. We sat at a picnic table with an umbrella and took our chances with gulls trying to steal my chips. The food was excellent. Everything was hot and fresh and the view was outstanding.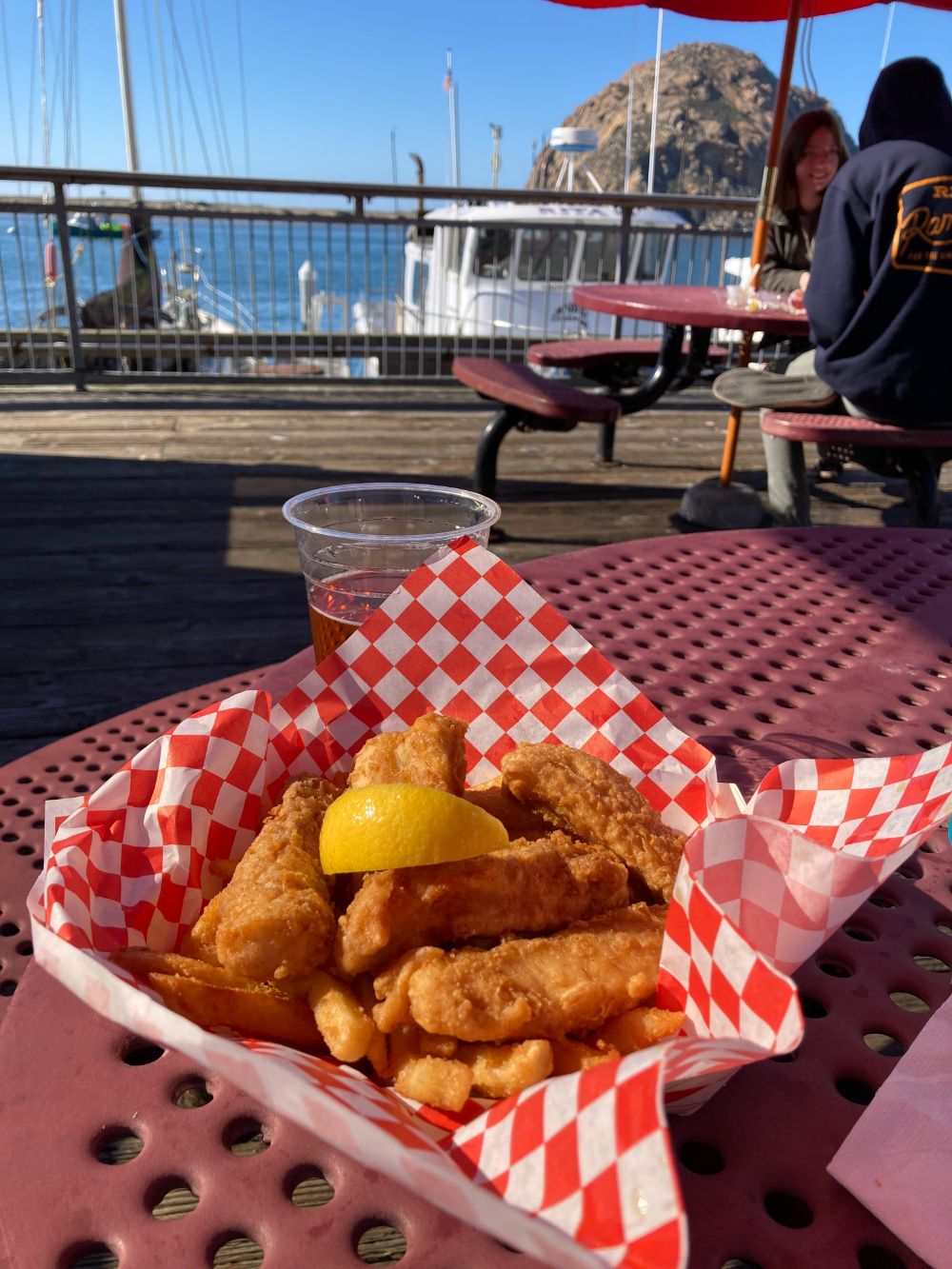 Coffee for a Cause
After lunch, we walked up a tiny hill to the actual downtown of Morro Bay to Top Dog Coffee Bar. We had our dog Jinx with us so we were interested in supporting dog-friendly businesses. Top Dog serves coffee and food, but they also have beers and kombucha on tap. They have an amazing secret garden in the back where you can enjoy your drinks and food. The garden has little nooks with comfy furniture to sit on and they have water bowls set out for the dogs.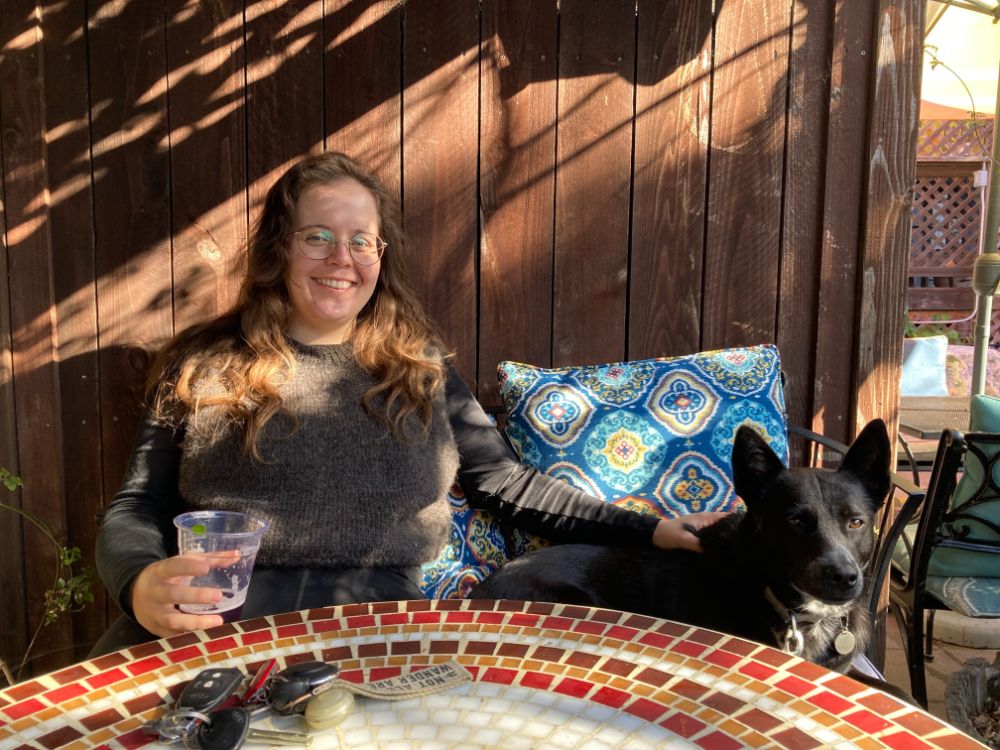 This coffee shop is all about giving back. Inmates make art for proceeds to support K9 rescue programs. Portions of coffee sales go to support therapy dogs for veterans suffering from PTSD. I had a caramel latte and Nicole tried Ube IPA. Her beer was an amazing violet color. While we were enjoying our drinks the owner came out to talk about the IPA and his rescue dogs. He brought us out a sample of a blood orange beer he had on tap and it was really good. Top Dog is a very welcoming place to hang out with or without a dog.
Outdoor Activities
Nicole and I didn't get a chance to partake in any outdoor activities but we saw plenty of options for our next visit. On the Embarcadero we saw boats advertising whale and dolphin viewing trips. There are places to rent kayaks or stand-up paddle boards and we saw a few people kayaking through the bay. Furthermore, Alltrails lists some local hiking trails or you can explore Morro Rock.
Planning a Future Trip to Morro Bay
Because Morro Bay has beautiful weather, yummy food, and drink, and all kinds of different activities I will definitely be going back. Its relativity close proximity to Los Angeles makes it a fun weekend destination.