Sally and headed up US 395 for a camping trip in Lone Pine, CA. Lone Pine is just a 3 1/2 hour drive from Southern California. Living in Southern California, every fall I see pictures of the beautiful yellow Aspens and the turquoise waters of Big Pine Lakes. This year my fearless, fellow adventurer "Sally" and I decided we were going to make the trip to see it for ourselves. We made reservations for Columbus weekend at Lone Pine Campground.
Driving to Lone Pine
We left the Los Angeles area Saturday around 7 a.m. It only took us a little over 3 and a half hours to get to Lone Pine. Our first stop was the infamous Alabama Hills Cafe. The cafe was packed with hikers. Some obviously just finishing up long hikes and others that were out for the day. We sat at the counter and ordered omelets. While we were waiting for our breakfast we had time to look at the giant map on the wall detailing all the stops in the Alabama Hills. On the way out we got giant chocolate-chip oatmeal cookies to go. Their bakery goods looked amazing and they make them all in-house.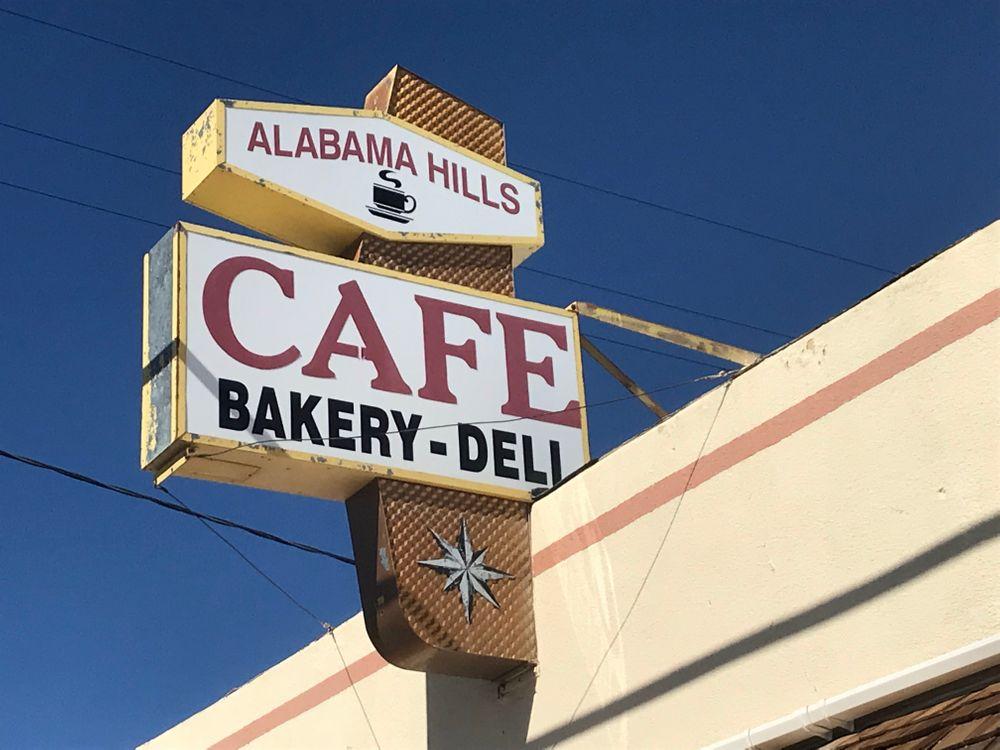 Lone Pine Campground
We drove to our campsite and we thought that we were going to be camping in the middle of the desert and that it would not be very pretty, however, we were dead wrong. Lone Pine Campground is pretty. We had a walk-in site. To the right of our site was a creek and trees and directly behind us was Mt. Whitney. The views were amazing. It was a beautiful morning, but there was an 80% chance of rain for the afternoon. We set up our tents and decided to go exploring.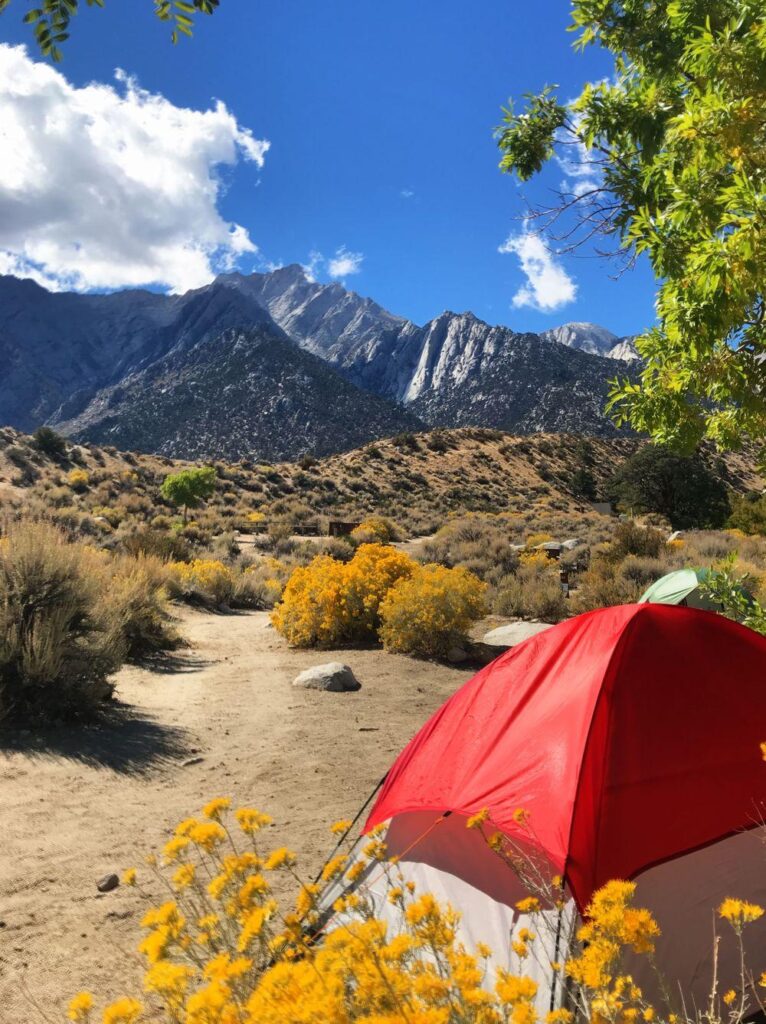 Exploring Lone Pine
Our first stop was right down the road from our camp, Alabama Hills. The hills were named after a CSS warship. The area is BLM land and there were plenty of people camping in random locations. Alabama Hills has been used as a location for filming many old Westerns. We drove through and stopped at various points to get out and hike. Mobius Arch is just a short hike from the car. The arch forms a perfect peek-a-boo window looking at Mt. Whitney.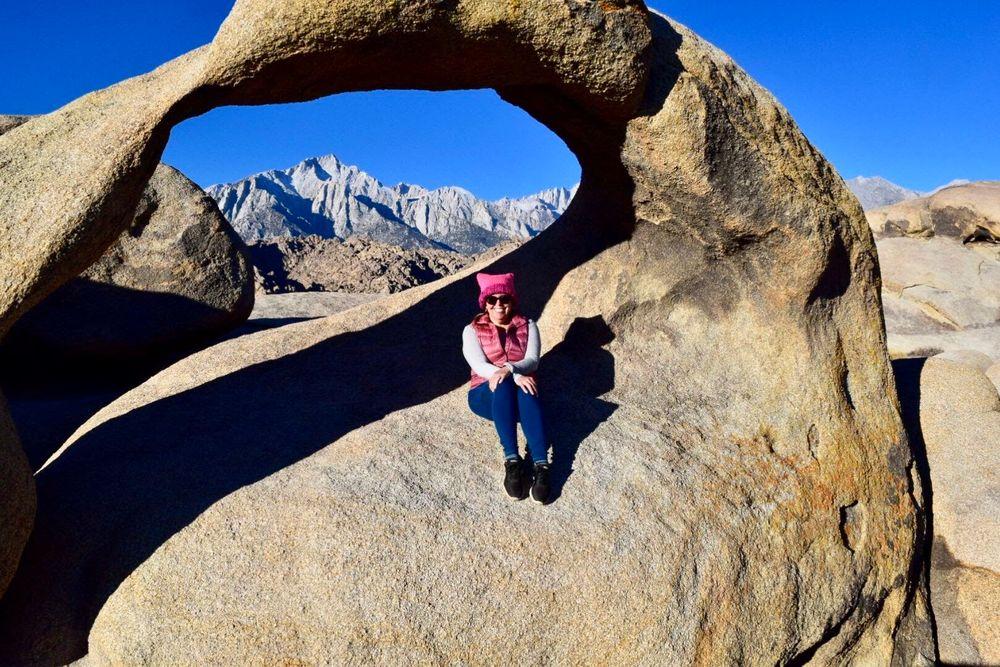 Manzanar Historical Site
The sky was getting dark and ugly and we decided to head indoors. We drove up 395 to Manzanar National Historic Site. I had driven past Manzanar many times but never stopped. There is a visitor center with rooms full of displays. In 1942 after the attack on Pearl Harbor, 10,000 Japanese Americans were forced to relocate to Manzanar. The displays explain their loss and experiences at Manzanar and other internment camps throughout the West. There is also a 3-mile driving loop around the grounds and you can get out and go inside buildings and see ponds and gardens. We were only able to go inside one building before the rainstorm hit.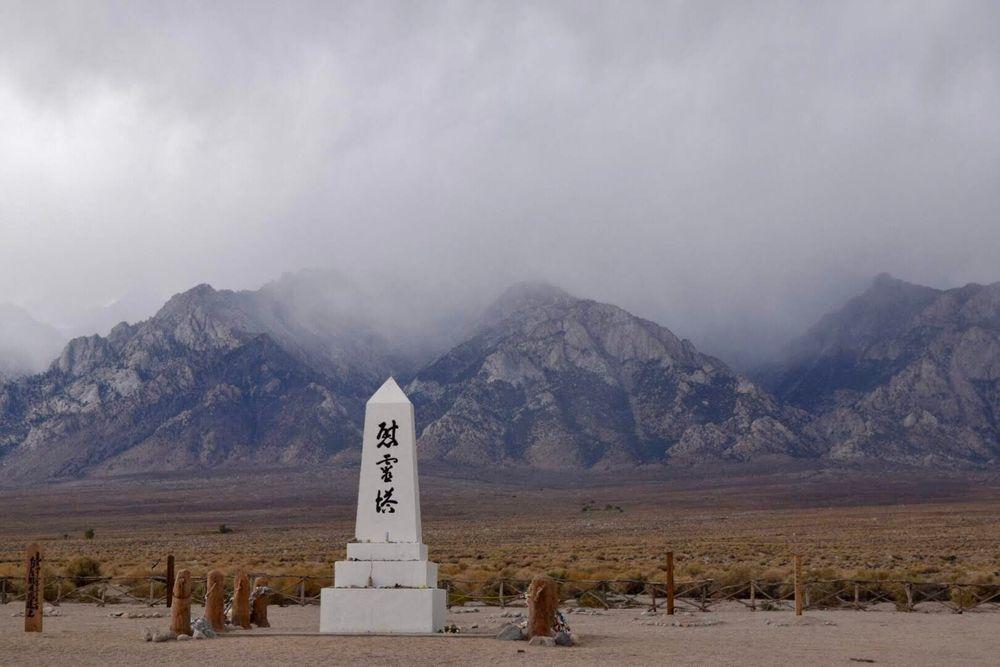 A Storm in Lone Pine
We drove back to our campsite to see how our tents had held up. At one point there were gusts of 40mph and pouring rain. The good news is our tents were still standing, the bad news is the wind blew so hard that my rain fly ripped on both sides of my tent. The wind was so strong that it pulled all my tent stakes out of the ground. After readjusting our tents we decided that there was more rain coming and we did not want to try and cook in it. Sally and I got back in the car and drove to town. We found a Mexican Food restaurant and we drank beer and ate enchiladas while we watched the rain pour down outside the window.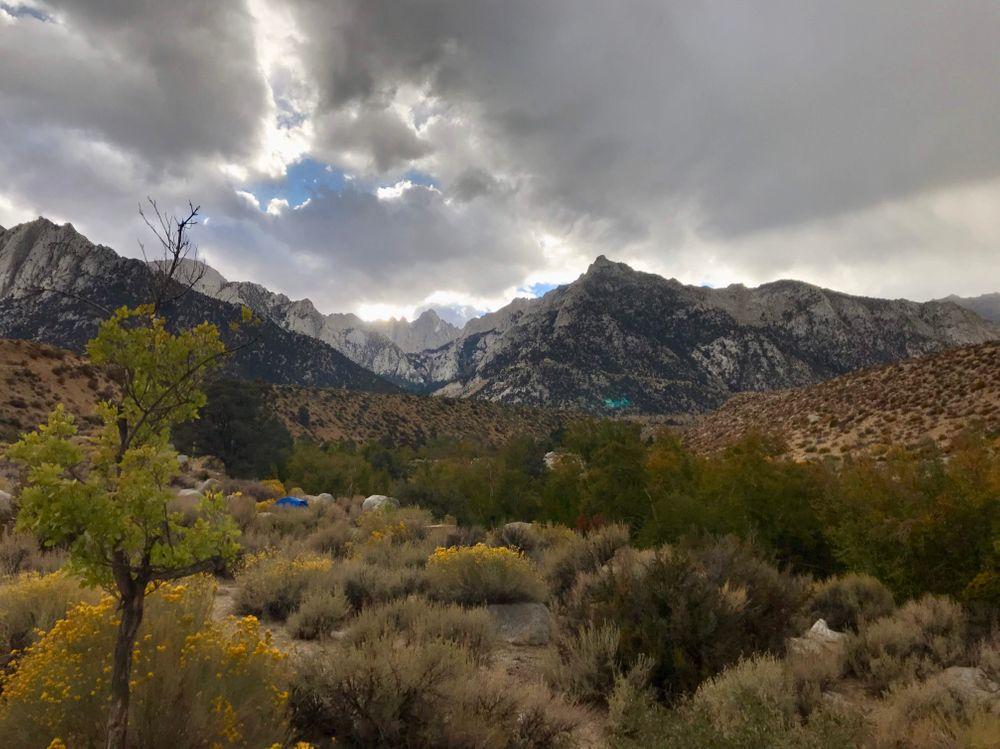 Tent Camping
Not being avid campers, we were more than apprehensive about spending the night in our tents in the rain and the wind. By 7:30 p.m. it was so wet and windy outside that we said goodnight and crawled into our tents. We each had our backpacking sleeping bags inside our old-fashioned Coleman sleeping bags. The double bags kept us warm, but sleeping when the wind is howling is not easy. All night long it felt like there was something or someone coming into the tent. Somehow I finally fell asleep.
Day 2: We're heading to Big Pine Lakes.