Hiking San Gorgonio, the tallest peak in Southern, CA always seemed unobtainable, but in 2017 Sally, Jeff, and I started hiking the peaks for the Six-Pack of Peaks Challenge. We did our first peak in May and even though it was Mt. Wilson (the one peak everyone complains about) I was hooked. Sally finished four of the peaks and Jeff and I finished all six. The day that Jeff and I finished San Gorgonio (our 6th peak) we sat in Jeff's truck beyond exhausted and decided that it was a miserable hike and we did not want to do it again.
Actually Planning to hike San Gorgonio Again
When 2018 rolled around we all decided that we were going to complete the Six-Pack of Peaks and finish in enough time to get invited to the finisher's party. To score an invite to the party we'd have to finish all the hikes by September 30th. San Gorgonio is a beast. The trail gains 5,390 feet in elevation to reach the peak at 11,503 feet and it is somewhere between 18 and 21 miles depending on where you park and what trail you take.
Turning the Hike Into A Backpacking Trip
Sally and I decided that we would try and break this hike up into two days and backpack up six miles and spend the night. I applied for overnight permit months in advance and we hiked the other 5 peaks that were part of the original challenge. Unfortunately, 2 weeks before our trip a fire broke out in the area and the Forest Service had to close both San Gorgonio and San Bernardino Peak. The ranger called to cancel my overnight permit and we ended up backpacking to Little Jimmy instead.
A Change in the Six-Pack
A few weeks after the fire, Jeff Hester of Six-Pack of Peaks added alternative peaks to replace the ones that were closed due to the fires. One of the alternatives was Sitton Peak. Sally and I had already hiked Sitton in the spring. I went to the Six-Pack website and logged my hike. Officially, I was done with the challenge, but it felt anti-climactic.
San Gorgonio Opens Up
At the end of August, the Forest Service opened the San Gorgonio area again for hikers. We did not have a weekend to make it into a backpacking trip, so we decided we were going to tackle it in one day. Labor day seemed appropriate. The day before I hydrated, hydrated, and hydrated, and that night I ate mac-n-cheese to try and store up some carbs.
The Day of the Hike
Monday morning we left at 4:30 a.m. and got to the Vivian Creek Trailhead at 5:30 a.m. but it still was dark. We started hiking a little before 6:00 a.m the first part of the trail is on an access road walking past cabins. After we crossed the dry Mill Creek Bed the uphill switchbacks started. The next mile was tough and we had a plan that we would not stop in the middle of the switchbacks. Before long we were high enough that we could see the city down below us. After the switchbacks we ran into a sign, we were entering the San Gorgonio Wilderness.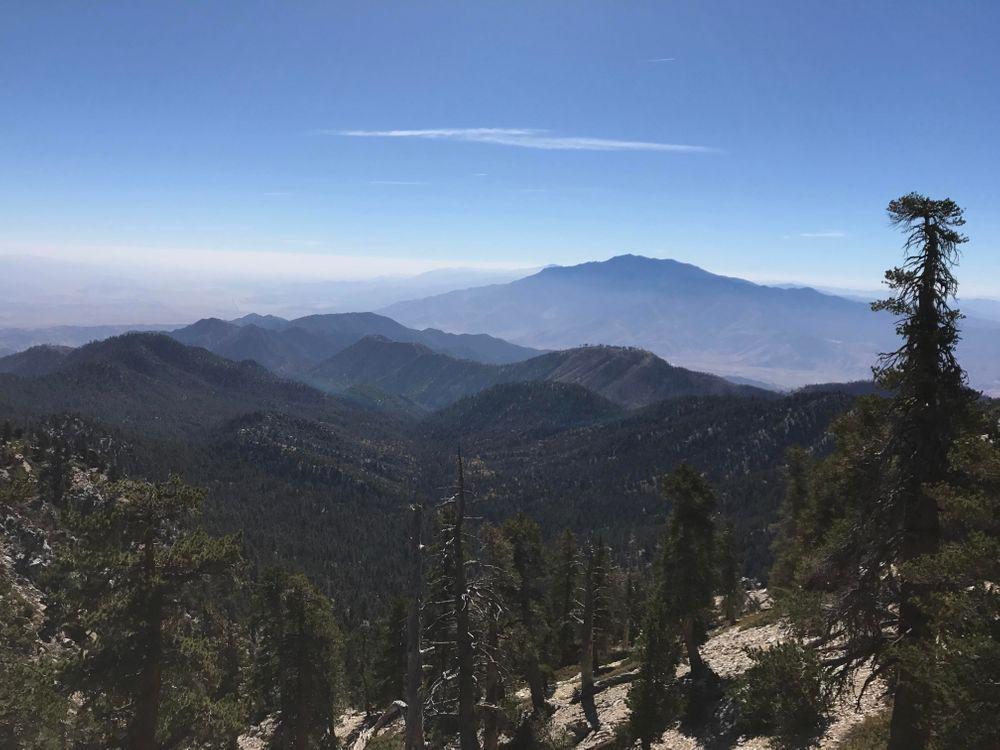 San Gorgonio Wilderness
The next few miles were some of the prettiest of the hike. We saw giant trees and little meadows and we crossed the creek a few times. On the way up we passed Halfway Camp, which is not halfway and we came upon a doe and her fawn. The fawn still had her spots and they both had the biggest ears. They were not overly concerned with us and we stopped and took a few pictures.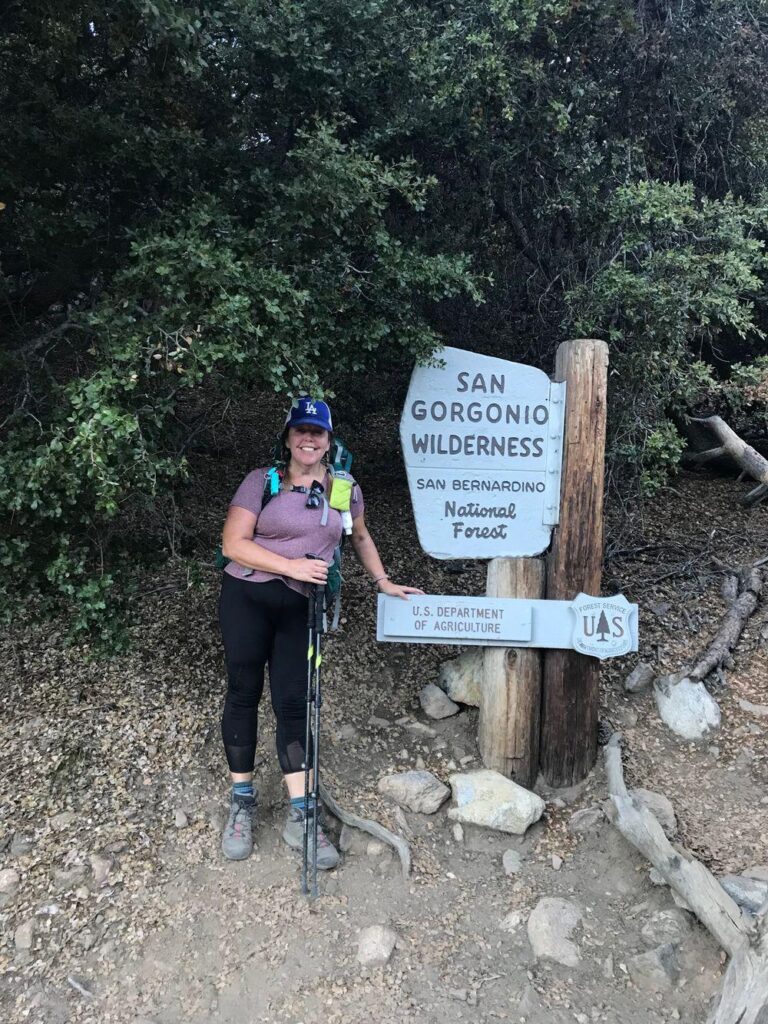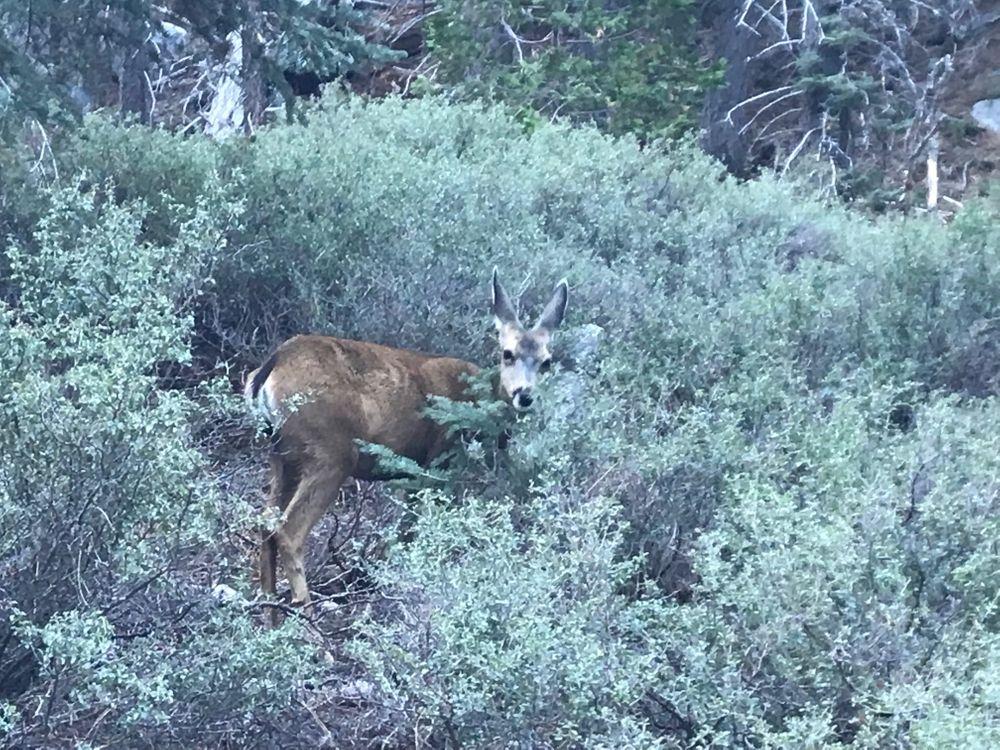 While Hiking San Gorgonio -Take Breaks
We were hiking at a pretty good pace and we stopped after 6 miles and had a little snack. I was starting to have bad visions of what was yet to come. Before the hike, Jeff had reminded me to tell Sally to not look up and the answer to all questions about the summit is, "no that is not the summit."
Hiking San Gorgonio – The Altitude is a Problem
The next miles were tough; the trail continued to gain elevation. Eventually, we were up above the tree line and altitude started to become a problem. When we are hiking above 10,000 feet, breathing in enough air is a struggle. It feels like trying to breathe through a straw. The landscape changed from lush forest to moonscape. Looking up in the far distance we could see a summit, but of course, it was a false summit. We were now hiking very slowly, probably less than one mile an hour. Sally asked if we should turn around and not continue on to the summit. I assured her that we were getting closer and we were going to make it.
A Little Encouragement
A very enthusiastic man stopped to chat with us. He told us that we were doing great and that we were probably 20 minutes from the top. Feeling reassured we continued on averaging 100 steps before we had to stop to catch our breath. Well, it was not even close to 20 mins, more like an hour and a half. We passed one false summit and we could finally see the real peak of Mt. San Gorgonio. With the summit in sight, we boulder hopped up to the top and found the metal box, and signed the trail register. Of course, we took pictures with the summit sign to prove we had made it to the top.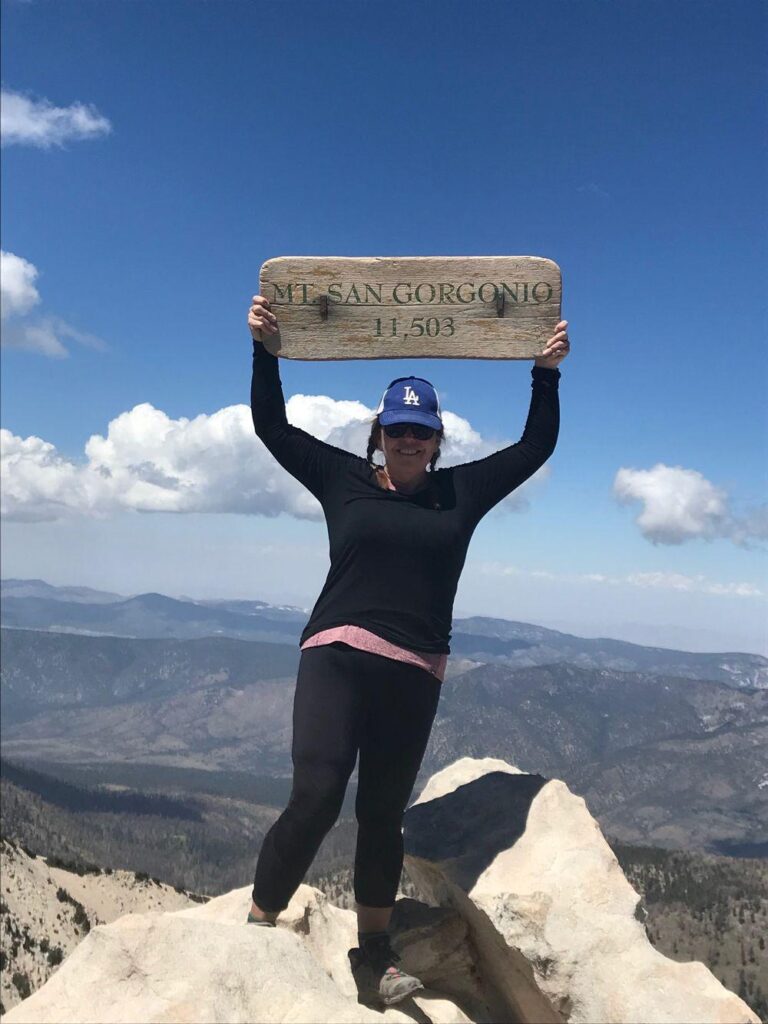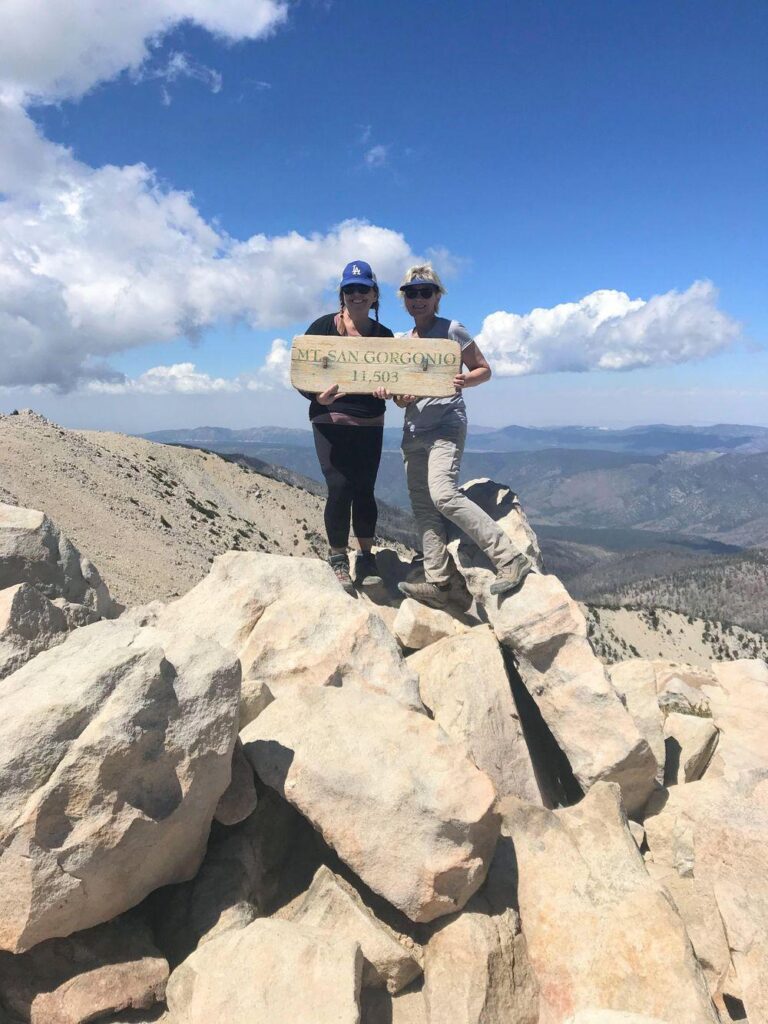 The Peak of San Gorgonio
We had made it to the top of the tallest peak in Southern California. Relieved to have made it we sat down for a much-needed break. It was warmer at the top than we had anticipated and we did not even have to put on our puffer jackets. Peanut butter and jelly sandwich and some jalapeno chips taste great at the peak. Be aware of little trail bandits. The chipmunks tried to steal our chips and they have no fear. We spent less than 30 minutes at the top because we knew how far we still had to hike and we wanted to get back to the car before dark.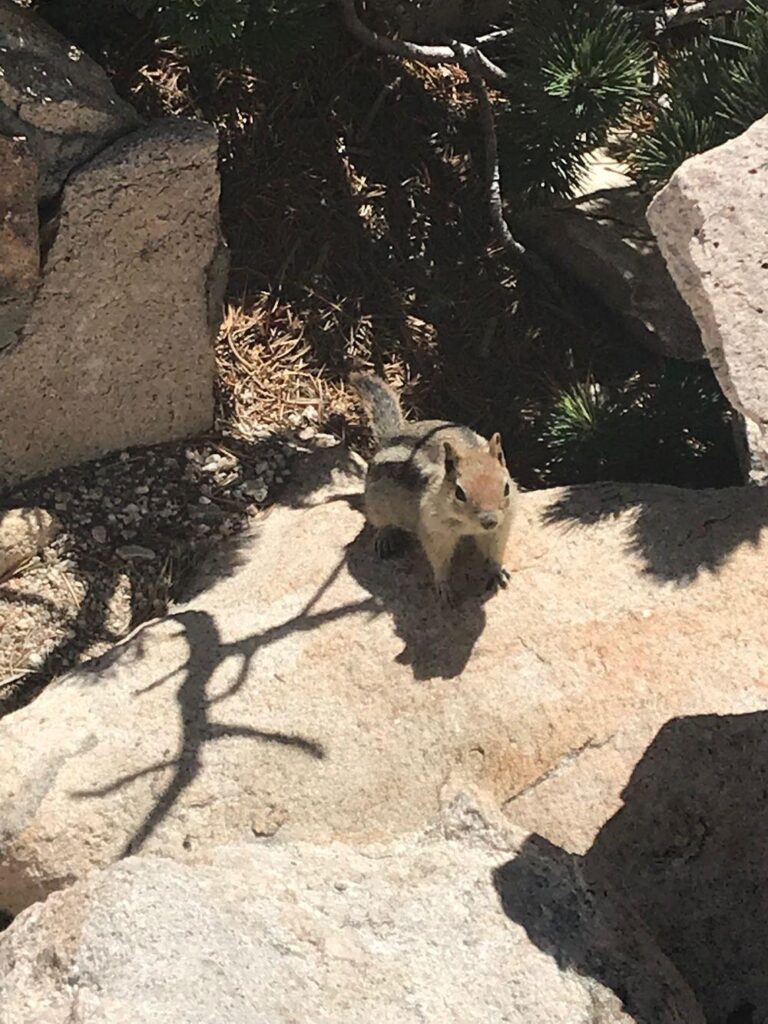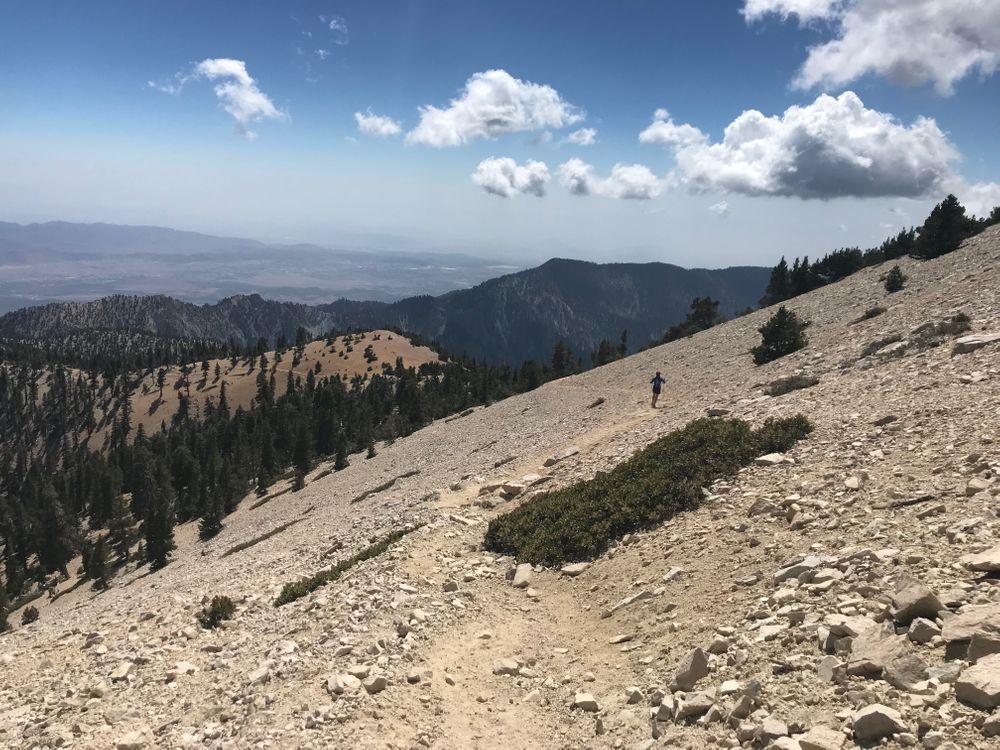 The Way Down
The way down seemed steep and endless. I tripped on a rock and splayed out in the middle of the trail and cut my hand and knee. It seems like one of us always falls on our hikes, the trails are full of obstacles like rocks and tree branches, and the one time you look up at the scenery is usually when it happens.
Injured Toenails
I did not know it at the time, but when I tripped I injured my toenail. With 6 more miles to go my toenails felt like someone was jamming bamboo shoots under them. With every step, it brought a new swear word out of my mouth. I decided I could not take the pain anymore and I sat down right in the middle of the trail I would have cried, but I'm sure I was too dehydrated for tears. I relaced my boots using a surgeon's knot. The knot is supposed to get the laces tight enough for your toes not to hit the end of your boots, which is hard to do when you are heading down such a steep incline. I had visions of how ridiculous it would be to call for an emergency rescue for toenails and I had to dig deep to keep going.
The Last Mile
The last mile on the mountain was treacherous. Vivian Creek Trail losses about 1,000 feet in less than 1 mile. Our joy of making it down the mountain was overshadowed by the fact that we still had to walk back across Mill Creek dry bed and another mile to the car. On the way to the car, I saw something moving along the trail and as I got closer I saw that it was a baby King Snake. It took us 12 hours and 45 minutes.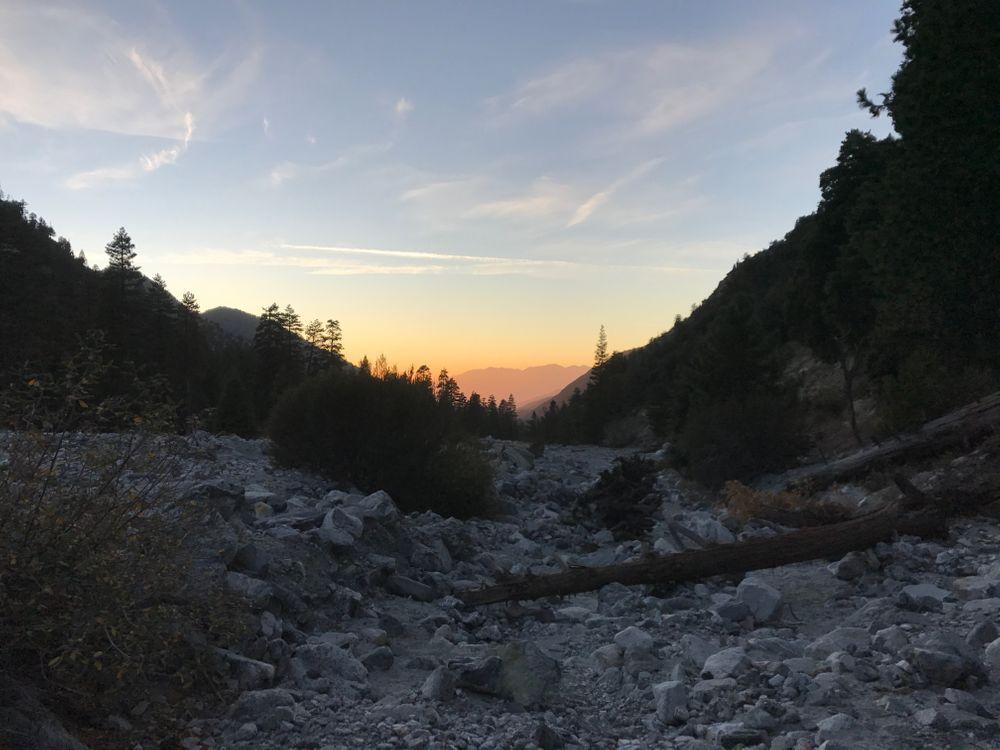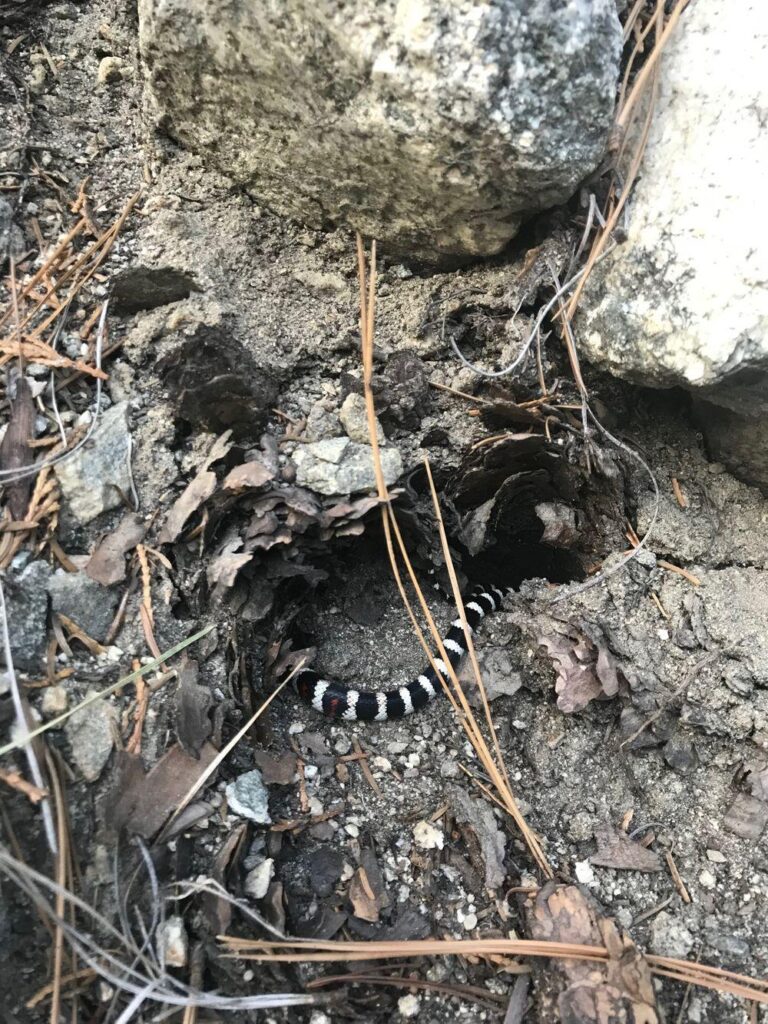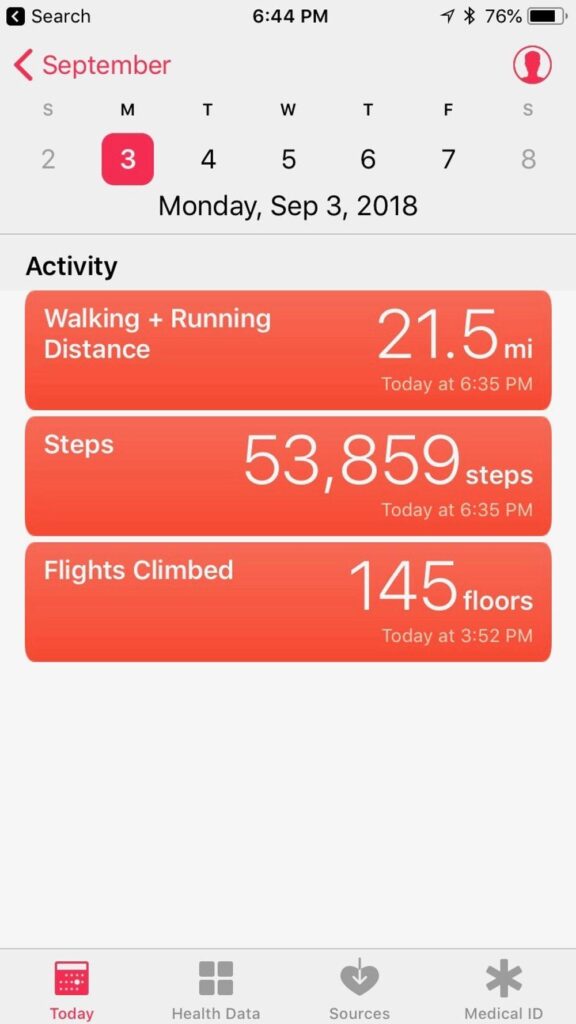 We Made it to the Car
We got back to the car around 6:15 p.m. First, we peeled off our boots and put on flip-flops. My toes felt so bad that I left my socks on. On the drive home, Sally and I had plenty of time to discuss the hike. We decided we are done with San Gorgonio. There are plenty of other peaks to do and there is no need to repeat this one. Our highlights of this hike were we had a lot of good laughs, we saw a fawn and it felt good to finish the Six-Pack of Peaks, even though this was actually our 7th peak for the challenge.
Finishing the Six-Pack of Peaks
We have now finished 9 of the peaks and we have 3 more to go before December 31st, however, one is still closed because of fire damage. I lost two toenails and Sally lost one from this hike. In October Jeff, Sally, and I went to the Six-Pack of Peaks Challenge Party. 515 people completed the challenge and we felt excited and proud that we did it too. At the party, we added our adventure goals for 2019 to the Wish Tree. Jeff wrote that he wants to hike Mt. Whitney. Sally and I want to hike the JMT and meet Jeff at Mt. Whitney. We will see what 2019 brings our way.