The Lavender Festival at 123 Farms in Beaumont, California is an amazing place to spend the day. The smells of the blooming lavender fields will transport you to a field in France.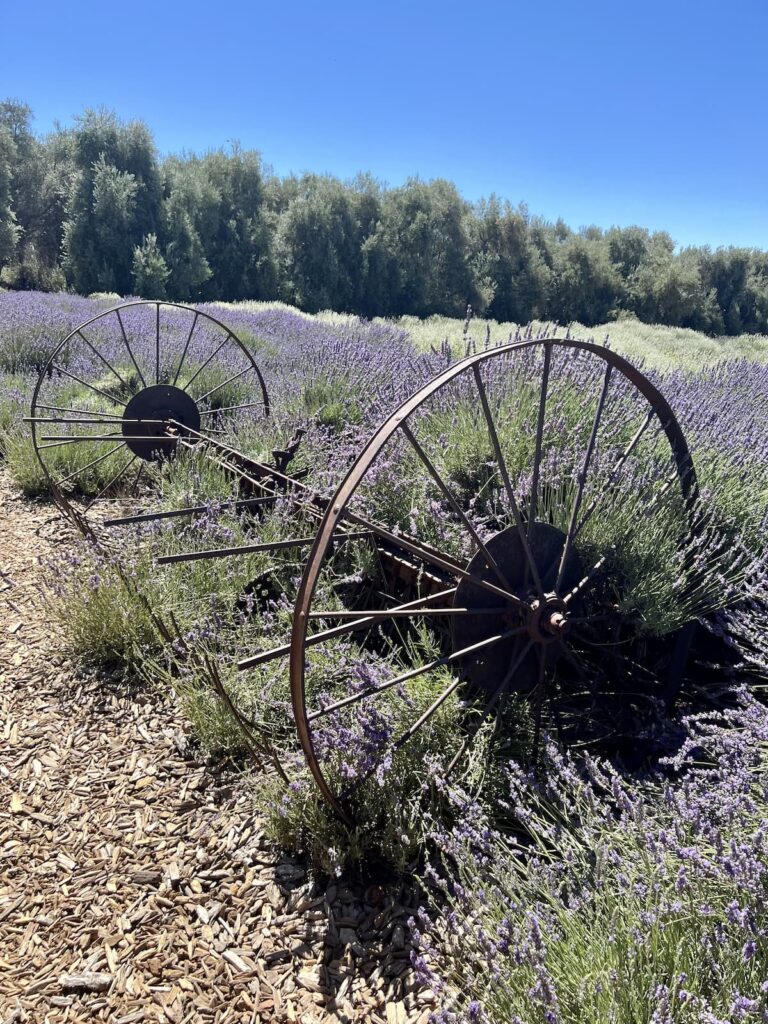 Details For Visiting the Lavender Festival
Just an hour and a half outside of Los Angeles and there is something for everyone at the farm. The Lavender Festival runs from May 6 – July 31st. The hours are from 10:00 am – 6:00 pm and they are closed on Tuesdays. Tickets are available online at https://www.thelavenderfestival.com/tickets. The prices are a little higher on the weekends ($16) and parking needs to be purchased online ahead of time.
What to do at the Lavender Festival
I visited on a Sunday and I assumed that we would stay 2 hours at the most, but we ended up staying the whole day because there were so many things to do and plenty of places to just relax and enjoy the vibe. Here's a partial list of all the things you can enjoy.
Wander around the lavender fields and inhale the lovely aroma.
Take selfies in a field of lavender.
Shopping.
Take a ride on a hay wagon through the lavender field.
Sign up to make a lavender craft.
Go on a wine tour that ends with 123 Farms' own Rose.
Have lunch with either a Lavender Lemonade or try one of their lavender mixed drinks from the bar.
Try some honey lavender ice cream or one of their yummy desserts.
Play cornhole or chess on a giant-size yard set.
Take a rest in a hammock.
Find a comfy spot to sit among the olive trees and enjoy the music.
Wine Tour
I highly recommend going on the wine tour. We met our guide under a tree. She led the group to see the grapes that they have planted on site. We learned so much about 123 Farms and how they are working to be sustainable. Our tour ended inside their wine bar and we all tasted their Rose. It was delicious and reminded me of wine I had in France, light and crisp.
Yummy Food & Drinks
The food we tried was tasty. There is a line to order food, but it moves quickly. After ordering they give you a number and then you go pick it up at the window when it's ready. I had the fig and lavender pizza and it had lavender goat cheese, sliced dried figs, caramelized sweet onions, wild arugula, and herb oil sauce it was $15. My friend Chris had the Lavender chicken sandwich which had grilled chicken breast, marinated artichoke hearts, roasted piquillo peppers, spinach, red onions, and basil pesto it was also $15 and it came with a bag of potato chips. I had the lavender lemonade $6 and Chris tried the lavender ice tea $5 and we were both happy with our choices.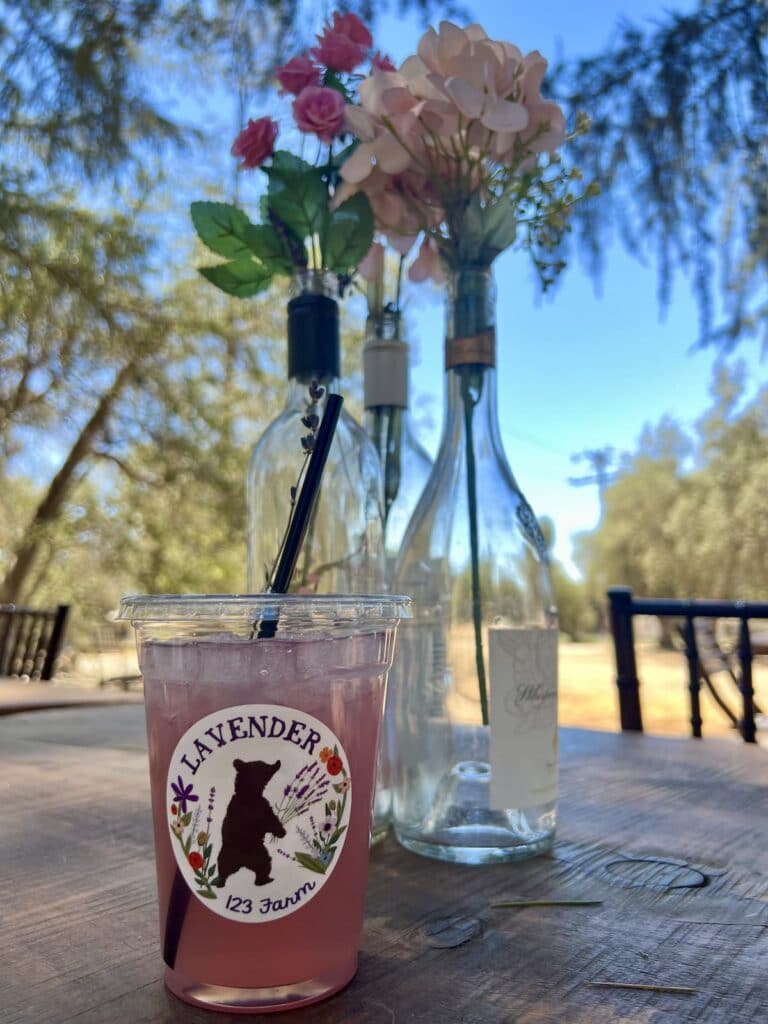 Lavender Desserts
Before we left we both tried the Honey Lavender ice cream $5 and it is yummy. Their ice cream is organic and made in small batches. They also have lavender cheesecake, funnel cake, and lemon bar.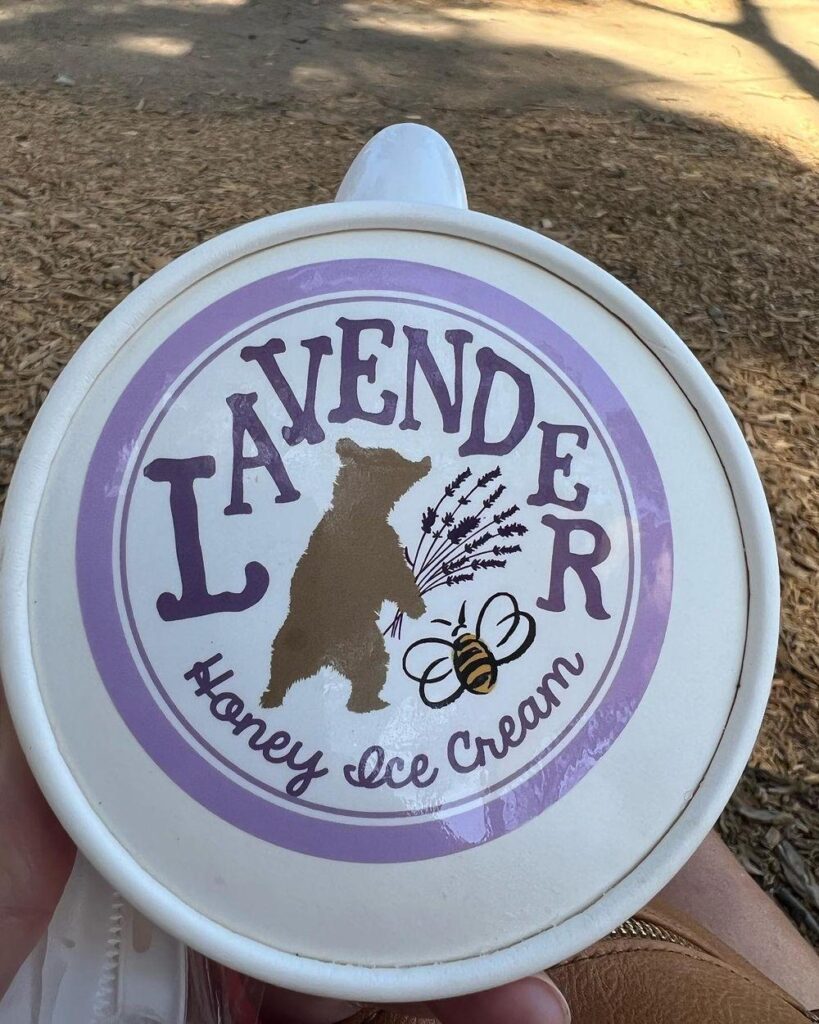 Find a Comfy Seat
There are a variety of different chairs spread throughout the property. I saw a couch and a side chair in the orchard. We sat in 70's style wicker chairs on the old pickle ball courts, and we ate our ice cream on camp chairs.
123 Farms is Picture Worthy
Love is in the details and there is a lot of love that went into the Lavender Festival. Everything from the signs, to the colorful yarm pom-poms hanging from the trees to the music that is playing, adds to the adorable vibe that 123 Farms has to go on.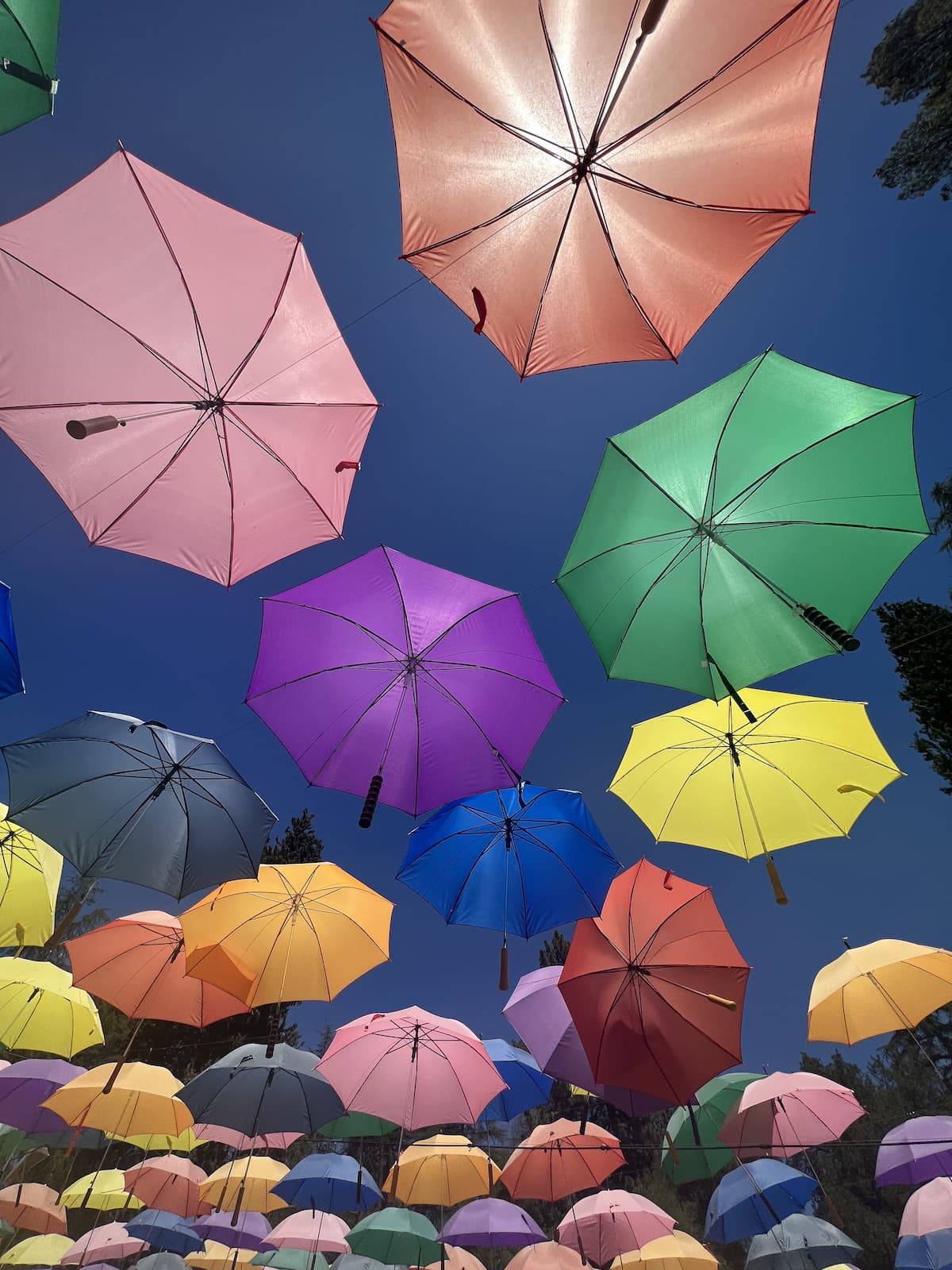 Don't Miss out go Get Some Lavender
The Lavender Festival is only until July 31st and you should definitely go check it out.