In late February Sally and I took our dogs for a hike to Cedar Glen Camp in the Mount Baldy area. We parked at Ice House Canyon Trailhead and I hung up my Forest Adventure Pass. I bought a yearly pass at REI for $30, but day passes are available for $5. If you are planning to hike on the weekends it's not unreasonable to be in the parking lot at 6 a.m. in order to get a parking place.
Self-Service Permits to Hike
You need a permit to hike in Ice House Canyon. There is a self-service box at the Ice House Canyon Trailhead. Open the box and grab a permit. I've been lucky and found pens inside the box when I hiked here. The permit asks for general information such as name, address, where you're hiking to, where you're exiting, and how many people are in your group. After you fill out the permit tear off the white copy and put it on the side of the box and keep the yellow copy with you. Dogs are allowed on these trails as long as they are leashed.
Ice House Canyon Trailhead
Ice House Canyon Trailhead is the starting point for many popular hikes. Some of the most popular are Cucamonga Peak, Ontario Peak, Big Horn Peak, The 3 T's, and the Chapman Trail to Cedar Glen Camp. Overnight camping is allowed in the area, however, you need to fill out a permit and no fires are allowed.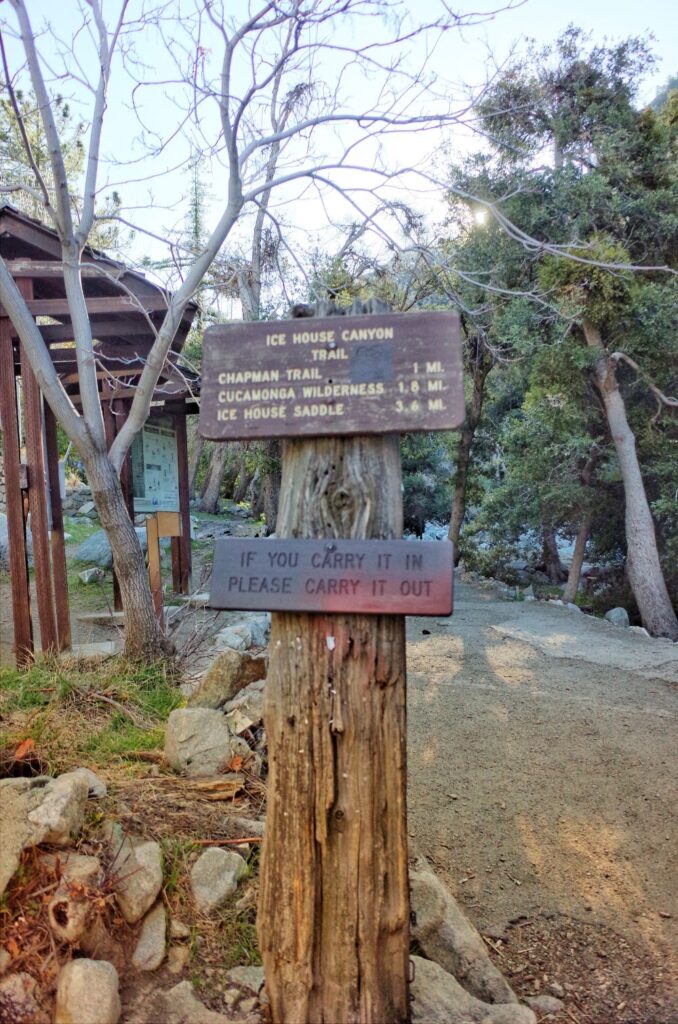 Hiking Ice House Canyon Trail
We started our hike at Ice House Canyon Trailhead and hiked on Ice House Canyon Trail. The trail runs parallel to a creek in a canopy of oak, cedar, fir, alder, spruce, and pine. There are several cabins along the trail as well as some burned-out remains of the cabins. The ascent is moderate and if you continue on the trail you will end up at Ice House Canyon Saddle, however, we were only on the trail for one mile.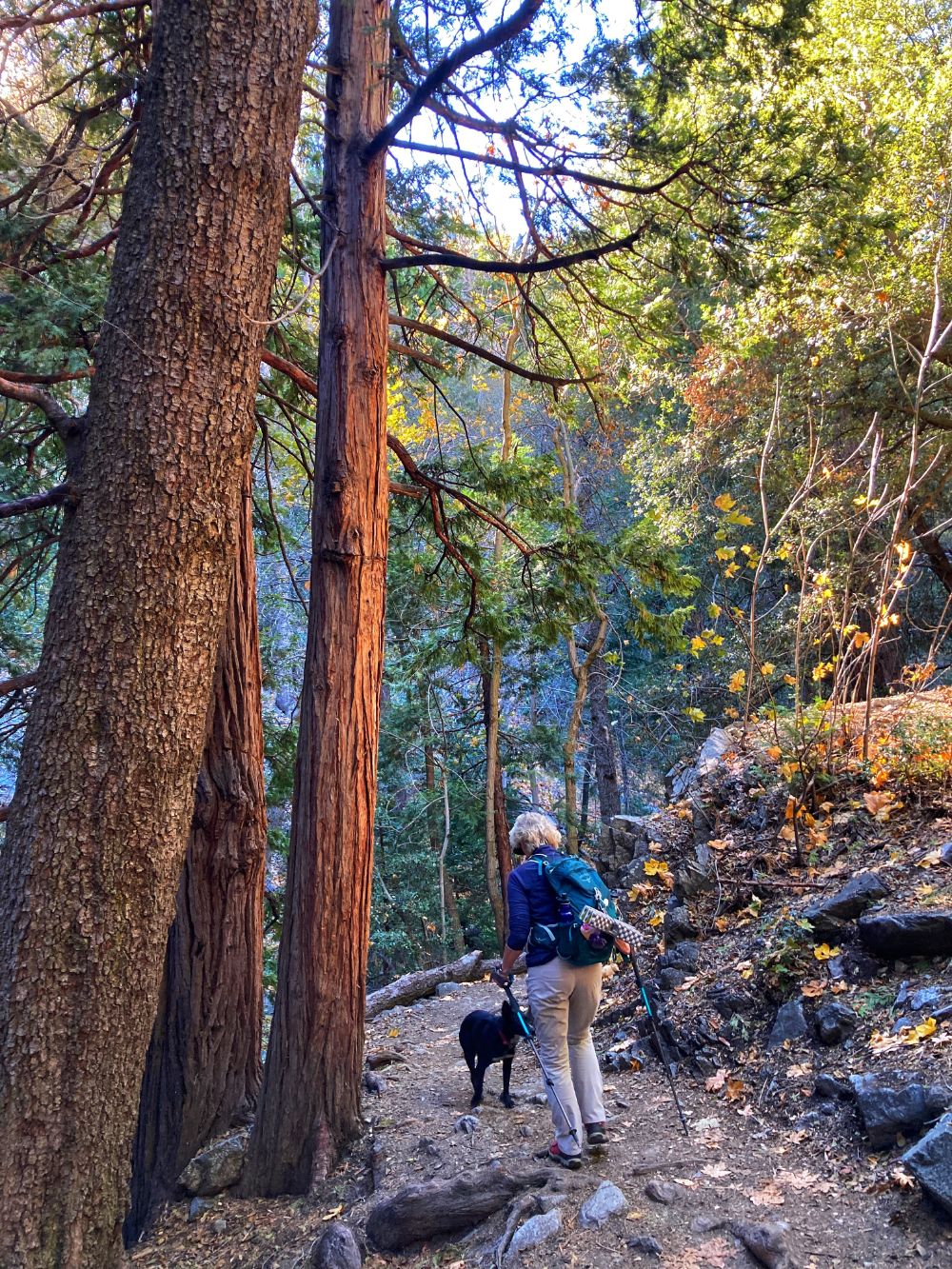 Chapman Trail
After one mile on the Ice House Canyon Trail, we came to the turn-off for the Chapman Trail. From that point, it is 1.5 miles to Cedar Glen Camp. The trail continues through a series of switchbacks through the trees. After about 1 1/4 miles you will cross the stream. If you are camping for the night this would be a good place to refill your water keeping in mind that the water needs to be filtered.
Cedar Glen Camp
Cedar Glen Camp is only 2.4 miles from Ice House Canyon Trail Camp. There's a sign announcing your arrival and as you walk into camp there are a few flat spots for tents up on the hill and there is a spot down below under a large tree for a larger tent. The problem with the lower spot is the trail that continues onto the saddle passes right by the site. Cedar Glen is a primitive campsite which means there are no bathrooms, water, or trashcans, and fires are not allowed. If you are looking for a view of the valley below it is best on the hike up because Cedar Glen Camp is tucked in amongst the trees.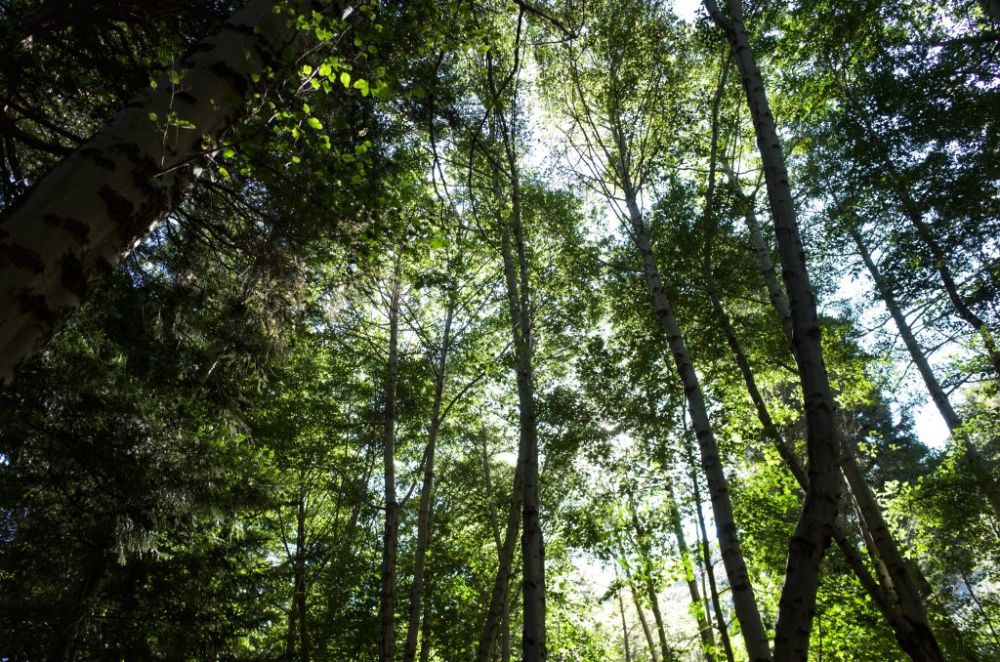 A Day Hike
Sally and I weren't camping, we went up for a day hike. We picked a spot to sit in the sun and we enjoyed some hot Chai while the dogs ran around and played in a few patches of snow that hadn't melted. After we enjoyed our break we packed up and started back down the trail. It took us about an hour to hike back to the car. Cedar Glen is a fun hike that is rated as moderate on Alltrails and the scenery is pretty no matter which season you are hiking, however, if you plan to hike in winter be prepared. We brought microspikes and poles, but we didn't end up needing either this time.
In Conclusion
A hike to Cedar Glen Camp in Mount Baldy is as fun as a day hike or it would be a good place for an overnight and a gear shakedown before a longer backpacking trip.