2020 was supposed to be the year that Sally and I hiked Mt. Whitney, but instead, we did a 3-night backpacking trip to Cathedral Lakes in Yosemite. We actually got lucky in the lottery and got a permit to hike Mt. Whitney, but then COVID hit, and then there was a major earthquake in Lone Pine and we had to change our plans. In a normal year a hiker can get a last-minute permit for backpacking in the backcountry, but this year because of COVID I applied for a walk-up permit online 2 weeks ahead of time and I received a backcountry permit for Cathedral Lakes.
Before Backpacking
Normally to receive a permit I would go into a visitor's center and meet with a ranger, however, this year the meeting had to be done online. I logged in with other permit holders and a ranger went over all the basics with us and gave us info about being safe in a national park during a pandemic. I learned that some popular hikes such as the Mist Trail are one way and face masks and social distancing are encouraged. The ranger let us know that bear canisters are required and we covered the leave no trace policies. After my hour-long meeting, I was given a code to finalize my permit. The Yosemite Conservancy emailed me my final permit.
Day One
Sally and I left Southern California in the morning and drove to Yosemite. We entered Yosemite through the South entrance. This year due to COVID you must have a reservation to enter. Our backpacking permit allowed us to enter the park. The entrance fee is $35 for seven days. Taft Overlook was our first stop. This is an easy 2.2-mile roundtrip hike to the most amazing view of Yosemite Valley. If you have ever seen pictures of wedding proposals from Yosemite this is probably where they were taken. It is possible to get right on the edge and every so often you hear about people falling to their deaths so we proceeded with caution. Overall the views are spectacular and well worth the detour.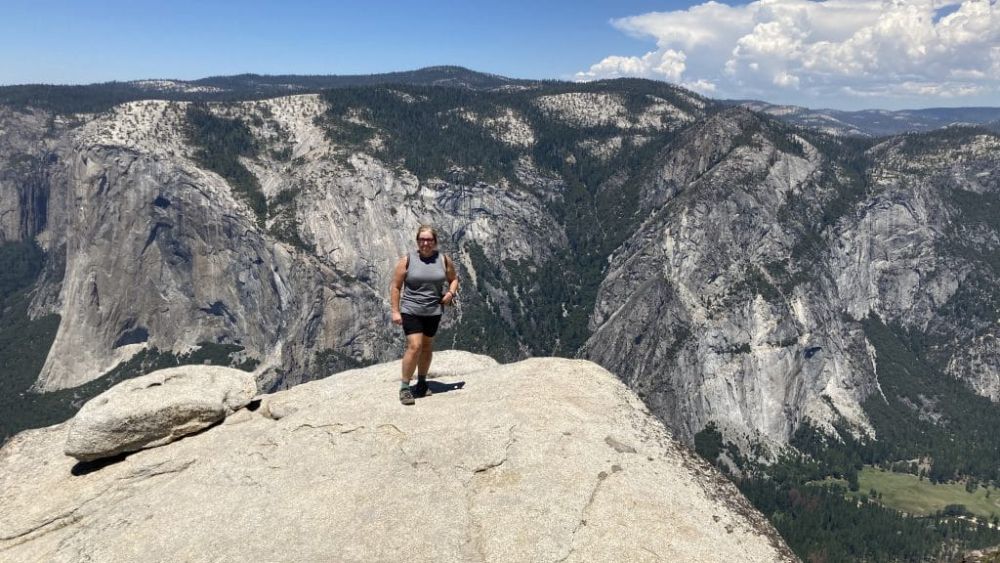 Night One
Our backpacking permit allowed us to spend one night before and after our trip in a backpacking camp. This year in the valley the only backpackers' camp is located in the Upper Pines Campground. We parked the car and put on our packs and headed to the camp. Oh my, we were in for a shock. Yosemite was having a heatwave and by the time we hauled our backpacks to the camp and set up our tents we were roasting. We walked back to Curry Village and ordered some dinner from the grill. There are only a few places open for food in Yosemite, but there were 2 food trucks parked at Curry Village. Back in camp, it was so warm that I slept on top of my sleeping bag and with both doors of my tent open.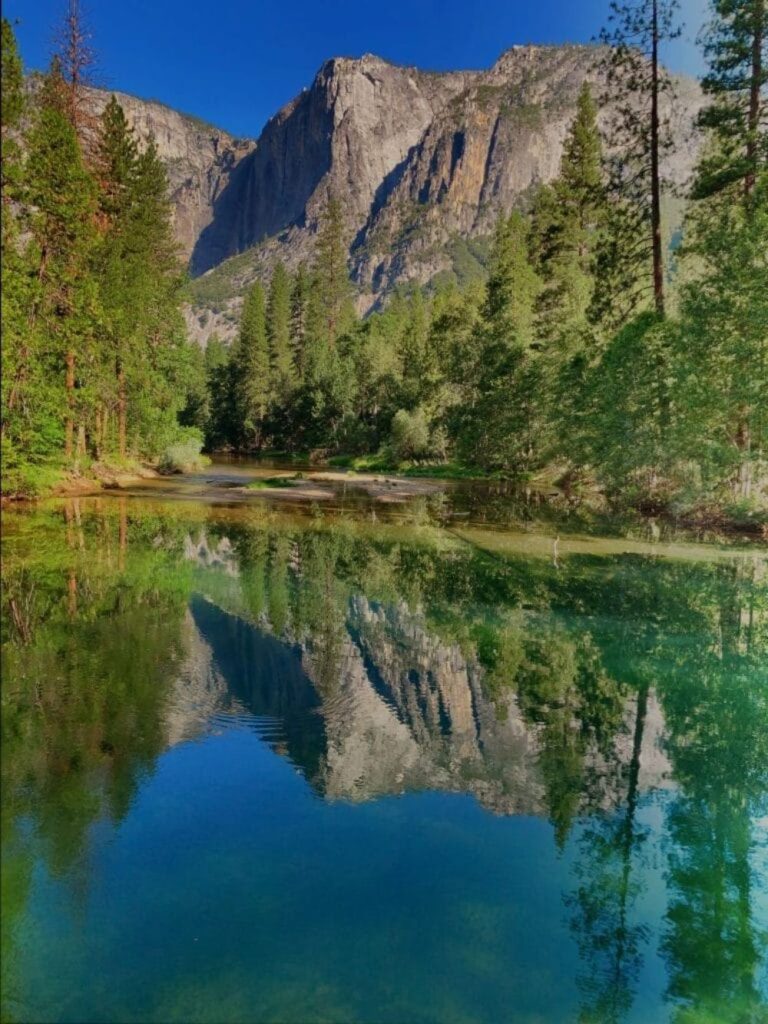 Day Two
After packing up camp and hauling backpacks back to the car we walked to Curry Village for breakfast. We wanted to go to the store and it doesn't open until 10:00 a.m. so we walked around the valley. This is when we really noticed how few people are in Yosemite compared to a normal summer. There were plenty of parking places and very few people on the river trails. It was weird to walk past Housekeeping Camp and to see it completely empty. After we shopped at the store we then drove up Tioga Pass to where we would leave our car. There isn't a parking lot for Cathedral Lakes. We parked on Tioga Road. As soon as we got out of the car we had a great view of Tuolumne Meadows. At the trailhead, there are porta-potties, bear boxes, and trash cans.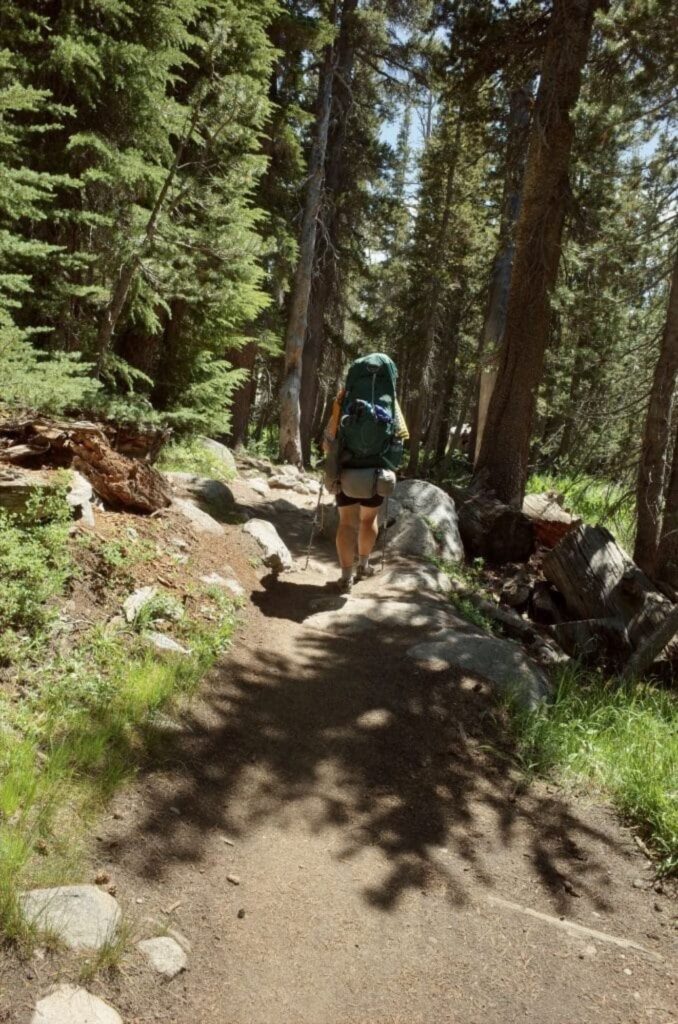 Time to Start Hiking
The trailhead elevation is 8,500 feet which makes this hike seem hard with a 35-pound backpack on. Roundtrip the trail is approximately 9 miles, but depending on which lake you are heading to and where you decide to camp it can be even longer. The first few miles are the hardest, because it is a steady uphill climb, but the scenery is beautiful. Big trees provide shade and we saw lots of ferns and wildflowers. A couple of miles up the trail we came upon a natural spring. Cool refreshing water was bubbling up through the sand. We stopped and filled up our water bottles.
Lower Cathedral Lake
The entire time we were hiking we could hear thunder and see the clouds starting to roll in. When we arrived at a trail sign we decided to head down to Lower Cathedral Lakes instead of continuing to the upper lake. From the sign, it's about 1/2 mile down through some rocks and then 1/2 mile through a meadow with a creek meandering through. When we arrived at the lakes we looked around for a good spot to set up camp. We settled on a small peninsula that became our own private island. By the time we picked our spot and took off our backpacks the thunder was booming. We quickly set up our tents which was no easy task with the wind howling. I quickly threw my backpack in the tent and it started to rain. It rained for about an hour and a half and the temperature dropped dramatically.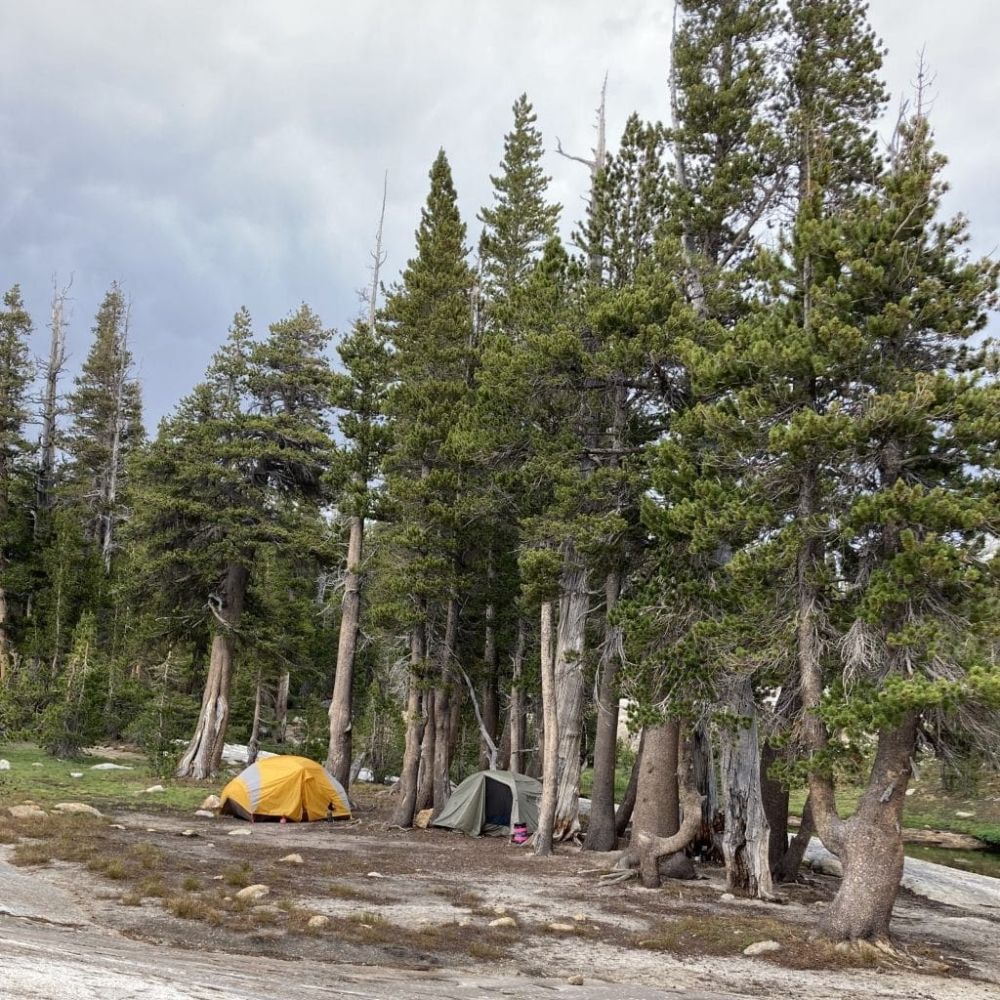 After The Rain
When it stopped raining we climbed out of the tents and we had a chance to look around. Our first chore was to filter water. Next, we got out our stoves and cooked some dinner. We sat up on a granite ledge and we had a great view while we cooked our dinner. After dinner, we walked around the lake. At the end of the lake is a view that looks down to Tenaya Lake. We tried to stay outside to look for the comet that was passing by, but it was too cold and we ended up in our tents reading until we fell asleep.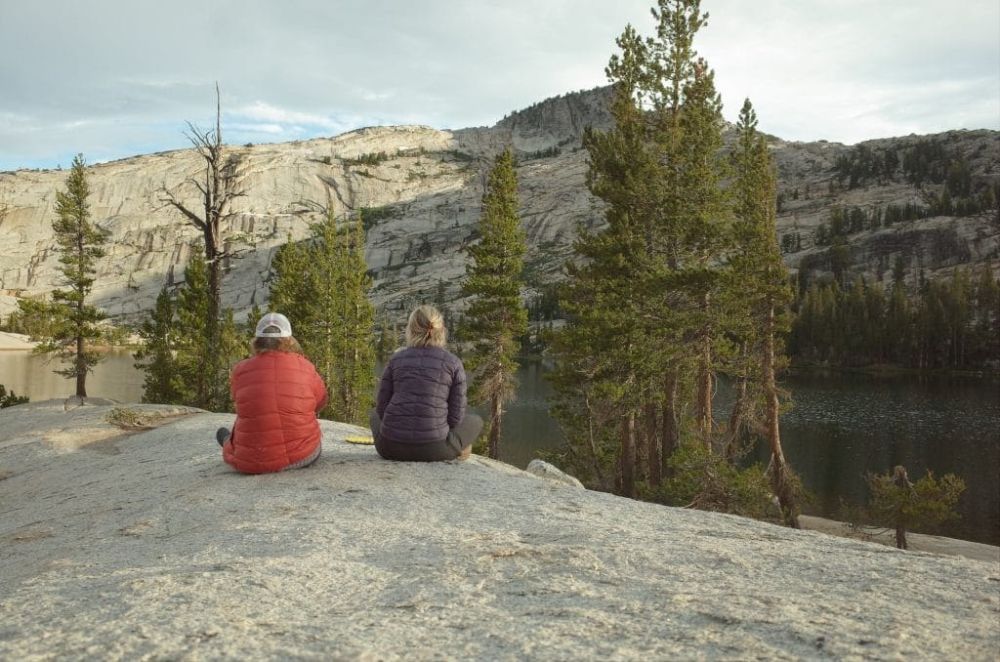 Day Three
We woke up to a beautiful sunny day and after breakfast, we decided we would hike to the Sunrise High Sierra Camp. The camps are closed this year, but we were curious about what they look like. From Cathedral Lakes there are a lot of inclines and we were happy we didn't have on our big packs. It was a little over 9 miles roundtrip. The trail travels up and down through big trees and then across several meadows. There was still water in the creek in July and we saw a bald eagle and a few marmots. Sunrise Camp looks like it would be a fun place to spend the night especially since in season they provide you with everything you need including a bed inside a tent and your meals. After lunch, we hiked back to Cathedral Lakes.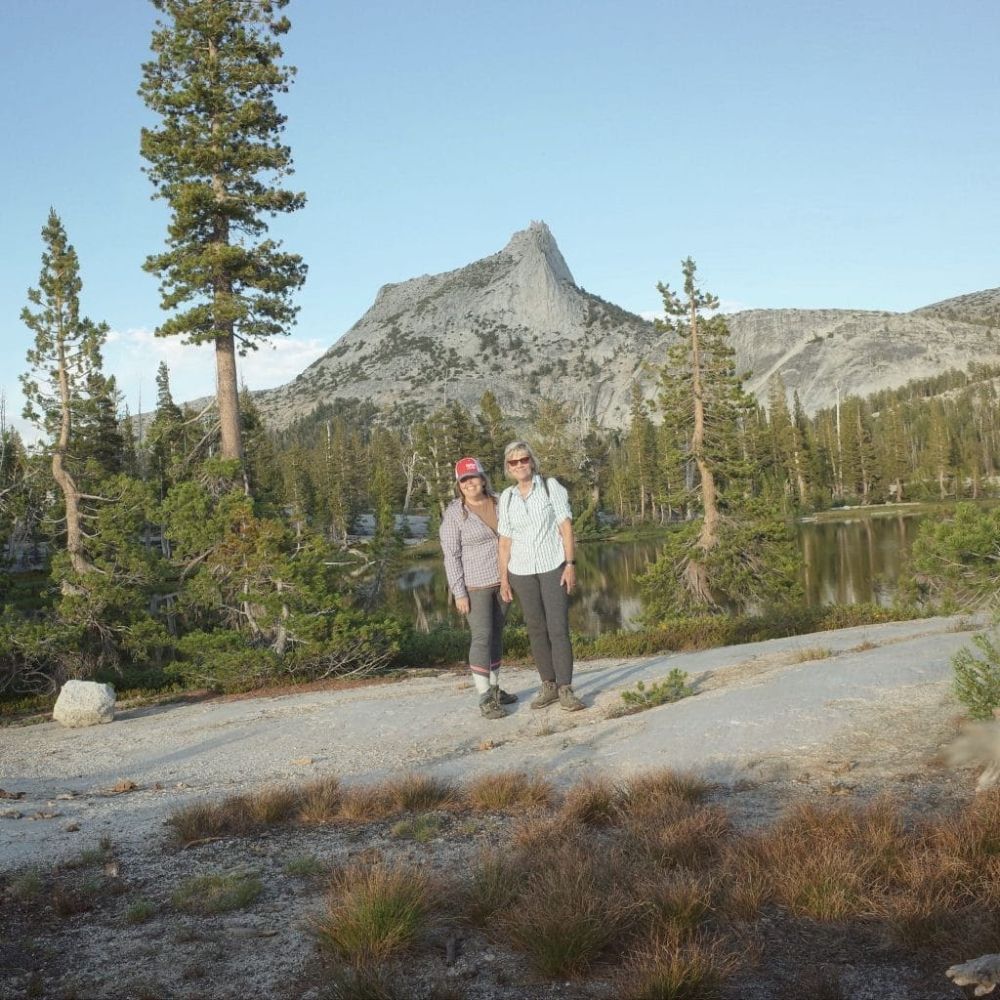 Night Three
Back at camp we again had to filter water. I stretched out my towel on the rocks and watched the fish jump while I stared up at Cathedral Peak. We hung out on the rocks drinking whiskey and laughing until it was time to cook dinner. No fires are allowed at Cathedral Lakes, so by the time the sun sets, we would crawl into our tents and read until bedtime.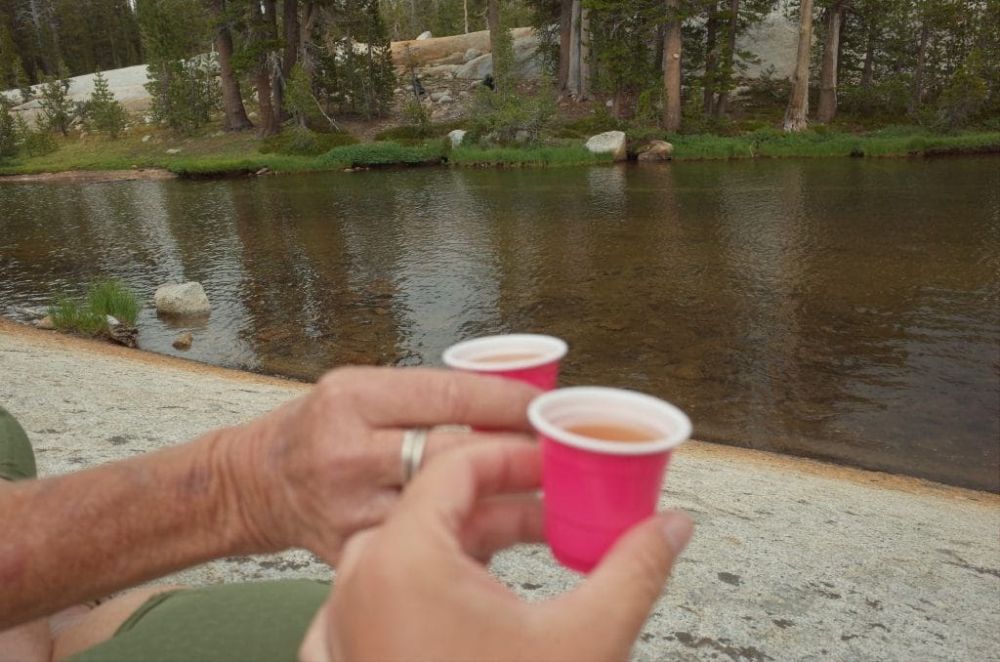 Day Four
Day four was a zero-day, meaning we didn't hike anywhere. After breakfast, we filled up a collapsible bucket and washed our hair with some biodegradable soap. I then decided to go swimming. The water was freezing so I didn't stay in long. I was also apprehensive about leeches because the day before we heard some people yelling that they had them attached to their bodies. Luckily no leeches for me. Unfortunately, by 2:00 pm a thunderstorm rolled in and we had to retreat to our tents. It rained hard for about 4 hours.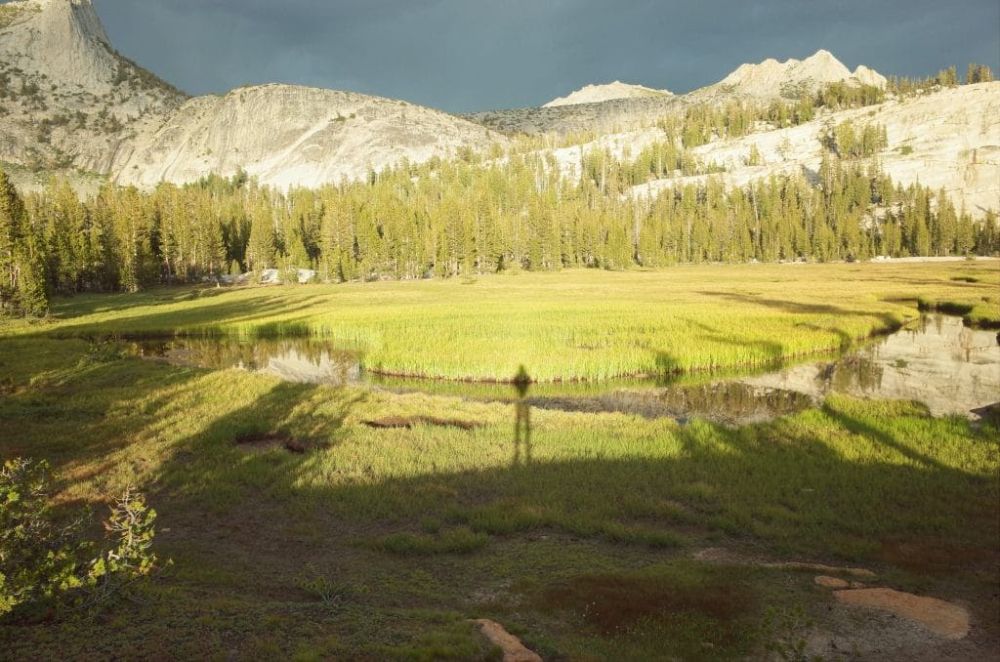 Night Five
After the rain stopped we were able to come back out and cook dinner. After dinner, we walked around the lake and scrambled up some rocks so we could take pictures of Cathedral Peak at sunset with the puffy cotton candy clouds that were leftover from the rainstorm. John Muir said it was the first time he had been to church in nature when he saw Cathedral Peak and he was right on the money. That night it was warm enough to be outside after dark. I walked around looking for the comet, but I never found it. I saw millions of stars and even a little bit of the Milky Way.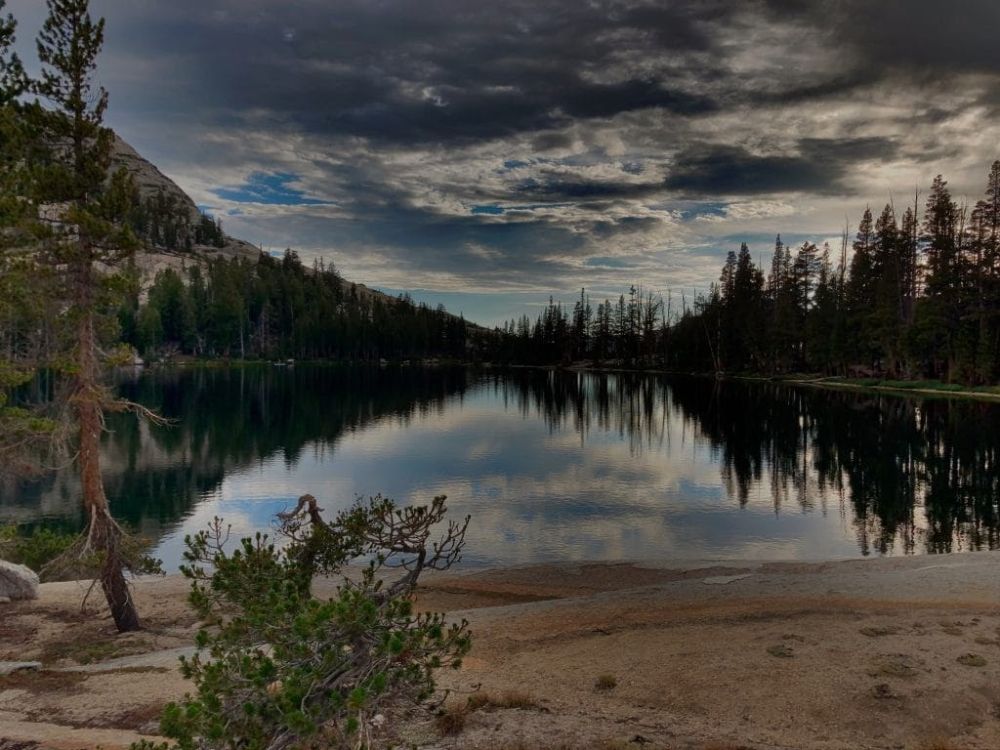 Day Six
We packed up camp and hiked back down to our car. It was a lot easier going down than it was on the way up. Sally and I decided we didn't want to go back and camp in the valley, because it was too hot. Since we were close to 395 we drove out of Yosemite on Tioga Pass. We stopped for lunch at Whoa Nellie Deli in the Mobile Gas parking lot in Lee Vining. The inside seating was closed, but we ordered outside and sat at a picnic table on the grass with an amazing view of Mono Lake. After lunch, I drove us the 6 hours back to Southern California. I arrived home dirty and tired, but so happy to have been able to spend all those days in nature.