On a Saturday in April Sally and I decided to go on an overnight backpacking trip to Henniger Flats. We are training for the Sierras and trying to get in lots of practice packing and carrying our backpacks. We started on Pinecrest in Altadena. There are strict parking rules on Pinecrest so we parked a few blocks away on a city street. The trail from Pinecrest to Henniger Flats follows a fire road. It's a steady incline all the way up. It is about 3 miles from the start of the trail to the lower campground. I would rate this hike as moderate. Lots of casual day hikers passed us on the way up, but we were carrying heavy backpacks.
It's Hard to Climb a Mountain with a Heavy Backpack
I weighed my backpack before I left and it was 37 pounds. That is really heavy for overnight. The main source of weight was there is no water at Henniger. You have to bring everything with you. This includes what you need to drink, cook, and brush your teeth. I carried up to 9 pounds of water plus my hammock and book. All things that I don't usually have with me.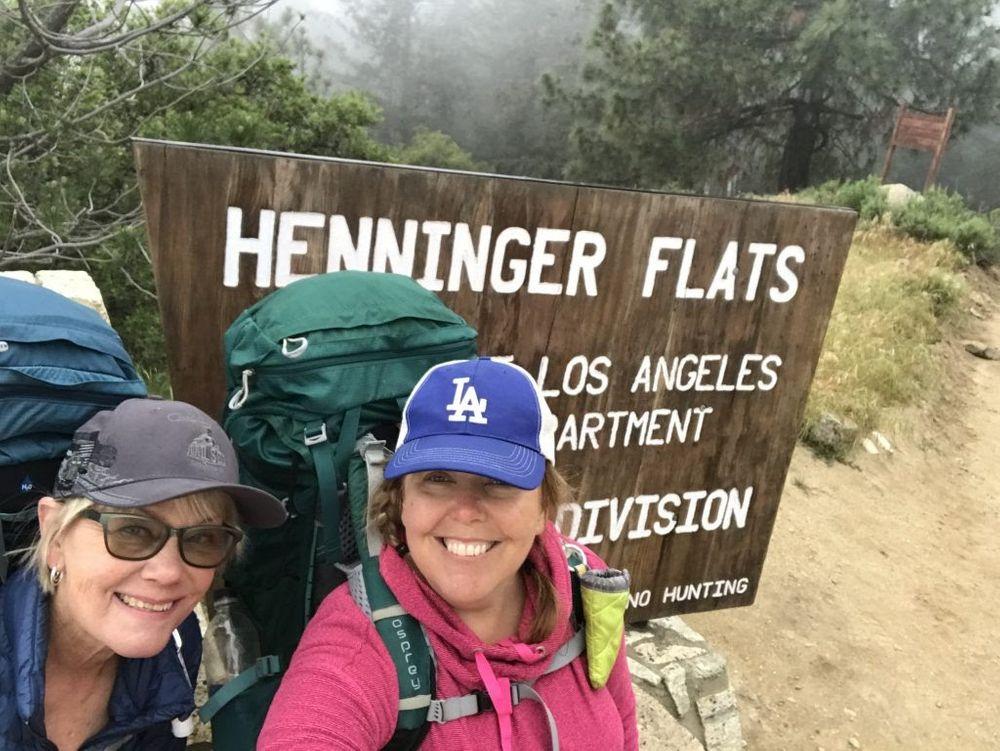 Hauling My Backpack to The Top
We started up in the early afternoon knowing that Henniger gets crowded on the weekends. There are about 30 spots spread out over 3 levels and they are first come first serve. When we arrived there was only 1 tent set up at the lower campground and the coveted spot #1 was unoccupied. We decided that was where we were going to camp. Spot #1 is popular for its spectacular views of Los Angeles, the Pacific Ocean, and Catalina. It was a little cool and overcast so we could see Los Angeles and the ocean, but not Catalina. We were thankful for the cloud cover because there is no shade on the hike up. It would be a scorcher if the sun was out.
Currently, you are allowed to have a fire at Henniger, but it has to be in their fire stove and not on the ground. In order to have a fire, you need to check in with a fireman that is on duty 24 hours a day. He will issue you a free permit to camp and make a fire. We found him inside the little museum that is at the top of the lower campground. There are bathrooms at the Henniger. I thought they would be vault toilets, but they're flushing. Unfortunately, there was no toilet paper or running water.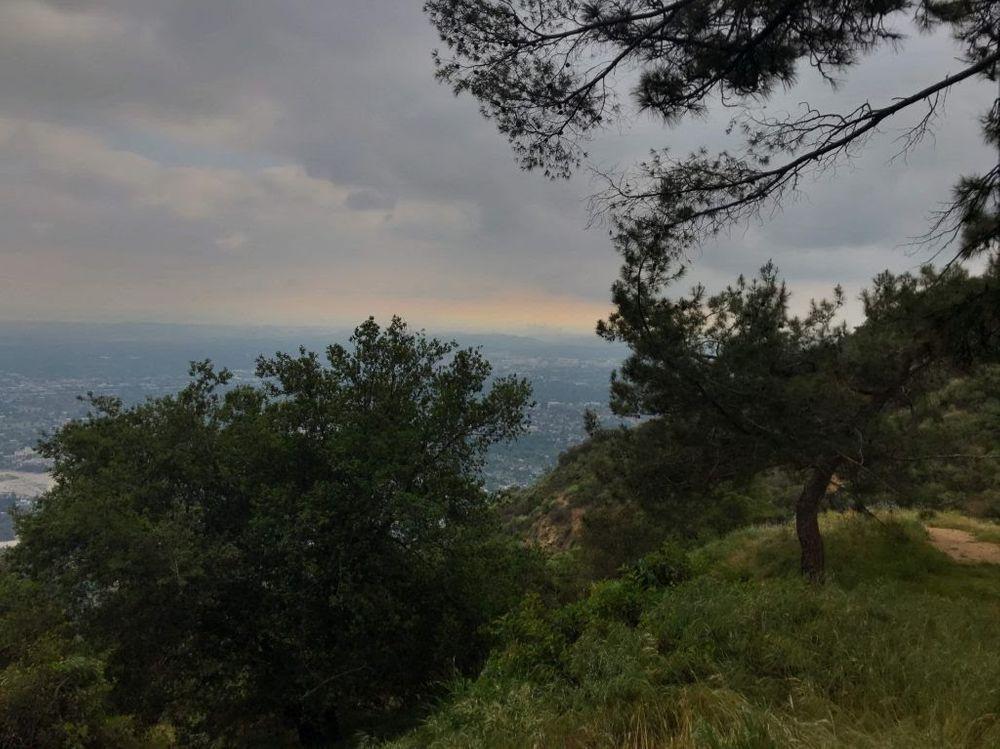 Setting Up Camp
After checking in we set up our tents and then tried to set up our hammocks. I might need to invest in some strap extenders. We had a hard time hanging our hammocks up because the trees were either too close or too far away. I finally got mine up and enjoyed laying in it and reading a book.
Making Dinner in The Woods
We each made couscous for dinner. We're trying out different backpacking meals for our longer trips this summer. After dinner, we noticed we only had a few pieces of wood by our stove. We had read that the Los Angeles Fire Department – Forestry Division provides firewood. We walked back over and talked to the fireman and yes, they do provide firewood. He was so nice that he offered to load some up in his truck and drive it over to our site. Sally had made some firestarters at home. She mixed vaseline and dryer lint together into little balls. It worked great and we had a fire going in no time. We sat around the firebox and enjoyed the warmth while we had shots of Patron.
We stayed up long enough to see Los Angeles lit up at night. Eventually, we crawled into our tents. The temperature wasn't bad, the low was 50 degrees. I woke up lots of times, mainly because of a crow flying above us screeching about "murder." All in all, I slept better than I have on some of our trips.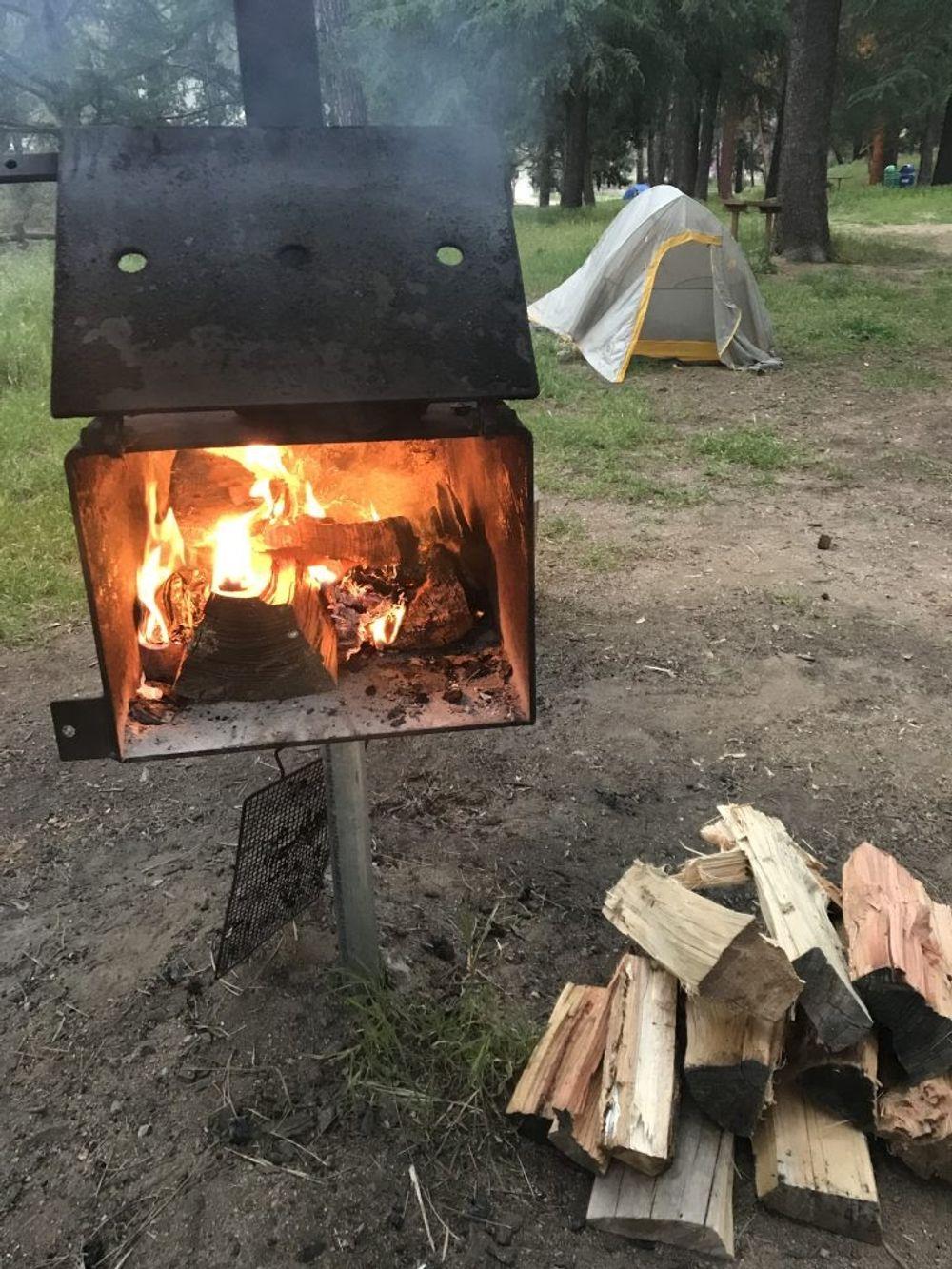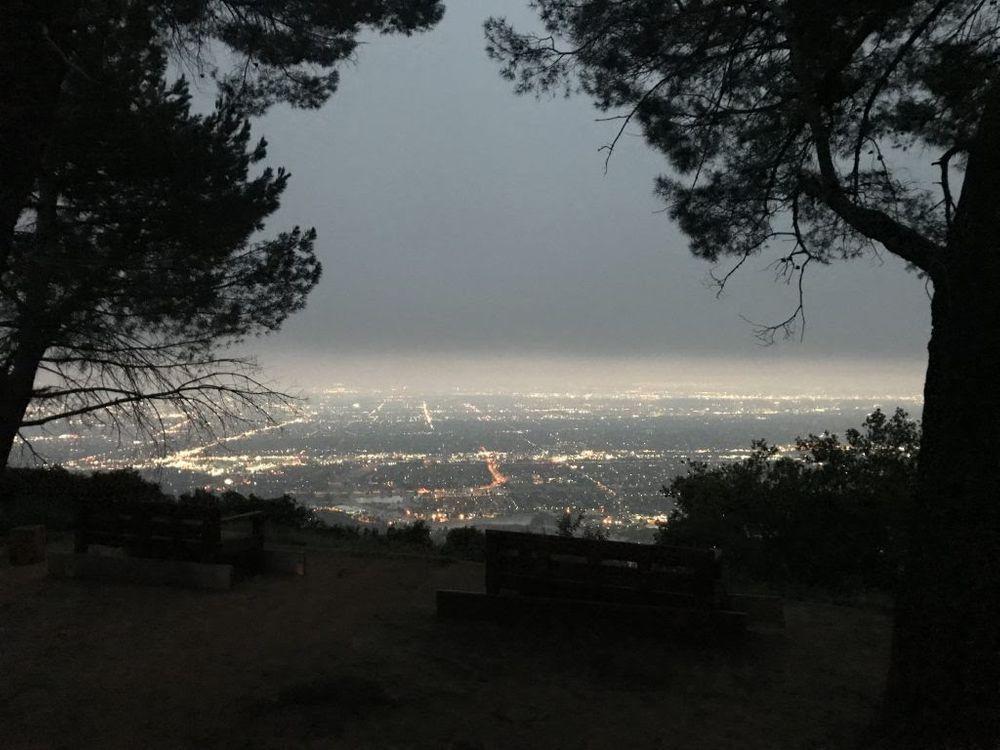 Good Morning
I woke up Sunday morning to three deer munching on the grass in camp. We watched them until they moved on. For breakfast I made coffee and I tried out making instant oatmeal by just adding the water to the little packet and it worked. No need to use a bowl, this is good information for our trip to the Sierras. After breakfast, we packed up our backpacks and headed down the hill. It took us less than an hour to get down and it was still early so it was cool outside. We didn't see any snakes, but we talked to a man that saw a baby rattler. Again, we were thankful that it was cool outside. Overall, this is a perfect hike to test out your backpacking gear and practice packing and carrying your backpack up an incline. Henniger Flats was pretty and I would go back again.