Should You Believe the Hype?
Just mention to family or friends that you are planning a trip to Paris and you will get a long list of foods that live up to the hype. My daughter Nicole and I spent 10 days in Paris and we tried to eat our way through a long list of hyped foods.
Bread and Croissants
We found the perfect way to start our morning was with a croissant and an Espresso from Alexine. This amazing bakery is down the street from the hotel we stayed in and it quickly became one of our favorite places. The staff was extremely kind, patient, and welcoming to us. Their croissants are fabulous. My favorite was the chocolate croissant and Nicole's favorite was the almond croissant. Throughout our 10 day stay, we tried many different pastries and they were all amazing. For lunch, we loved to have a picnic with a baguette, butter or cheese, fruit, and a bottle of wine. Viva la France.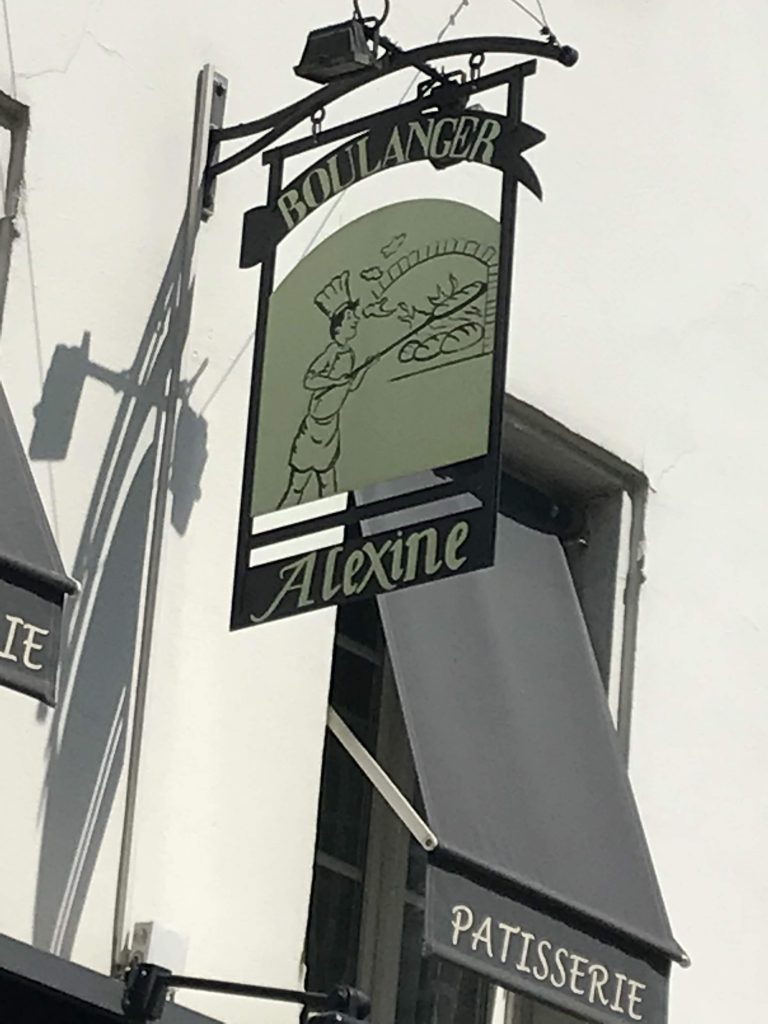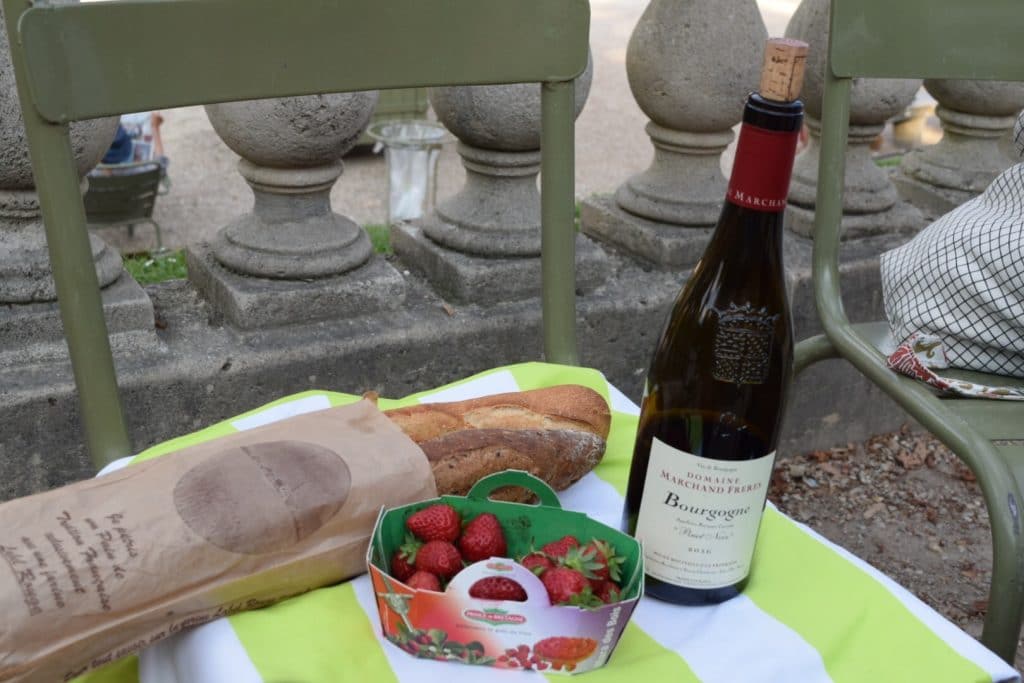 Croque Madame
If you love regular grilled cheese sandwiches, then you need to try a Croque Madame while you are in Paris. It is really just a delicious, fancy grilled cheese. It is the perfect remedy after a late night of drinking lots of French wine. Nicole and I stopped in Le Vrai Paris. It is an adorable French bistro in Montmarte. We were able to sit outside on the sidewalk. I ordered the Croque Madame and a Cappucino. The cappuccino had a perfect froth of foam and a dusting of powdered chocolate.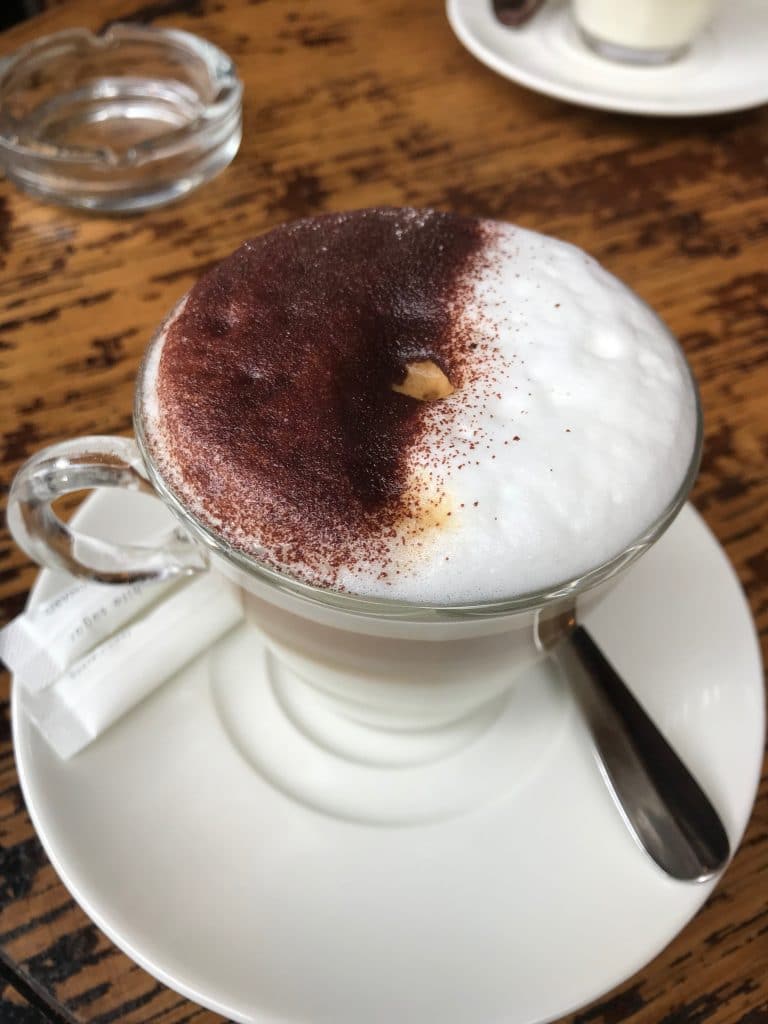 We had been drinking Esspresso on the run while we were in Paris, so this was a nice treat. A Croque Madame is a large slice of bread covered with gruyere and parmesan cheese, and a slice of ham. The whole sandwich is then put under the broiler. After the broiler, a cooked egg is added to the top. The Croque Madame lived up to the hype and Le Vrai is a lovely place to spend the morning in Montmarte.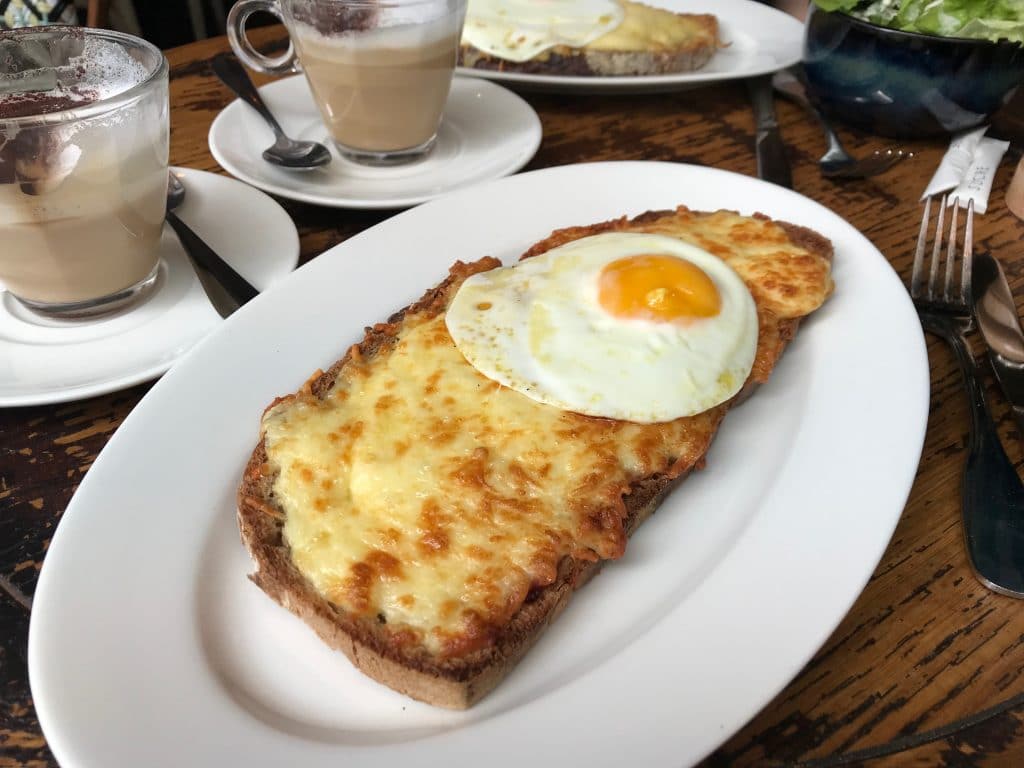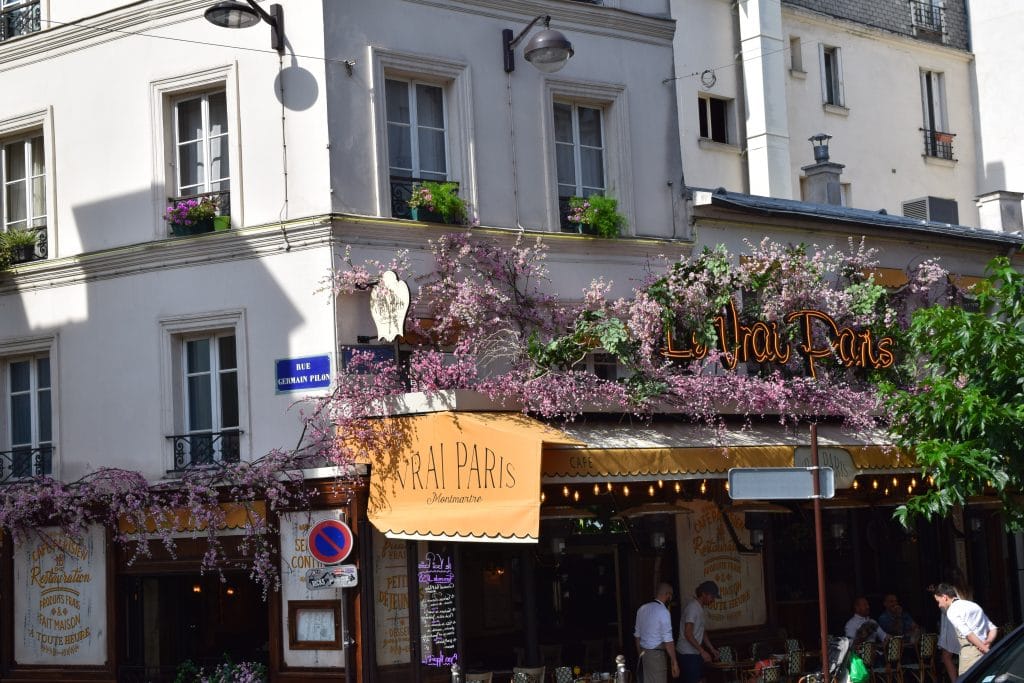 Macarons
Macarons are one of the most decadent and delicious desserts in Paris. Nicole and I sampled our fair share of Macarons during our trip, but we found the perfect Macarons at Christophe Roussel in Monmarte. French macarons are a meringue-based cookie that is surrounding a sweet filling. Each Macaron cost 1.60 euros. Nicole's favorite flavor is the Passion- Fruit Tarragon. This is a special combination of bold and sweet. My favorite is Lemon because of the combination of sweet and tart. I don't think they have a flavor that we didn't like and we tried most of them.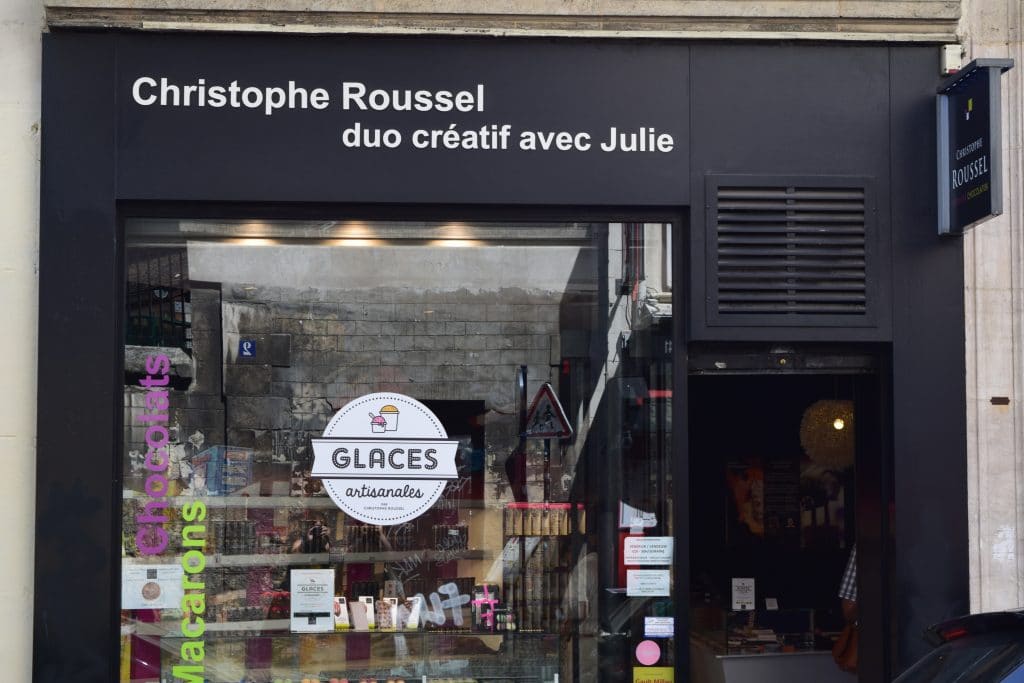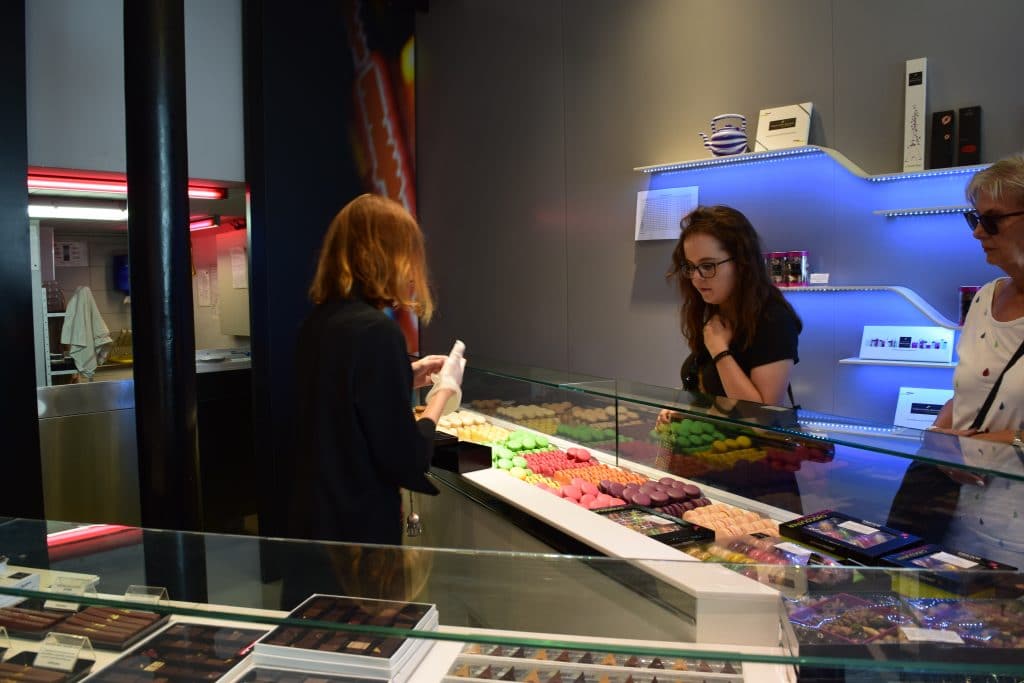 Christophe Roussel was one of our last stops in Paris. We popped in to buy macarons to take home to our family before we left. Service at Roussel is on point. The ladies that work at Roussel are sweet and understanding about our choppy French. They spoke English and they packed up our macarons to survive the long flight home.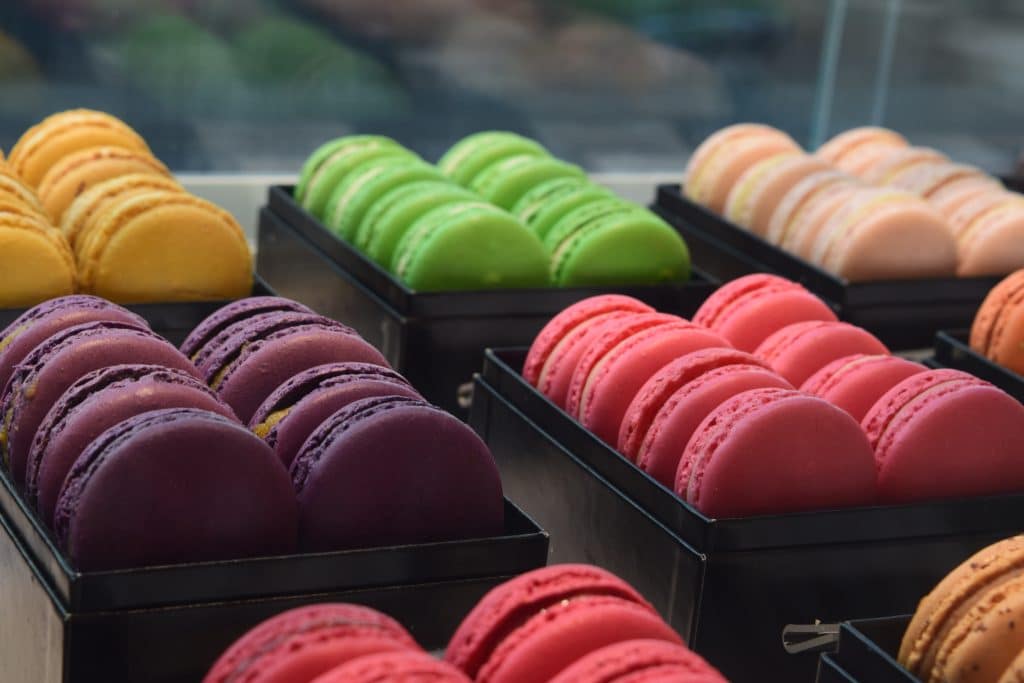 French Onion Soup
I was sure that I couldn't visit France without trying French Onion Soup, but there was one big problem with that plan. We visited Paris in August, not the best month for soup. On the last day of our trip, the weather cooperated with our quest and we set out to find some soup. Nicole and I chose Le Consulat in Montmartre. Le Consult is historic – and there is something so magical about dining in this tiny restaurant where some of the world's greatest artists found themselves often. Some of the greats hung out at Le Consult like Van Gough, Monet, and Picasso.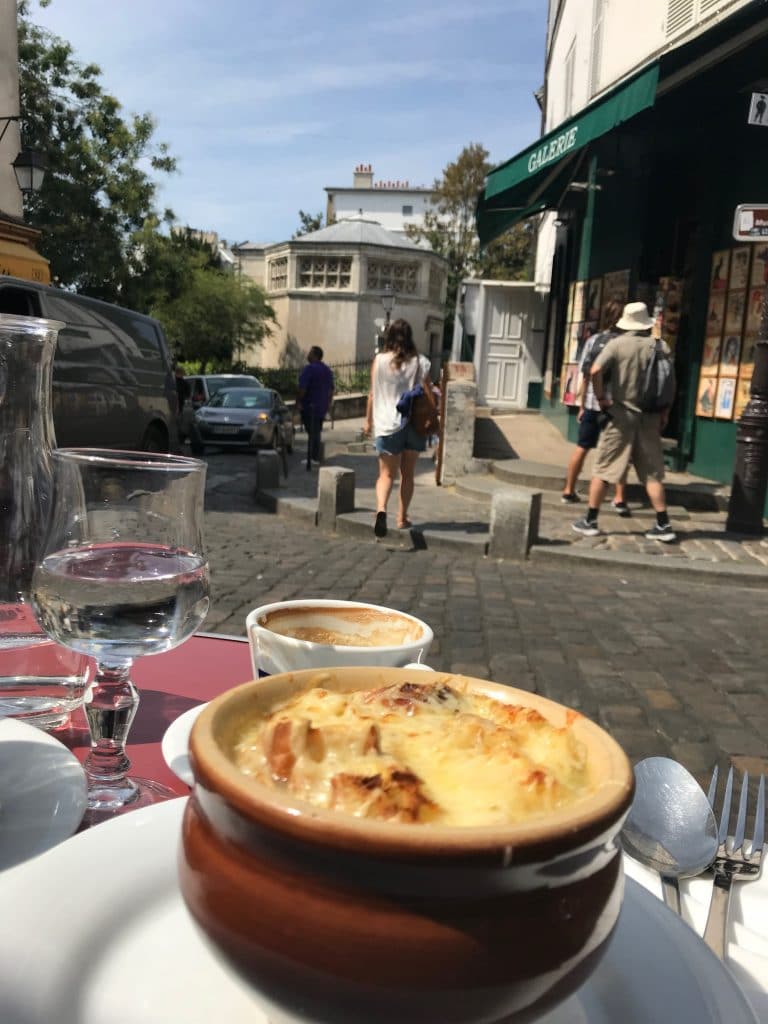 Our french onion soup arrived at the table piping hot and gooey cheese covered the handmade croutons. The broth was rich and delicious and didn't taste like the french onion soup I have eaten in the United States. We sat in front of the restaurant and had a perfect view of everything that was happening in Montmarte.
Escargot, Rosé, Risotto & Créme Brulée
I was lucky enough to celebrate my birthday while we were in Paris and I chose to dine at Les Antiquaires for an early dinner. For an appetizer, because we were in Paris we tried Escargot and the shells arrived at the table on a slice of bread. I have tried Escargot before, but this was Nicole's first time. Escargot is really just an excuse to eat butter and garlic on bread. The waiter brought us a basket of bread that we used to dip and scoop the Escargot. Each bite was a perfect combination of butter and garlic. I wouldn't want to eat Escargot every day, but it really was delicious.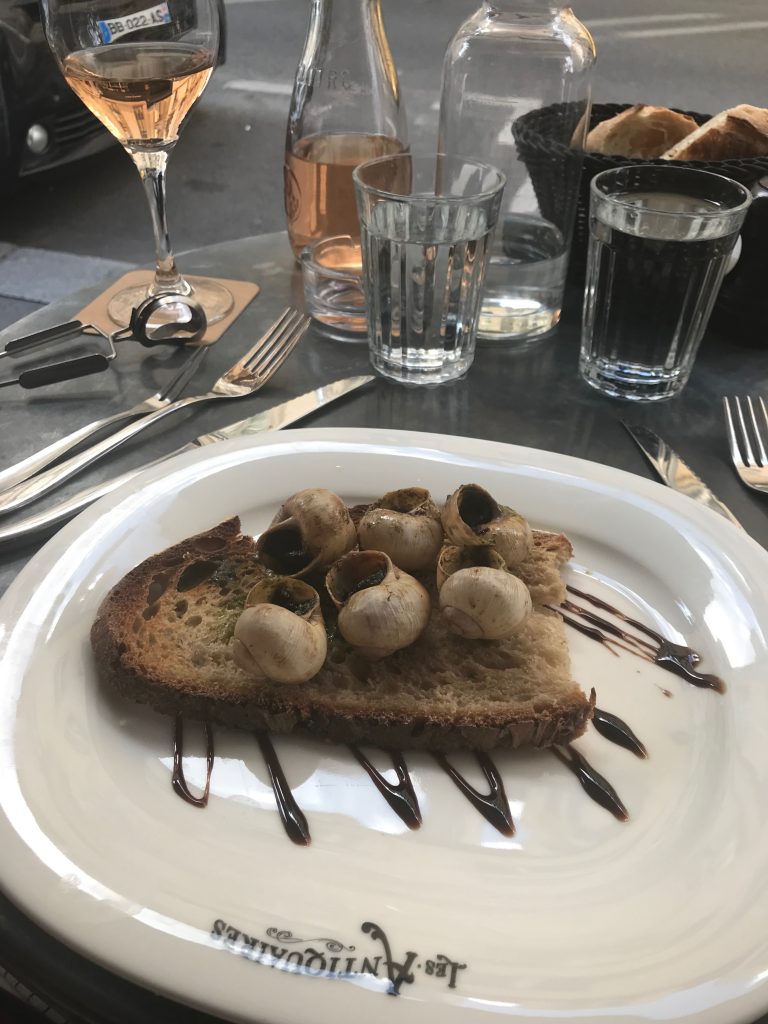 At Les Antiquaires we were able to eat outside at a bistro table. Nicole and I had found out that we like the dark red wines of France, but we looked around and all the other tables were drinking Rosé so we ordered a bottle. The Rosé is lighter and fruiter and I see why it is considered the summer wine in France. For my main course, I ordered mushroom risotto and it was amazing! The risotto was creamy with large mushrooms and freshly shaved parmesan. We shared a Créme Brulée for dessert and the top was a layer of hardened caramelized sugar. Underneath was a rich custard base. We loved this dessert and highly recommend Les Antiquaires.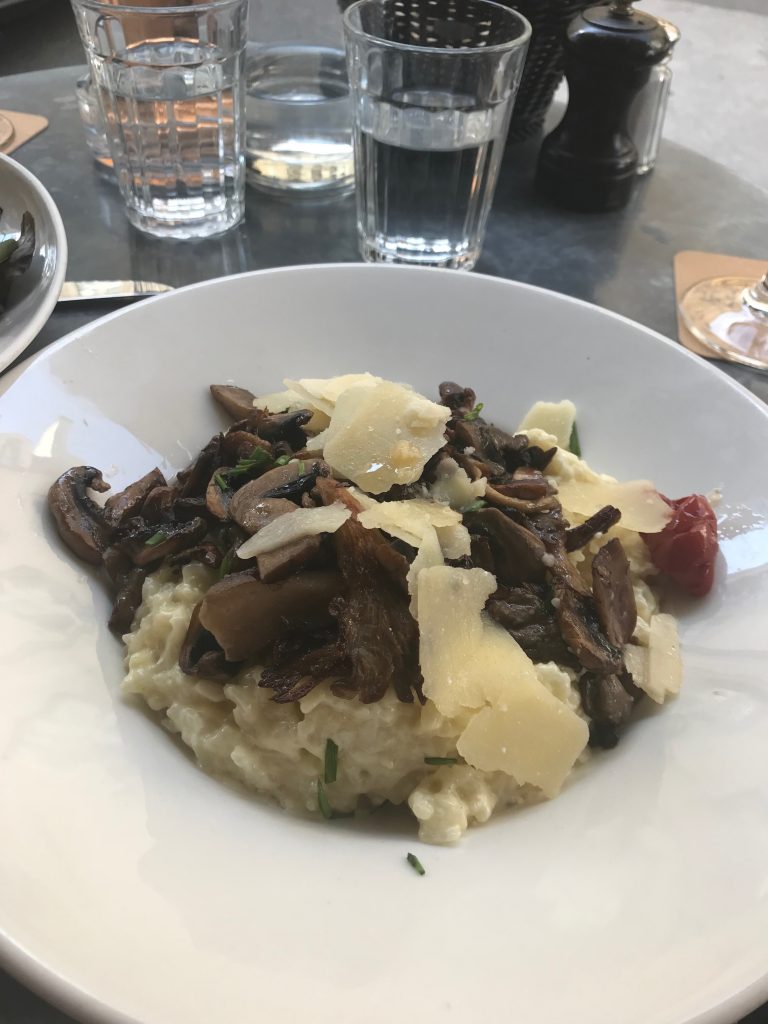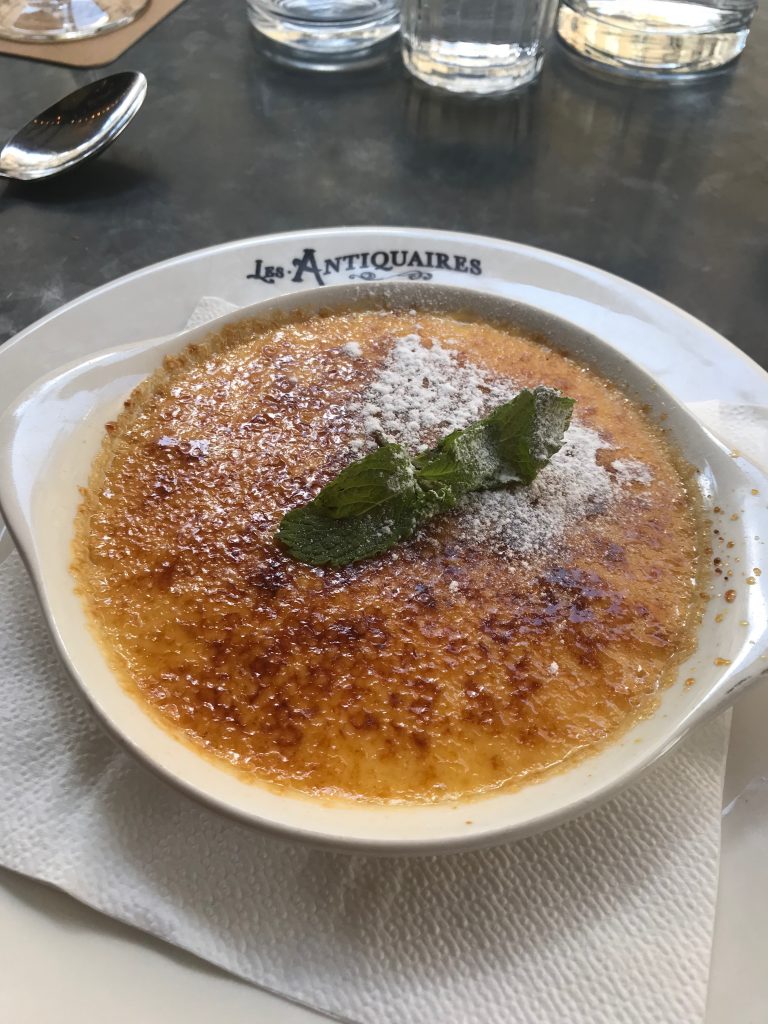 Chocolat Chaud
Chocolat Chaud is Parisian hot chocolate and Angelina is the place to try it. Angelina is a beautiful Parisian tea parlor and it is extremely popular, however, they do take reservations. We arrived early and were able to get a table for two without waiting too long. Nicole and I both ordered Le Petite Déjeuner. Our breakfast came with Chocolat Chaud, a mini croissant, a roll with jams and fresh juice. The Chocolat Chaud was thick and rich. It was not overly sweet and it came with freshly whipped cream. This hot chocolate is the best, hands down. What can be said about this rich, thick, intensely chocolate sip of heaven that has not already been said? Words do not do it justice and the hype is justified this is one stop you won't want to miss on your next trip to Paris!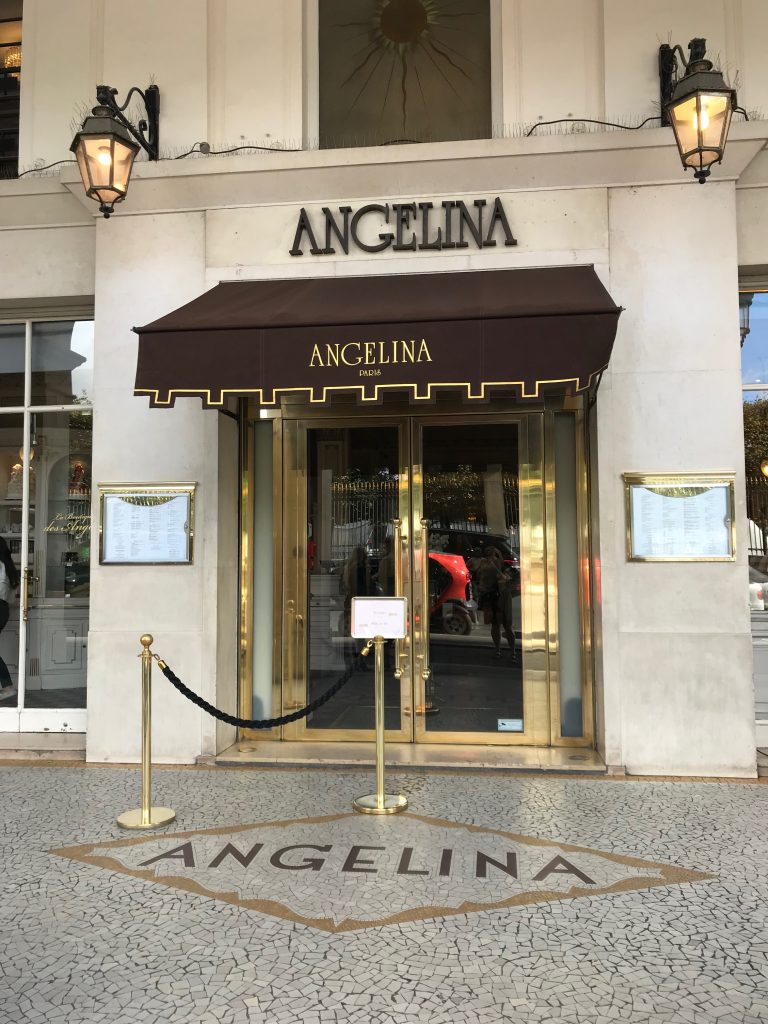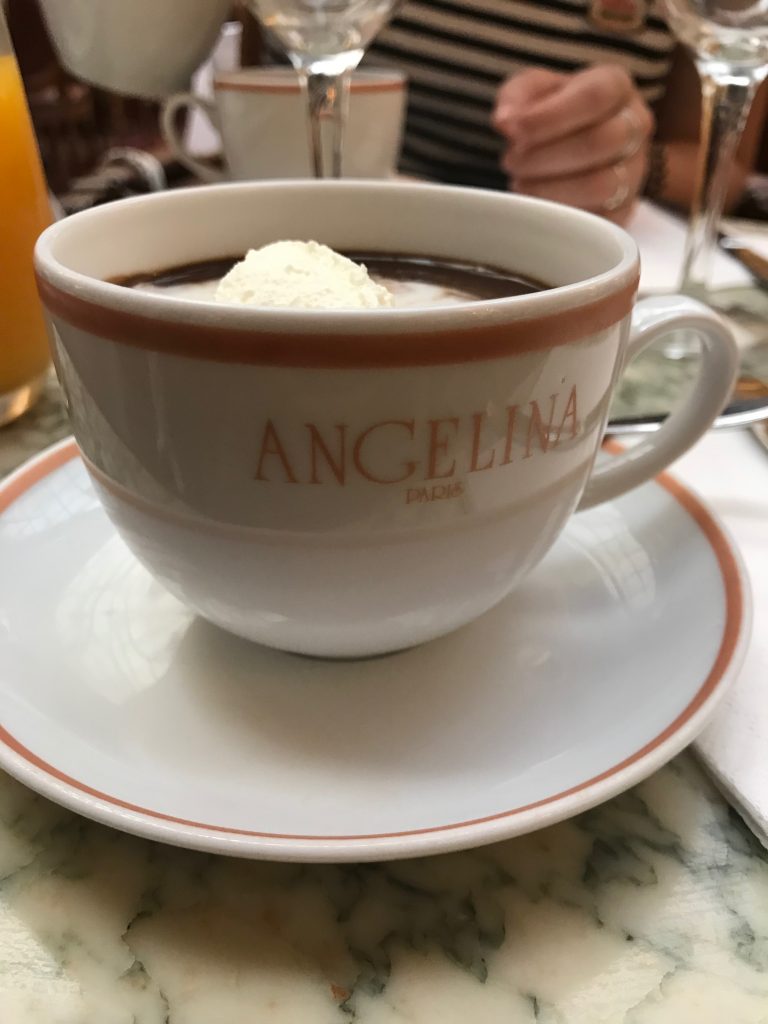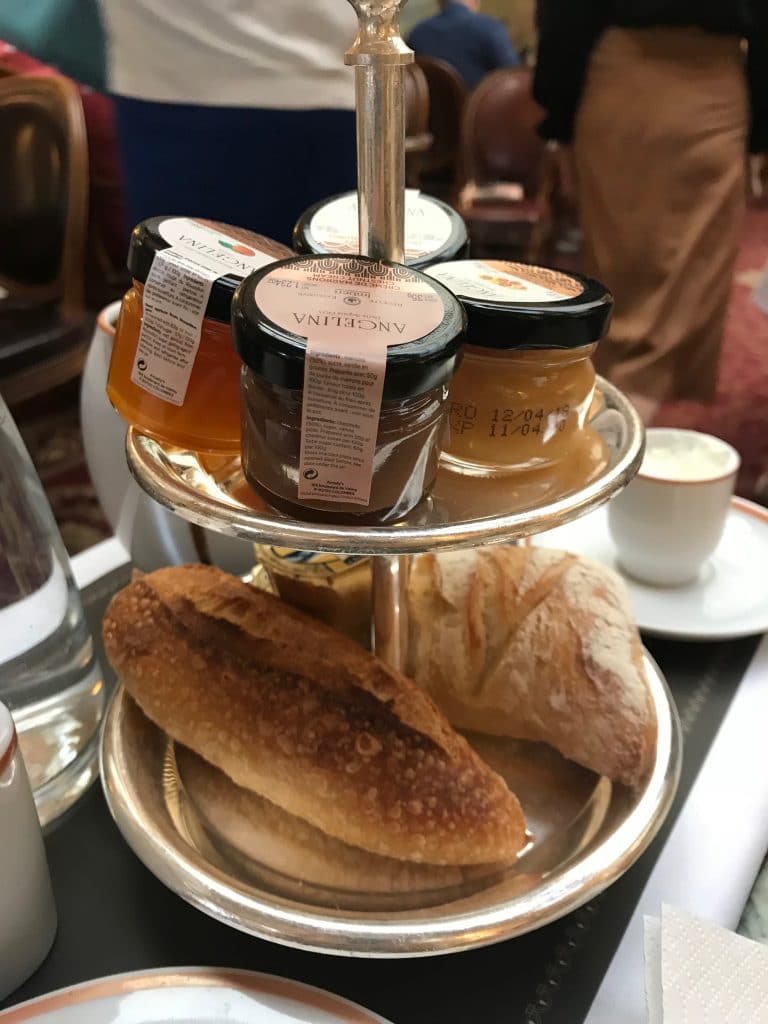 Charcuterie
Our first night in Paris we stopped at Au Rendez-Vous des Amis. We sat outside and ordered beers, a Charcuterie board, and French Fries. Nicole ordered a Picon Biére and she loved the way it tastes. A few days later we found out that Picon Biére is the French version of a German Shandy. Picon is a French bitter orange liquor and it is added to the beer.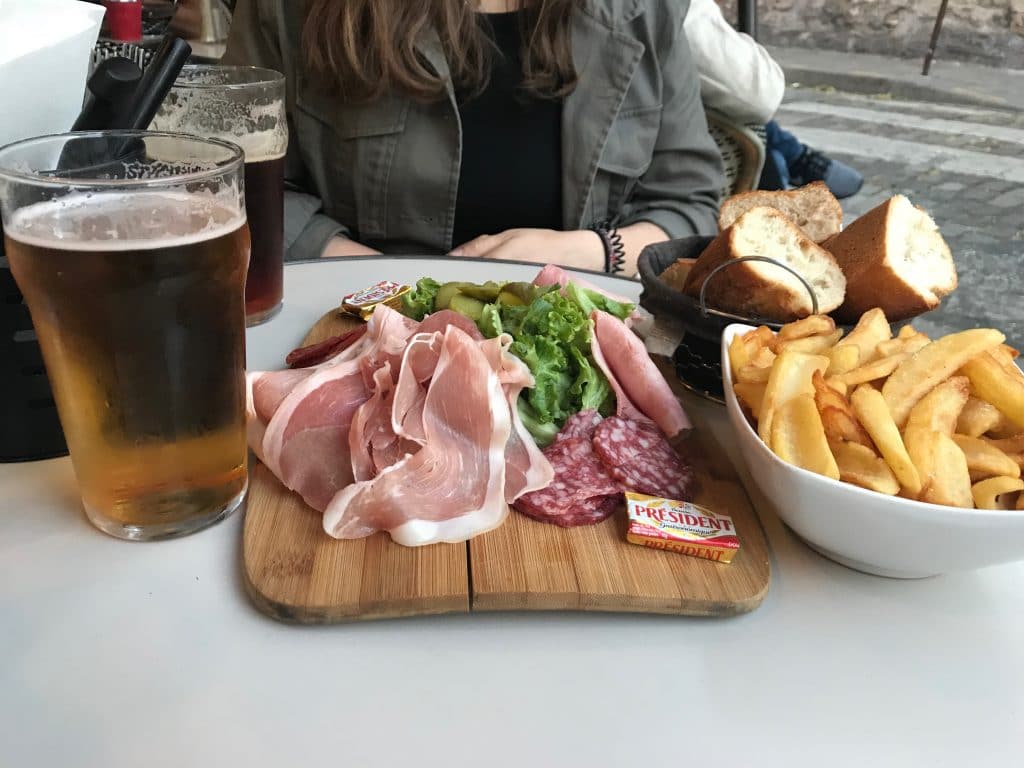 The Charcuterie board arrived at our table with a variety of shaved and cured meats and pickles and it was served with a basket of fresh bread and butter. Our fries were thick and similar to steak fries in the United States. Au Rendez-vous des Amis translates as a place for friends to gather and it is located down the hill from Sacre Coeur. Furthermore, it is a little less touristy than eating in the square by the Sacre Coeur. Our dinner was simple and not fussy and it was perfect after a long day of traveling.
Crepes
Nicole and I wanted to try both sweet and savory crepes while we were in Paris. French crepes are made without leveling powder, this makes them light and delicate. In Montmartre, we went on a food tour and one of our stops was a crepe stand. I tried butter and lemon and the crepe was served folded and wrapped in a waxed paper square. In between the folds were butter, sugar, and fresh lemon juice. Nicole had butter and fresh raspberry jam crepe and she loved hers too. After tasting a regular crepe our food tour guide suggested that before we leave Paris that we should try a buckwheat crepe as well.
Savory Crepes
One night while walking around in the 4th arrondissement we stopped at La Ciderie du Marais for crepes and Cidre. I ordered La Bergere. It is a buckwheat crepe with warmed goat cheese, nuts, honey, greens, and balsamic vinegar. Le Bergere is served on a plate with everything piled on top and unlike, the street crepe I needed to use a fork and knife to eat it. This crepe was large enough that it was a whole meal. The buckwheat flavor stood up to the strong flavors of the goat cheese and balsamic vinegar. It was tasty and in addition to the crepe, the Cidre we had was great, unlike the ciders I have tried in the United States this Cidre wasn't sweet it tasted crisp and clean and paired perfectly with the crepe.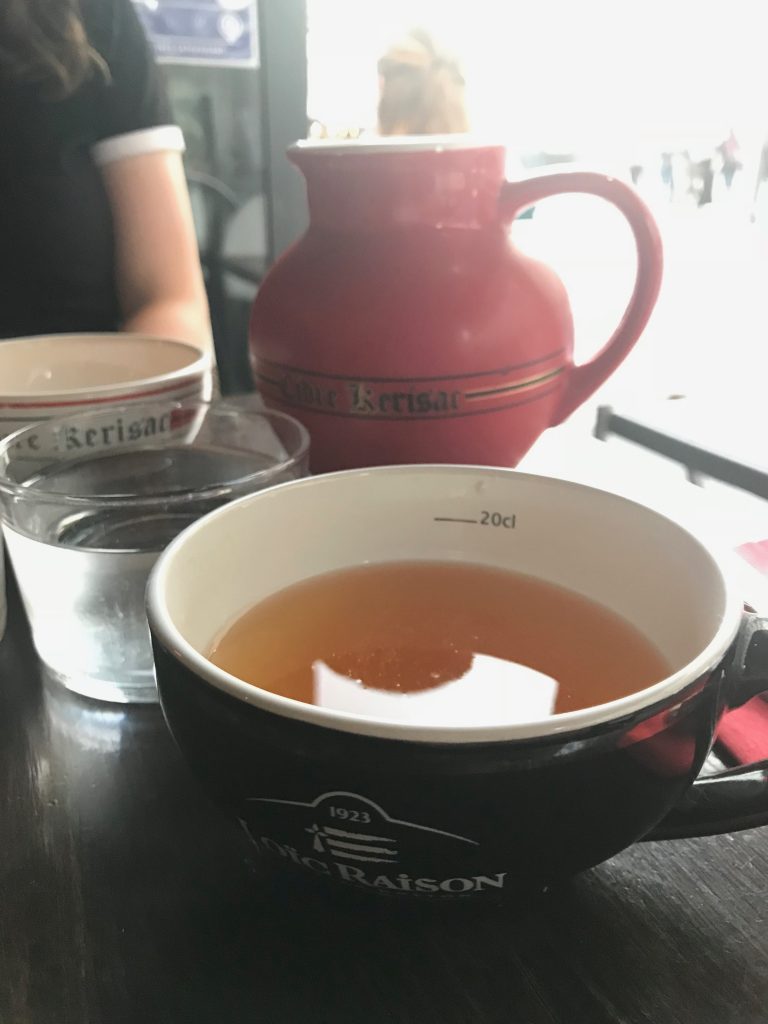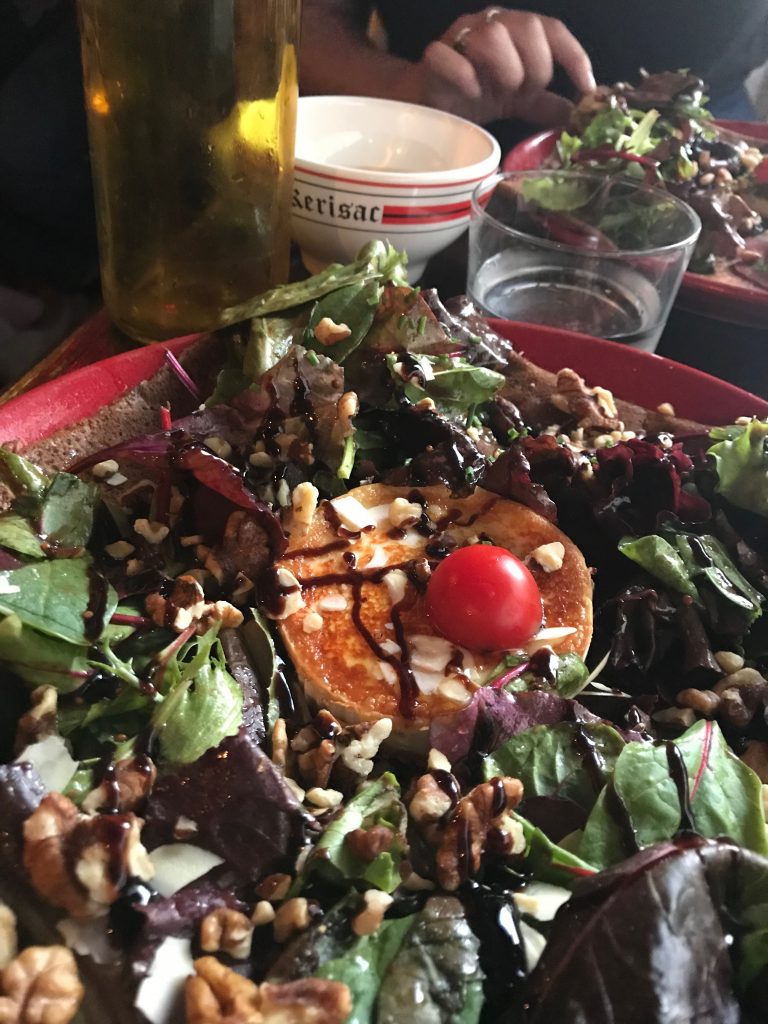 Final Thoughts
When I think of France, I think of fussy and complicated food, however, after my visit, I now know I was wrong. I'm sure there is plenty of fussy food in France, but everything we ate was uncomplicated and fresh with the emphasis on fresh. The fruits and vegetables were in seasons and amazing. Paris and the food we ate there lived up to all the hype and I can't wait for my next visit to the city of lights.