One Saturday in February I decided I would be a tourist and do a walking tour of DTLA. To avoid trying to find a parking place I decided to take the Metro. I boarded the Gold Line at the Azusa/Citrus College stop and because it was Saturday parking wasn't a problem. After I parked I used the vending machine to pay $3 to park for the day. Next, I used another machine to refill my TAP Card and I decided on the all-day unlimited pass for $7.00.
First Stop: Union Station
I rode the Gold Line from Azusa to Union Station and when I arrived I chose to look around instead of immediately transferring to the Red or Purple line. Union Station is a busy place. Over 100,000 passengers pass through on a daily basis. The architecture is beautiful it is a mix of Art Deco and Mission Revival and there are some restaurants and bars in case you want to hang out and people watch.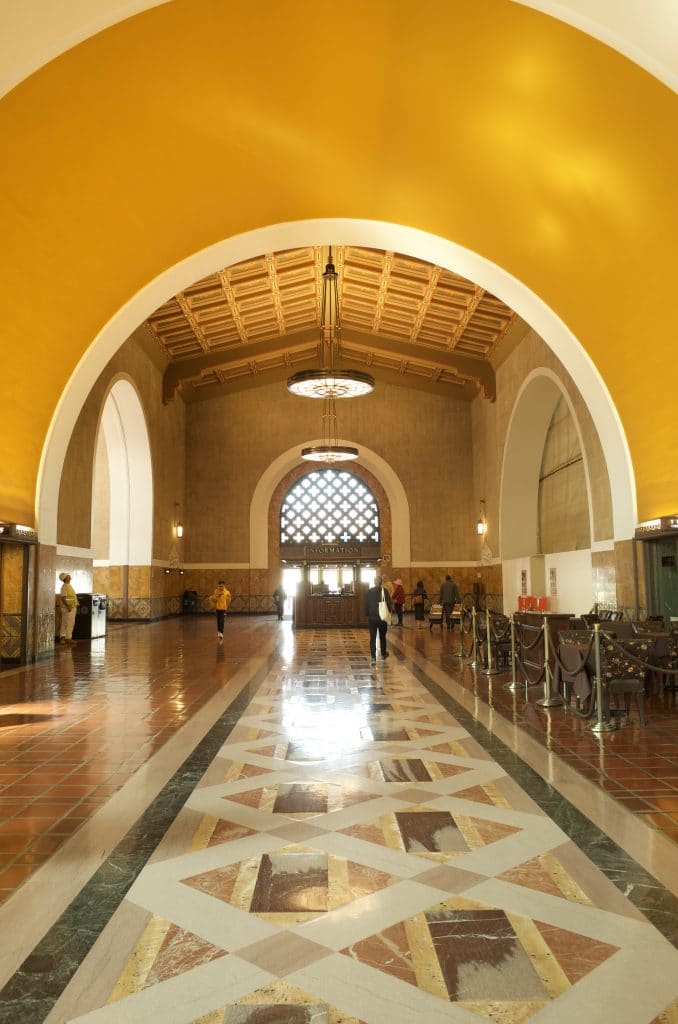 Second Stop: Bottega Louie
My next stop on my walking tour of DTLA was Bottega Louie. Bottega Louie is a gourmet market, patisserie & café. The patisserie part of Bottega Louie is filled with delectable treats. The restaurant portion is large and they don't take reservations. I stood in line at the counter to order my cappuccino and pain au chocolat. After paying I received a number and I picked a small table for two in the section that has open seating. A waiter brought out my drink and croissant and for a few minutes, I was able to pretend I was back in Paris.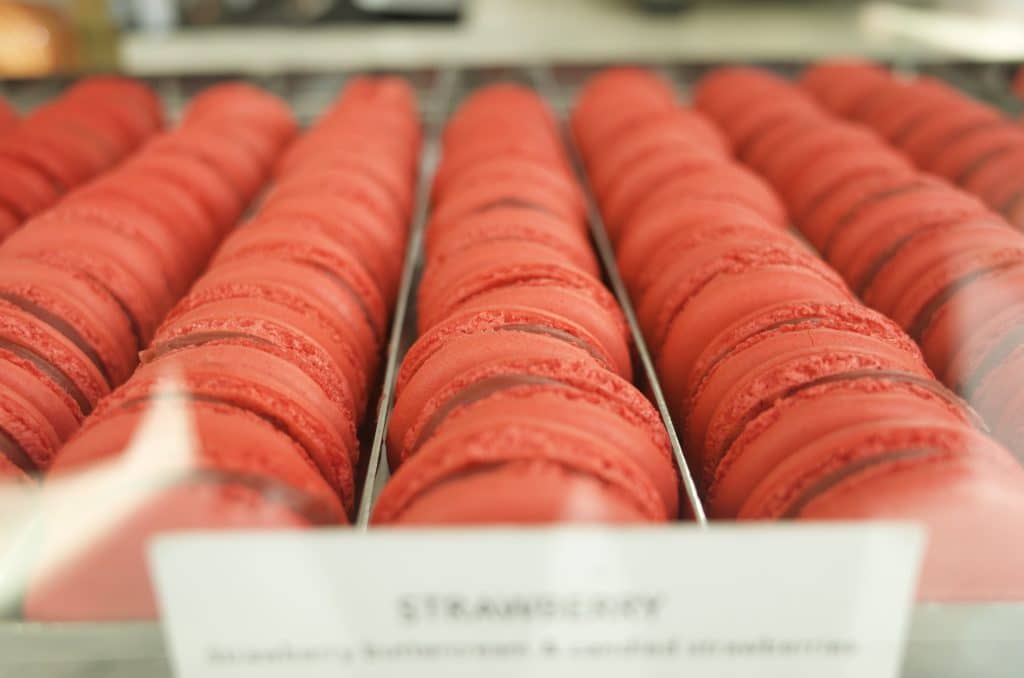 Third Stop: The Biltmore Hotel
My third stop on my walking tour of DTLA was the Biltmore Hotel. I was curious to take a peek inside because the popular Disney ride Tower of Terror is modeled after the Biltmore. Stepping inside definitely reminds me of the Tower of Terror. I wandered around the lobby and hallways checking out the photographs of all the dignitaries and celebrities that have all stayed at the Biltmore.
Fourth Stop: Los Angeles Central Library
The Los Angeles Central Library was my fourth stop on my walking tour of DTLA. Saturday was my lucky day because I was able to join a free docent lead Art and Architecture Tour and I learned that the library was built in 1926 and its theme is the light of learning. The inside walls of the library are covered in murals and the ceilings are painted to resemble wood, although they are actually made of concrete. A fun fact about the library is that the entire building is made of concrete and that is what kept the library from burning to the ground in 1986 in the most epic fire in Los Angeles history. On my way out of the library, I ran into a machine that prints out either a 1 minute, 3 minute or children's story for you to take with you.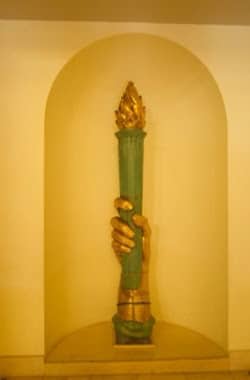 Fifth Stop: Grand Central Market
If you are walking around DTLA, do yourself a favor and stop at Grand Central Market. The market is a Foodies dream. You can get every possible type of food there. Grand Central Market is perfect if you are with a group of friends because everyone can pick out what they want to eat and then you can all meet back at one table and enjoy your food. Today I tried Egg Slut for a late lunch and McConnell's Fine Ice Cream for Dessert. Egg Slut is having a moment and the line is usually long. I waited 30 minutes to order. I ordered a regular breakfast sandwich without the bacon and I was lucky to find a barstool at the counter and I was able to watch them make my sandwich, which was an over-medium egg with cheese sandwiched between a brioche bun that is toasted with butter. Delicious!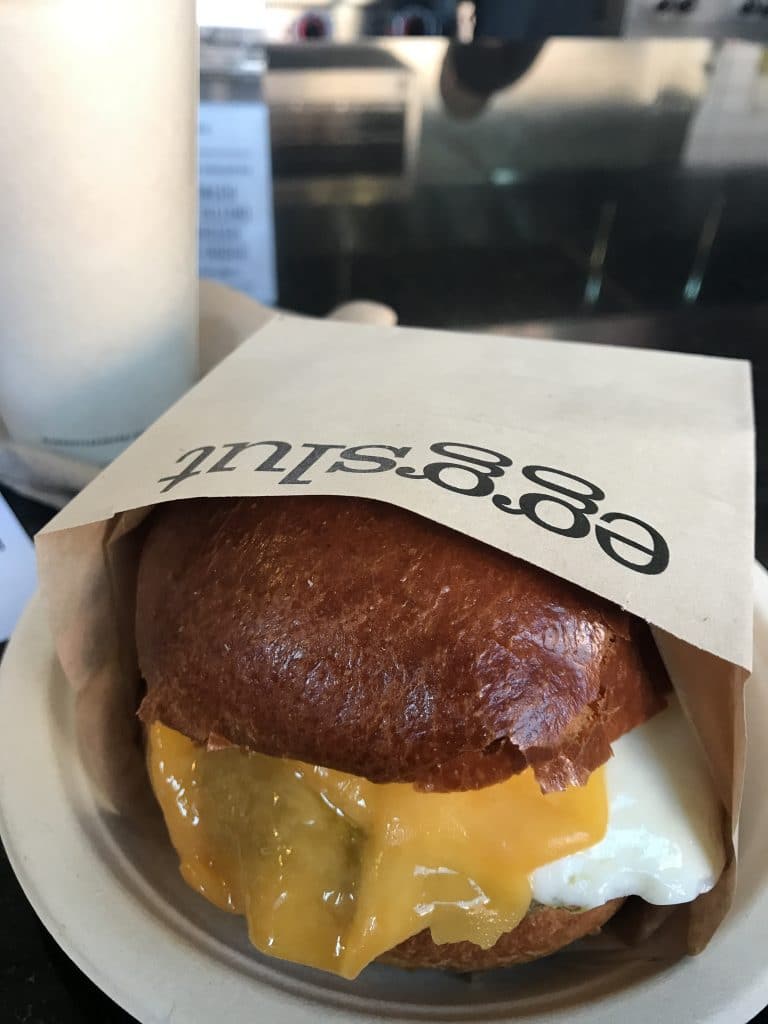 Sixth Stop: The Bradbury Building
The Bradbury Building is across the street from the Grand Central Market. In 1971 the Bradbury Building was added to the National Register of Historic Places. Currently, the building is used as offices and tourists are allowed only in the lobby. The Bradbury Building is famous for its ornate ironwork and atrium and it has been the location for several movies including the original Blade Runner.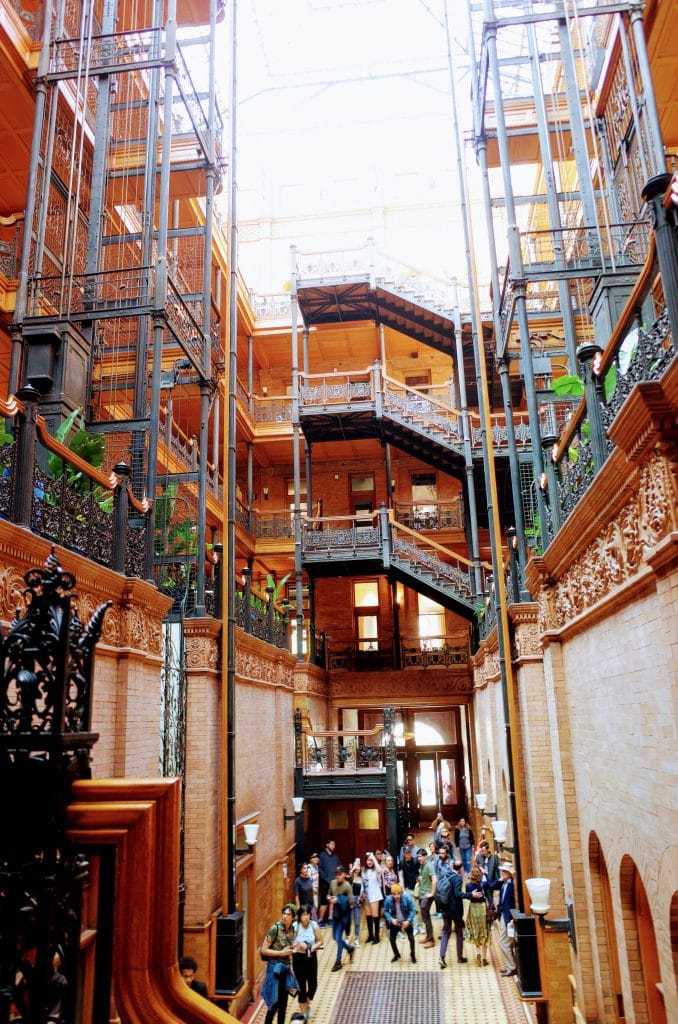 Stop Seven: Angel's Flight
The entrance to Angel's Flight is across the street from the Grand Central Market. Angel's Flight originally opened in 1901 and is the shortest operational railroad. It is possible to board the cars at either the bottom or the top of Bunker Hill. I rode it both ways and it was free with unlimited TAP card without a Tap card it is $1 to ride each way.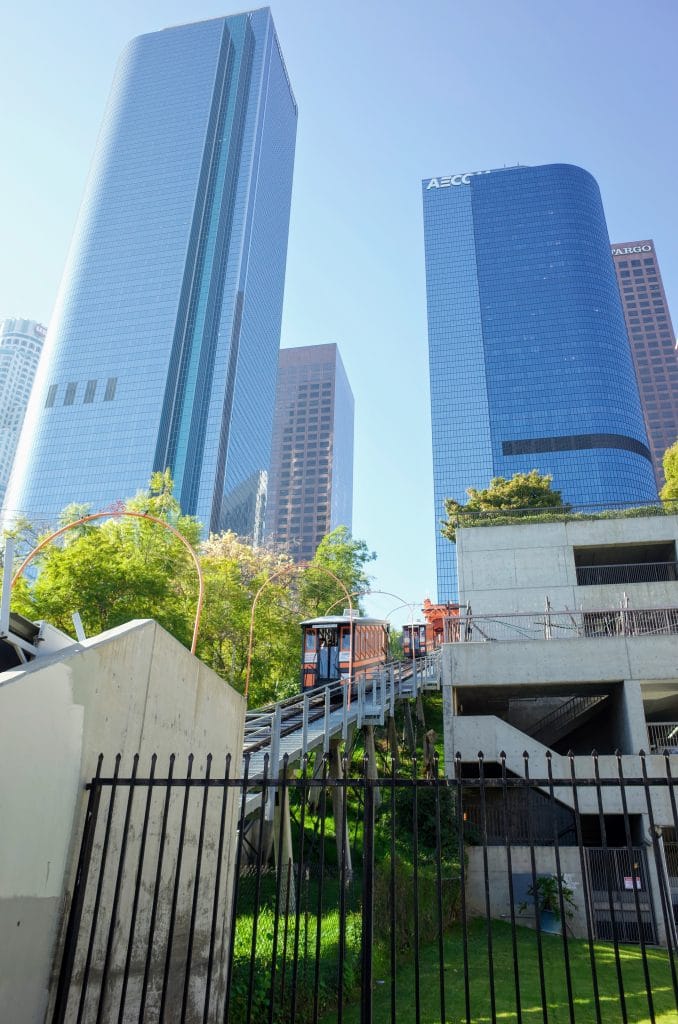 Stop Eight: Little Tokyo
I walked to Japanse Village Plaza at 335 E. 2nd St. The plaza is busy and there are many shops and restaurants. In the plaza, there is usually some sort of entertainment going on such as karaoke or a performer. I watched a woman though a window making little cakes and I went inside to ask what they were. The man at the counter told me they were Red Bean cakes and he assured me they are delicious. I bought one for $2 and took it to go. I was too full this trip, but my favorite Ramen restaurant Daikokuya is across the street from Japanse Village Plaza and I highly recommend stopping in there for some amazing ramen.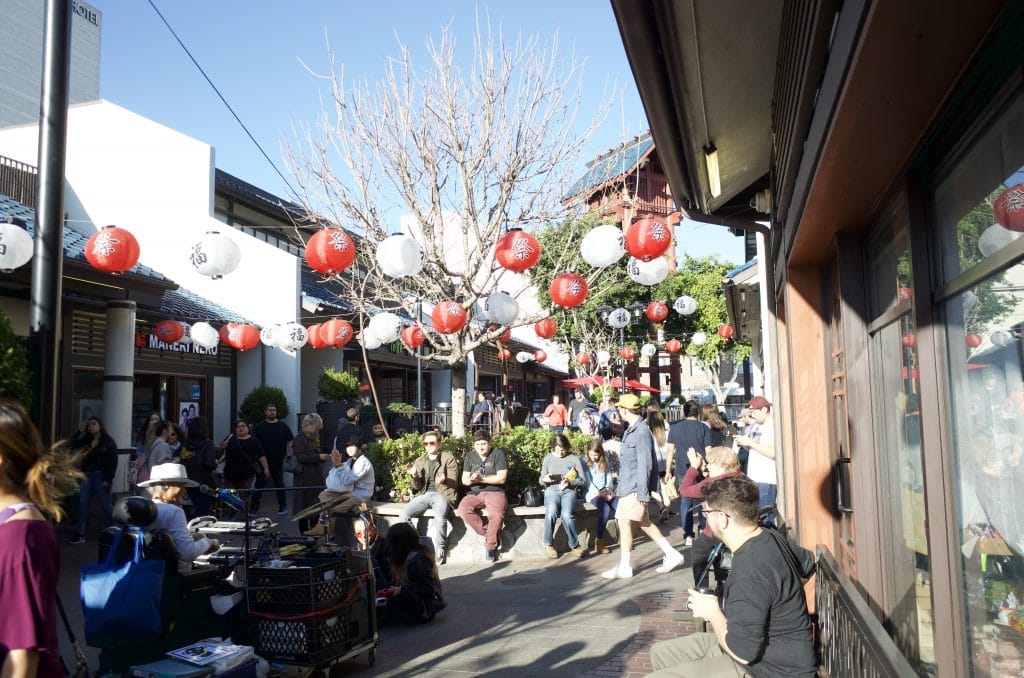 Heading Home
After Little Tokyo, I decided it was getting cold and I was tired so I walked to the corner of First and Alameda and I waited for the Gold Line. There is lots more to explore in the area, but it will have to wait for another day.