Practice, planning, and being prepared are the steps you need to take to help overcome a fear of solo backpacking. Backpacking with friends is fun, but sometimes it's hard to coordinate schedules and nature is calling. I have found the benefits of solo backpacking include building courage and confidence, spiritual health, and choosing my own adventure. My advice is if you are on the fence you should give it a try.
Practice
Practice before you go. Ideally, you have gone on a backpacking trip before your first solo trip. I started with short 1 and 2-night trips with a friend. We gradually worked up to more nights and longer distances. This gave me the opportunity to dial in my gear and figure out what works and what doesn't. I also went to a class at REI that went over how to pack my backpack for multiple nights. Before my first solo trip, I was 100% confident in setting up my tent, filtering water, and cooking in the woods.
Planning
Planning, planning, and planning will help eliminate some of your fears. Step number one is picking where you want to backpack. For a first-time trip, it's a good idea to pick a location that you are familiar with and that isn't too remote. For my first solo trip, I went to Dinkey Lake Wilderness in Central California. I only hiked 5 miles and set up my tent. I felt a little more confident knowing that I was close to the car. After picking my location, I did my research. I contacted the ranger's office and requested a permit. I also read recent trip reports from other backpackers so I had an idea of what to expect.
While planning out what to bring, I did add a few extras such as an extra pack of matches in addition to a lighter that is always with my stove. I also packed iodine tablets in addition to the Sawyer water filter that I always bring. Lastly, I brought a larger can of fuel because I was scared I wouldn't be able to boil water if I ran out.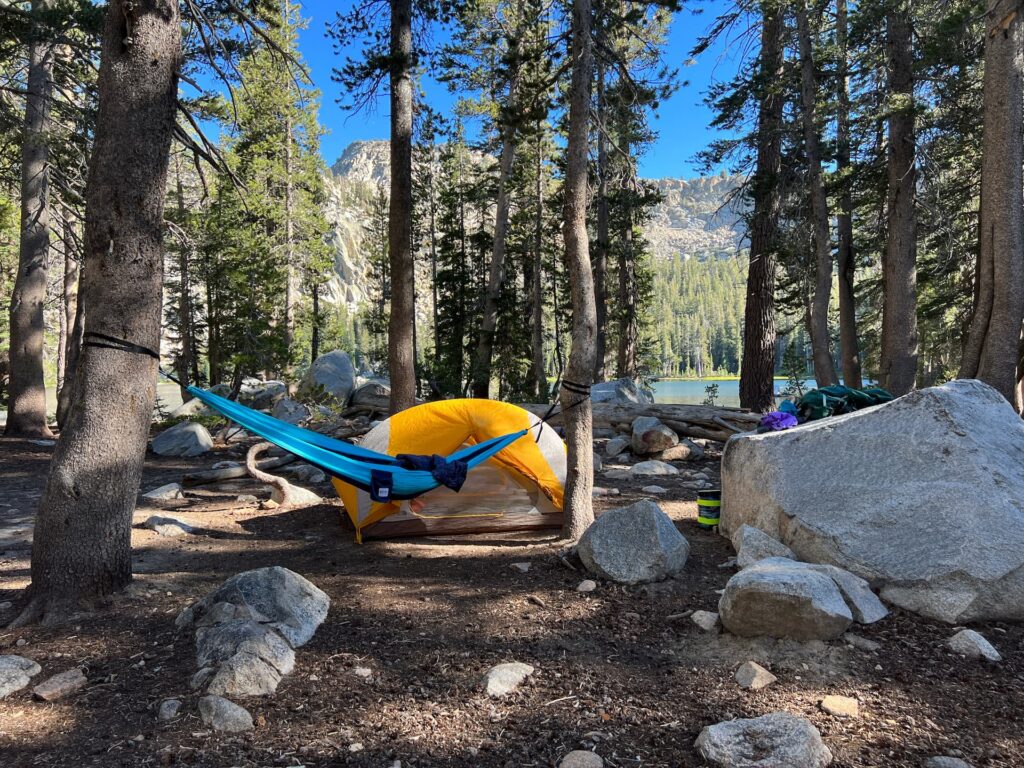 Being Prepared
Being prepared for your trip will help ease your mind. For every backpacking trip, I always have the 10 essentials.
A map ( an actual paper map in addition to any maps on my phone.)
Sun Protection (sunscreen, sunglasses, and a hat.)
A headlight (for backpacking I also carry a portable lantern for around camp & in the tent.)
A Knife or a multitool that has a knife inside.
First Aid (My first aid kit has bandaids, ointments, and medicines in addition to insect repellent.)
Fire starter ( lighter & matches.)
Shelter (For backpacking a tent & for day hikes at least a space blanket.)
Extra Food (It's always a good idea to have a little bit extra in case you have to stay an extra night.)
Water (I typically only backpack where there is a water source. I bring water, but then filter more at camp.)
Extra Clothes (It's okay to wear the same clothes for multiple days, but you want to make sure to bring appropriate jackets for the location and possibly rain gear. In addition, a clean pair of socks and something to sleep in will go a long way to making you comfortable at night.)
Getting Over the Fear
For my first solo backpacking trip I spent 3 nights. During the day I hiked, took pictures, napped in my hammock, and waded in the lake. In the evenings, I read in my tent. At night I put my hiking poles in my tent thinking I could use them to poke something if I need to. I also had pepper spray and a knife, but I've never needed them. My solo backpacking trip was magical, the weather was great, the mosquitos were minimal, and the lakes were pristine. I conquered my fear of going solo with practice, planning, and being prepared and I will always cherish the memory of that trip.