Are you in search of the perfect dessert in New York City? If you are I have some suggestions for you. If there was ever a city to splurge on dessert, it is NYC. There are so many options that it might be hard to narrow down your choices. I am going to share a few of my favorites.
Dessert Cookies
Levain Bakery is currently having a cult-like following over their perfect cookies and I for one am a card-carrying member. Levain Bakery has multiple locations in the city. During my last visit to New York City, Nicole and I stopped in to get dessert for the picnic we were going to have in Central Park. We went to the location on Third Avenue. The line was long but efficient and it moved fast. We each ordered a cookie. Their cookies are a staggering 6 ounces each and they cost around $4 each.
The Perfect Cookie
We ordered their classic Chocolate Chip Walnut and their Dark Chocolate Chip. I firmly believe you will never find a more perfect cookie than their Chocolate Chip Walnut. This is the cookie of ALL cookies. Ooey-gooey chocolate, crunchy walnuts, and a crisp and chewy cookie at the same time? Sign this girl up right now. I'm honestly not a fan of nuts in my cookies but the walnuts added more texture than flavor, which was perfect! The Dark chocolate Chip is rich and decadent. It has some brownie qualities to it and it is delicious. I think Levain Bakery just might be serving the perfect cookie.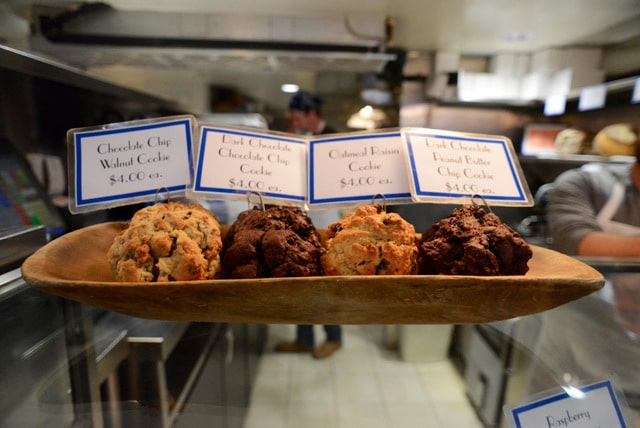 Ice Cream in Chinatown
Chinatown Ice Cream Factory has been in business since 1978. It is tucked in on a small street in the middle of a bustling Chinatown. The original location is at 65 Bayor St and they now have a second location in Flushings. Their storefront is small and it's not unusual for the line to be out the door. When you get inside they have a sign hanging on the wall with all the flavors they are currently serving. They have flavors ranging from every day common to the exotic.
Try Something New
One of my favorite flavors is Almond Cookie. It is Chinese almond cookies from the Famous Fung Wong Bakery soaked and blended into ice cream. Of course, they serve their ice cream in either a cone or a cup. There isn't a place to sit inside so we always order our ice cream in a cup and walk around the neighborhood while we enjoy it. There's a reason why Chinatown Ice Cream Factory has been in business for 40 plus years. They serve delicious reasonable price ice cream.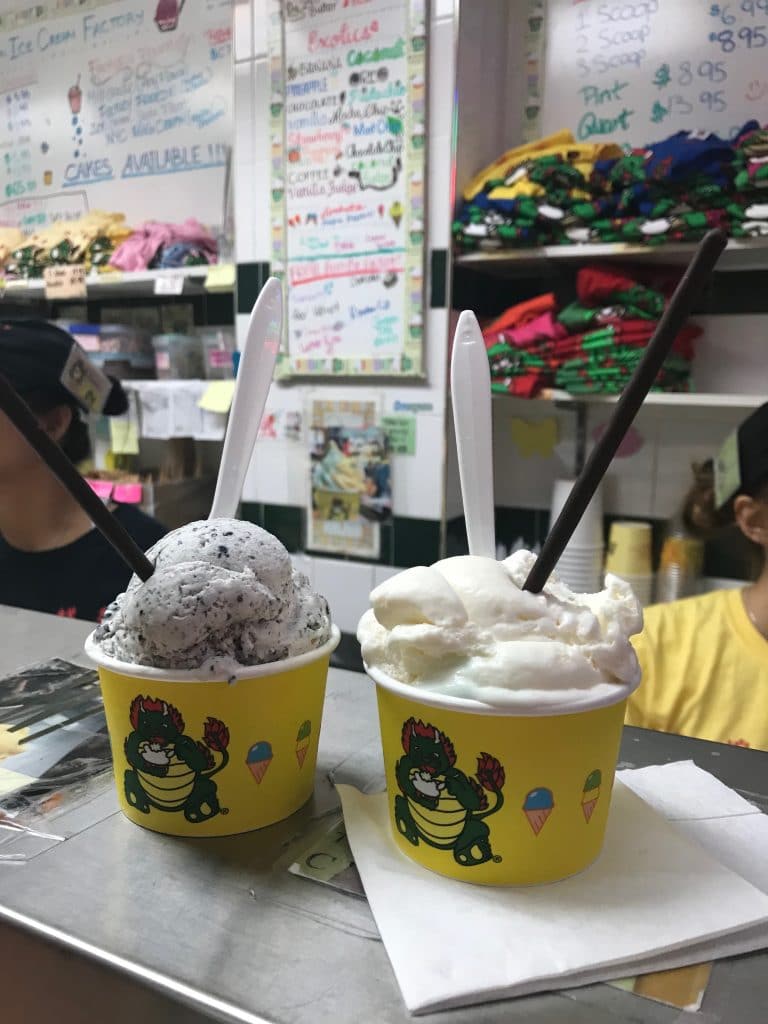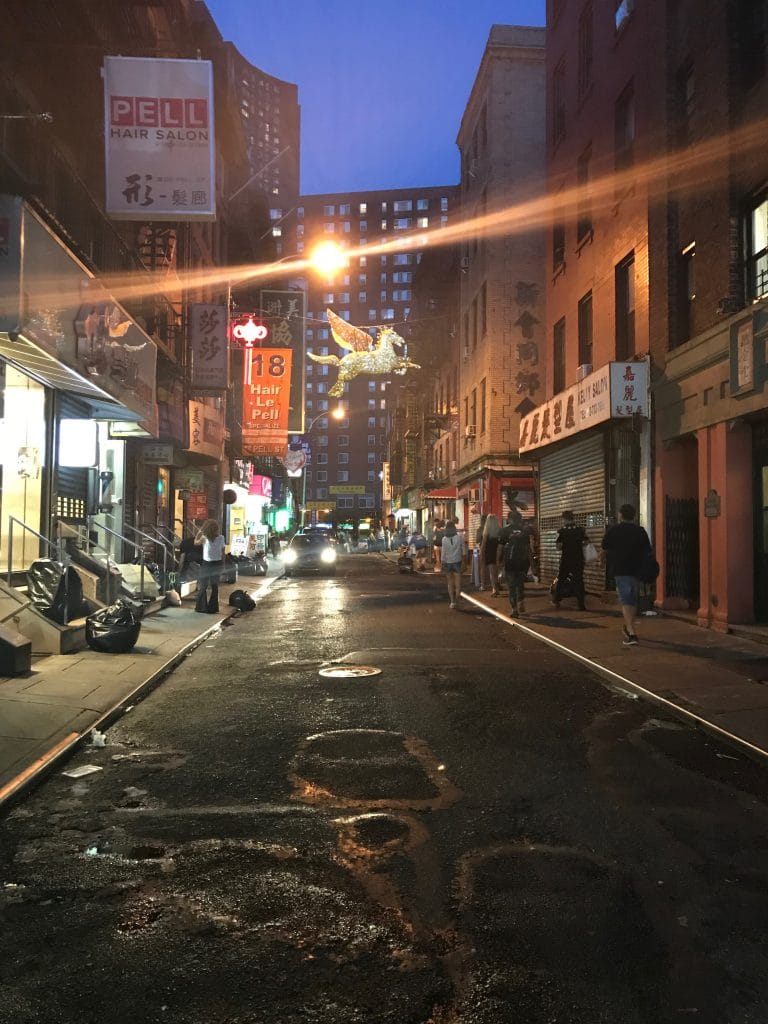 Magnolia Bakery
Magnolia Bakery is a quintessential New York cupcakery. I've watched my fair share of Sex and The City episodes and those ladies loved Magnolia's Bakery. They opened their first bakery in 1996 on a quiet corner in the West Village. Today they have locations worldwide. The original location is my favorite. It reminds me of stepping into my grandma's kitchen. Whenever I visit I always feel as though I've been transported to another era. Their cupcake menu varies, but they always serve their famous Red Velvet cake with whipped vanilla icing. Each regular size cupcake is $3.95 and they also sell mini sizes.
Banana Pudding
When I go to Magnolia Bakery I rarely get a cupcake, because I have fallen in love with their Banana Pudding. The regular pudding is a layer of vanilla wafers, fresh bananas, and creamy vanilla pudding. The small size is $4.50 and it is served in an adorable branded container. The pudding comes in different sizes, but a small is more than enough for one person. On my last visit, I tasted a chocolate version that has Oreos, bananas, chocolate pudding, and chocolate shavings. The sample was delicious, but I ordered the original. Directly across the street is a city park. We usually take our dessert there and sit on a bench and people watch. The streets in this neighborhood are adorable and they are filled with Brownstones with big stoops. It is a neighborhood that Carrie Bradshaw would love too.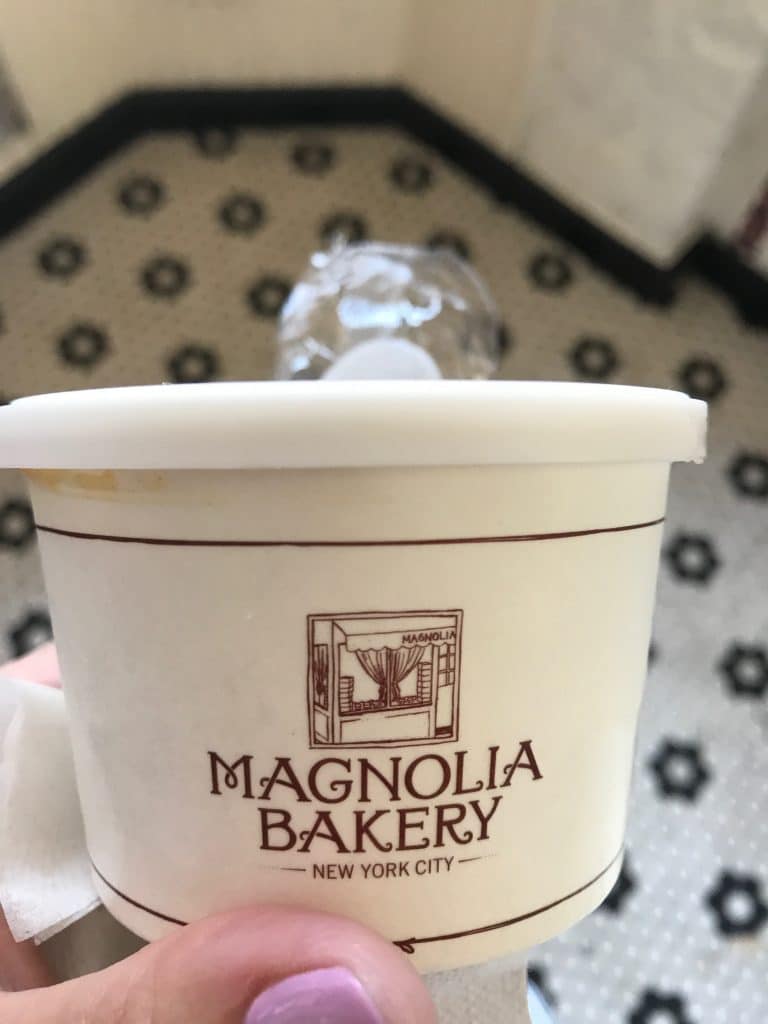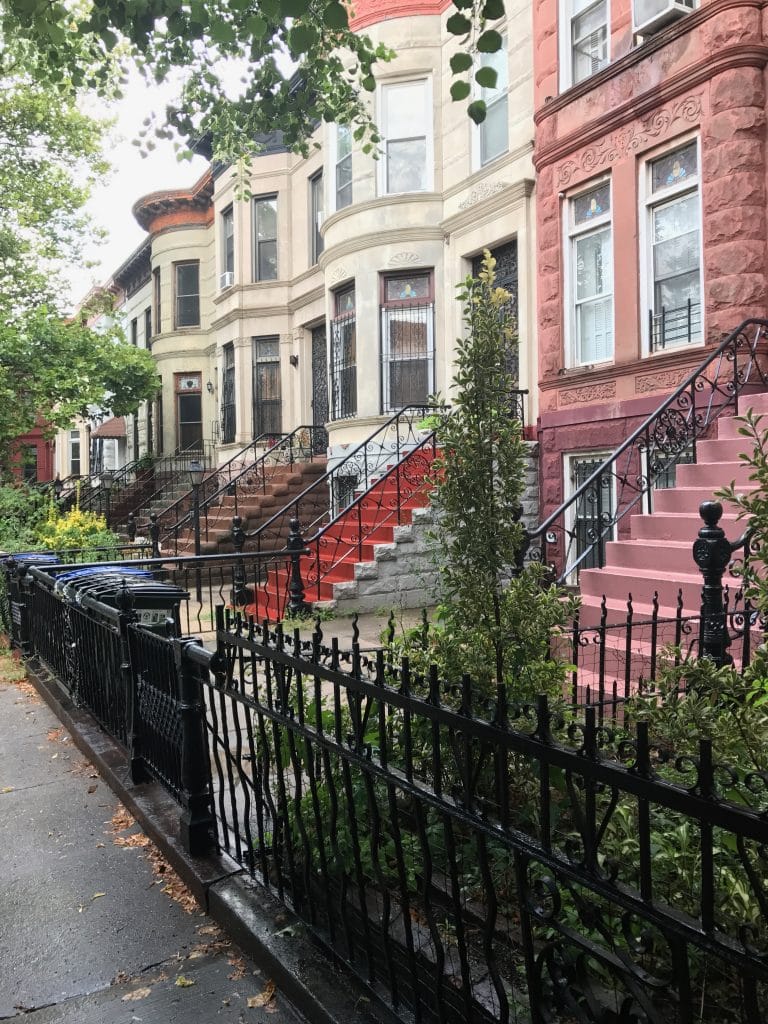 Serendipity 3
Serendipity 3 claims to be the oldest coffee house boutique in New York City. Andy Warhol, Marilyn Monroe, and Jackie Kennedy all frequented this location. A scene from the movie Serendipity with John Cusack and Kate Beckinsale was filmed inside. This upper East Side boutique coffee house is small. They take a limited number of reservations for lunch & dinner, but none for dessert. I always walk in and add my name to the list and then walk around the neighborhood. On the same block is Dylan's Candy Bar the famous candy store owned by Dylan Lauren. If your wait is really long, (FYI: we've waited over 2 hours before) you can head towards the East River and ride on NYC's only ariel tram. The fee is included in your Metro Card and you can ride the tram to Roosevelt Island.
Frozen Hot Chocolate
You can't go to Serendipity 3 and not try their Frozen Hot Chocolate. This is the dessert that John Cusack and Kate Beckinsale shared in the movie and it was also featured in episodes of Girls and Gossip Girl. The Frozen Hot Chocolate comes out in a big glass with a saucer underneath to catch the spillover. The drink is thick and rich, but not overly sweet. It is covered with whipped cream and topped with chocolate shavings. It costs $14 and is big enough to share, but beware Serendipity has a $12.50 minimum per dinner. The Hot Chocolate now comes in other flavors such as peanut butter, mint, and S'mores. Everything in NYC is expensive and at Serendipity you are definitely paying for the experience and they don't disappoint. The Frozen Hot Chocolate is delicious and the inside of the restaurant is kitschy and fun.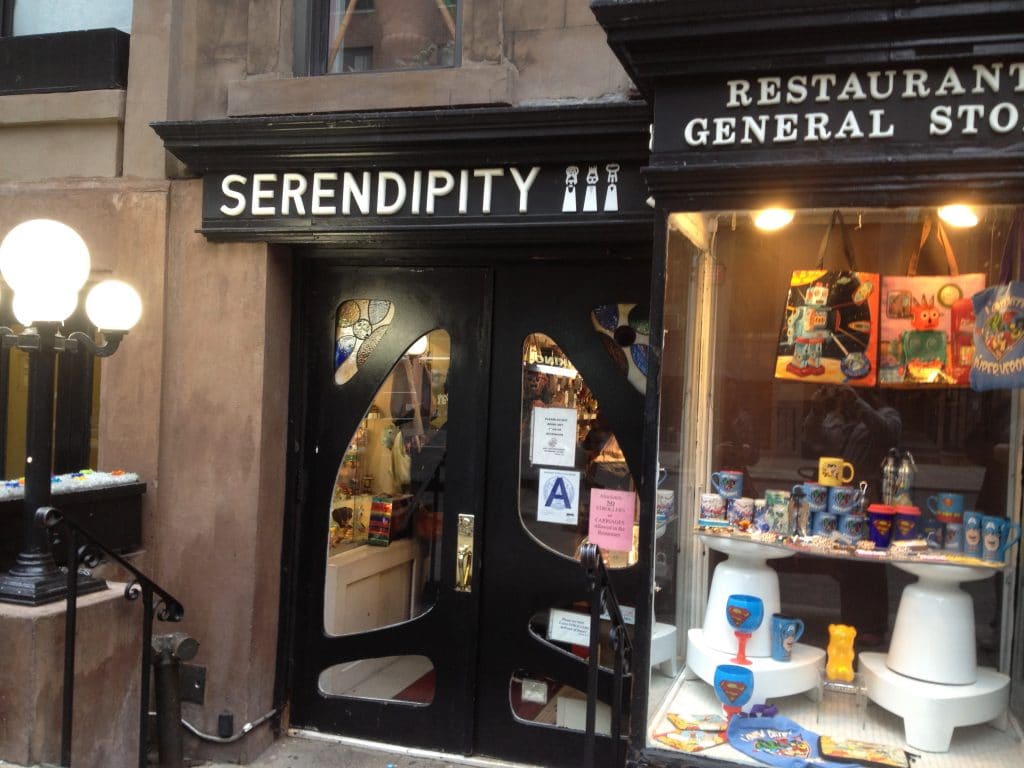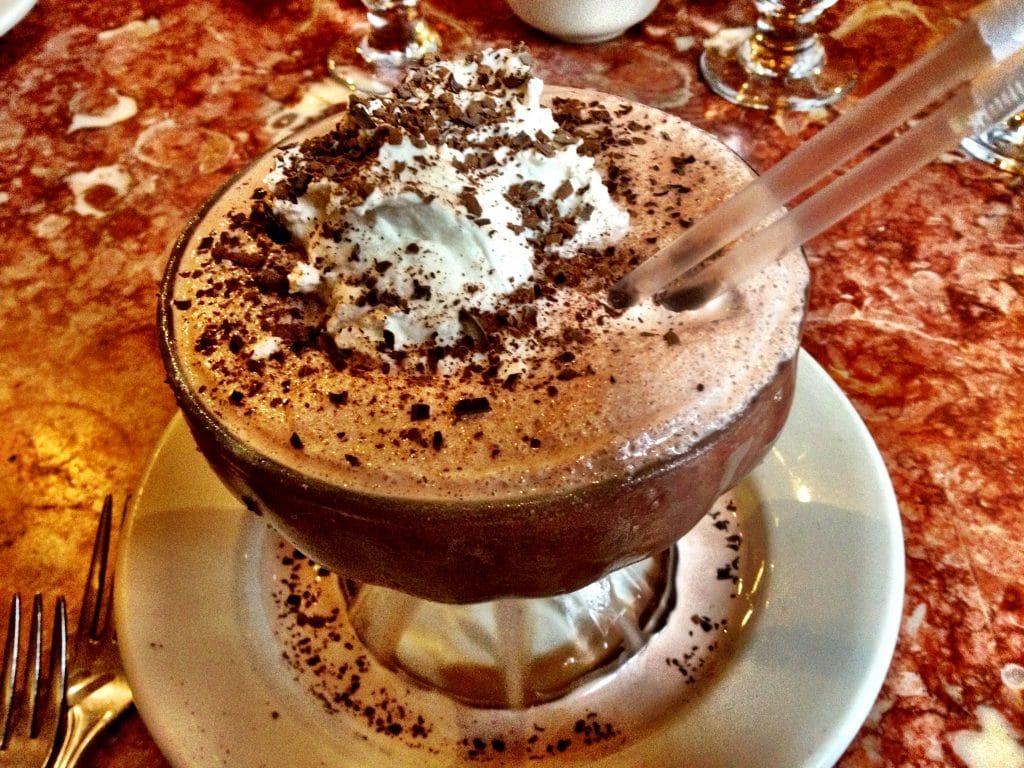 Eileen's Special Cheesecake
It is hard to add just one place for cheesecake in all of NYC, but I'm going to do it. I do love Junior's and it has a huge following, but I have fallen in love with this tiny Greenwich Village bakery that specializes in cheesecakes. The best part of Eileen's is that in addition to a regular size they also make cheesecake minis which means you can try more than one flavor. Their bakery has about 10 stools inside, so it is more of a grab and go location. In 2019 Food & Wine deemed Eileen's Special Cheesecake as the best in America. The minis cost $5.25 each and there are 10 flavors to choose from. My favorite is the Dulce de Leche it is light and fluffy and the tang of the cheesecake mixes perfectly with the Dulce de Leche.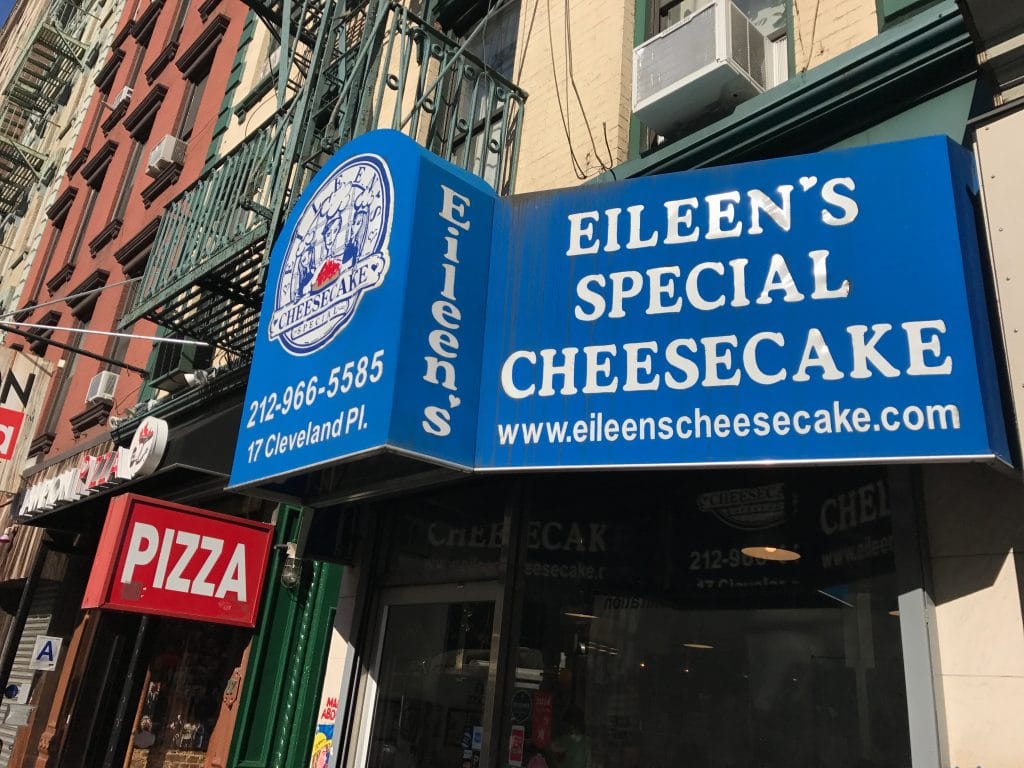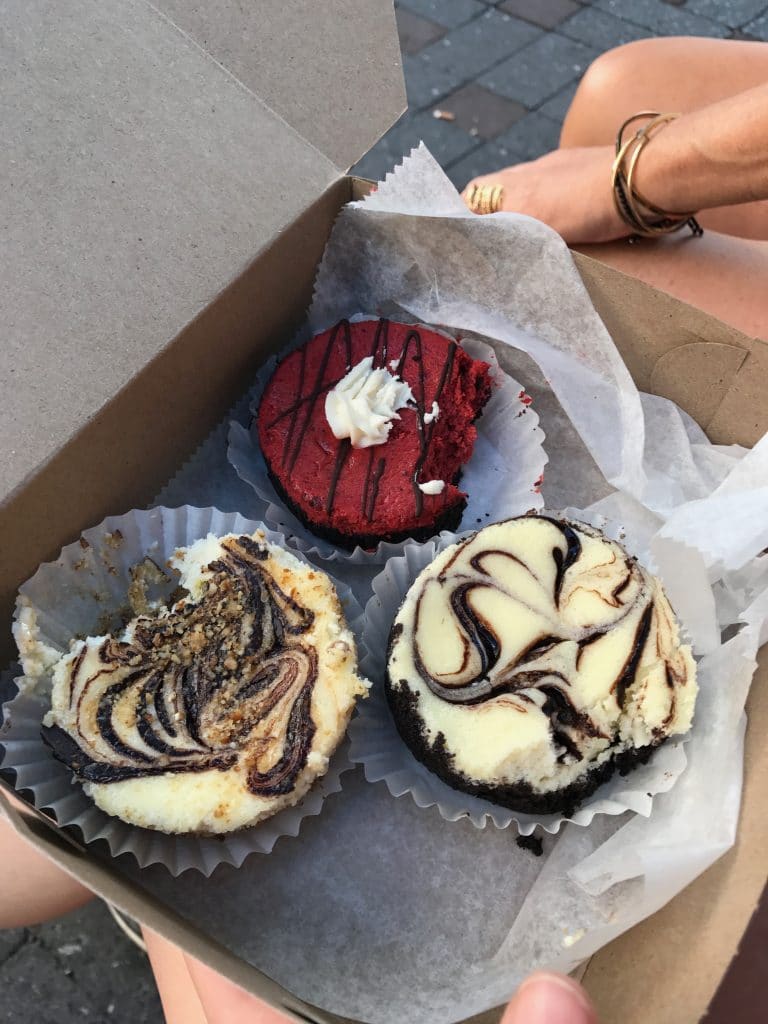 Big Gay Ice Cream
Your life will not be complete until you try a Salty Pimp from Big Gay Ice Cream. Big Gay Ice Cream started as a seasonal food truck and they have now expanded to multiple locations in Manhattan and Philadelphia. They serve traditional soft serve ice cream that is mixed with imaginative and fun ingredients. Their treats range in price from $5 – $10. My favorite location is in the East Village.
The Salty Pimp
I have only tried one thing on the menu, the Salty Pimp because I love it so much. It is a vanilla ice cream cone injected with dulce de leche, lightly salted and dipped in a chocolate shell. During the summer lines to get inside can wrap down the street. There are a few tables and a long bench that you might score a seat at. Overall the ice cream is tasty and the shop is kitschy and fun what more could you ask for in a dessert location.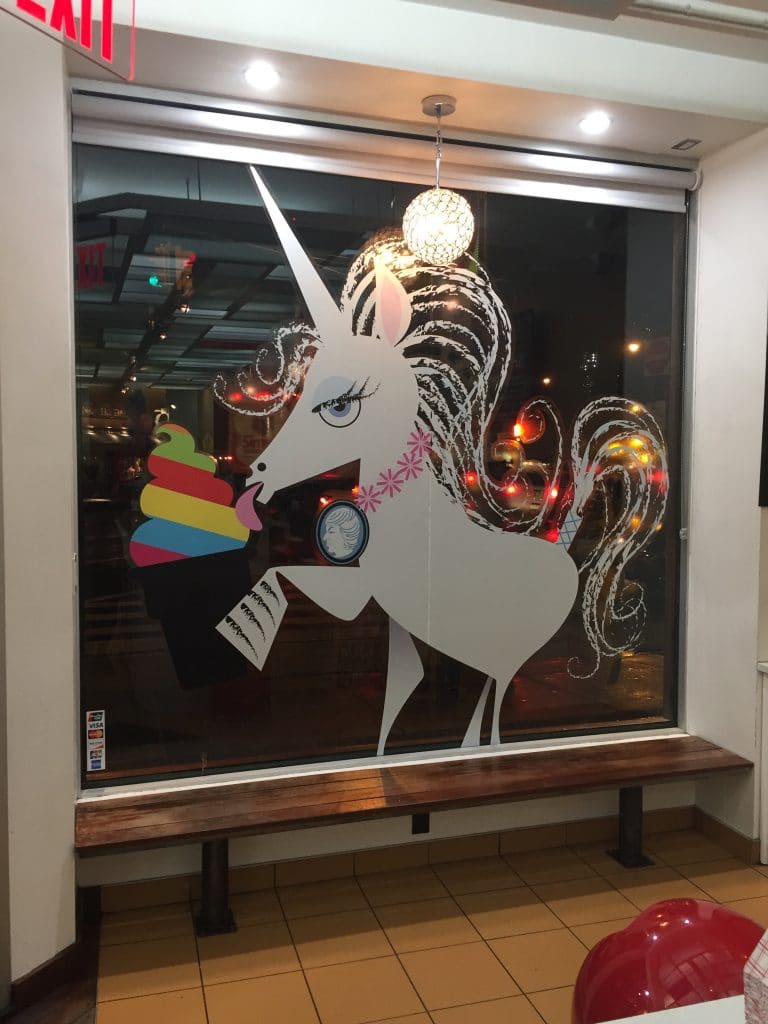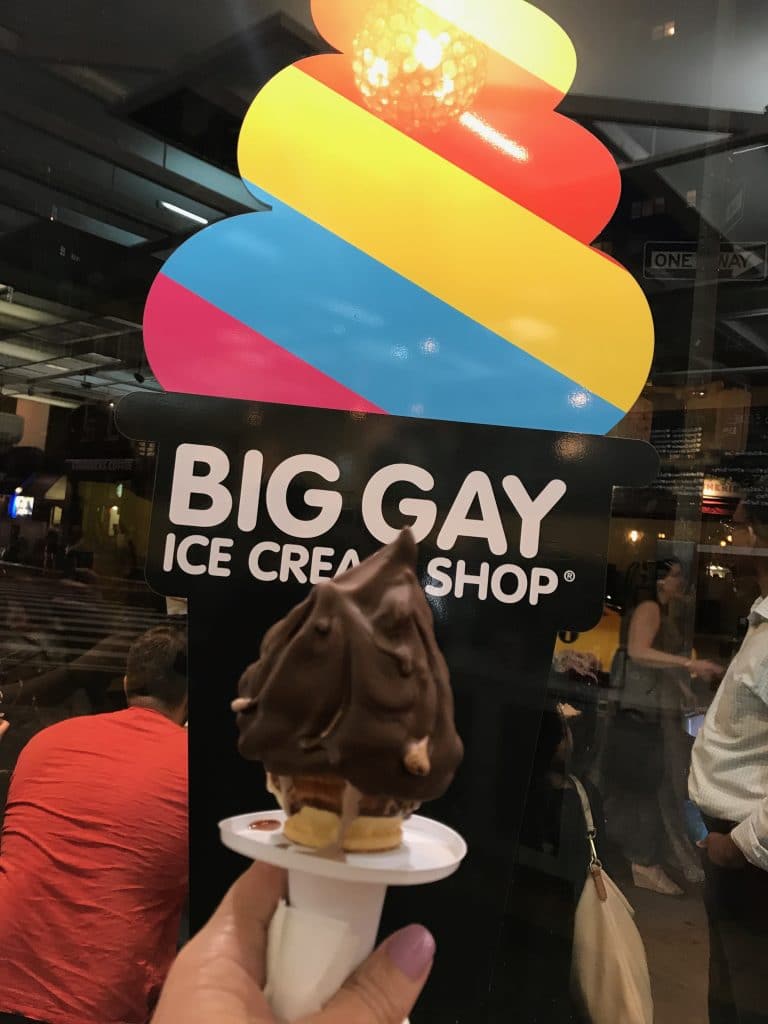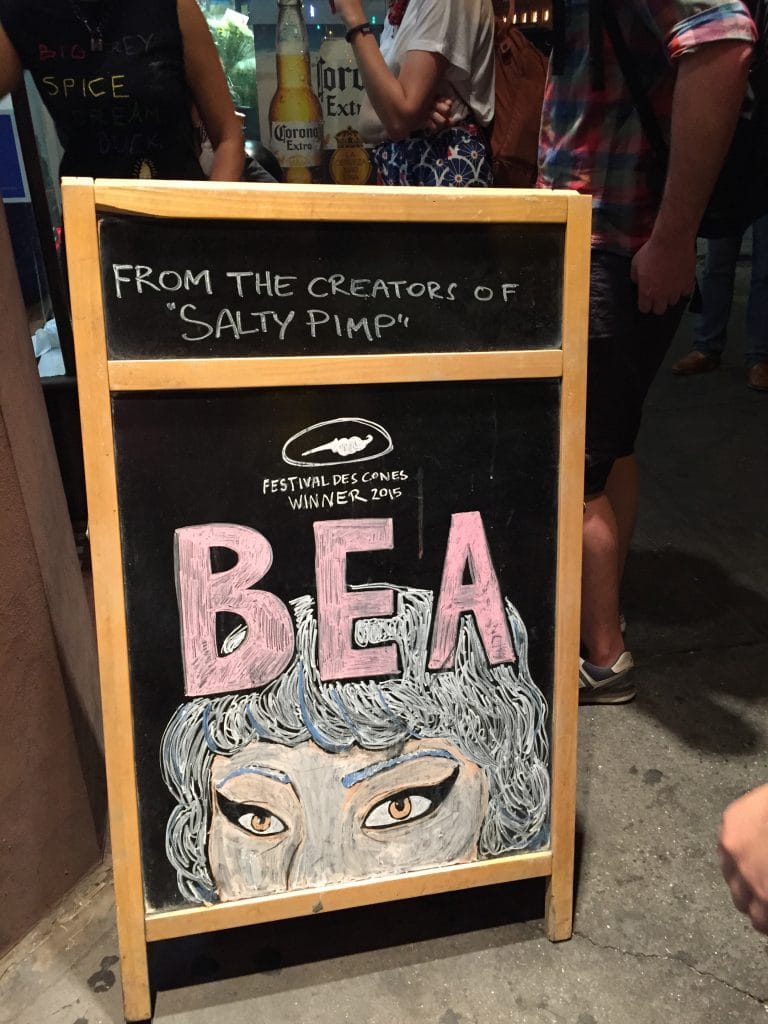 Spot Dessert Bar
Spot Dessert Bar in New York City only serves desserts and drinks. Their flagship location is on St. Marks Street in the East Village. Spot Dessert Bar opened in 2009 and was the vision of Iron Chef of Thailand, Chef Ian Kittichai. Their desserts are served tapas-style, of course, you can order one to eat by yourself, but it is more fun to order multiple desserts for the table and share them. Most of their desserts are $11.95 each. They have their classic desserts that are always on the menu and then some that are seasonal. The restaurant is very small and they have now partnered with Yelp. You can log into Yelp and add your name to the waitlist before you arrive.
Cookie Camp & Matcha Lava
Cookie Camp is a fresh half baked marshmallow cookie, covered with pretzels and cookie crumbs and served with condensed milk ice cream. They bring it to the table in an individual cast iron pan. The warm cookie topped with the cool ice cream is a decadent combination. Matcha Lava is their most popular dessert. It is a warm dark chocolate cake filled with matcha ganache, served with matcha green tea ice cream. The matcha ice cream balances out the sweetness of the chocolate cake. It truly is a delicious dessert.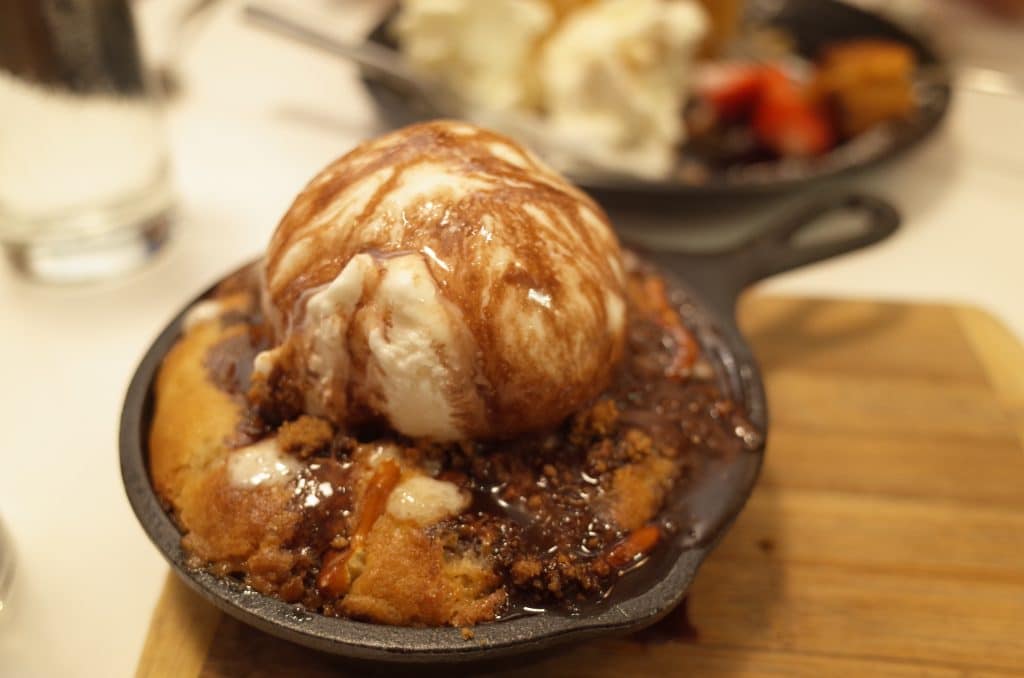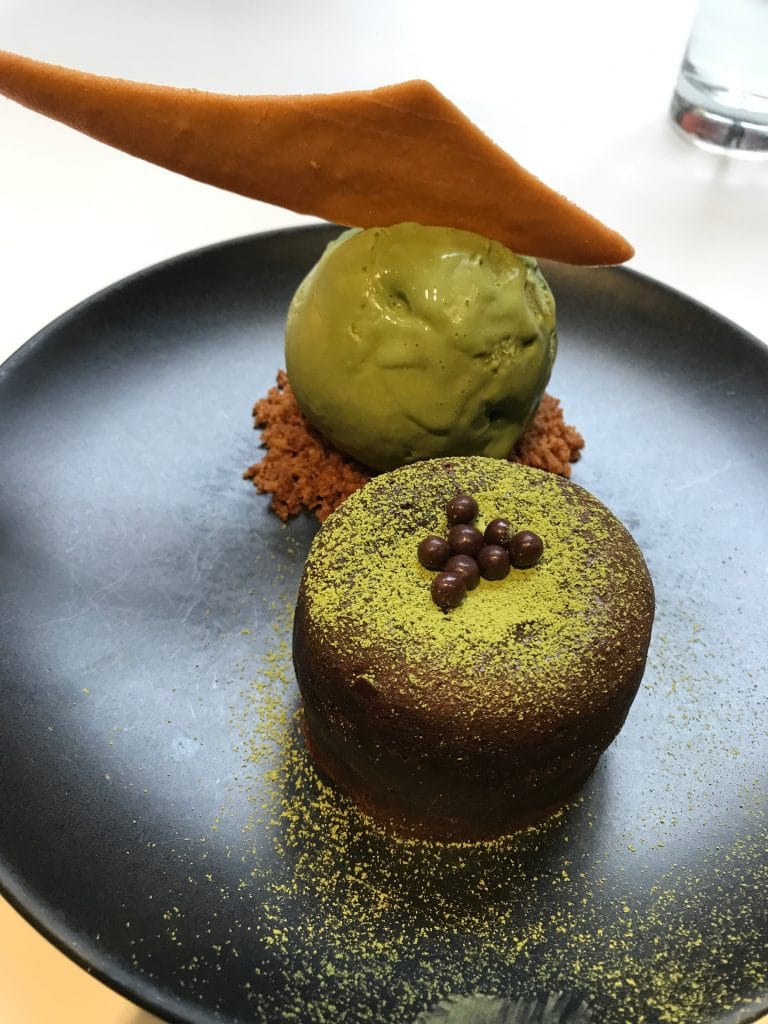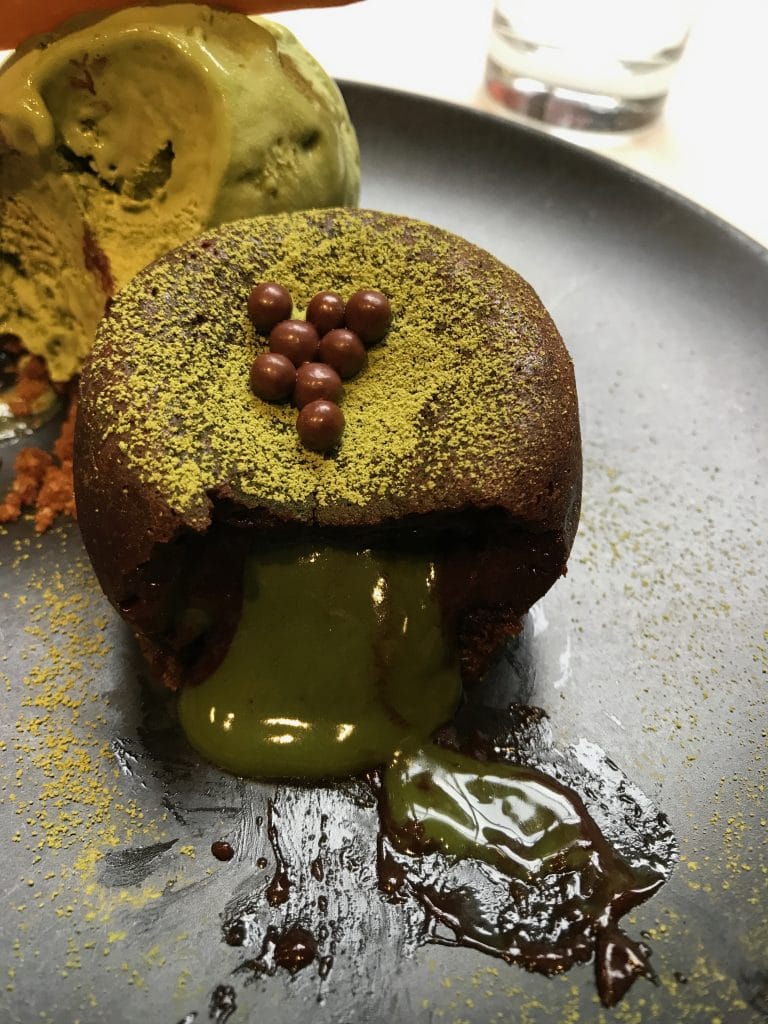 My Very Favorite Dessert in all of NYC
My favorite dessert in all of New York City is the Golden Toast from Spot Dessert Bar. It is a warm crispy honey buttered toast that is served with strawberries, homemade whipped cream, and condensed milk ice cream. I never thought I would like this dessert because I thought it would be too much bread, but I was so wrong. The combination of the butter and honey makes the outside of the bread sweet and crispy and the ice cream is delicious. The Golden Toast is the best and you absolutely have to try it when you are in the city.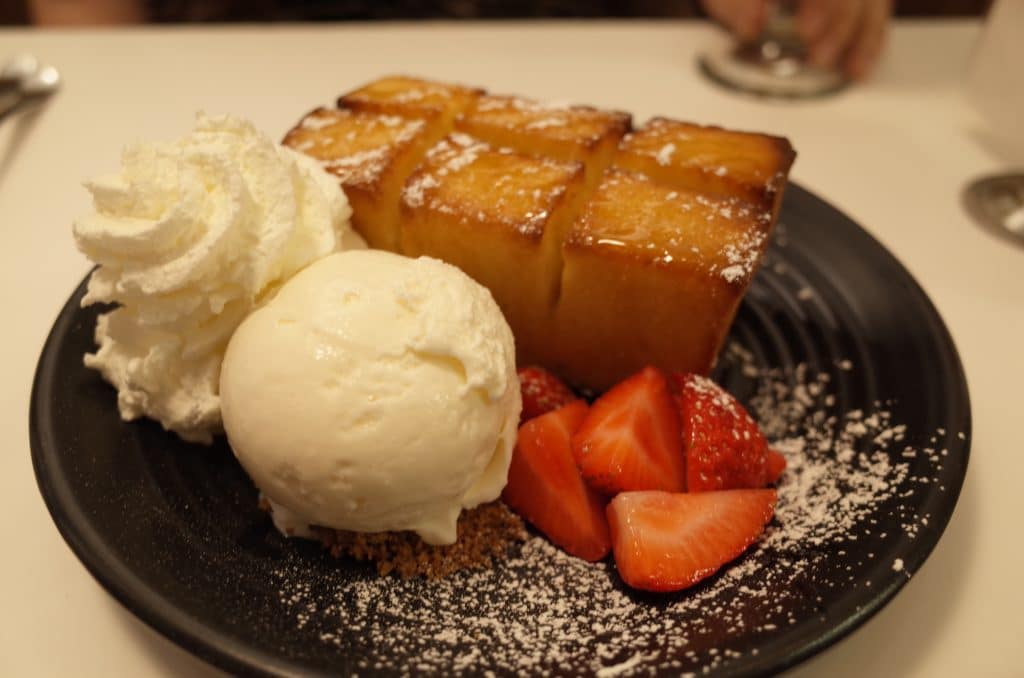 There's Always More to Try
I would go back to all the locations on my list. Some I have been to multiple times and I stop by every time I'm in the city. The good thing about NYC is there are plenty of desserts to choose from and more than likely you will be doing a lot of walking so hopefully you won't feel guilty about trying a few.