Devils Slide to Tahquitz Peak is a beautiful trail in the San Bernardino National Forest that leads to a National Forest Fire outlook. Tahquitz Peak is at 8,846-foot elevation. The hike is somewhere between 8 & 9.5 miles (round-trip) with a gain of 2,500 feet through the San Jacinto Wilderness. It is rated as moderate on Alltrails, but as far as peaks go if you hike often it's on the easier side.
The Legend of Tahquitz
Legend has it that Tahquitz Peak was named by the Cahuilla Indians after a flesh-eating shaman who lived in the mountain. Tahquitz (pronounced tah-KEETS) was captured long ago behind Tahquitz Rock, so it is now safe to hike there.
A Working Fire Lookout
Tahquitz Peak Fire lookout was an active fire lookout until the end of 1993. In 1998 it reopened and is now staffed seasonally with volunteers. Inside the outlook are a single bed, an oven, and plenty of counters and tables for workspace. There is a sign at the bottom of the lookout asking that no more than 5 people at a time go to the top. The day we were there it was unmanned, but I've heard if there is a volunteer there they might welcome you inside for a chat. It is very similar to the lookout tower that Sally and I hiked to at Slide Mountain.
Driving to Tahquitz Peak
We started the morning on the 10 freeway heading East. In the city of Banning we turned on to Highway 243 and wound our way up the mountain to the city of Idyllwild. The trail starts at Humber Park, 24559 Fern Valley Rd, Idyllwild, CA 92549. You need an adventure pass to park in the Humber Park parking lot. Passes are $5 a day or $30 a year. Passes can be purchased at ranger stations or sporting goods stores.
You Need a Permit
There are very strict rules about obtaining a permit for this hike. If you are hiking on a weekend between Memorial Day and Labor Day you need to obtain a permit beforehand. There is a quota of 30 permits per day. You can confirm all the details with the San Jacinto Ranger District Office. If you are hiking it any other time you need to stop by the ranger's office on the way to the trail and fill out a self serve permit.
Hiking on Devils Slide Trail
We started hiking at 9:00 a.m. and even though it was the middle of May it was cold. Too cold to be standing in the shade and not moving. The trail starts at 6,000 feet. For the first 2.5 miles we followed Devils Slide Trail. The trail itself is a series of well-maintained switchbacks. It is a moderate uphill the entire way. We stop a few times to take in the sweeping views of the Hemet/San Jacinto area. We crossed the creek a few times and saw lots of pretty wildflowers. The trail is gorgeous with pines, oaks & manzanita the whole way up. We had great views of Lily Rock which is a popular rock climbing spot, but without binoculars we weren't able to spot any climbers.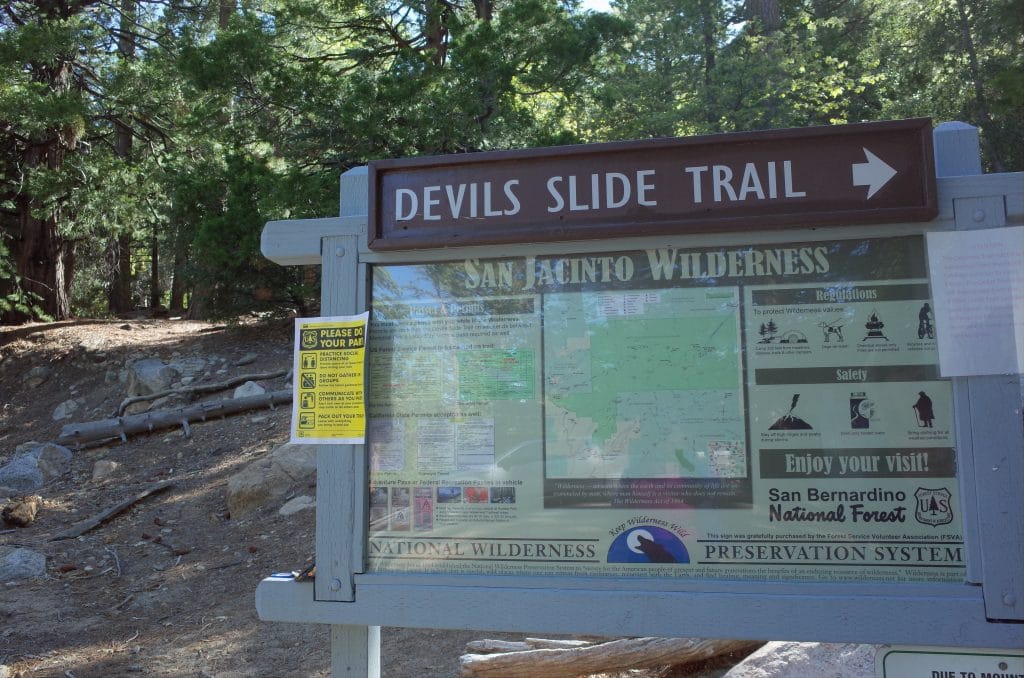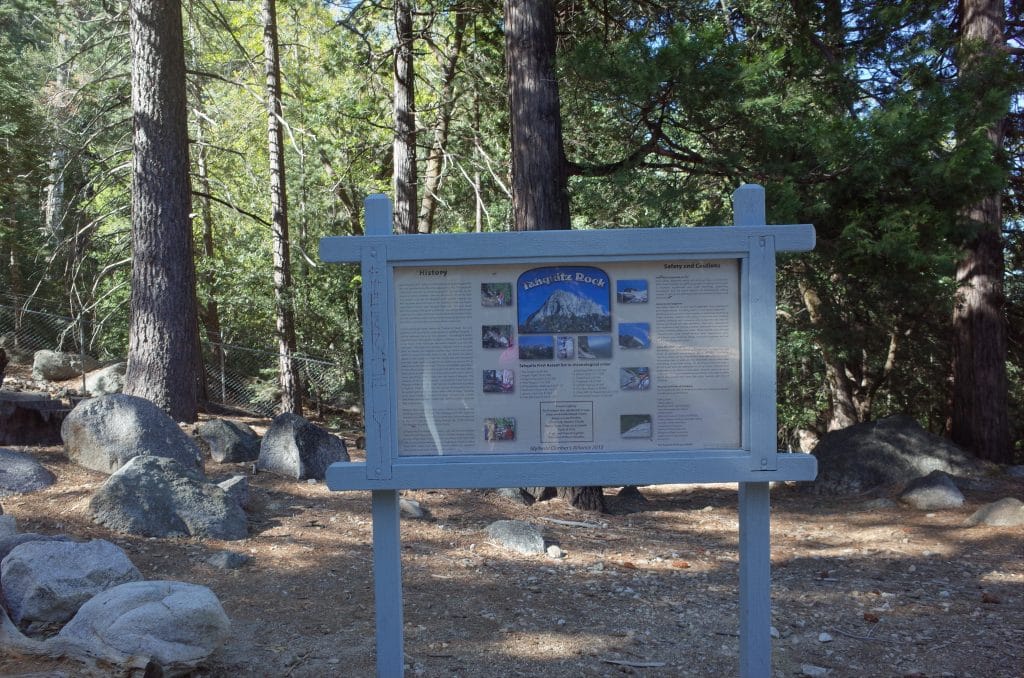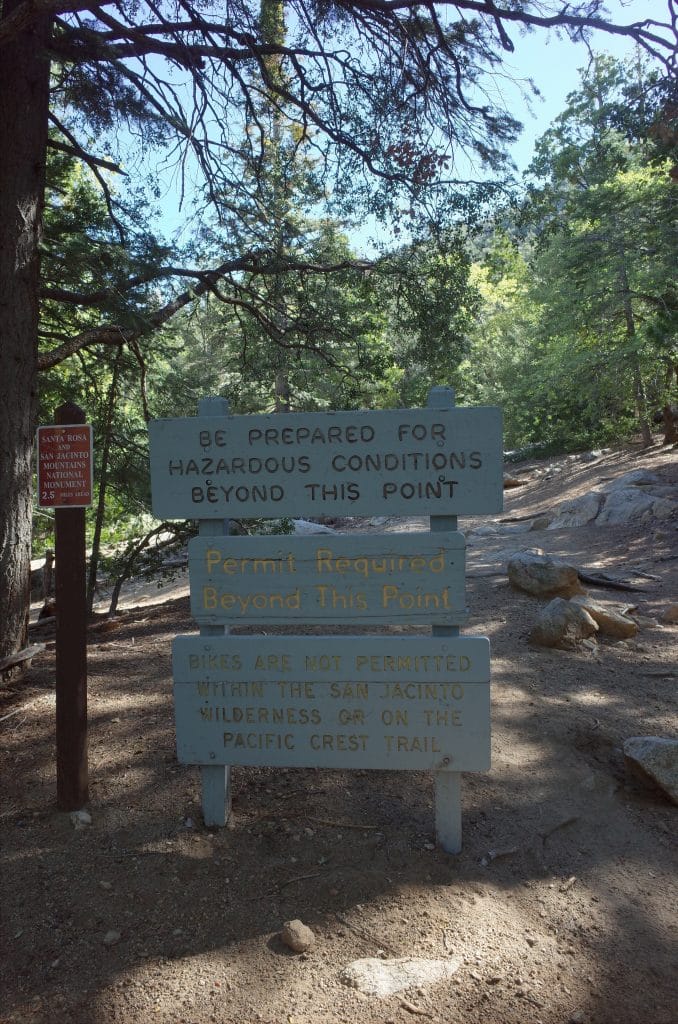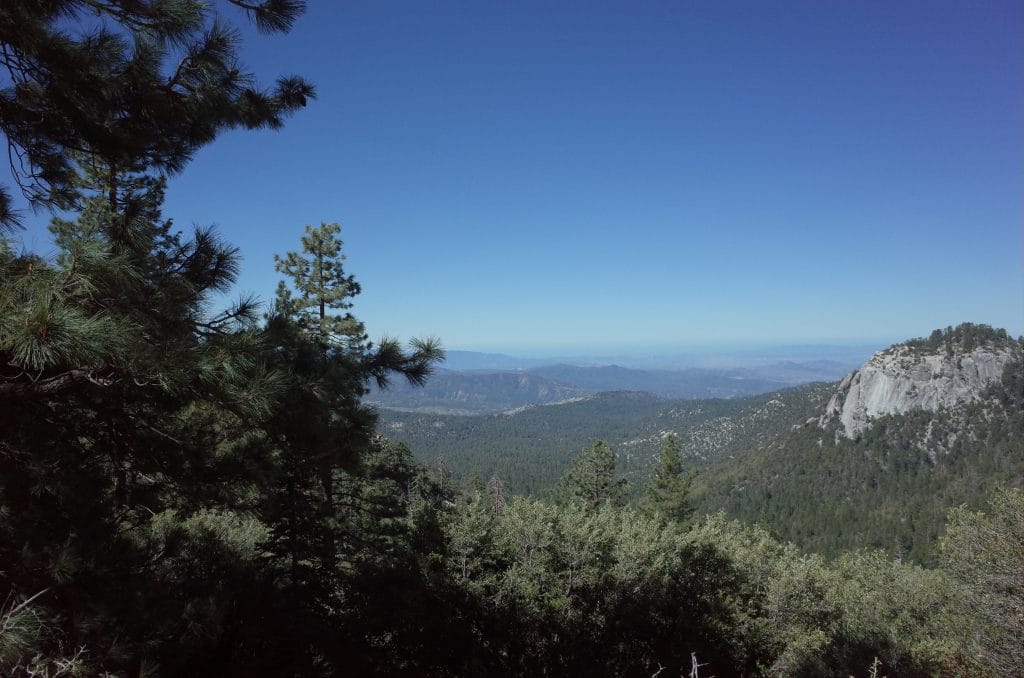 Saddle Junction
The trail levels out when you get to Saddle Junction. As you walk through the trees you will notice signs for all the various trails you can take. It is possible to hike from Saddle Junction to Mt San Jacinto without taking the tram from the Palm Springs side. There is also a trail leading to Round Valley which is a backpacking destination. To get to Tahquitz you want to make a hard right onto the Pacific Crest Trail (PCT.) After the nice break at the junction the trail again starts heading up. We were only on the PCT for a little over a mile. We came to a sign pointing to Tahquitz Peak and we again turned right.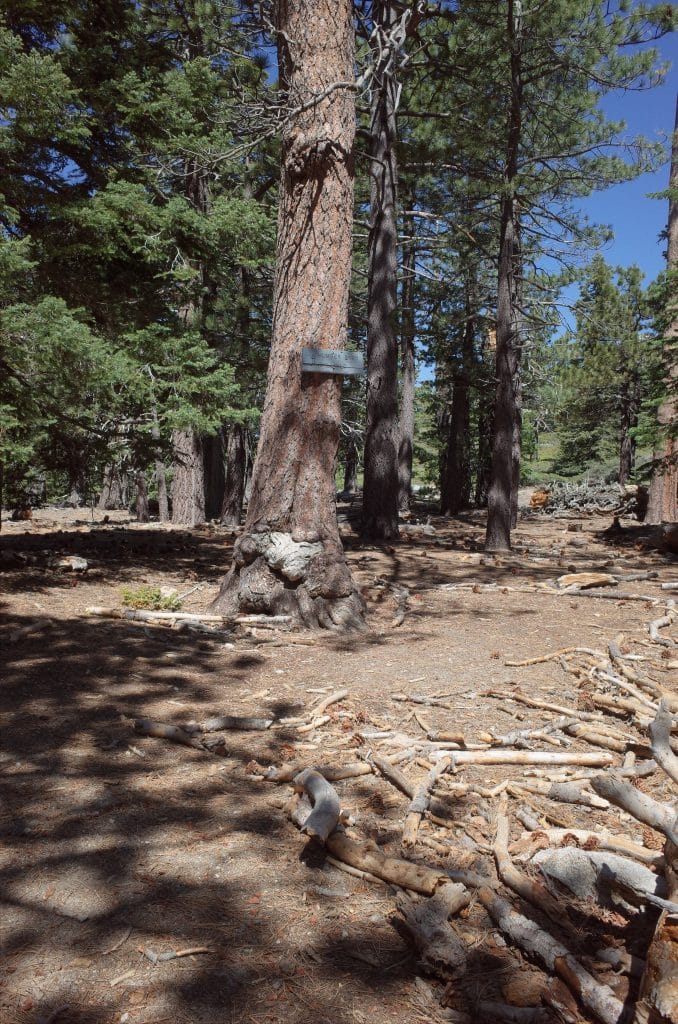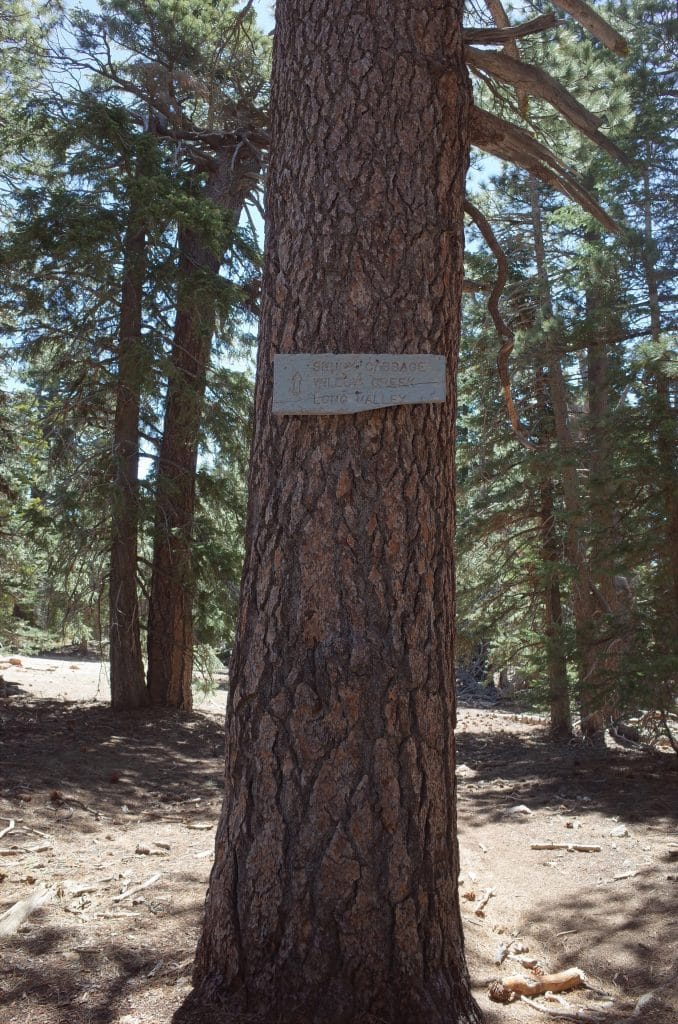 A Beautiful Trail
As a whole this is a beautiful hike. Along the way we crossed a few streams and saw a few little waterfalls. We came across two alien looking Snow Plants. The trees provided nice shade for us and we saw lots of birds, lizards and squirrels.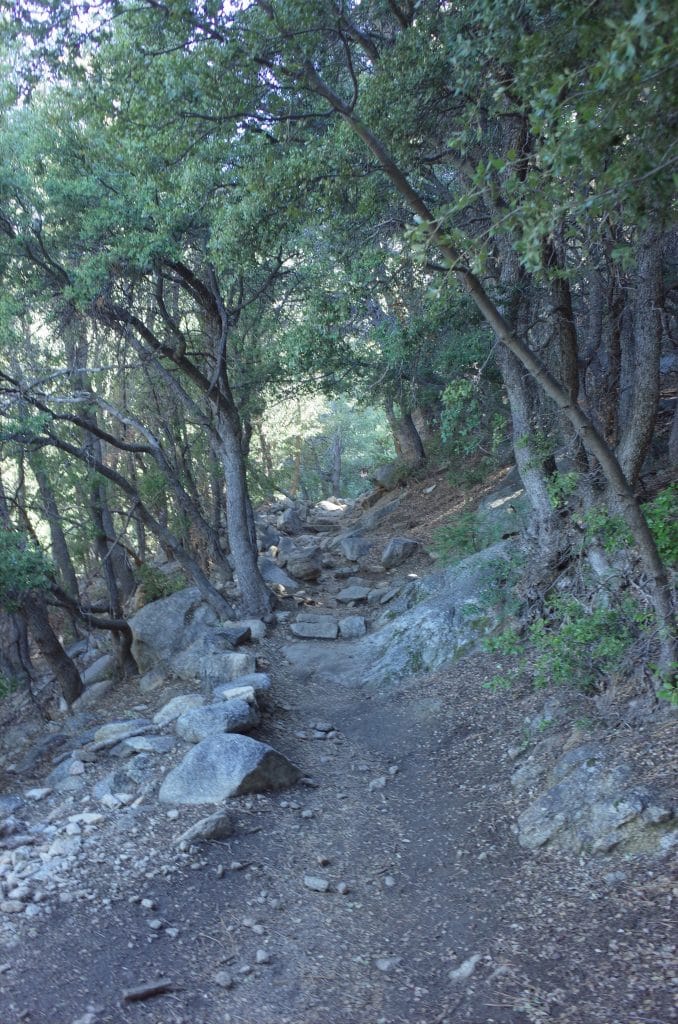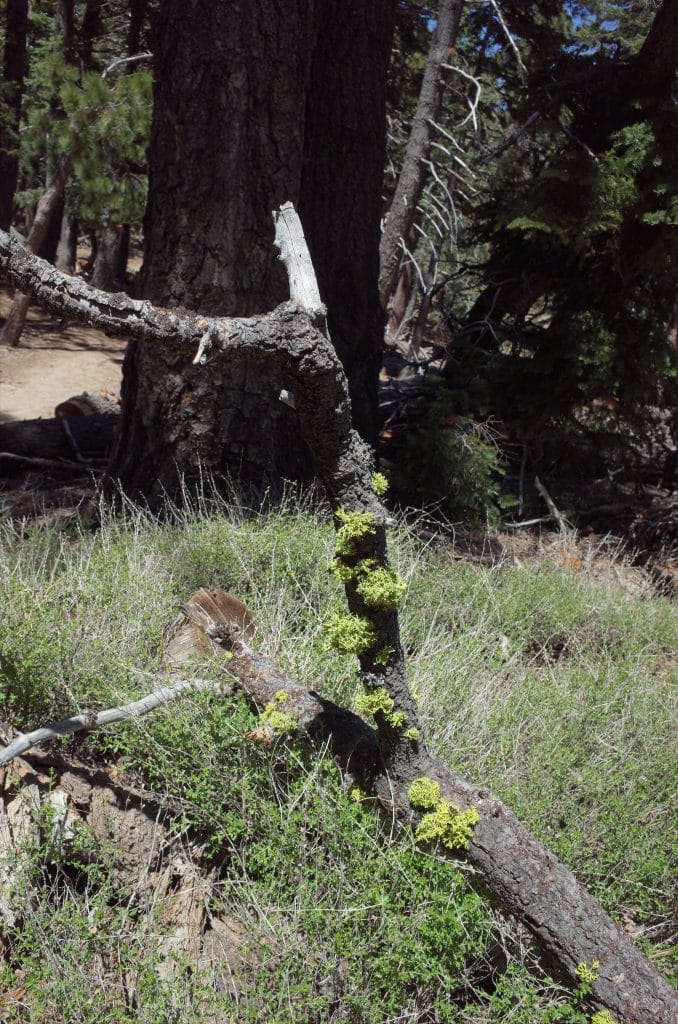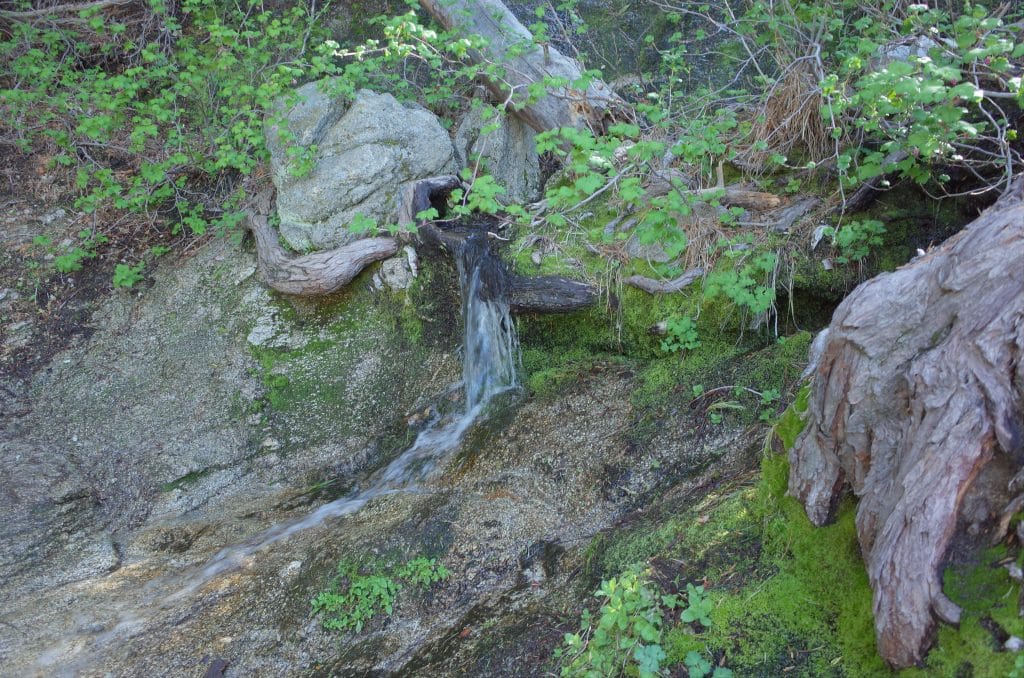 The Last Push To The Top
This part of the trail has some amazing views. We passed by views of Marion Mountain and San Jacinto off in the distance. The trail climbed in elevation and we were now above Lily Rock and that really gave us the perspective of just how far we had climbed. We ran into one giant patch of snow that made getting across a little hairy. On one side was a drop off to your death and the other side was a snow berm that looked unstable because it was melting. We took it slow and made it across. It isn't possible to see the lookout until you are directly below it. After hiking a little less than a mile from the last turnoff we turned a corner and we saw it.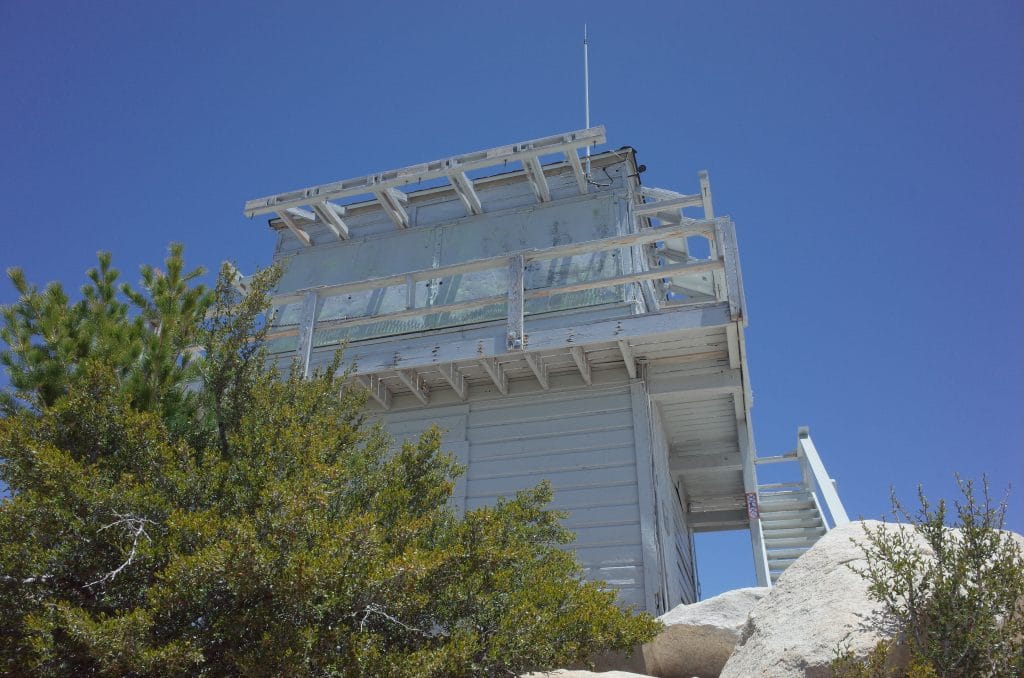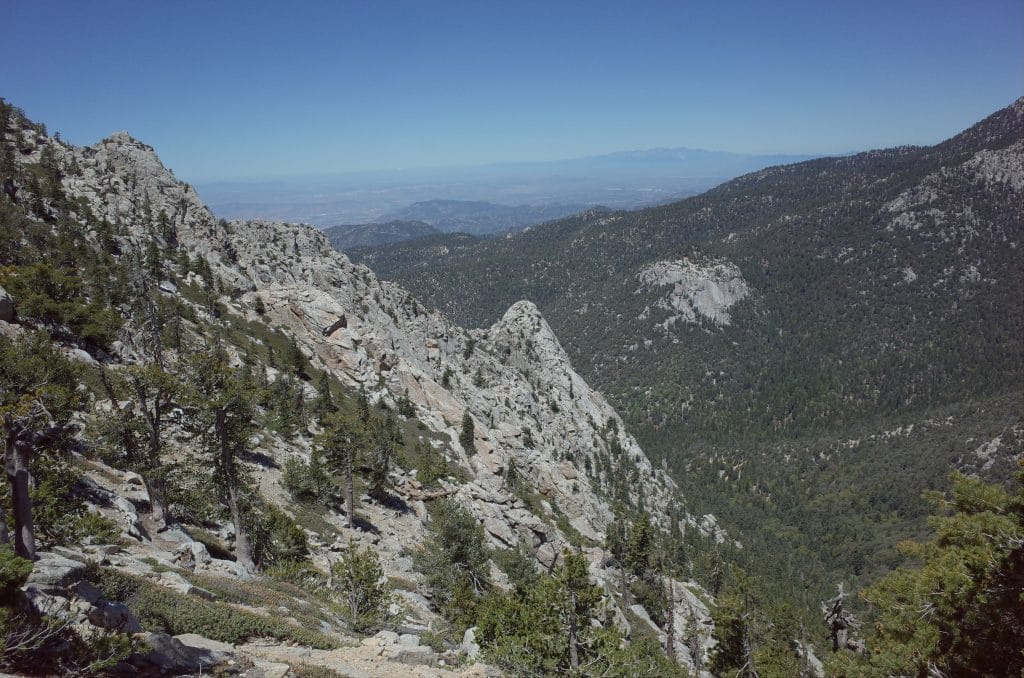 We Made To The Peak
The day we hiked to the peak the fire outlook was still closed for the season. We were able to climb up the stairs and enjoy the view, but we couldn't see inside of the outlook. The view is outstanding. You can see Lake Hemet, Lake Elsinore, and looking in the other direction The Salton Sea. We took pictures with a trail sign and sat down on the rocks and had lunch.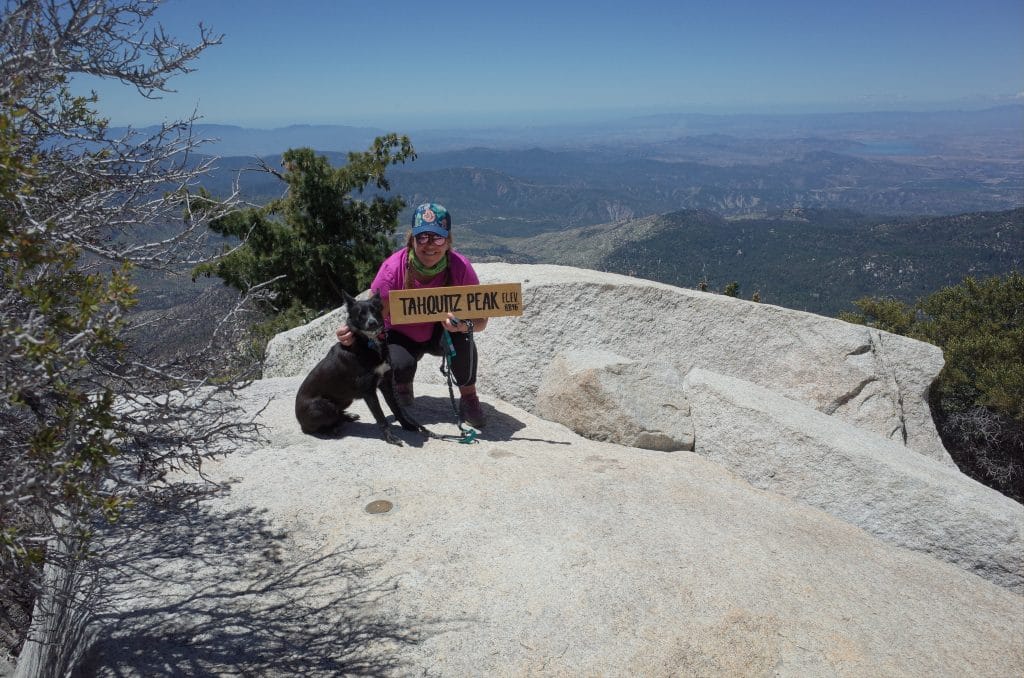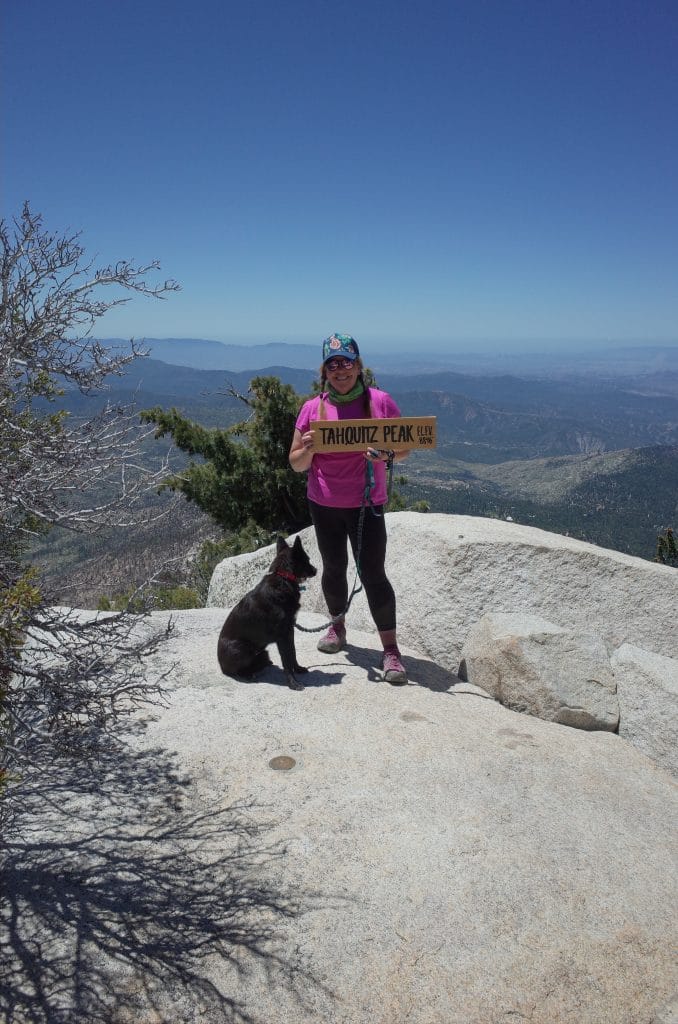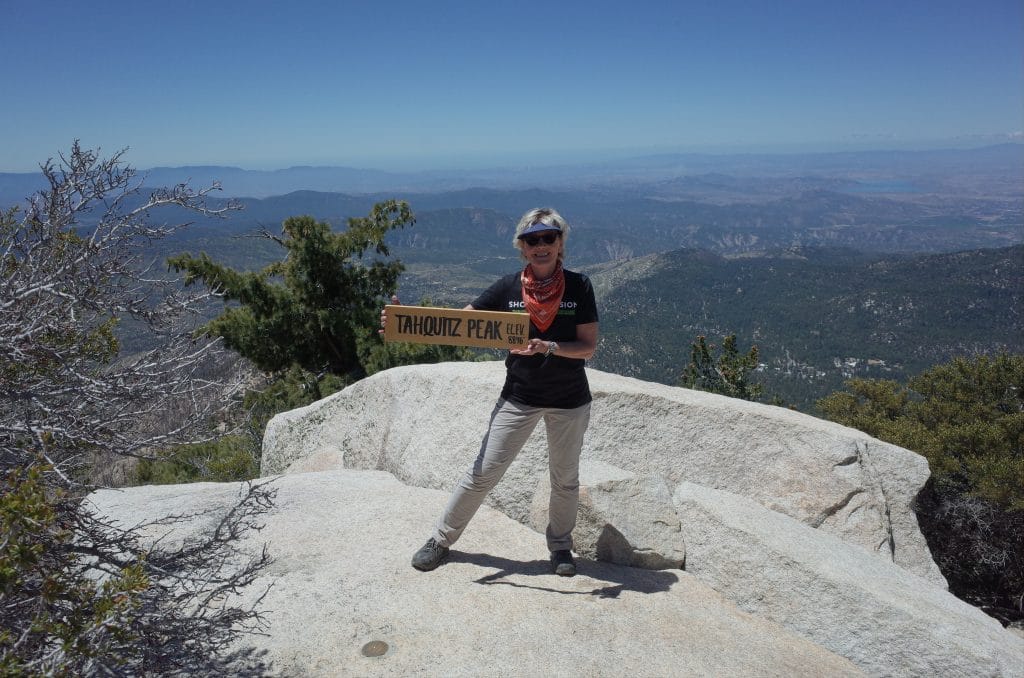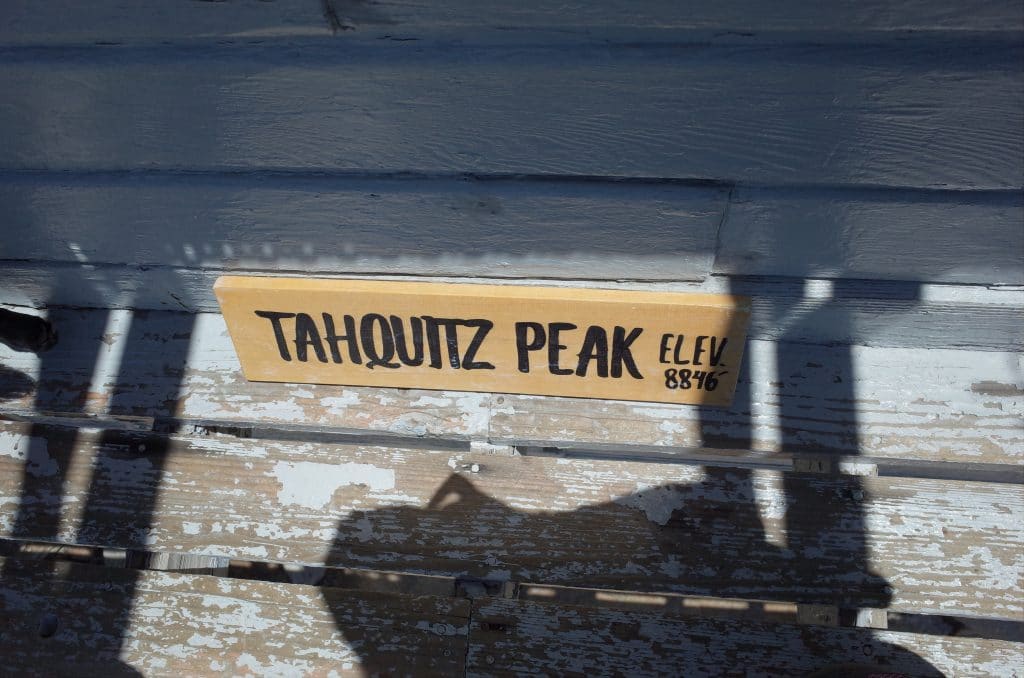 Hiking With A Dog
In March we got a dog from a rescue. She is a Cattle Dog mix and she has endless energy. I have been taking her on regular hikes and walks. This was her first summit. I packed her water bowl and extra snacks. Her favorite part was walking through the snow. She did great on this hike and I'm sure it helped that there is lots of shade on the trail and it wasn't hot the day we hiked.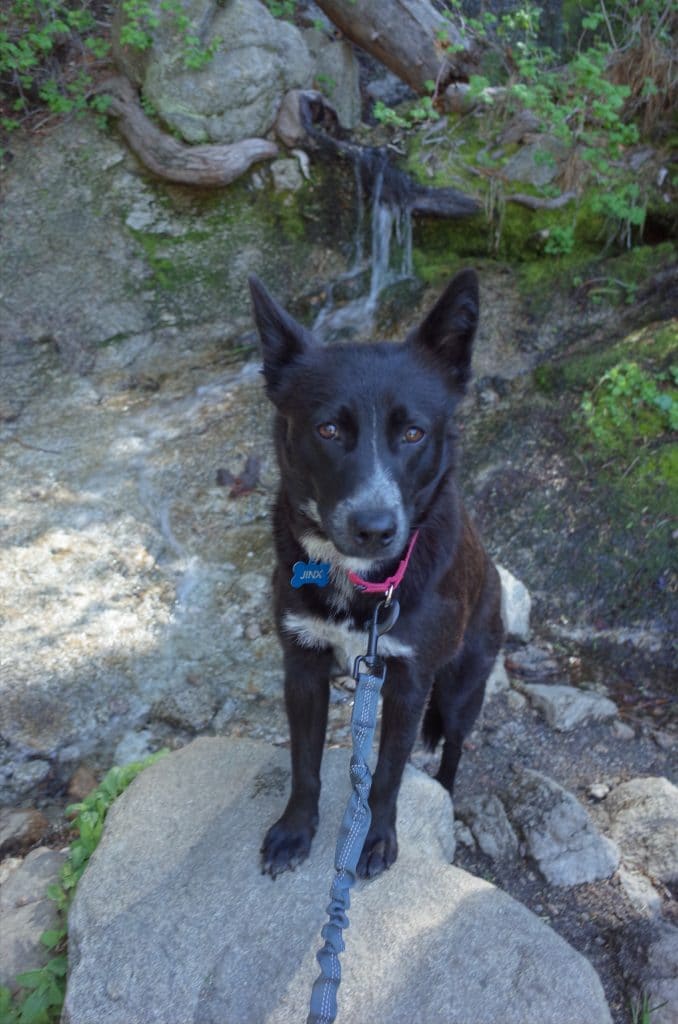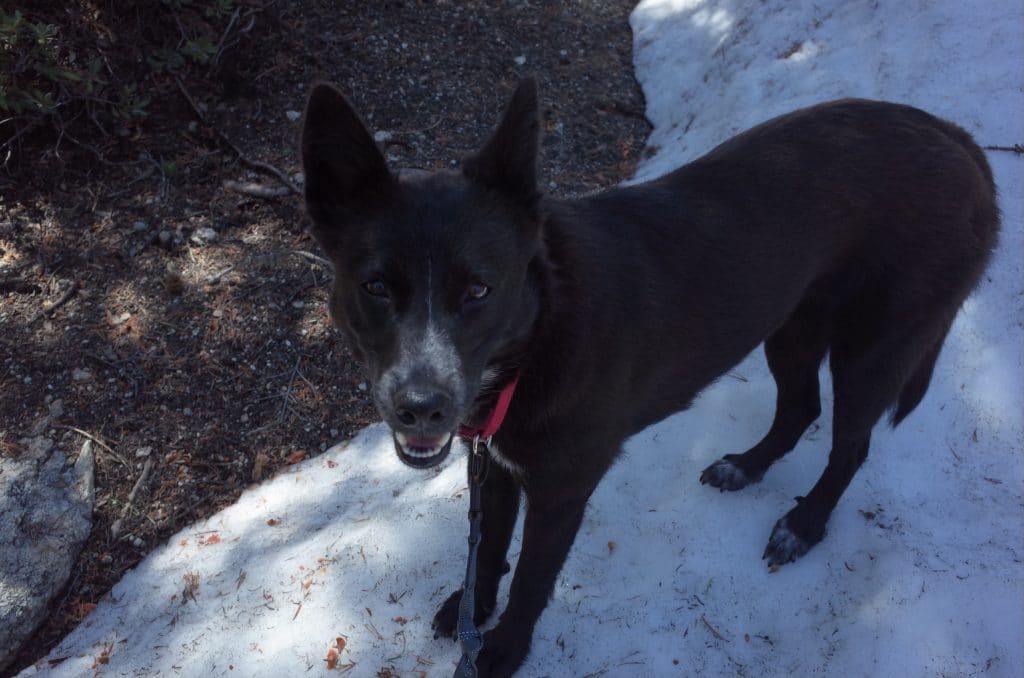 Hiking Down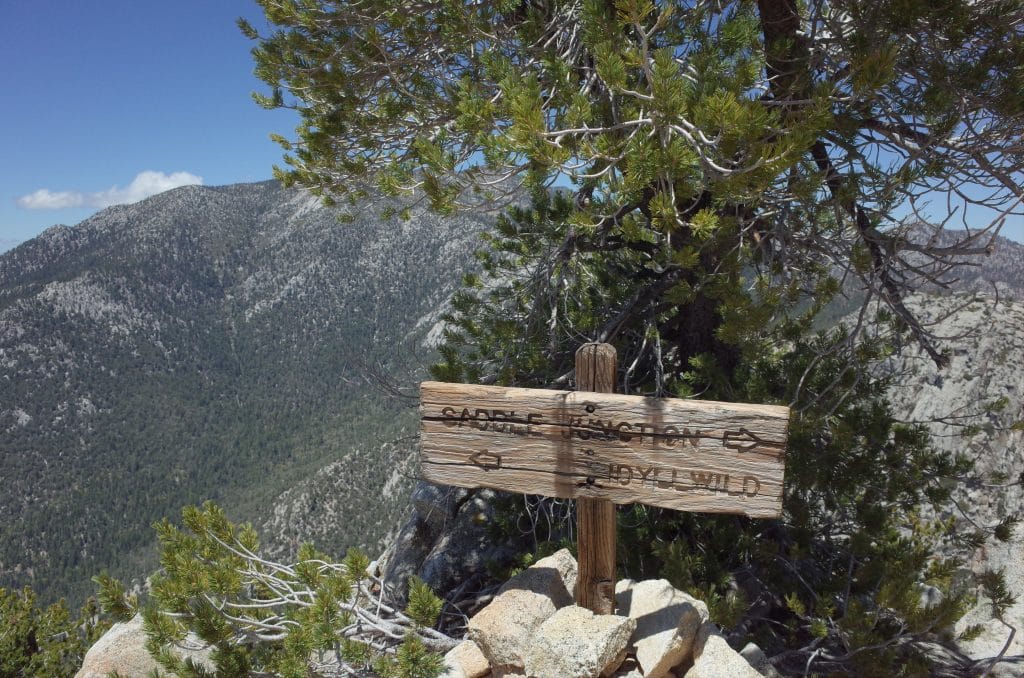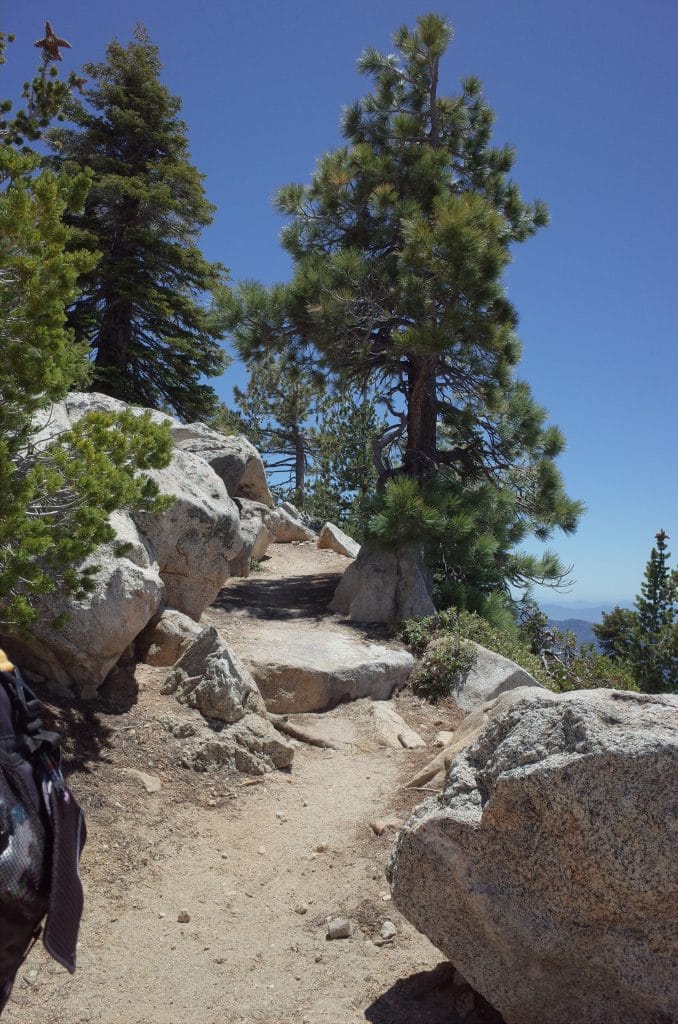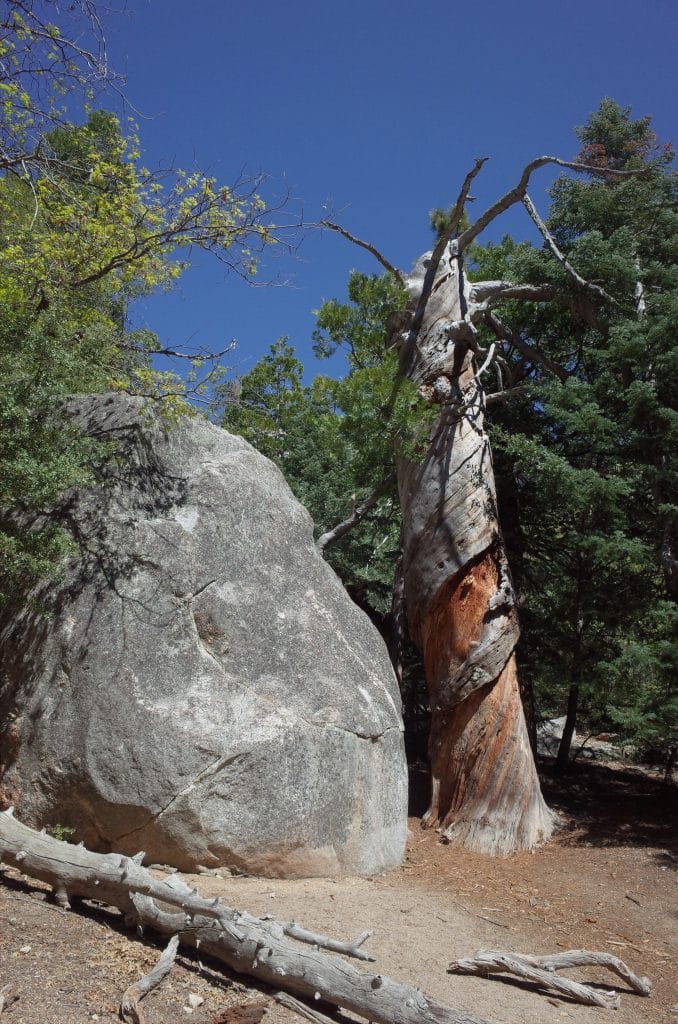 From the top of Tahquitz Peak you have the choice to turn around and hike back on the same trail as you hiked up on or head down a different trail that takes you into Idyllwild. We opted to head back down the way we had hiked up. The trail we didn't try makes the hike into a loop, but it is longer and it doesn't end in Humber Trail Parking lot. If you opt for that trail you have to walk a little way on the street. Our hike back to the car was nice. Again, this is a beautiful trail. You are treated to amazing views the whole way. Sally, Jinx, and I had a great day and I'm sure we would hike in Idyllwild more often if it didn't involve an almost 2-hour drive from my house up a very windy road.