Wondering what to do in Crescent City California? I have some ideas because this summer we took a road trip from Southern, California to Crater Lake, Oregon, and on the way home we drove along the coast and we stayed in Crescent City for two nights. Located on the border of Oregon and California with amazing coastal weather and beautiful Redwoods, there is so much to see and do.
Our trip involved a combination of nights in hotels and camping. I had made online reservations at the Crescent City/Redwoods KOA Holiday. It is located right off Highway 1. Although I made reservations at a KOA we were staying in a tent. I was a little apprehensive that we would be stuck between two RVs. I'm happy to say I was wrong. Our site was AMAZING. We camped in the middle of giant Redwoods and ground ferns and we couldn't see anyone around us. This KOA has bathrooms with showers, a game room, a dog park, a playground, a laundry room, and Wi-Fi. I was able to buy firewood in the office and our site had a dedicated fire pit. My favorite part of our campsite is the banana slugs we found.
Trees of Mystery
Driving South along Highway 1 outside of Crescent City in the town of Klamath you can't miss the giant Paul Bunyan and Ox at the entrance to the Trees of Mystery. We stopped and bought tickets to go inside. Tickets are $20 a person and they allow dogs inside their park they're just not allowed on the Canopy Trail because it is a series of suspension bridges and platforms 100 feet in the air. Trees of Mystery is just the right amount of kitsch, information about the trees, and fun. We walked around reading the informative signs about trees and took turns on the Canopy Trail.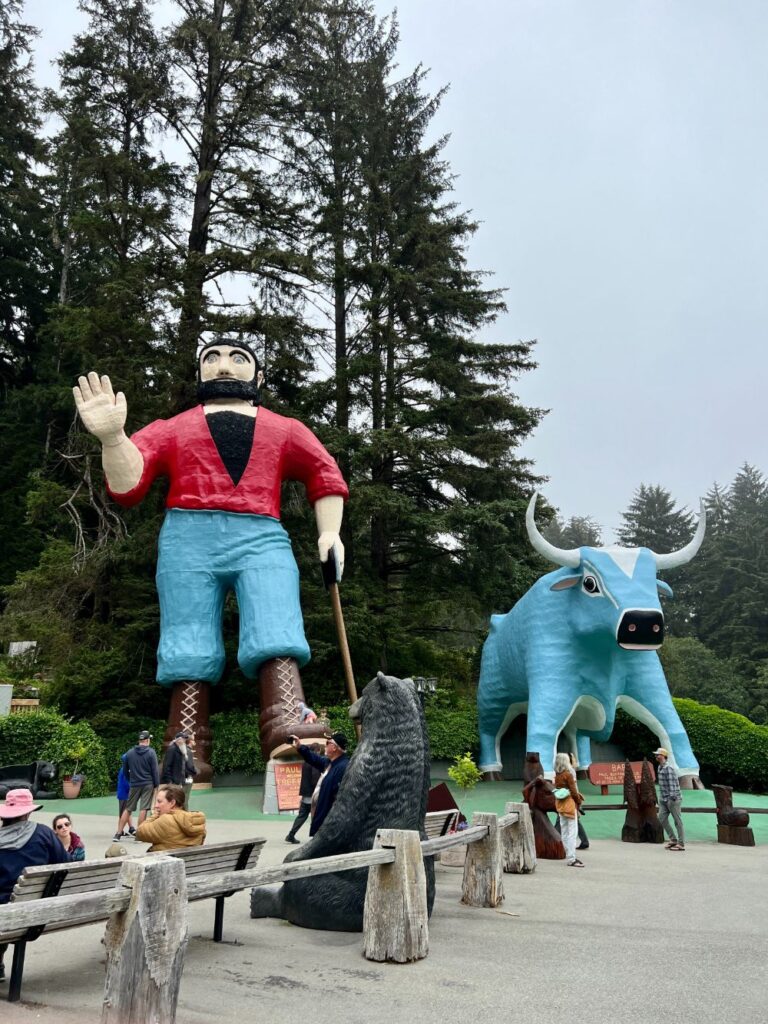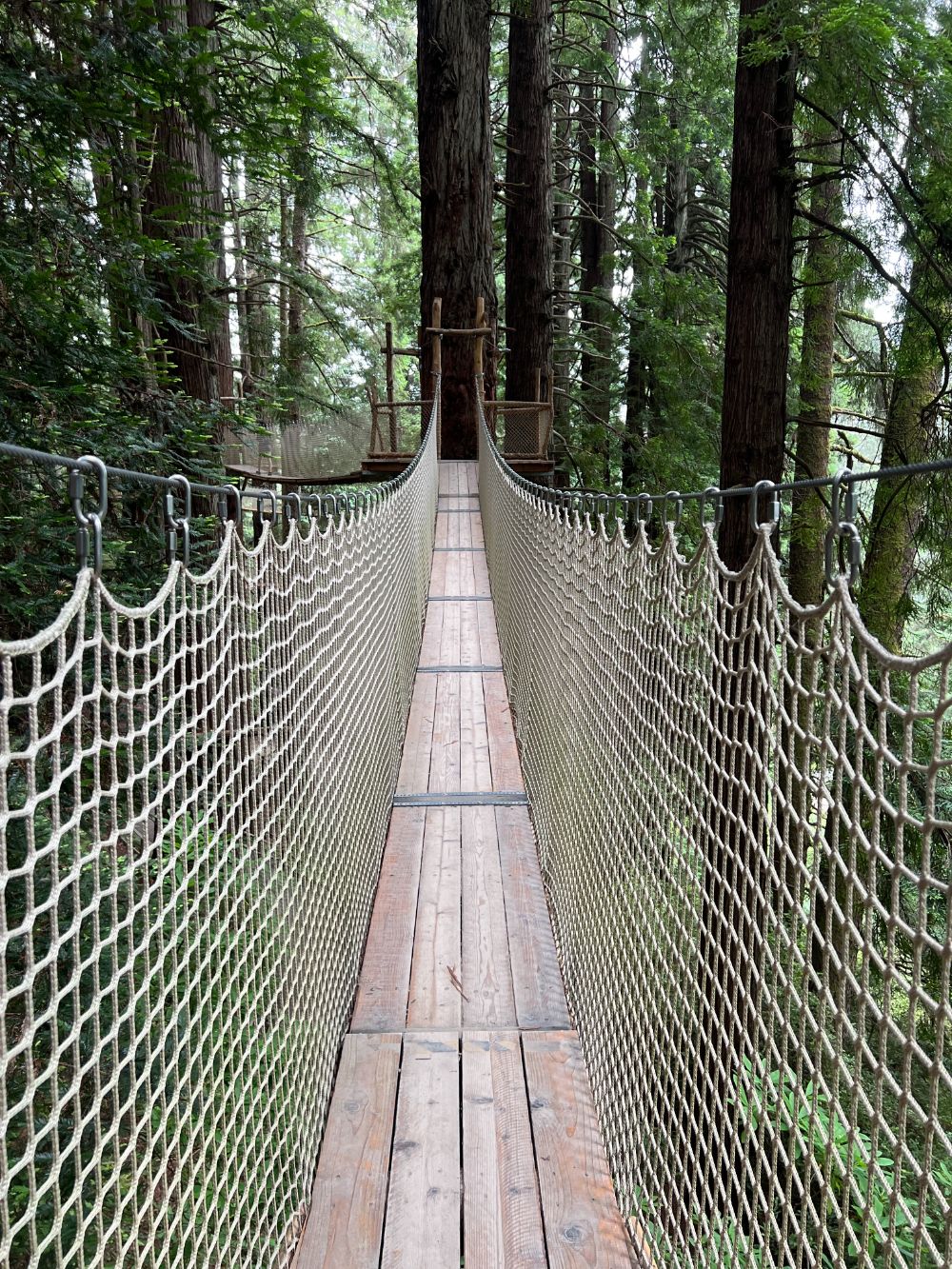 Dogs are allowed on the Gondola so we took a ride. The Gondola takes you above a new growth of trees and it's an amazing view. There isn't food at the park so plan accordingly. We spent about 3 hours at Trees of Mystery, but if you have young children with you they might want to stay longer and walk on the suspension bridges a few times.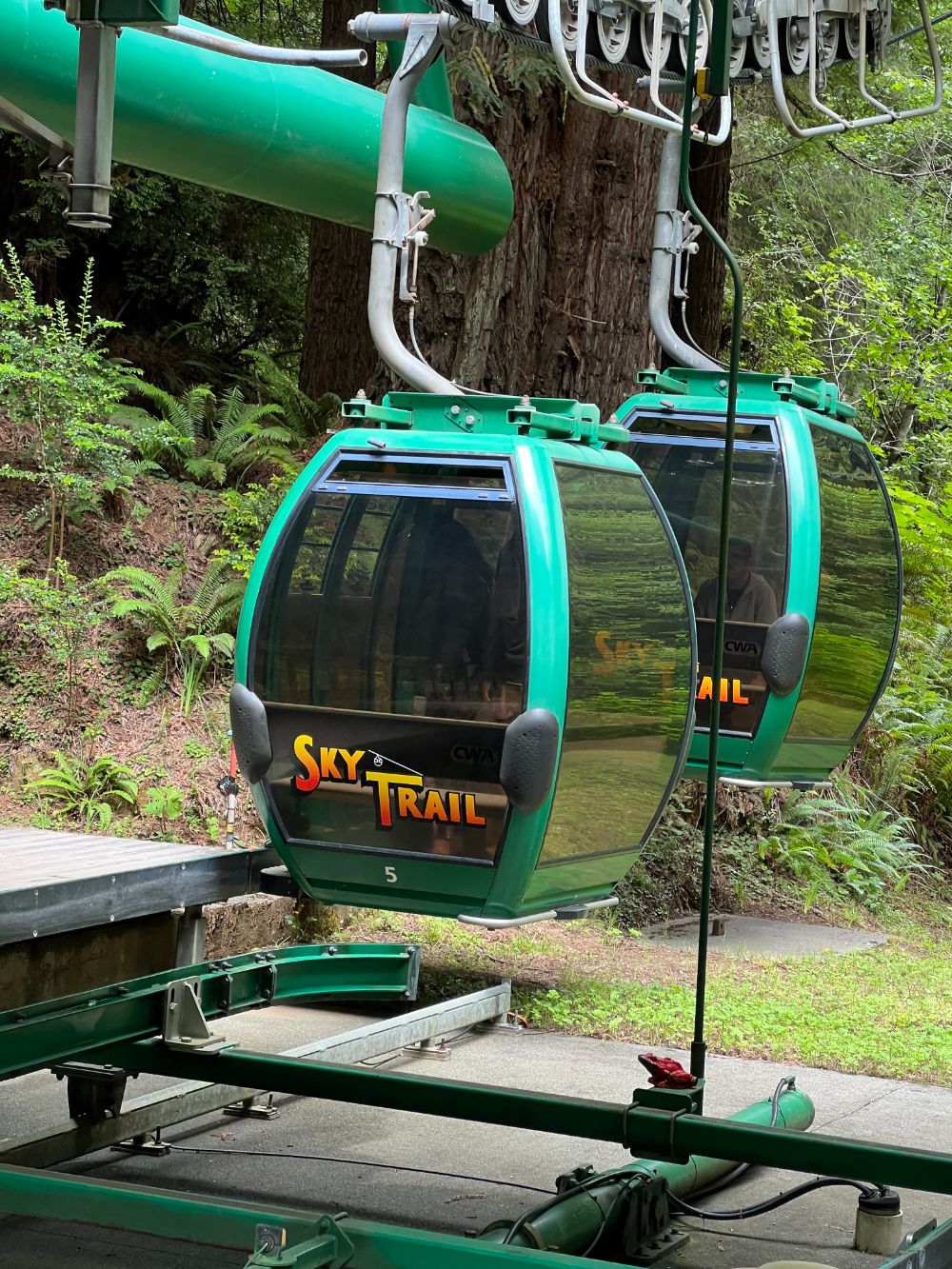 Drive-Thru Tree
After leaving Trees of Mystery we stopped at Klamath Tour Thru Tree. It is 5 miles south of Trees of Mystery. It's a $5 entrance fee. The lady at the booth gave us instructions. When you get to the tree your passenger needs to hop out and push the side mirrors in, guide the driver through the tree, and take a picture. I was the driver so I was a little nervous. Cars in 2022 are much bigger than they were when these holes were cut in the trees, but my vehicle fit inside. We were there on a weekday and it wasn't busy at all, but I've read that it can really busy on the weekends.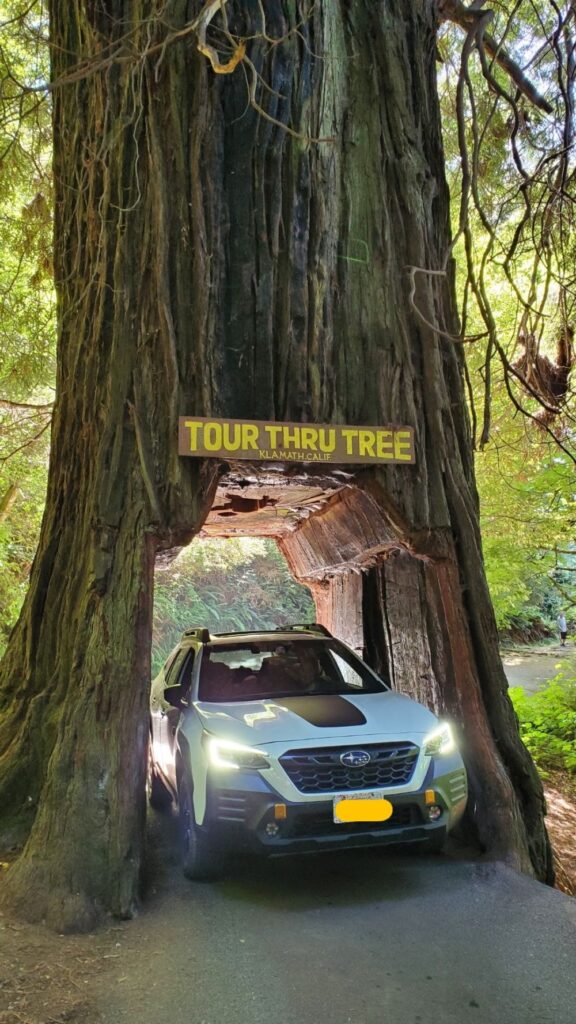 Smoked Salmon
As we were driving down Highway 1 we passed by Paul's Famous Smoked Salmon Jerky. We could see the authentic smoke pit from the road, so we made a U-turn and stopped to try their salmon. Because of COVID they were not giving out samples and they were out of jerky, but we bought a package of smoked salmon. We took it to the beach and ate it on crackers. It was yummy and we would have bought more if we had a way to keep it cold.
Seaquake Brewing
For dinner, we decided to try Seaquake Brewing because we had Jinx with us and they allow dogs on their patio. Seaquake is located at 400 Front Street. When we checked there was an hour wait for a table and they took our cell phone number to text us when the table was ready. Our beers and food were good and they even brought out a water bowl for Jinx.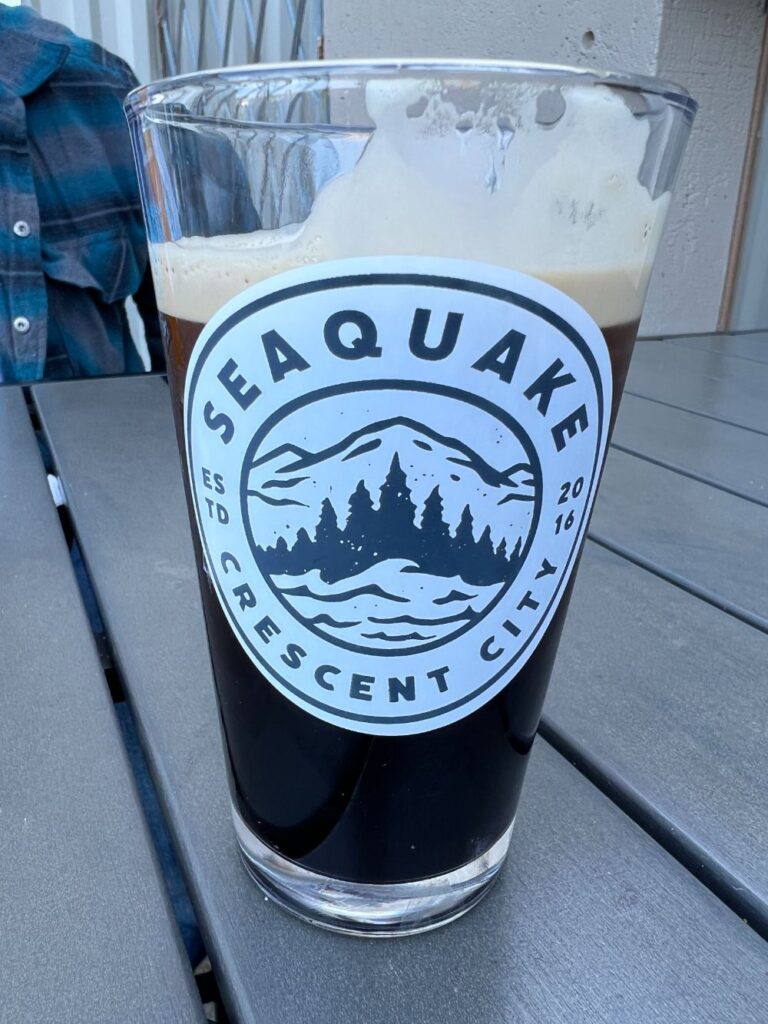 Battery Point Lighthouse
Battery Point Lighthouse is both a museum and an active lighthouse. You can take a tour during their open hours. It is only possible to access the lighthouse during low tide. We had to walk over rocks about 200 feet between the mainland and the island.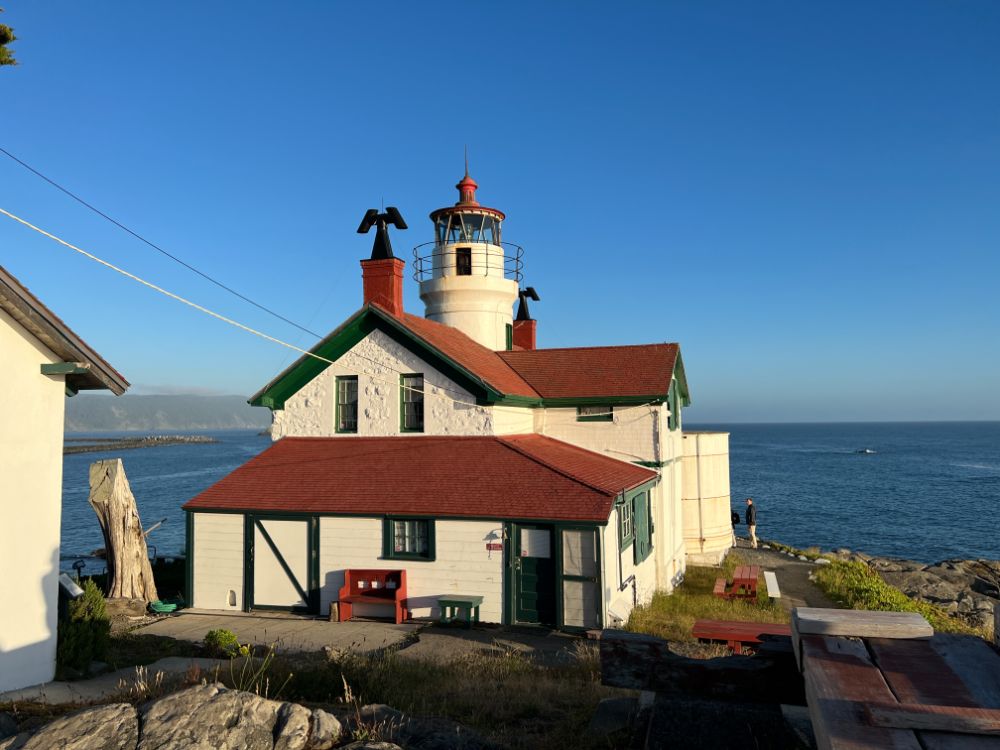 Visting Crescent City
There is so much to do in Crescent City and two days wasn't enough. The many beaches and the Redwood Forests mean I need to plan my next visit as soon as possible.