Little Lakes Valley is a little slice of Heaven located outside of Bishop, California. Driving up 395 on the way to Little Lakes Valley there is no indication of the beauty you are about to encounter. On the drive up you see Mt. Whitney and the surrounding mountains, but directly out the car window is isolation and Rabbitbrush. Heading North you exit 395 at Tom's Place and head up Rock Creek Road. Rock Creek Road is a winding, steep 10-mile, two-lane road that heads straight up. From late spring to early winter you can drive all the way to the trailhead at Mosquito Flats. When there is snow on the ground the road is not plowed and it becomes impassable.
Making Reservation
Little Lakes Valley is a chain of lakes that were carved by a glacier. Today the area is used by hikers, backpackers, and fishermen. Permits are required for all backpacking trips and can be reserved up to 6 months in advance at Recreation.Gov. Day hikers and fishermen do not require a permit.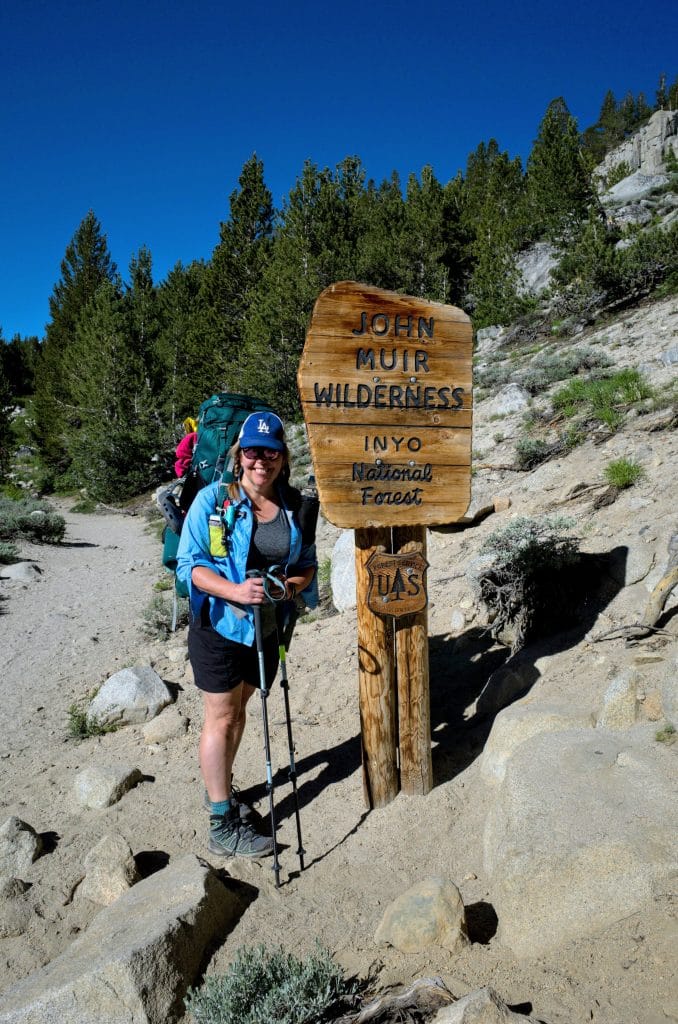 The Begining of The Trail
In July my friend and I set off for a backpacking trip from Mosquito Flat to Gem Lake. The hike is considered moderately strenuous and that is mostly because of the elevation. The trail starts at 10,000 feet. We spent the first night at the backpacker's camp at the beginning of the trail. The mosquitos were relentless. The trailhead definitely lived up to its name. The next morning we loaded up our backpacks and started up the trail to Gem Lake. Our backpacks were extra heavy because bear cans are required in this area. There are no bear boxes once you start up the trail. On the way up you are walking alongside a river. We went in 2019 and that was a high snow year. Many parts of the trail were covered in water and we were thankful that we wore waterproof boots.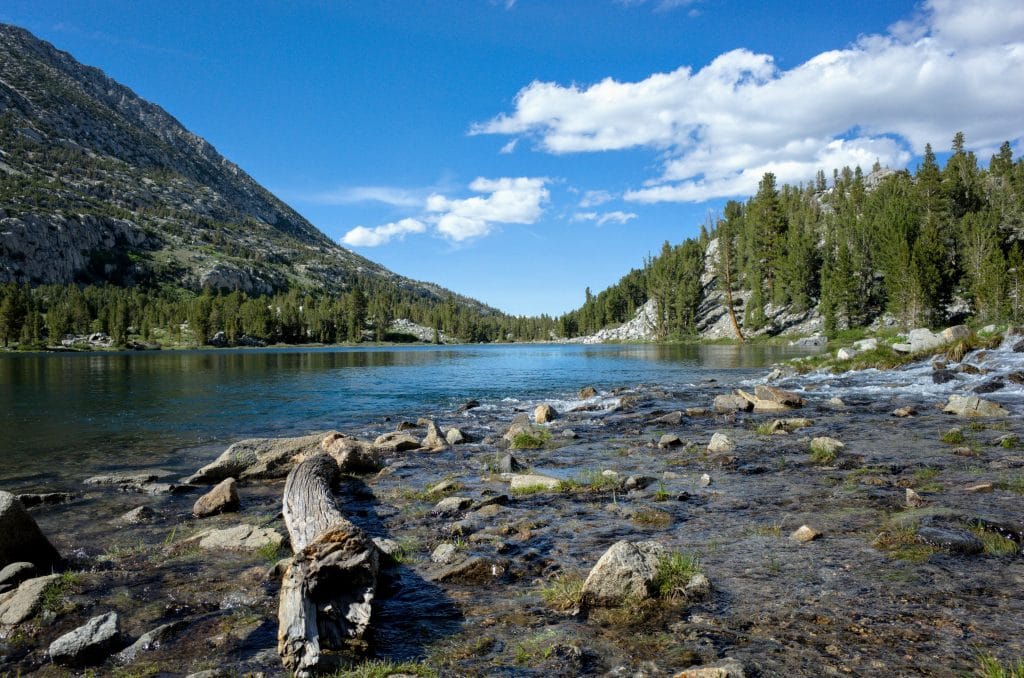 Balancing On A Log
We made it past Box Lake and then we had a water crossing that we were uncomfortable with. We eventually made it across, but Sally got really wet. It is hard to balance on wet logs with a 35-pound backpack on your back.
Picking The Perfect Camp Site
When we got to Long Lake, we met a couple that said it was not a good idea to head to Gem Lake, because there was too much snow. We chose to hike around Long Lake until we found the perfect place to set up our tents for the night. The view of the lake is awe-inspiring. We did some exploring and filtered water and generally just soaked in the beauty. There are no fires allowed in the area. We were able to use our stoves for cooking. We took our stoves down to the shore of the lake and made our dinner and ate watching the fish jump in the lake.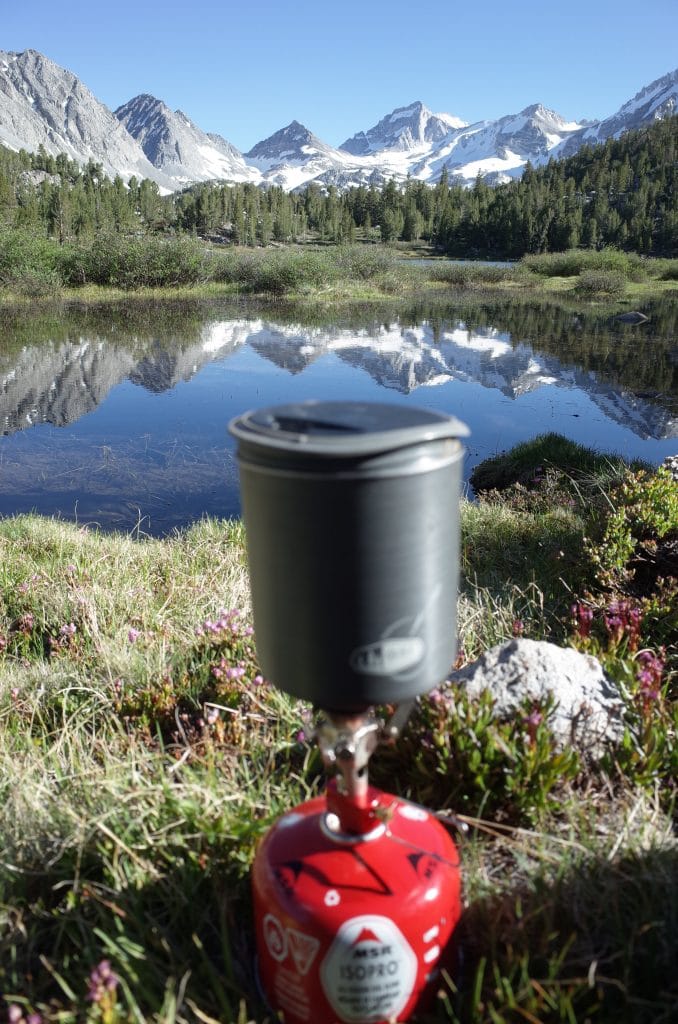 Mosquitoes Are Not My Friend
Unfortunately, by 6 pm we were in our tents with nothing to do but read. The mosquitoes were a force to be reckoned with and no amount of Deet would keep them away.
The next morning we took our daypacks and headed off for Chickenfoot and Gem Lakes. We made it to Chickenfoot without any problems. Getting to Gem was a lot harder. We climbed through giant mounds of snow and it was hard to see the trail.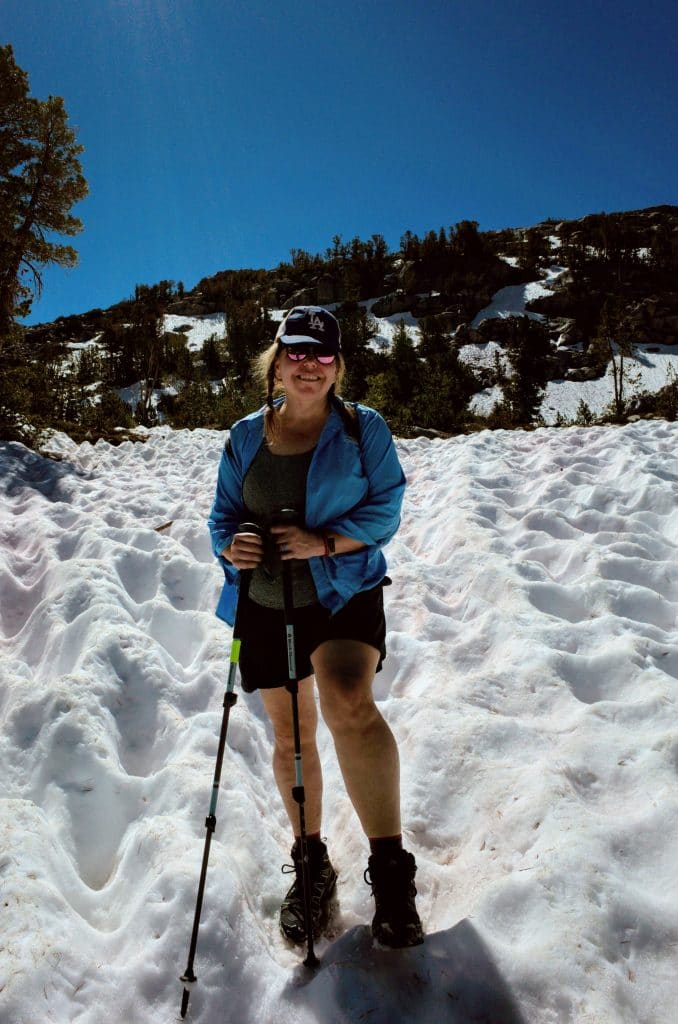 Using Microspikes
Sally gouged her leg on a sharp branch and we almost gave up after that. While she sat down and bandage up her leg I scouted around looking for the trail. I eventually found it. We made our way to Gem Lake and it was beautiful.
Gem Lake
For the longest time, we were the only two people there. The weather was nice. The wildflowers were in full bloom and the best part is all the snow was keeping the mosquitoes away. After a beautiful afternoon, we headed back to our tents at Long Lake.
Long Lake
After staying at Long Lake we packed up and headed back to Heart Lake. It is a pretty alpine lake with views of Bear Creek Spire as its backdrop. We set up our tents on a hill overlooking the lake. We spent the rest of the day hiking and exploring.
The End Of Our Trip
The next morning we packed up and hiked back out to our car. This backpacking trip was Plan C for us. 2019 was just a high snow year and our Plans A & B were not safe so early in the year. Although this was plan C we had a great time. Little Lake Valley is perfect for day hikes or extended backpacking trips. We saw a lot of people in the daytime and then by late afternoon it would just be the two of us. I'm sure there were other people camping around the lakes, but we never saw anyone after 4 p.m. Other than the mosquitoes (that are no joke) it is the perfect place for a little getaway.