In May sally and I went hiking in Big Bear, CA. We are training for Mt. Whitney so we headed to Big Bear to hike at a higher altitude. Living basically at sea level makes it harder to prepare for hikes that start at such a high elevation. We decided on the Castle Rock Trail but followed someone's advice from All Trails and added Bluff Lake and Champion Lodge Pine to our hike.
Driving to Castle Rock
It takes about an hour and 15 minutes for us to drive to Big Bear from my house. This time we drove up CA-330 and I was unfortunately reminded how windy the road is. The trailhead for Castle Rock is located 1.1 miles east of the Big Bear Dam on State Highway 18. There is very little parking so it's best to try and not hike here on a busy day. We parked alongside Highway 18, but there is a very small turnout North of the trail. According to All Trails, Castle Rock Trail is 2.6 miles round-trip and is rated as moderate. This is an out and back trail.
Castle Rock Trail
There is a large map posted on the trail sign at the start of the trail. Immediately this trail starts heading up. You will gain over 500 feet of elevation in a short amount of time. The trail is well maintained. It looks like the forest service has built some permanent rock cairns. They are a tower of chicken wire that is encasing a pile of rocks. The cairns along with the trail signs posted on many of the trees help people from veering off the trail. Castle Rock is a large outcropping East of the trail. We watched someone repelling down the side of Castle Rock. On the way up we crossed the stream several times, but the water level is so low so our shoes didn't get wet.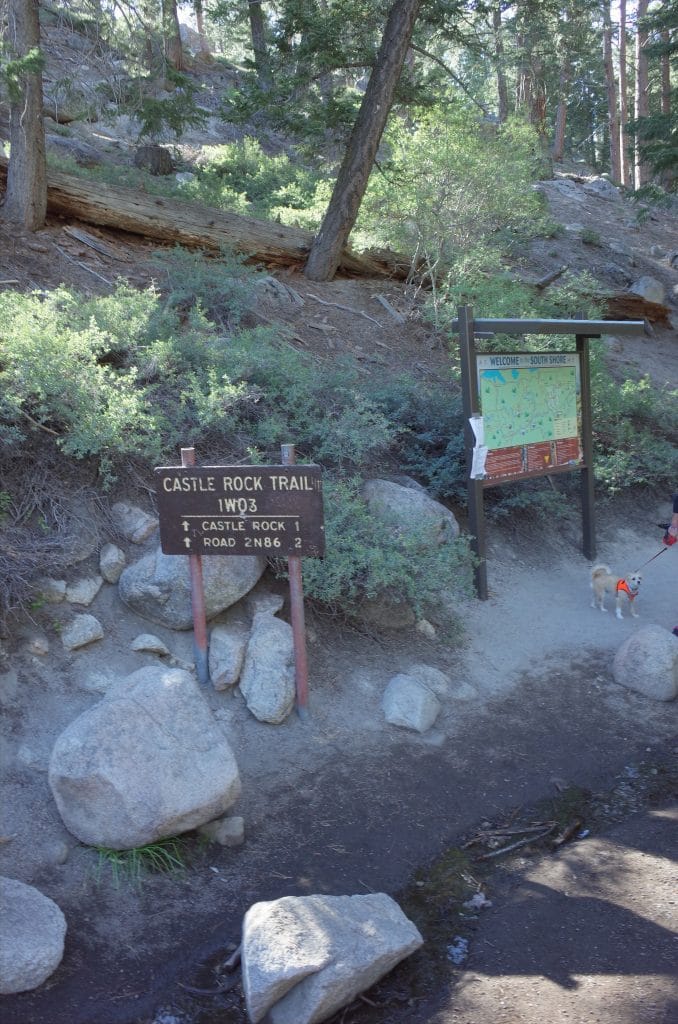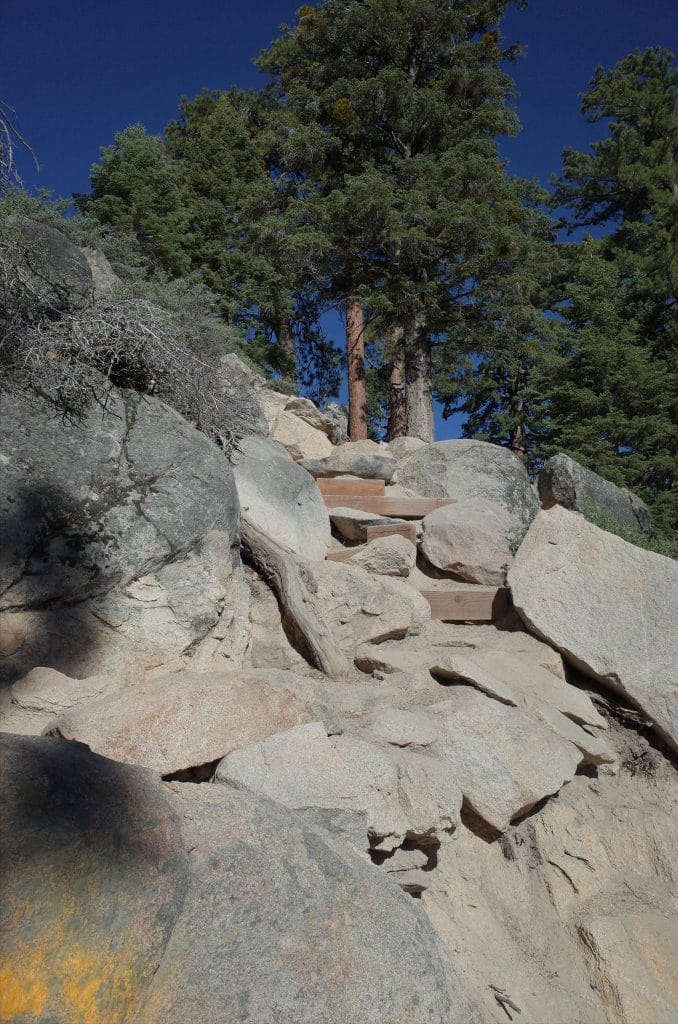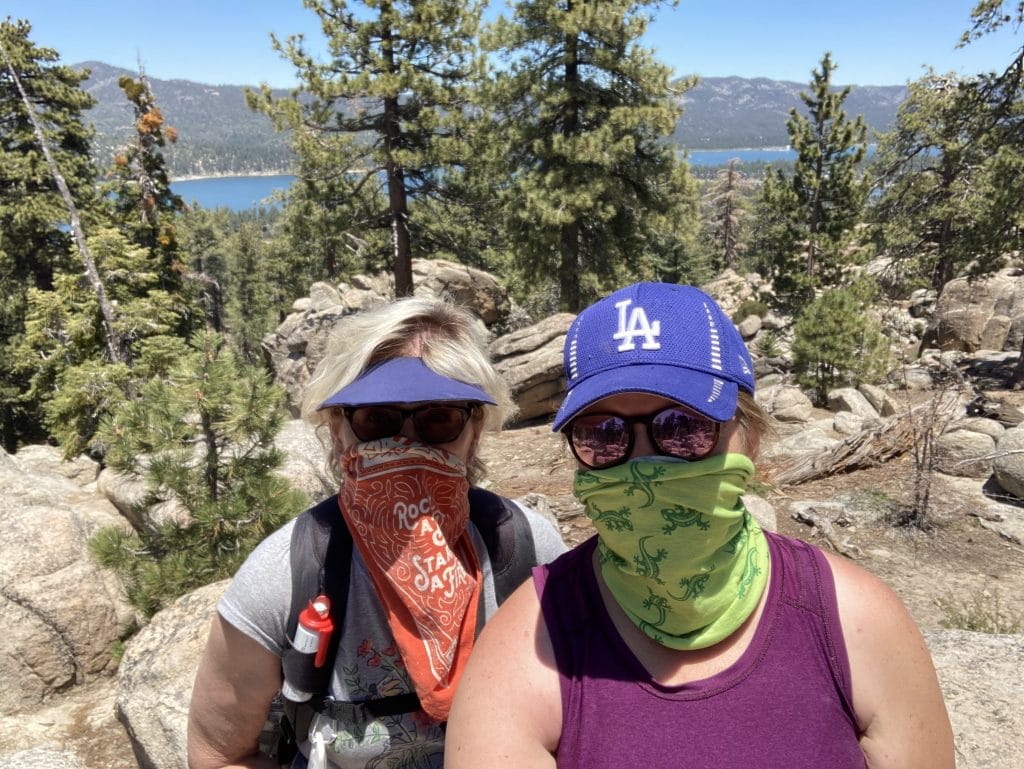 Heading to Bluff Lake
After Castle Rock Trail we headed to Bluff Lake. When you get to the top of Castle Rock Trail there are signs and a dirt road that cars can drive on. At the sign head west on the dirt road. Turn left at the second road. There is a sign saying that it is a dead-end, but keep going. At the end of the road, there is a large gate to keep out the cars, but hikers are allowed to pass. On the other side of the gate is The Bluff Lake Reserve that is operated by the Wildlands Conservancy. The reserve is open daily from 9:00 a.m. – 6:00 p.m. May 1 – November 1st. Admission is free and dogs are allowed, but they must be on a leash. Swimming isn't allowed at Bluff Lake.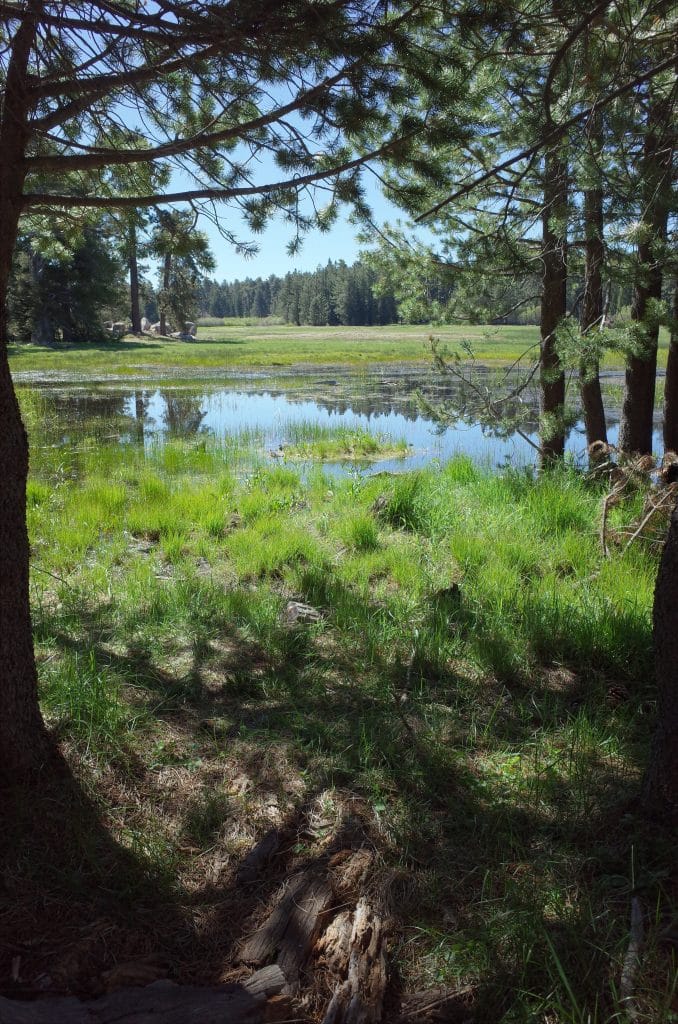 The History of Bluff Lake
In the late 1800s, there was a YMCA Camp at Bluff Lake. In the 1920s Pomona College bought the property to use as a nature field study area. Today there is one original cabin remaining that was a stage stop for the burro trains that went through the area in the 1880s. The 1961 original Parent Trap movie was filmed at Bluff Lake as well as the 2002 Dr. Doolittle 2 movie. The Wildland Conservancy obtained the land in 2000 to save it from being developed and they drained the 20-acre lake to rid it of non-native catfish in order to restore the native fish.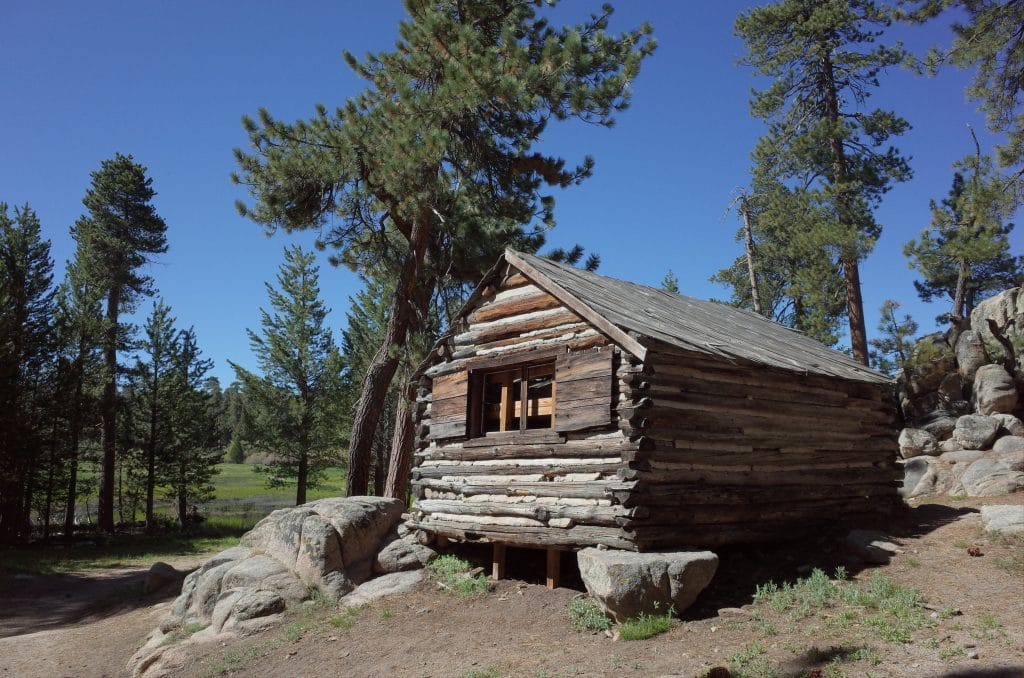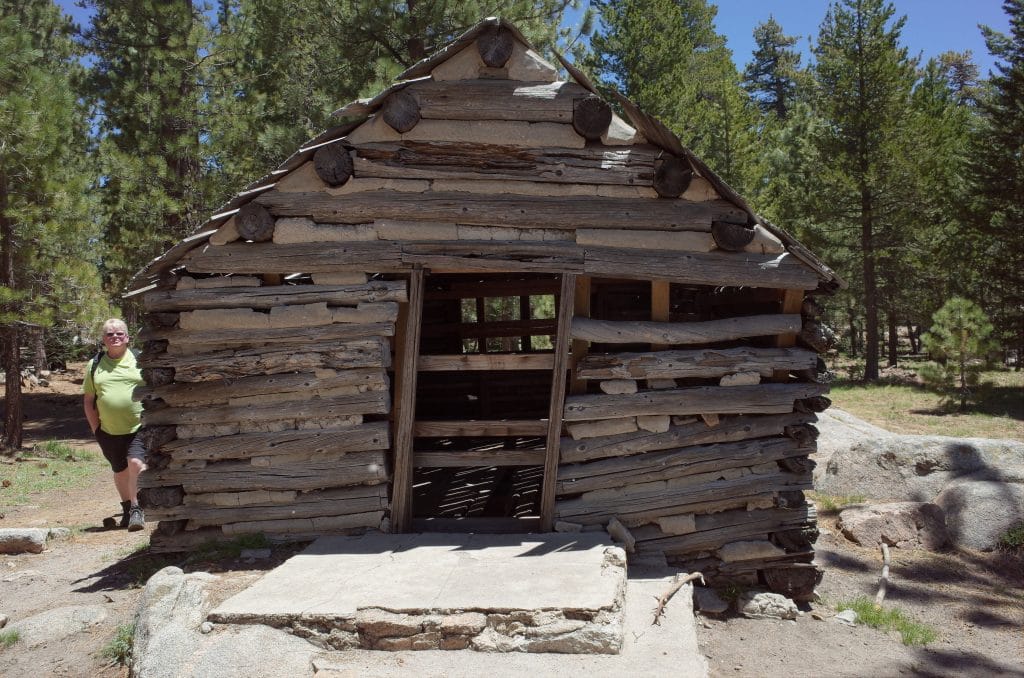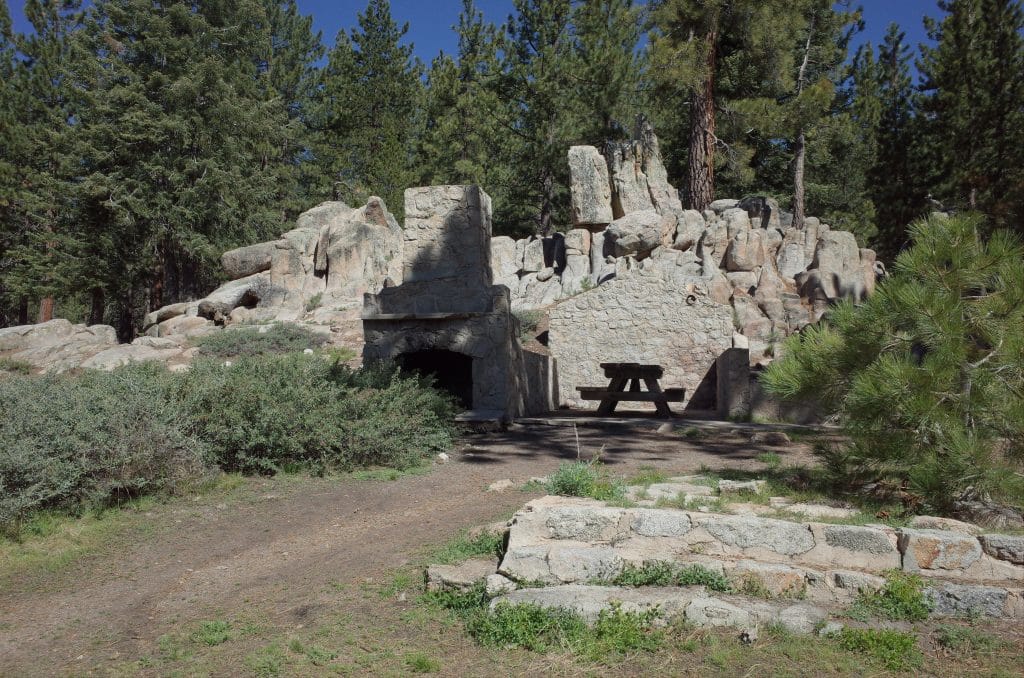 Bluff Lake
In addition to the 20-acre lake, Bluff Lake Reserve is 80 acres of natural beauty. There is a one-mile trail that circles around the lake. The area is home to several species of rare plants. There are towering pine trees and a delicate meadow. We saw a few picnic tables if you want to sit down and have lunch with an amazing view, however, be warned the bugs were fierce the day we were there. The bugs weren't biting, but they were flying up our noses and trying to get in our eyes.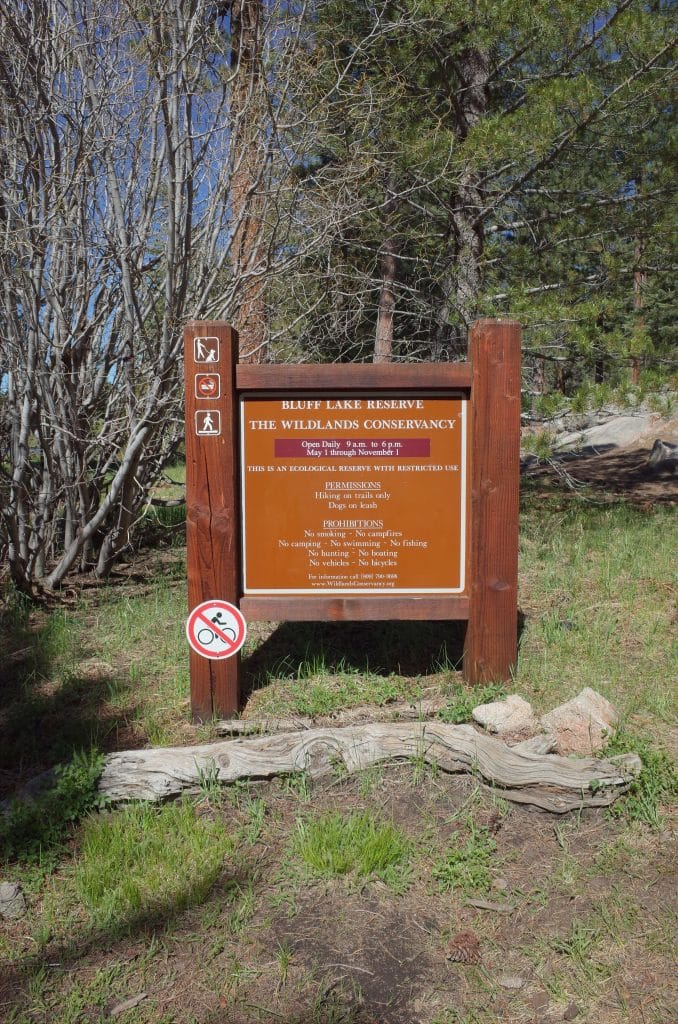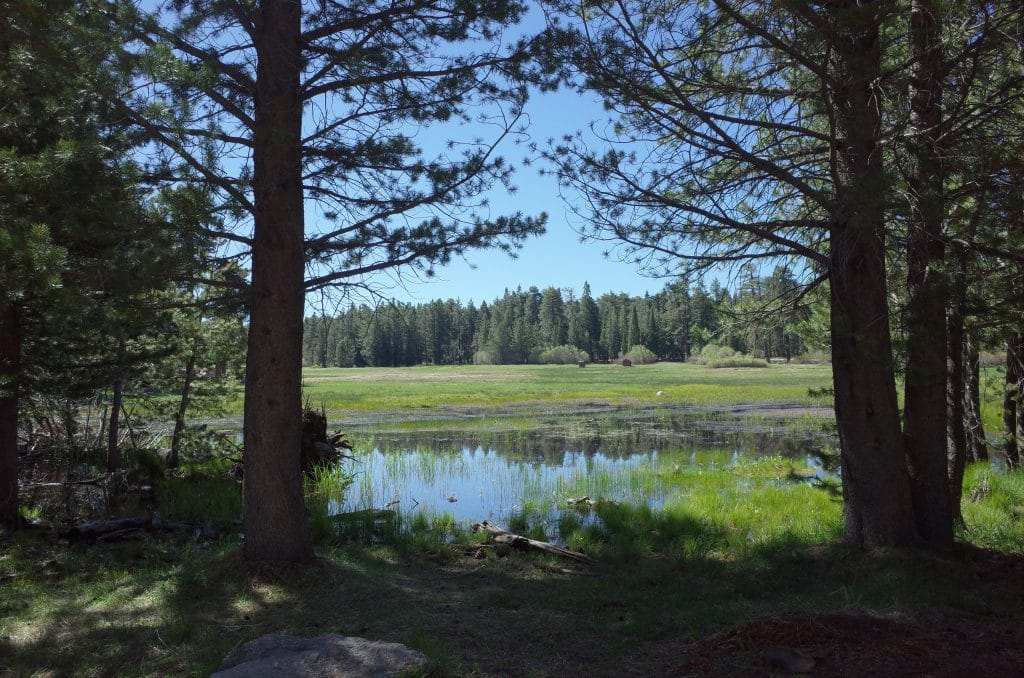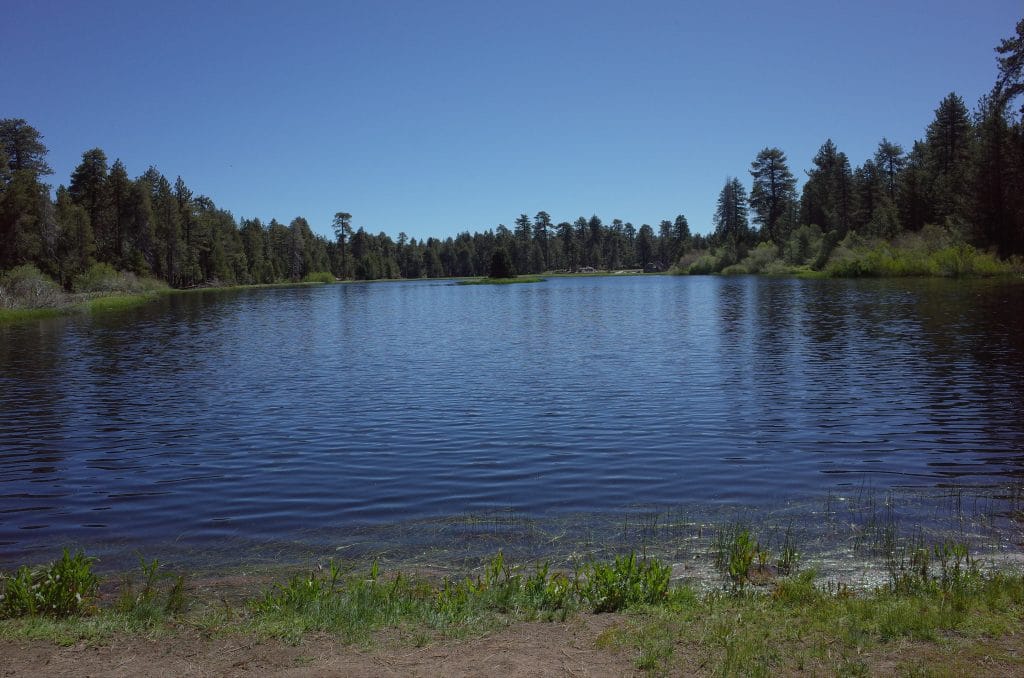 Champion Lodgepole Pine
Follow the trail signs to Champion Lodgepole Pine. Lodgepole pines usually only grow above 8,000 feet and in the Sierras where it is much cooler, however, there is a small group of them growing in a meadow near Bluff Lake. The Champion Lodgepole Pine was discovered in 1963. This giant towers over the other trees and is around 110 feet tall. It is estimated to be at least 450 years old. There are numbered trail signs for an interpretive trail, but we didn't follow it.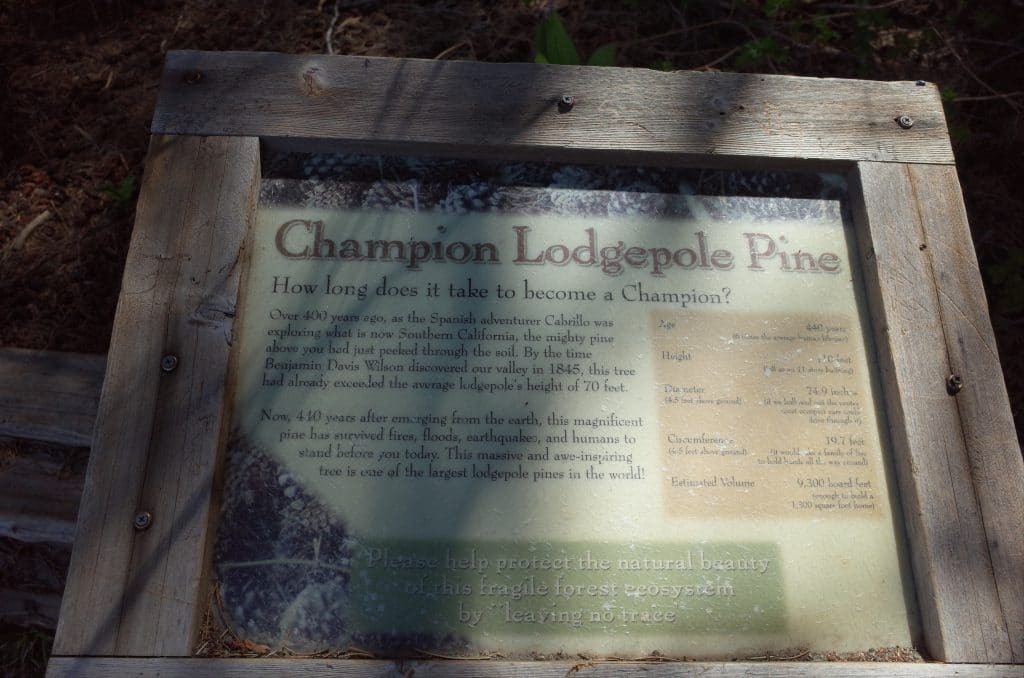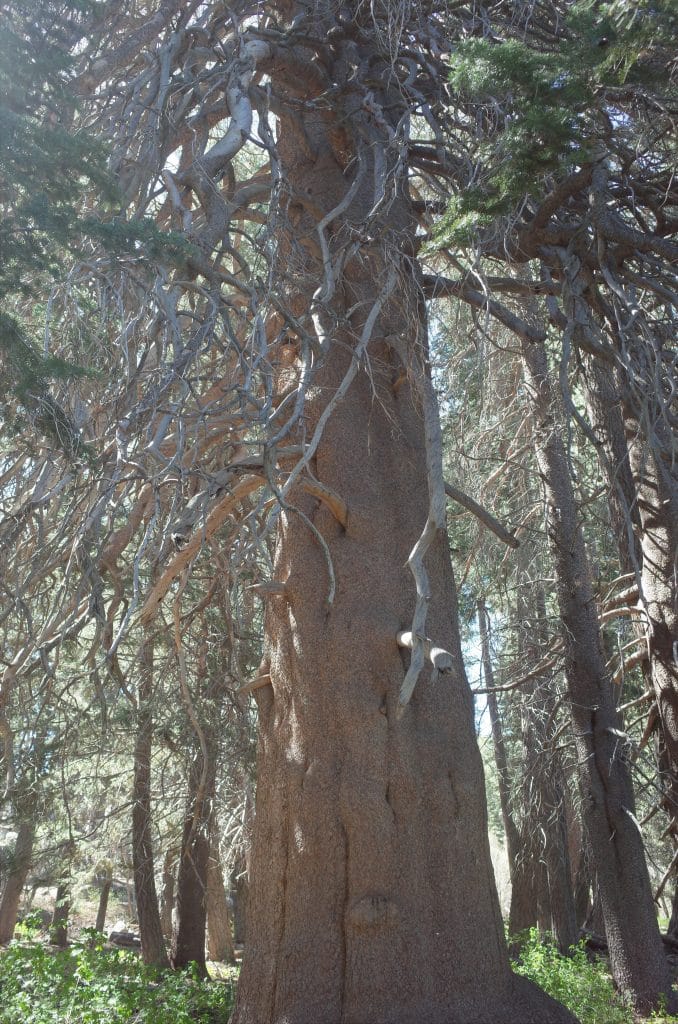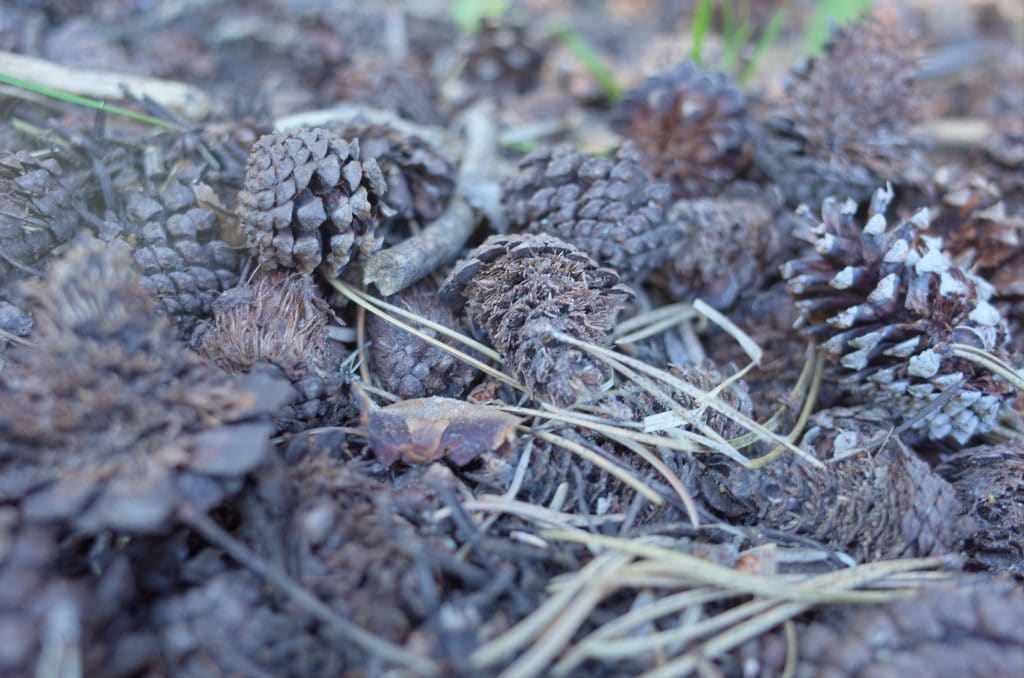 Siberia Creek
Sally, Jinx, and I continued on past the Champion Lodgepole Pine heading towards Gunsight. We walked alongside Siberia Creek. At one point we turned a corner and saw smoke smoldering under a tree. It was a little discerning to see. The further we walked we could see that the smoldering was remnants of a prescribed burn. The whole area looked a little like the Apocalypse. Siberia Creek Trail crosses 2 bridges and then starts to climb up a mountain. Soon we could see all the way to Mt. Baldy. We were unsure where or what is Gunsight, so after hiking on the trail for over a mile we turned back around and returned the way we had come.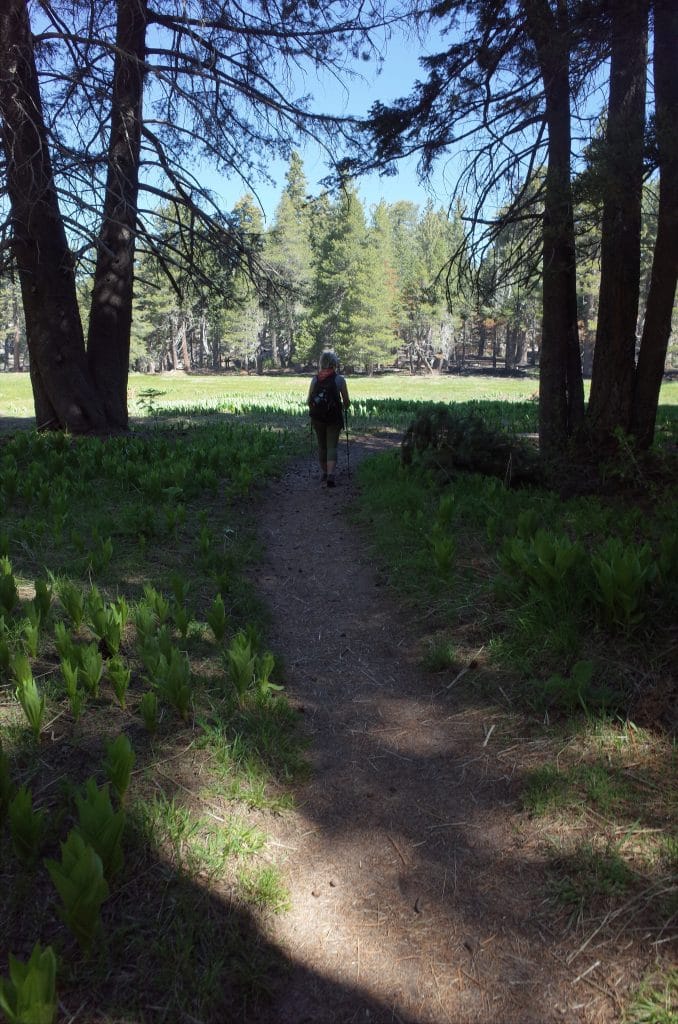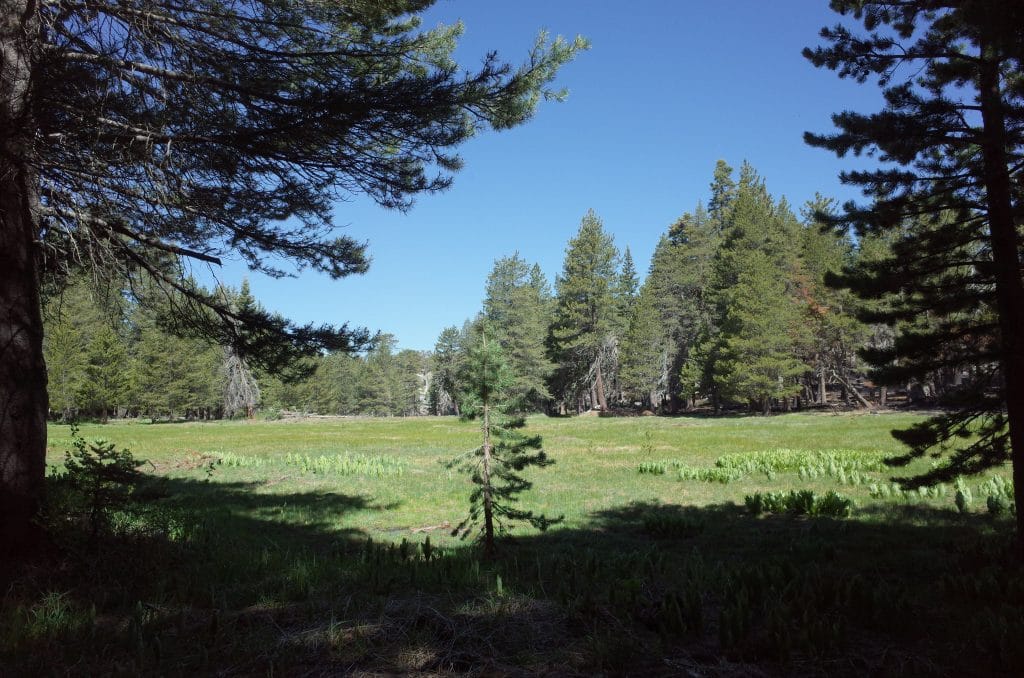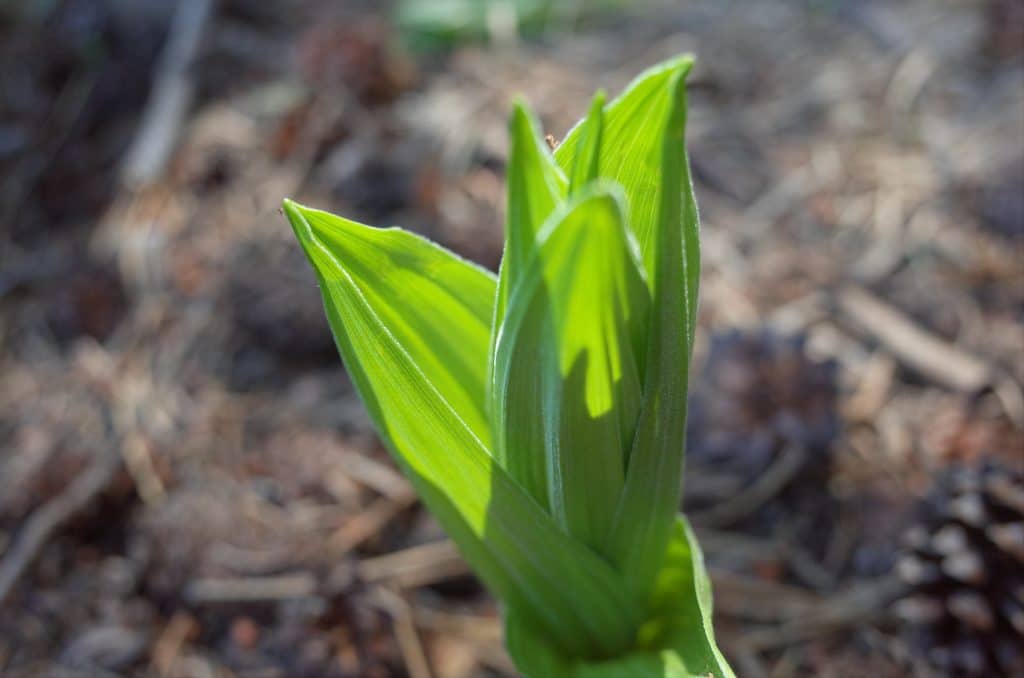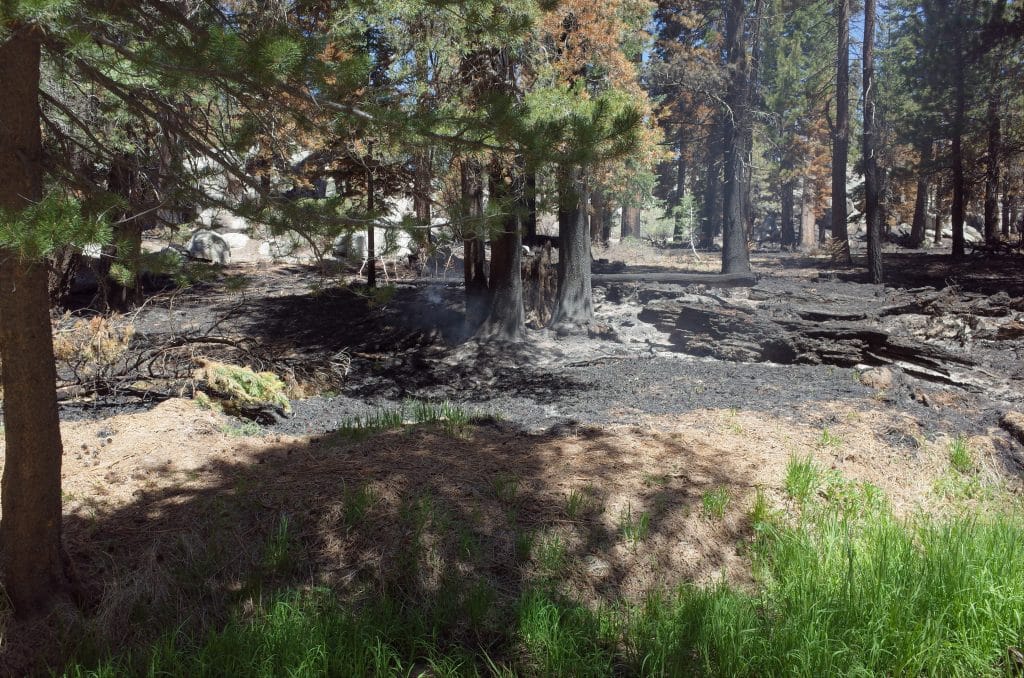 Keep Your Dog On A Leash
On the way back we had planned to stop at Bluff Lake and have lunch, but our plans were derailed by an encounter with a crazy man and his dog. The man didn't have his dog on a leash. His dog was a giant Husky and it charged at us because it wanted to play with Jinx. Jinx is still fearful of other dogs and the whole interaction wasn't positive. We ended up leaving Bluff Lake and hiking to the top of the Castle Rock Trail and ate our lunch overlooking Big Bear Lake.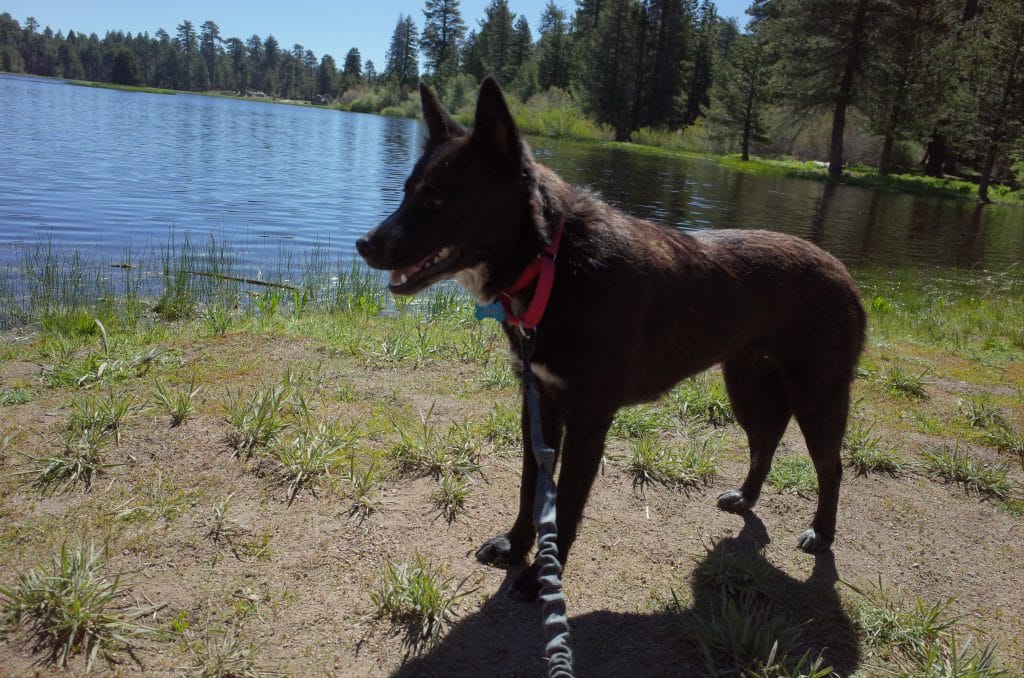 Heading Back To The Car
After lunch on our way down a guy on the way up warned us to be careful because he had just passed a big rattlesnake. If you go with children I would be really careful about where you put your hands or where you step, because there are so many hiding places for snakes amongst all the big granite boulders. Overall the trail was a great workout, we ended up hiking over 8 miles. In the morning on the way up the trail, we didn't see another person, but on the way down in the afternoon, it was really busy. Bluff Lake is beautiful, but if I ever went back again I would hike very early in the morning to avoid the snakes and the hoards of people. The nice thing about Big Bear is there are lots of beautiful hikes to accommodate all different hiking levels.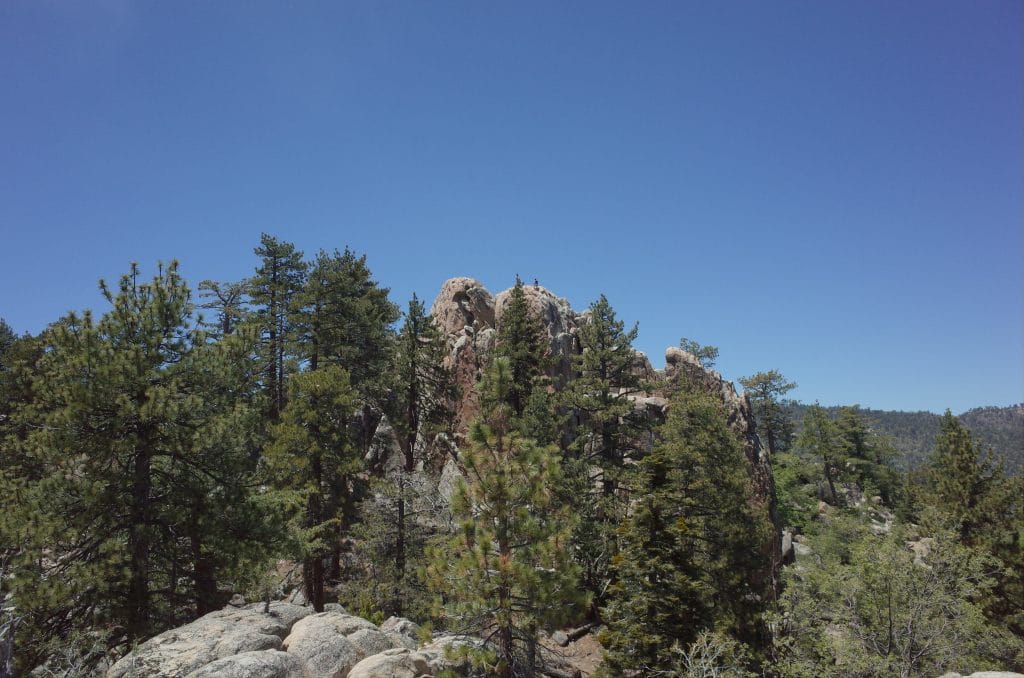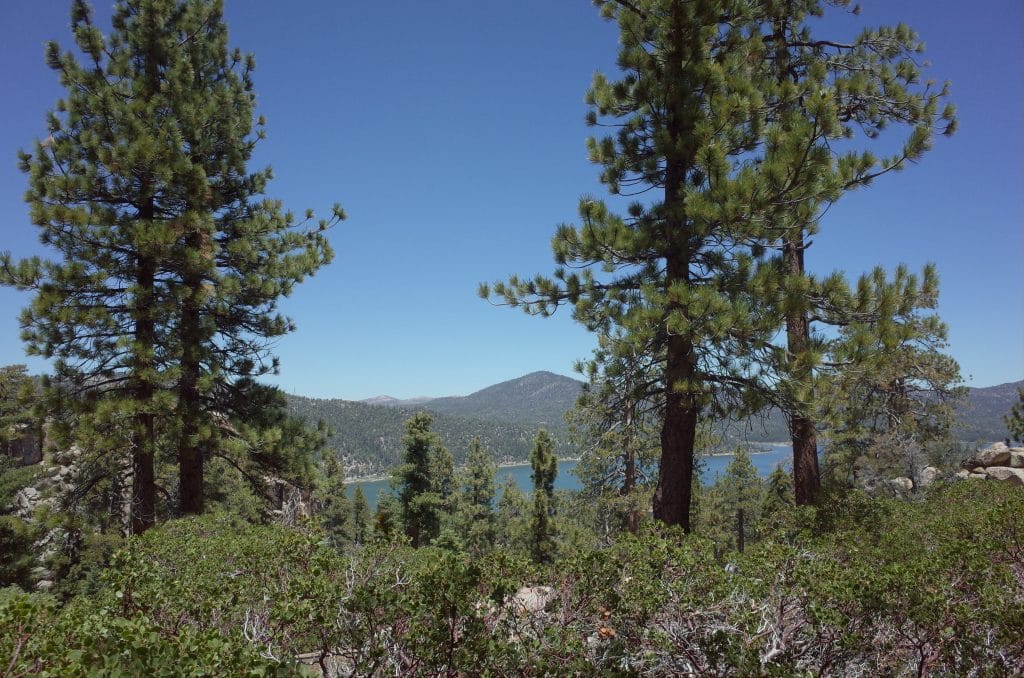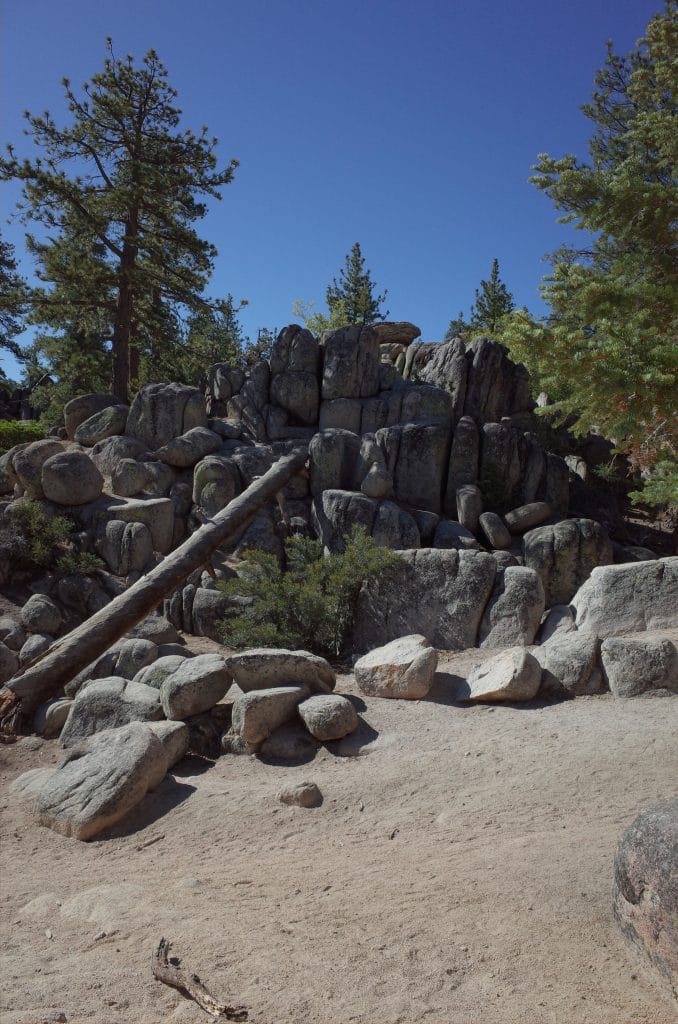 .