In August I stayed in Brooklyn with my daughter. One night after she got off work I met her in Manhattan for ramen. Never mind that it was 95 degrees outside and the humidity was about 70%. Nicole promised that this was the best ramen she had ever tried. Bassanova is located on the edge of Chinatown. The window fronts are street level, but the actual restaurant is down some stairs.
There is a big sign letting customers know that they are cash only. Bassanova is a transplant from Tokyo. I decided on a half order of the Tondaku Wadashi Lime Tonyum Goong Ramen. It was shrimp, mixed green onion, okra, red pepper and lime. The broth was a perfect mixture of sour and and spice. The noodles, shrimp and vegetables were perfect.
We both decided that next time we would order a full order. We paid our bill and decided to walk around.
Little Italy and Chinatown run into each other. We wandered around Little Italy and looked at street graffiti.
It was a warm night and we decided to walk over to the Original Chinatown Ice Cream Factory. I had a cup of coconut and green tea. Their store is barely wide enough for two people to stand side by side, so we took our ice cream to go.
We walked down a street that the asphalt was freshly painted. It looked like we were stepping into a painting.
We did a little window shopping and then bought some Dragonfruit and an egg custard to take home with us.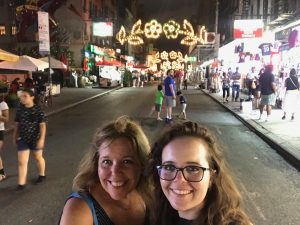 We walked back through Little Italy to get to the Metro.
We rode the train back to Brooklyn and called it a night.