Catalina is just a short 26 miles across the sea from the Port of Los Angeles. Sally and I didn't have enough days to hike the entire Trans Catalina Trail, so we settled on a long weekend of camping on Catalina Island.
Camping Reservations
Reservations for camping are a must. Depending on when you want to go reservations can book up months in advance. We chose to stay at Parsons Landing. I was able to make my reservations through Reserve America. There is a two-night minimum when you make reservations. If you are hiking the TCT it is possible to contact them and book the site for only one night. The fee to camp at Parsons Landing is per person not per a campsite. Our fee for two nights was $89.25. $20 per person per night and then a service fee.
Boat Reservations
We made reservations on Catalina Express out of San Pedro to Catalina. The price is $37.50 each way. We chose to leave on the 9:00 am boat and return on a 4:30 pm boat. Parking at the San Pedro dock costs $19.00 a day. Be sure and read the information for campers. Coast Guard regulations do not allow you to bring fuel on the boat.
The Boat Trip to the Island
We arrived at the Catalina Express office in San Pedro an hour early. Maybe because it was a rainy day there wasn't a crowd and we were plenty early. At 8:40 we carried our backpacks over to the dock and the crew put them below the boat. I getting really seasick so I headed to the top of the boat and I chose to sit outside. It was cold, windy and it rained a little bit on the ride over. Avalon is the first stop and it takes 1 hour and 15 minutes to get there. Our boat only stayed in Avalon long enough to drop off and pick up passengers. After Avalon, we hugged the coast and it took us 30 minutes to get to Two Harbors.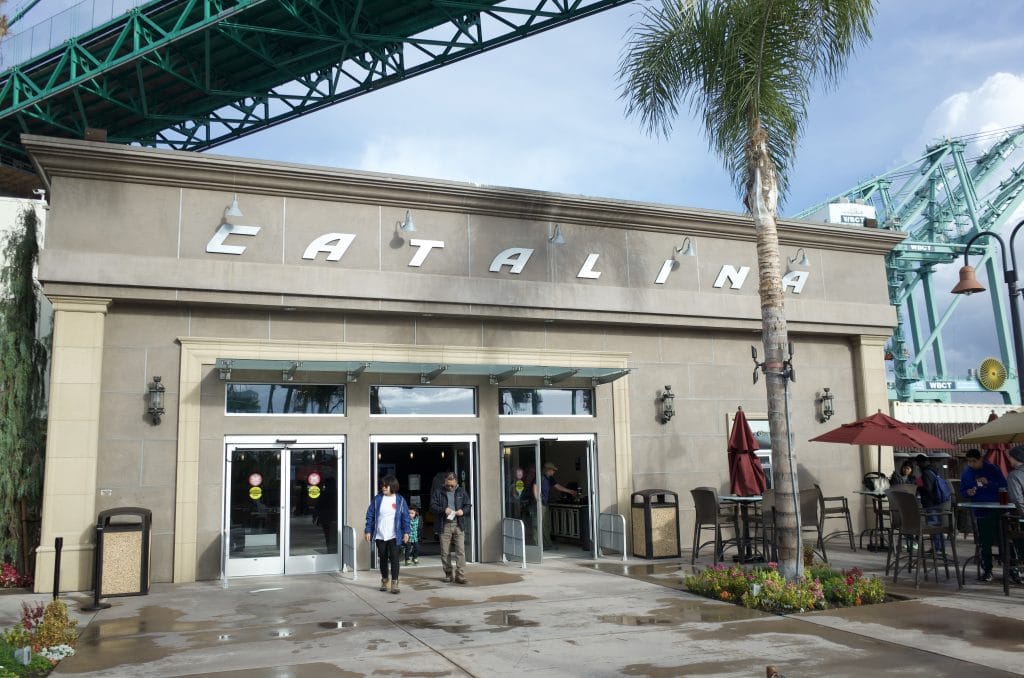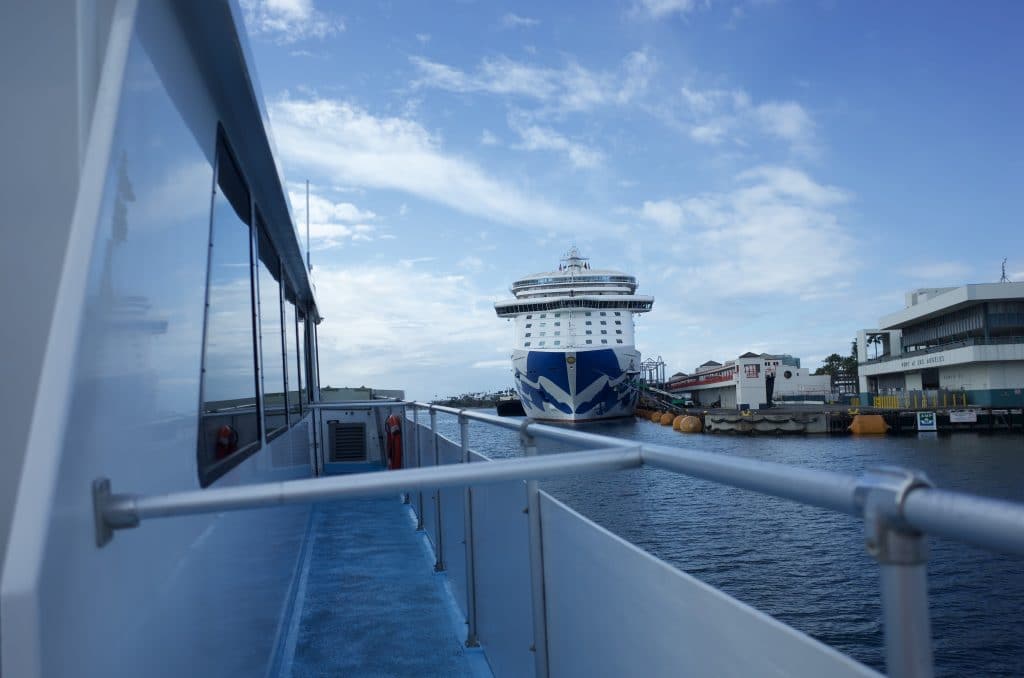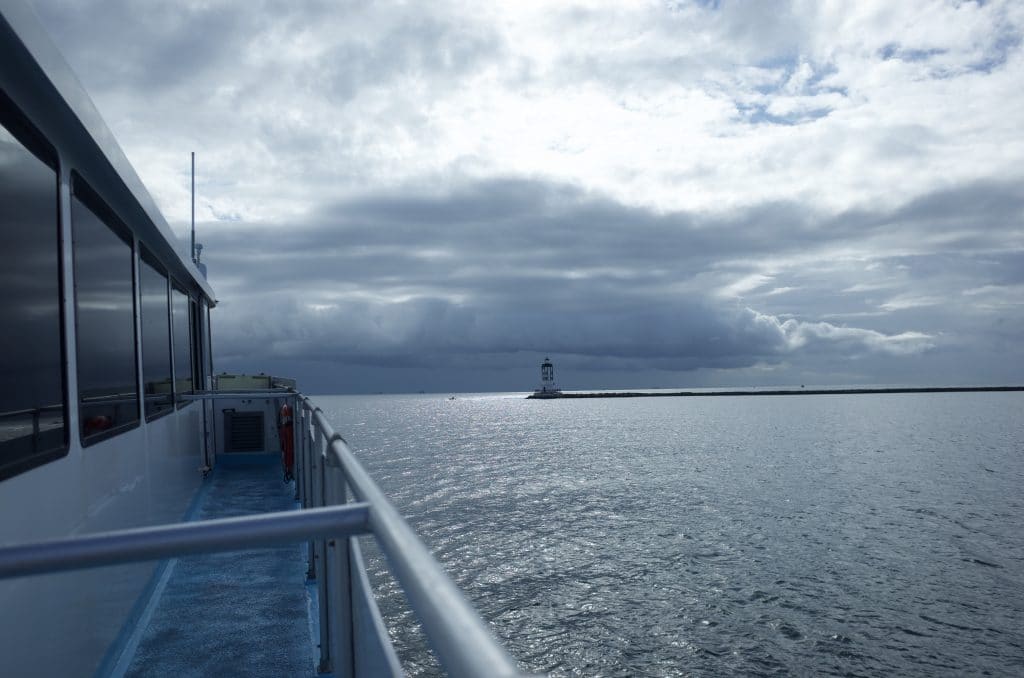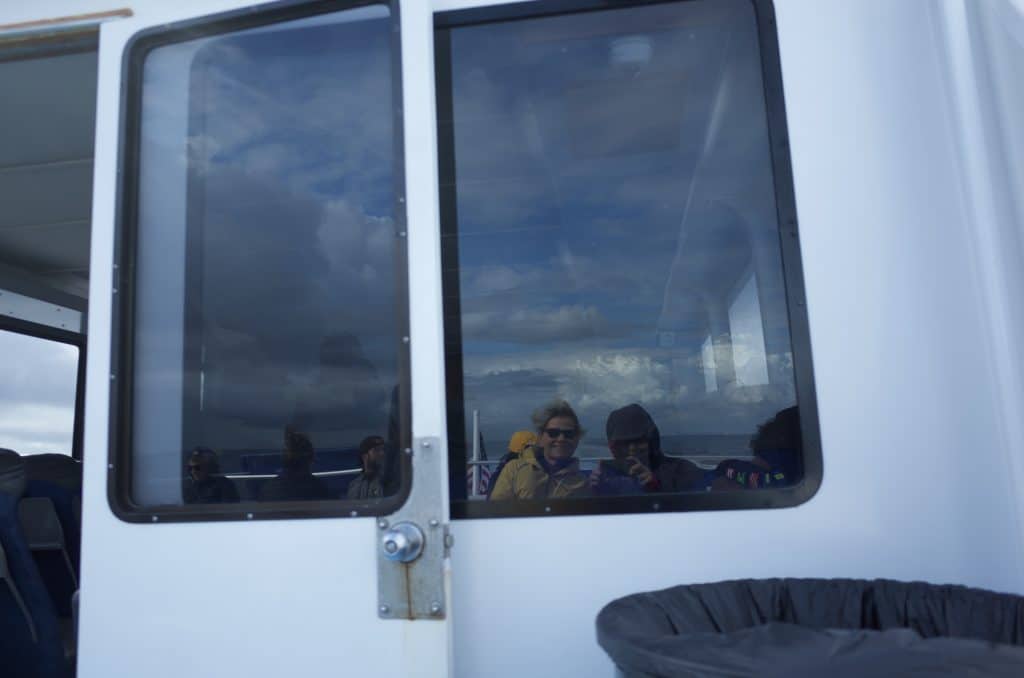 Two Harbors
We docked in Two Harbors a little late. The crew took our backpacks out of the boat and we carried them up the dock. The first stop is Two Harbors Visitor's Office and it is right at the end of the pier. This is where you check-in for camping reservations. Your reservation is also your hiking permit.
Wood & Water
We had called ahead and preordered wood & water, so this is where we picked up our locker keys. The fee is $20 for one bundle of wood, a fire starter and 2.5 gallons of water. Thankfully they drive over to Parsons Landing once a day and leave the wood and water in a locker. We were staying 2 nights so we ordered 3 locker keys because we wanted the extra firewood. There is not a water source at Parsons Landing so you will only have the water you carry in or purchase in the lockers.
Lunch
Our next stop West End Galley for some lunch. After we checked in with the Visitor's Office it was still sprinkling luckily The West End Galley was open. They serve drinks and have a small menu. They seem to be open around the time the boats arrive and dock. We order coffee and lunch and sat inside and tried to unthaw from our boat trip.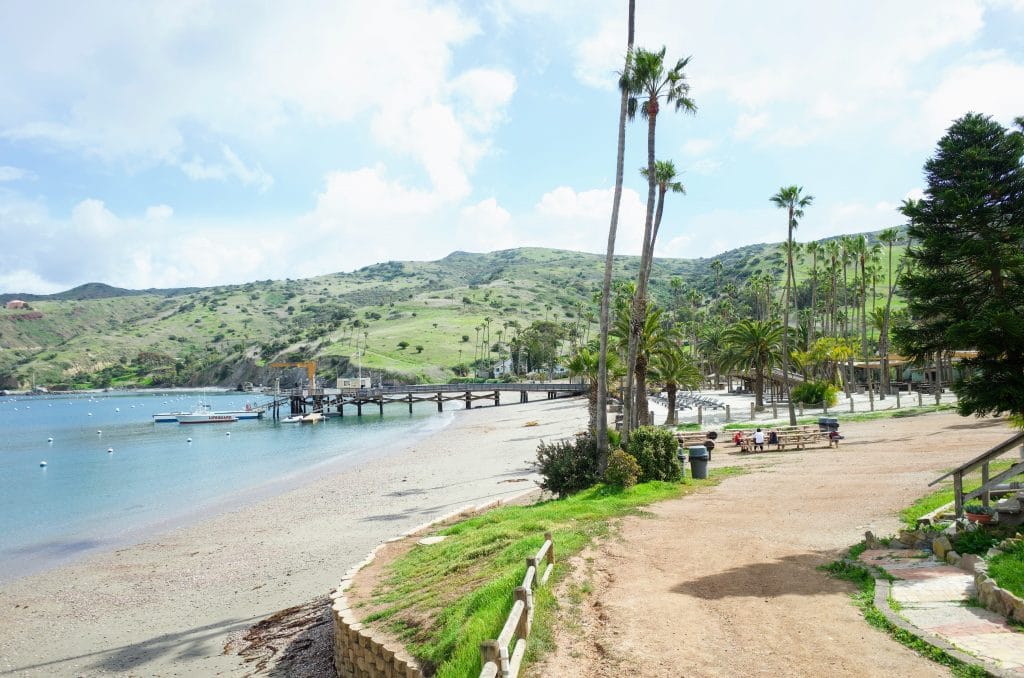 Hiking to Parsons Landing
The hike from Two Harbors to Parsons Landing is about 7 1/2 miles. When we were done with lunch it had stopped raining and the sun was out. We set off on the trail around 12:30 p.m. The trail is basically a fire road, but it hugs the coast so you are in for million-dollar views most of the way. The water is so clear that we could see the bottom. We passed two Boy Scout camps and one private camp along the way.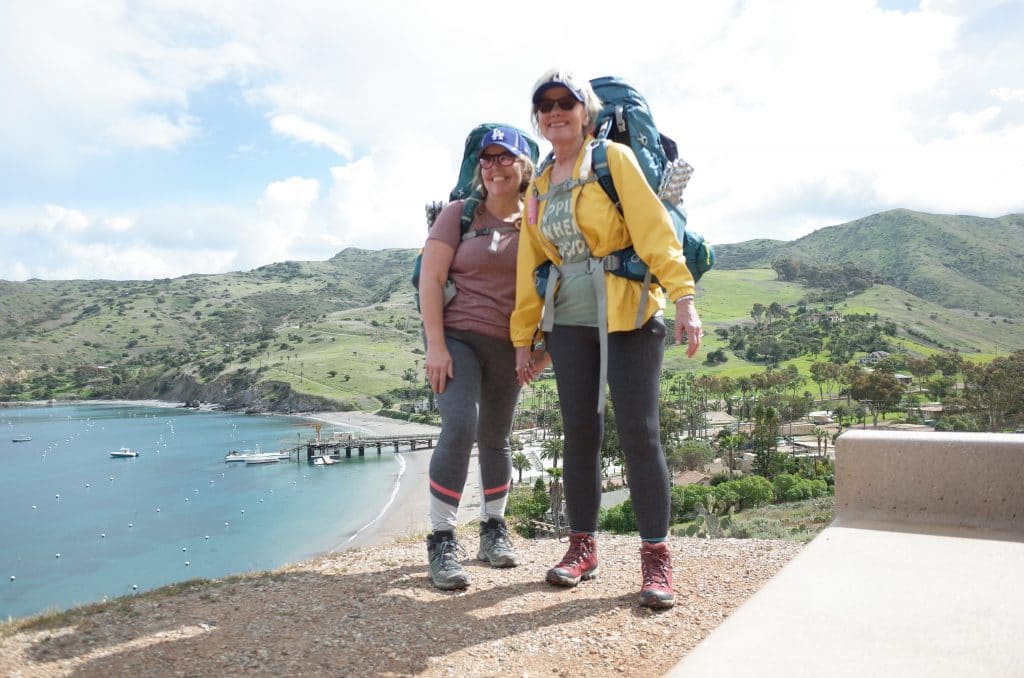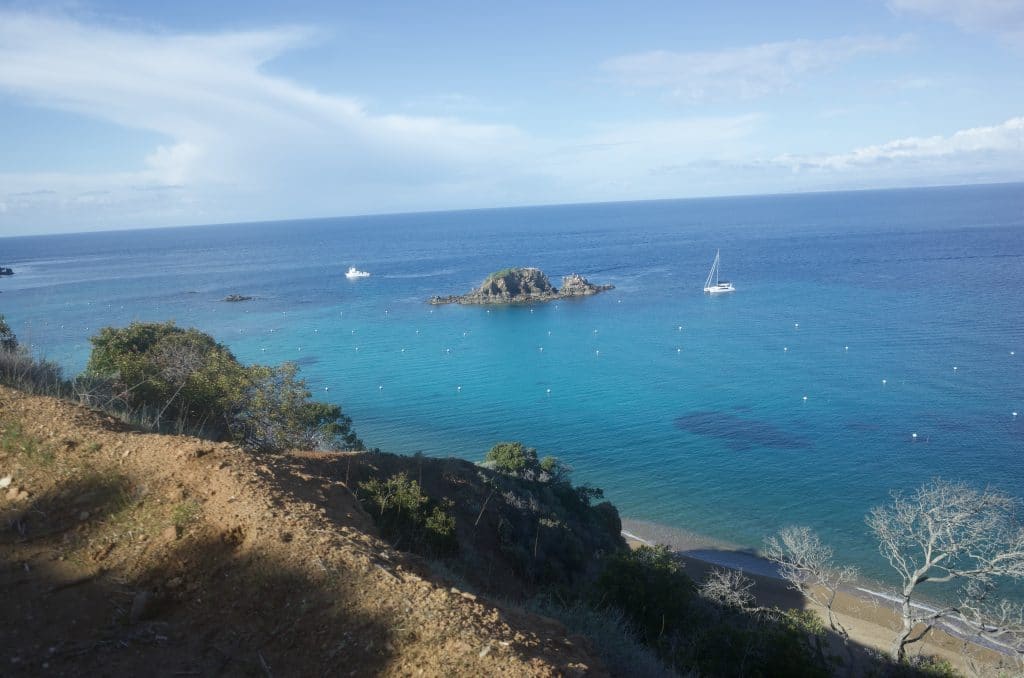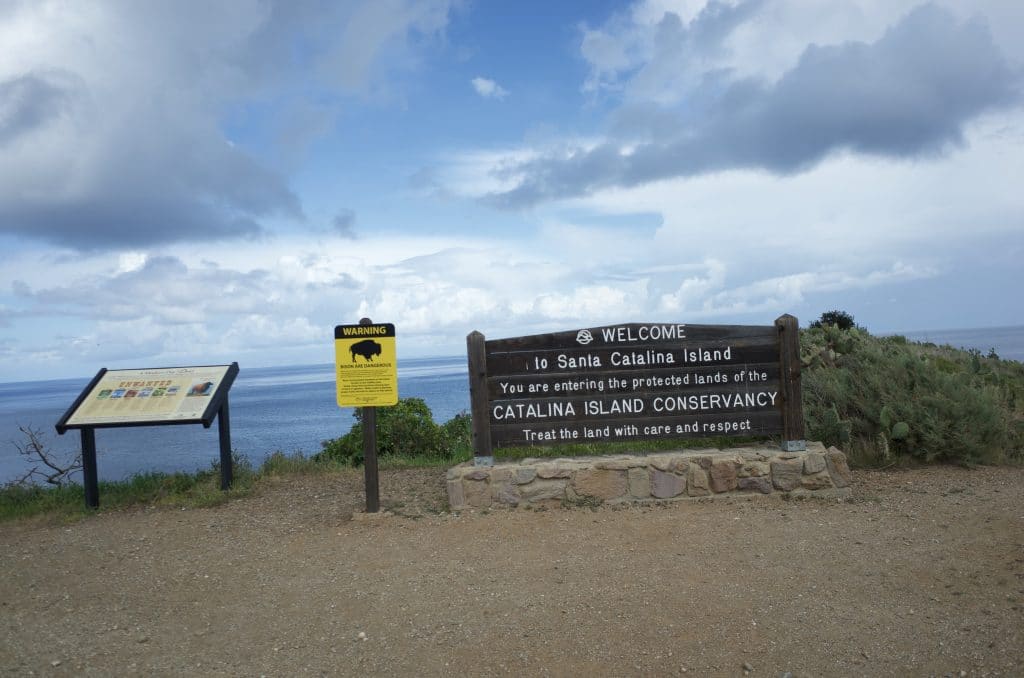 Parsons Landing
It took us about 3 1/2 hours to hike to Parsons Landing. We stopped a lot to take pictures and adjust our boots and backpacks. We didn't weigh our packs this time, but I'm guessing they weighed about 30 pounds and this was our first time out with them this season. Somehow the first mile is always the hardest until I get used to carrying that heavy pack. The last mile of the trail was up and down hills so we were happy to finally see the sign and know we were almost to camp.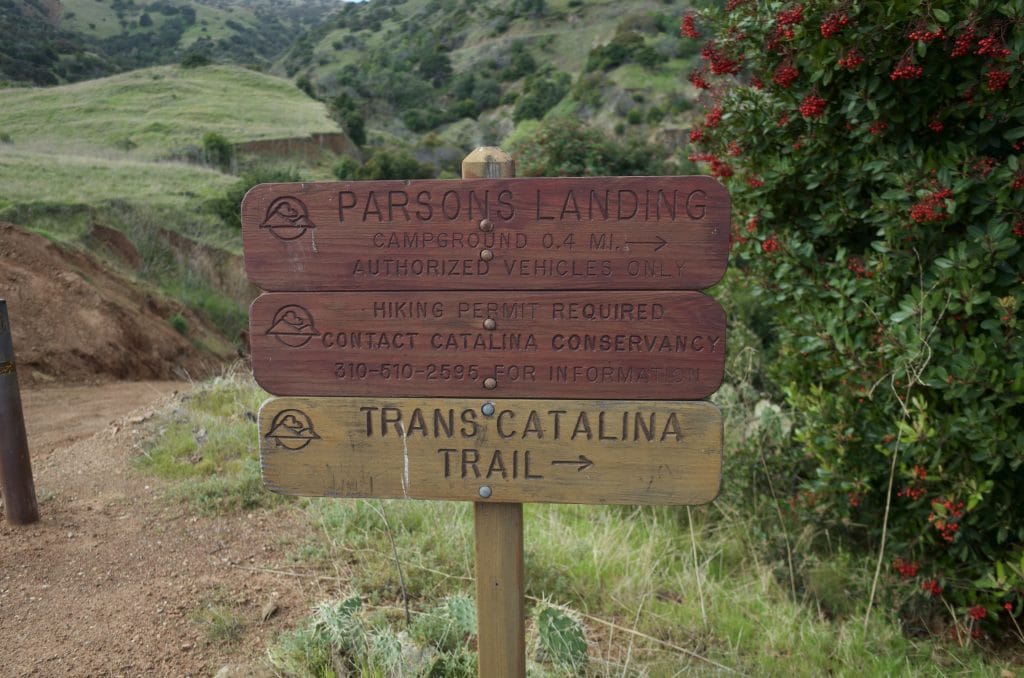 8 Beach Front Campsites
There are only 8 sites at Parsons Landing. Site one is the most secluded, but it is mostly rocks instead of sand. Camp site 8 is on the opposite end and gives you a little more privacy, but you still have an amazing view.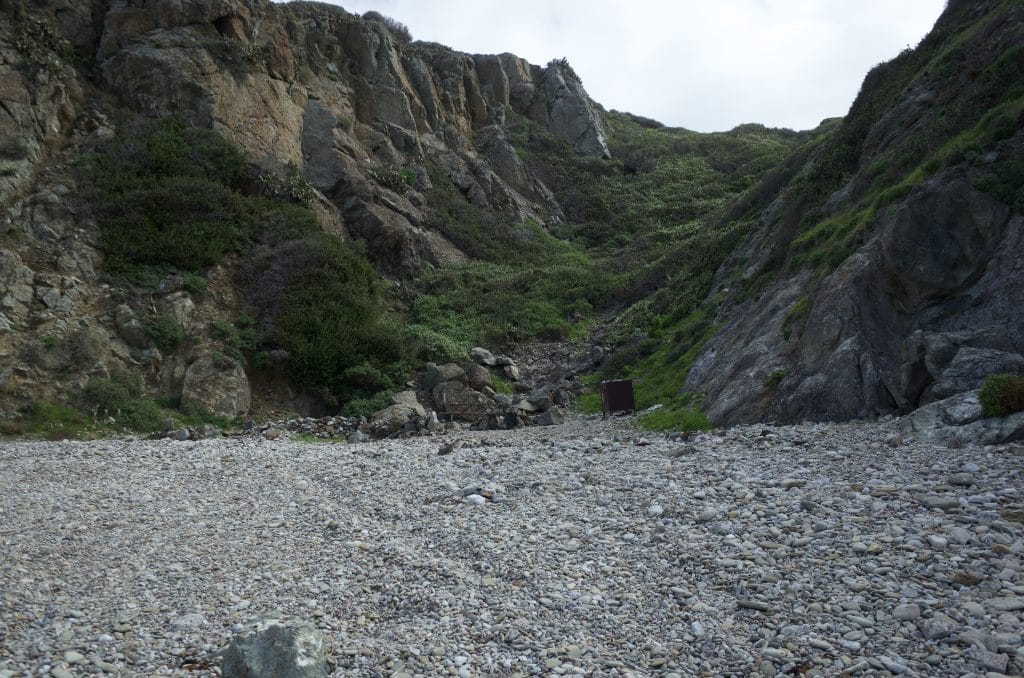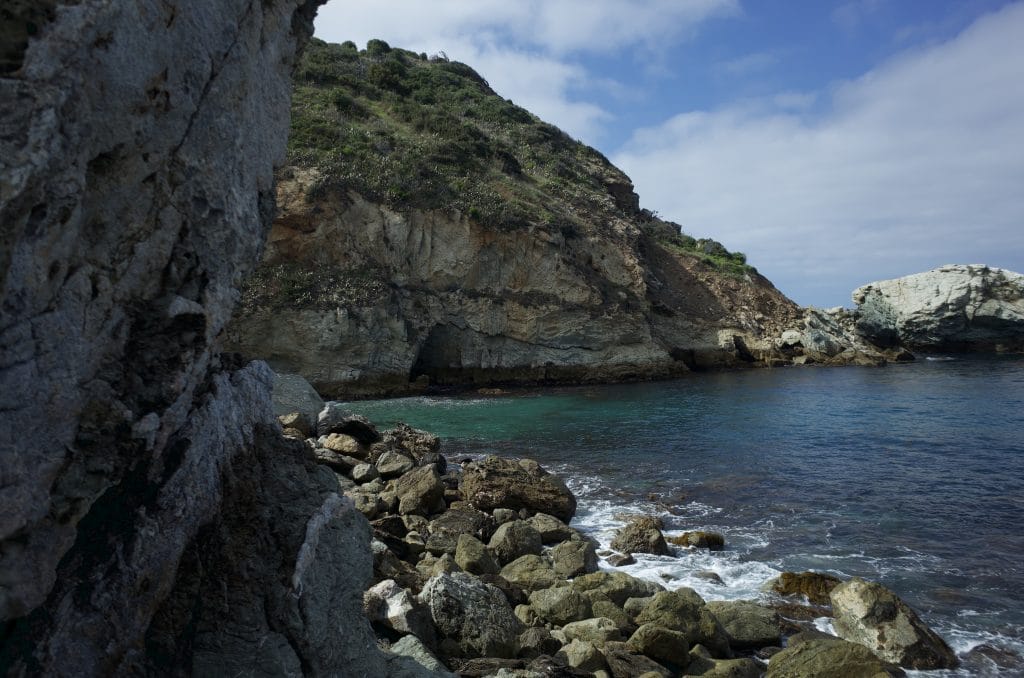 Campsite #7
We had site number 7 and we liked it. There was room for two tents and someone had already made the windbreaks out of rocks. There is a fire pit with a windbreak, a picnic table, and a critter locker. We set up our tents. Sally cooked her dinner. I couldn't eat because my stomach was still upset from the boat. At dusk, Sally made a fire and I made Hot Toddies. We sat on rocks inside the windbreak and enjoyed our warm drinks and the fire. We climbed into our tents by 8 p.m. to read and get warm. During the night the wind blew so hard that I thought my tent was going to take flight.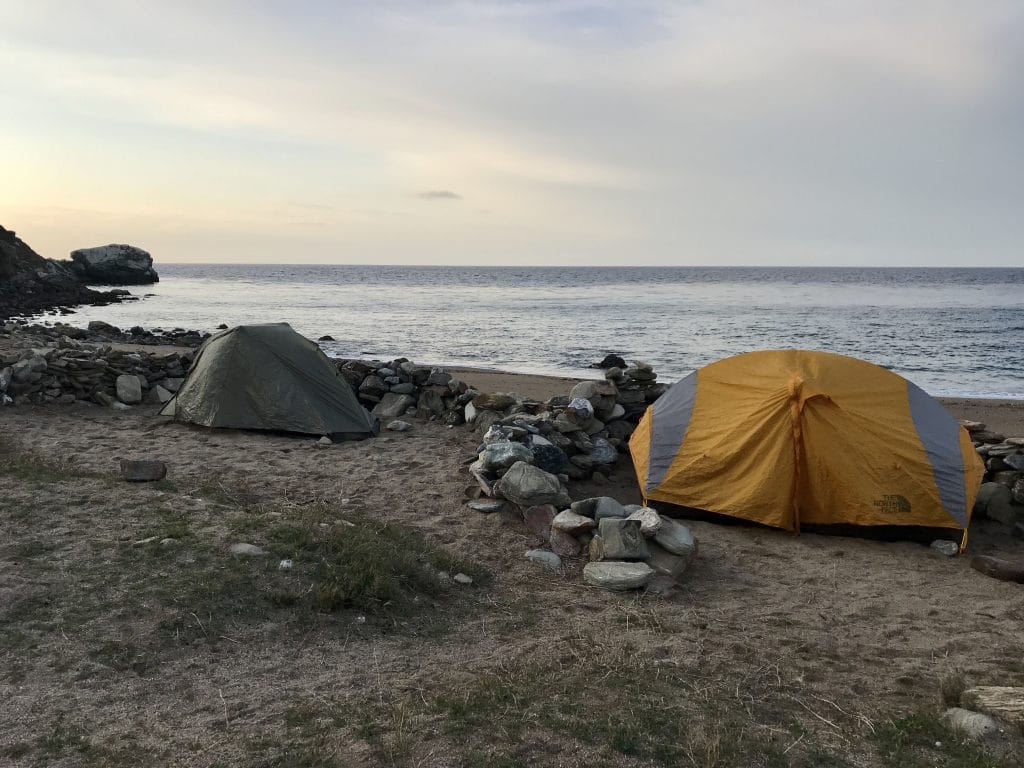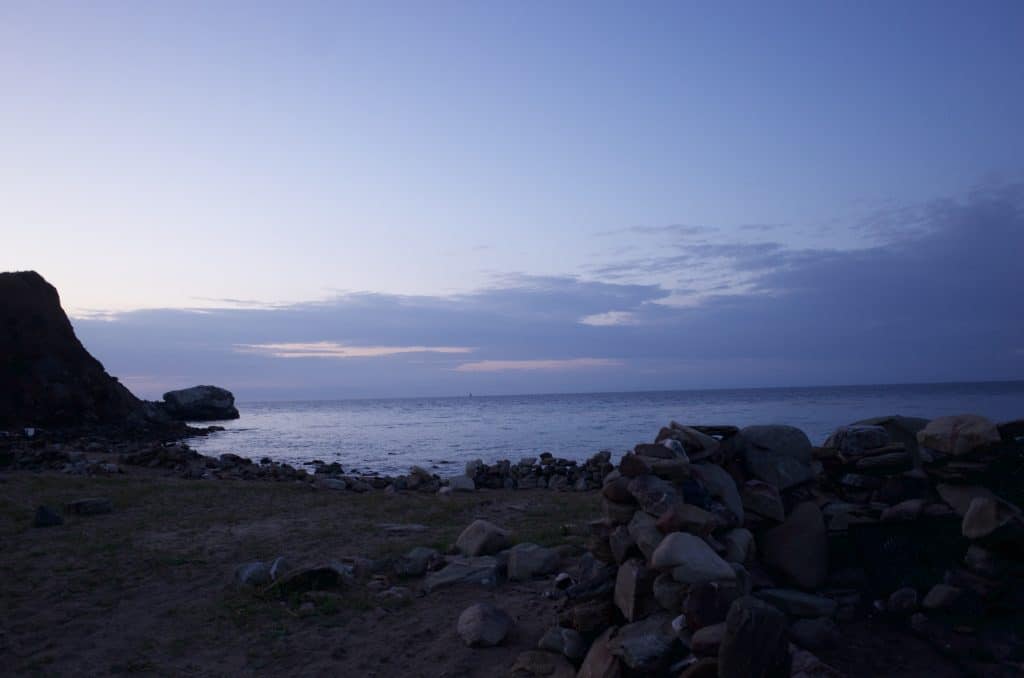 Sunday at Parsons Landing
When we woke Sunday it was a beautiful morning. As we were drinking coffee and making breakfast we spotted some whales offshore. Breakfast with a view. We also watched a Bald Eagle fish in the ocean and a seal kept popping his head up to see if the beach was vacant yet.
Hiking on the Trans Catalina Trail
We packed our lunches and hiked to Starlight Beach. First, we hiked back to a spring. There was a little water flowing and we heard frogs, but couldn't see them. Starlight Beach used to be the ending of the TCT it is at the Western End of Catalina. We hiked to above it but didn't go all the way down to the beach. Although we saw lots of bison tracks and some scat we never saw a bison. I saw one Island Fox run across the trail in front of us, but nothing like when I backpacked on Santa Cruz Island. We ate lunch high up on a cliff overlooking the ocean. Our hike was around 8 miles roundtrip.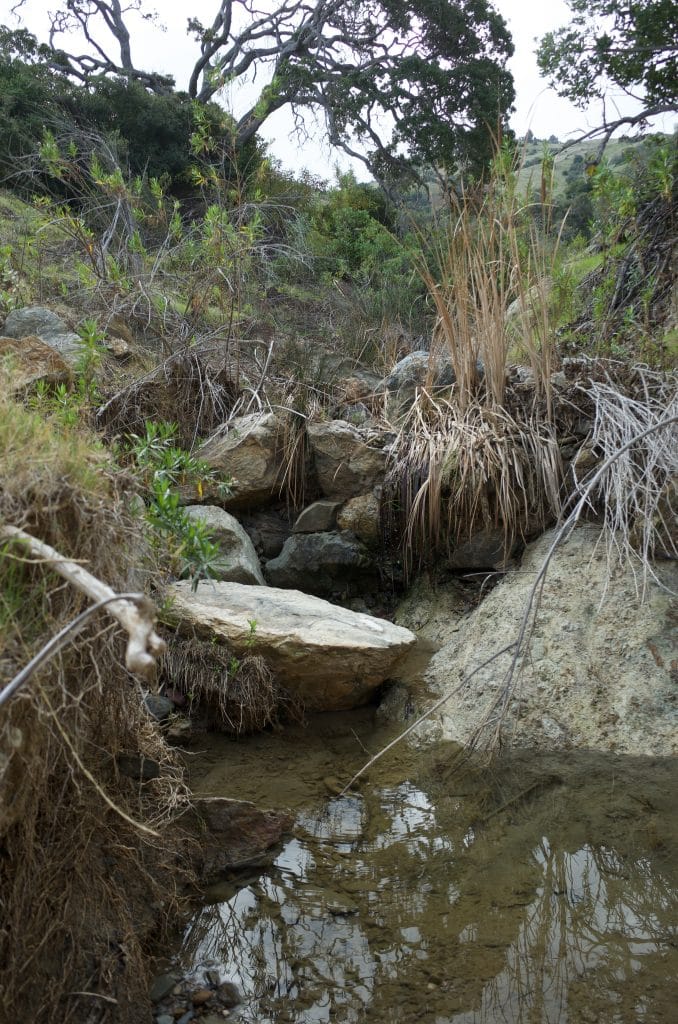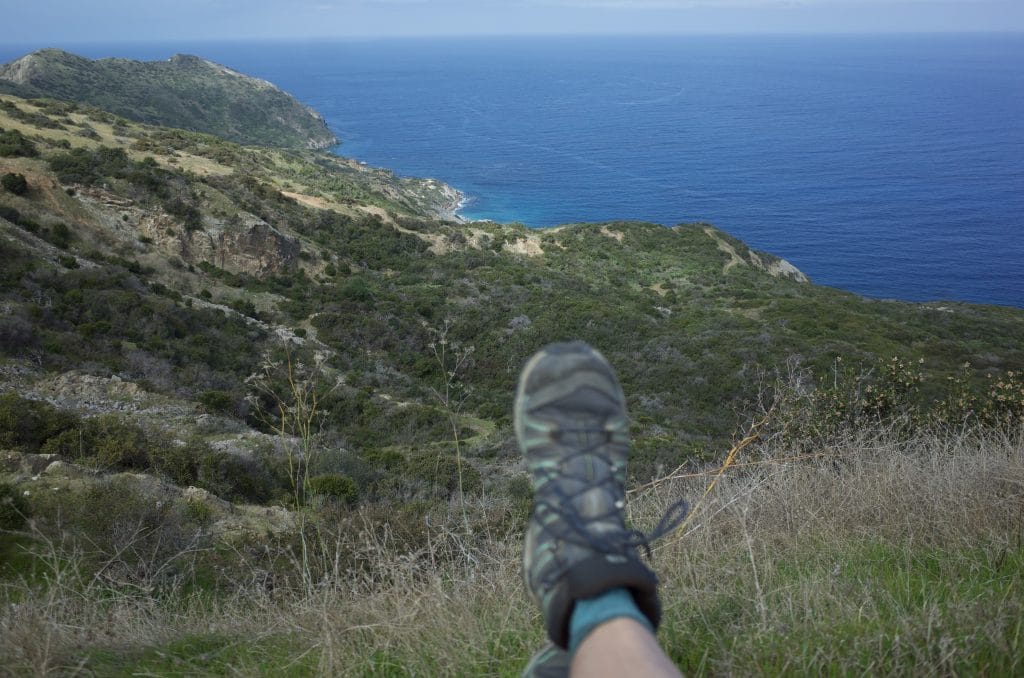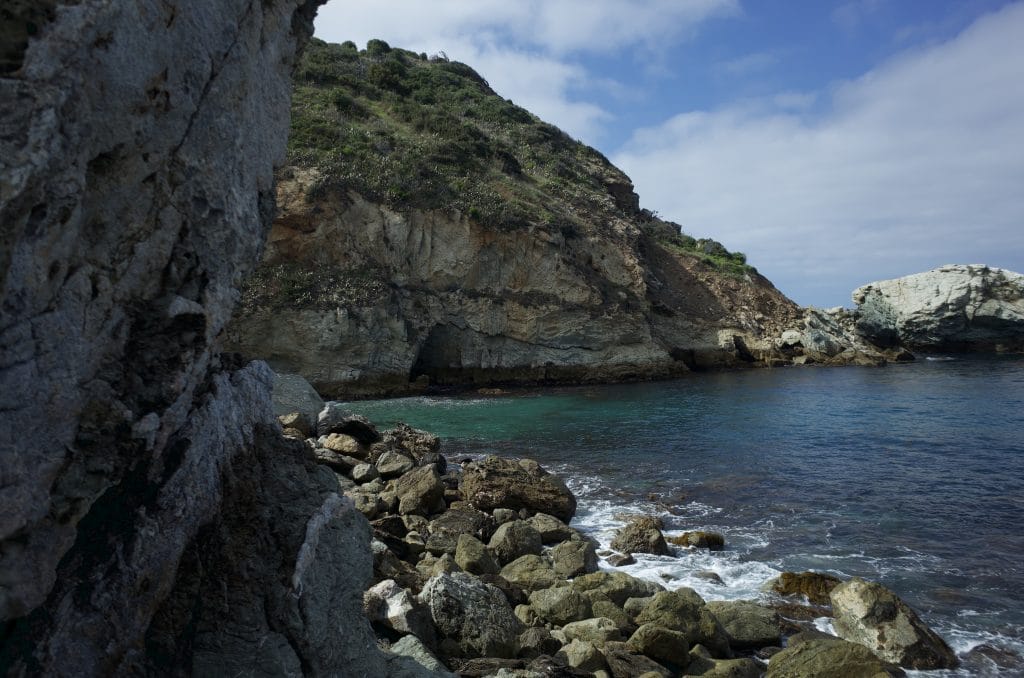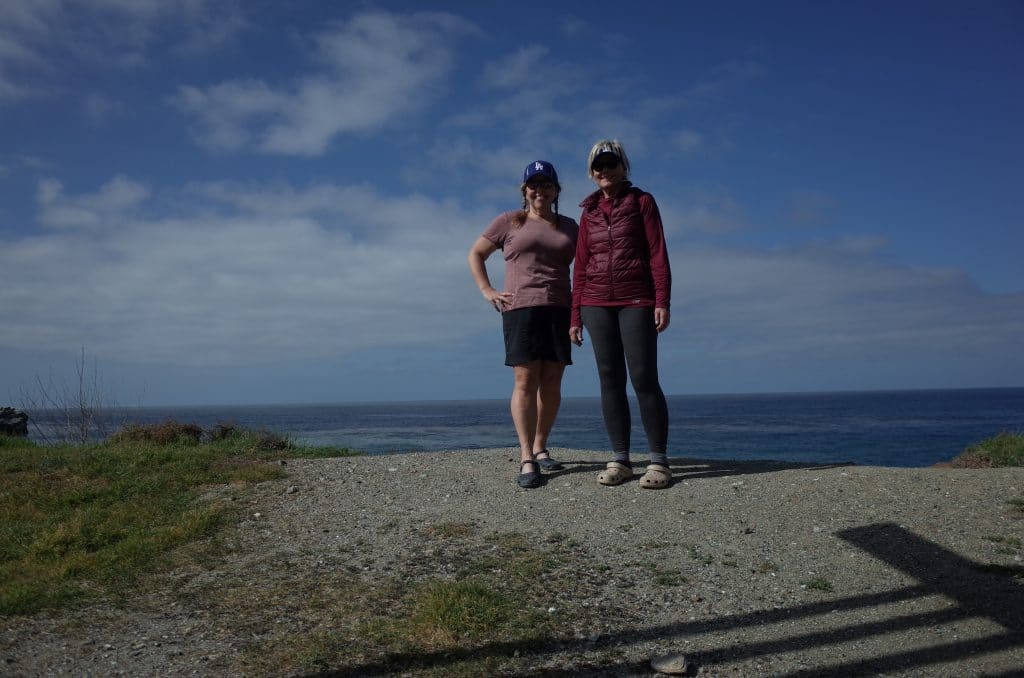 Camp Life
When we got back to camp we took off our boots and explored all the other campsites. Our favorites in order are #8, #7 & 2. I would avoid numbers 3, 4 & 5 they are lacking privacy and right in the middle of the pathways. If you look closely you can find amethyst on the beach. I found two great pieces and debated about bringing them home because I didn't want to add any extra weight to my backpack. Sunday we had extra time to lounge around, read and look at the scenery. For dinner, I made mushroom risotto and watched the lobster fisherman set up his traps in our cove. Sally made another fire and I made more Hot Toddys. We sat out by the fire and watched the lobster guy check his traps in the dark.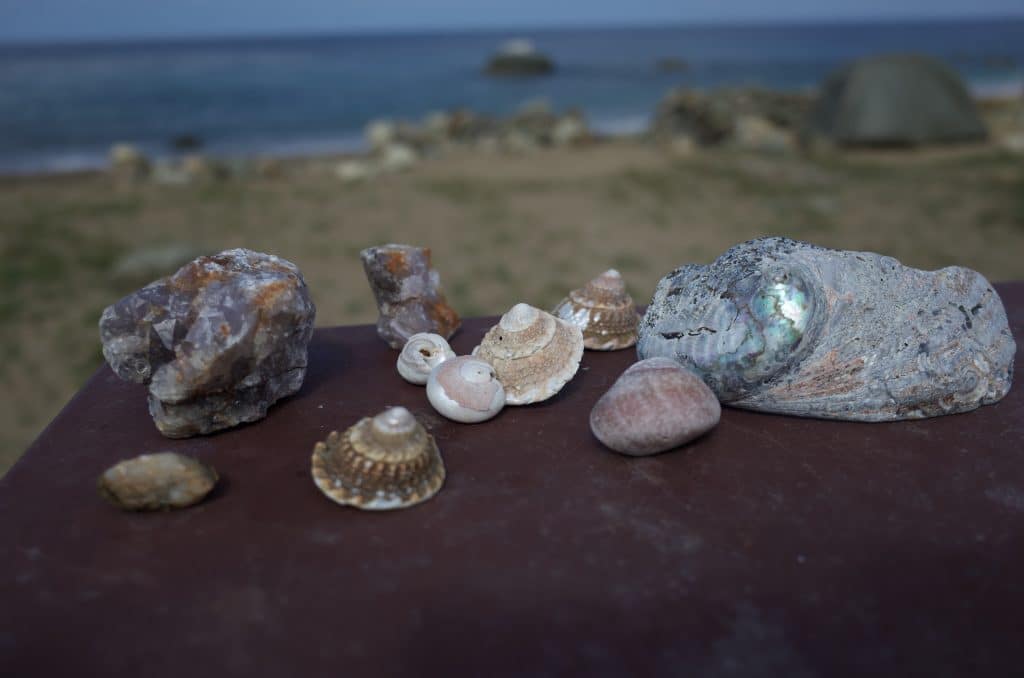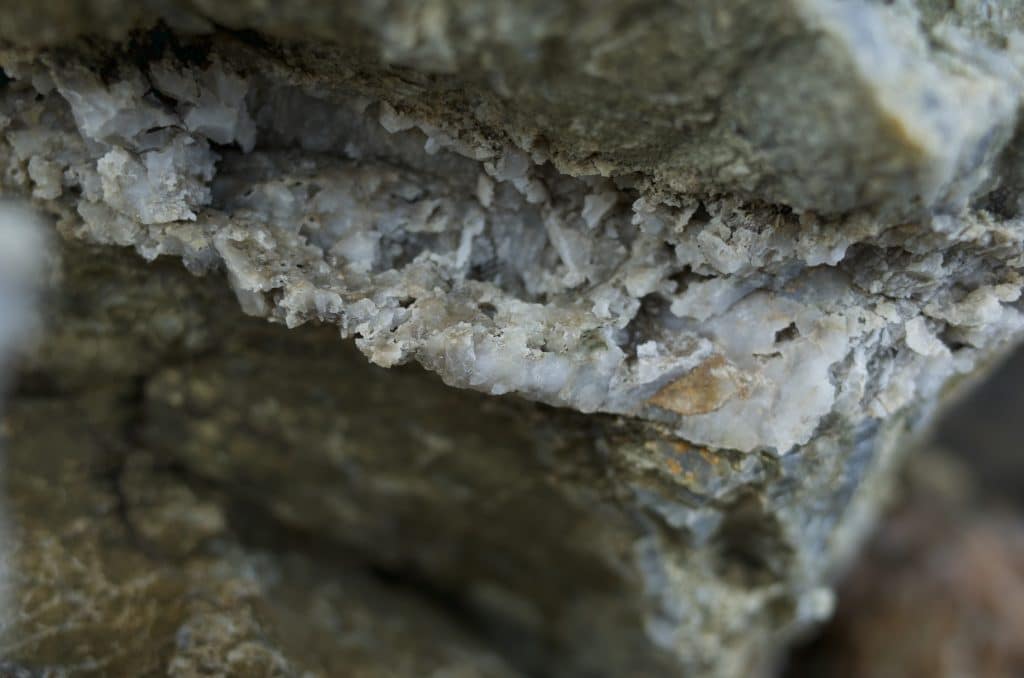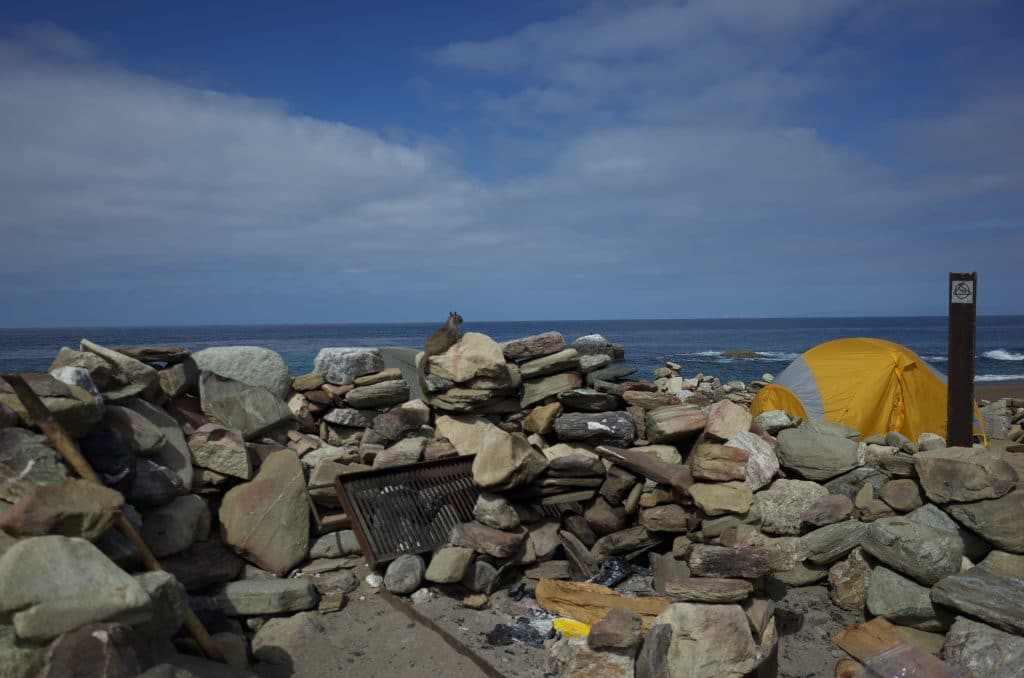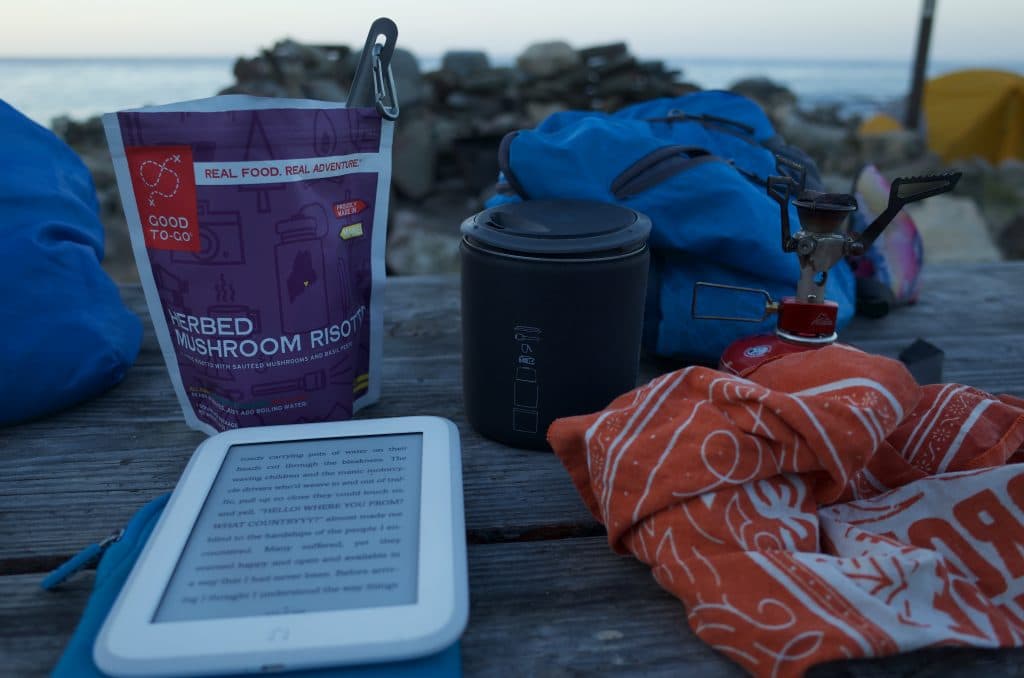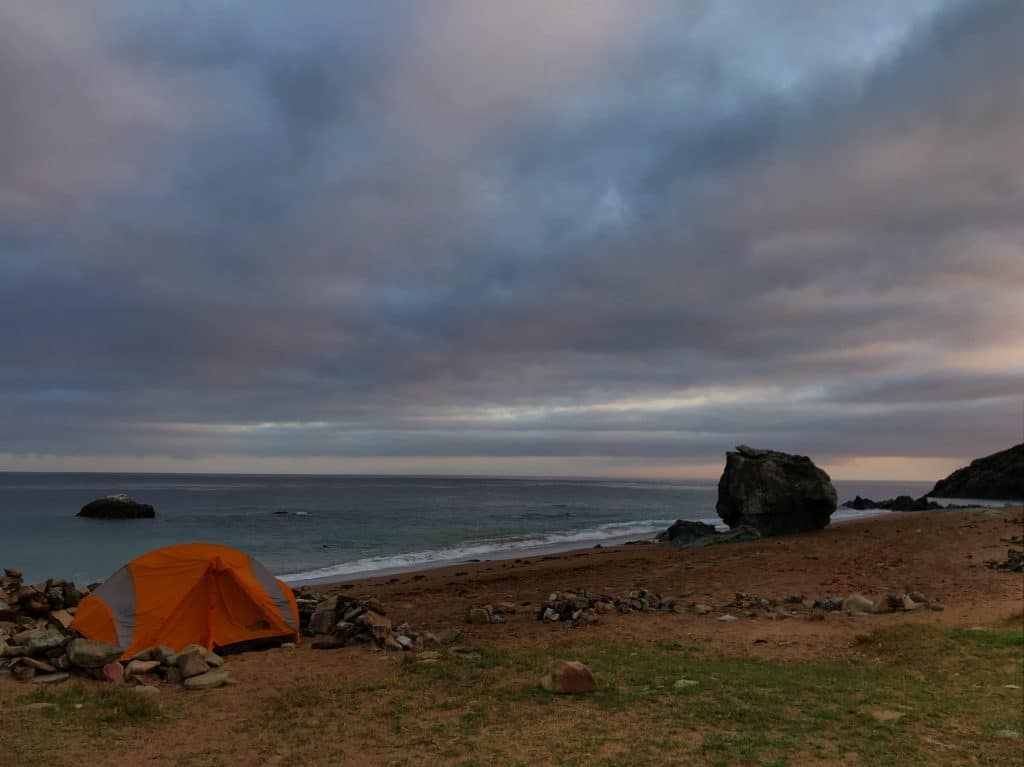 Hiking Back to Two Harbors
Monday morning we took our time packing up camp. There are two boats that leave Two Harbors for San Pedro. The first boat is at 11:30 a.m. and the last boat is at 4:30 p.m. Instead of rushing and trying to make the earlier boat we took our time and opted for the 4:30 p.m. boat. When our backpacks were all loaded we started the trek back to Two Harbors. Keep in mind that there is little to no shade on the road back. The day we hiked back was only in the '60s but we were in full sun and we got hot. Both Sally and I ended up with blisters and we think it was a combination of the heavy packs and our feet being hot in our boots. We stopped often and enjoyed the views along the way.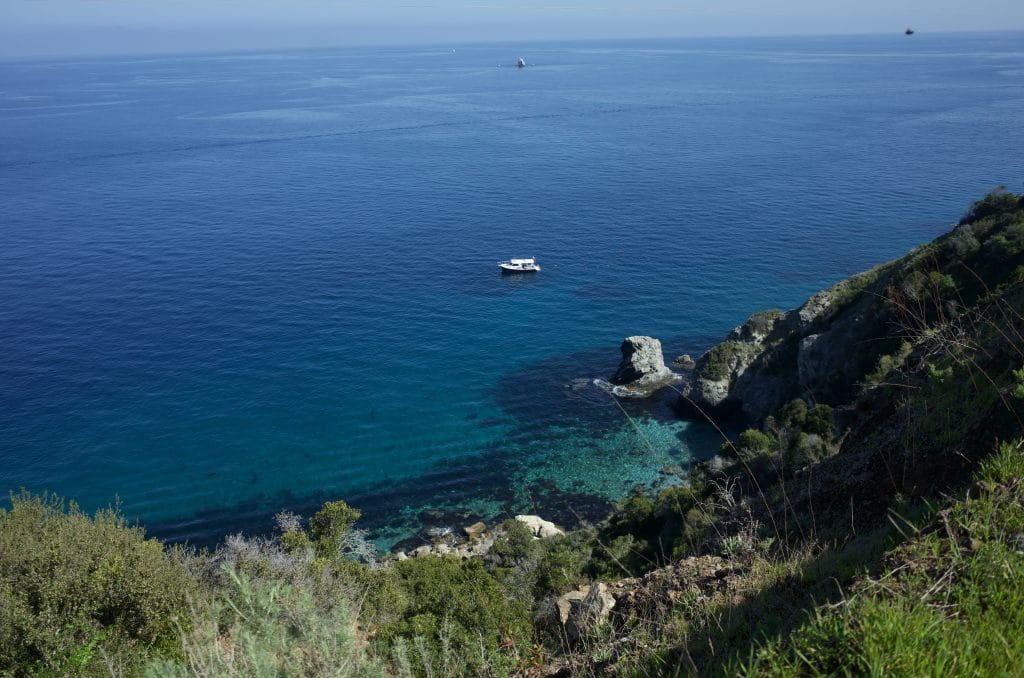 Back at Two Harbors
We arrived back at Two Harbors around 12:30 p.m. After peeling off our backpacks we went into the general store and ordered a pizza and bought some beers. The store will make either a large cheese or pepperoni pizza for $20. It comes out piping out in about 25 minutes.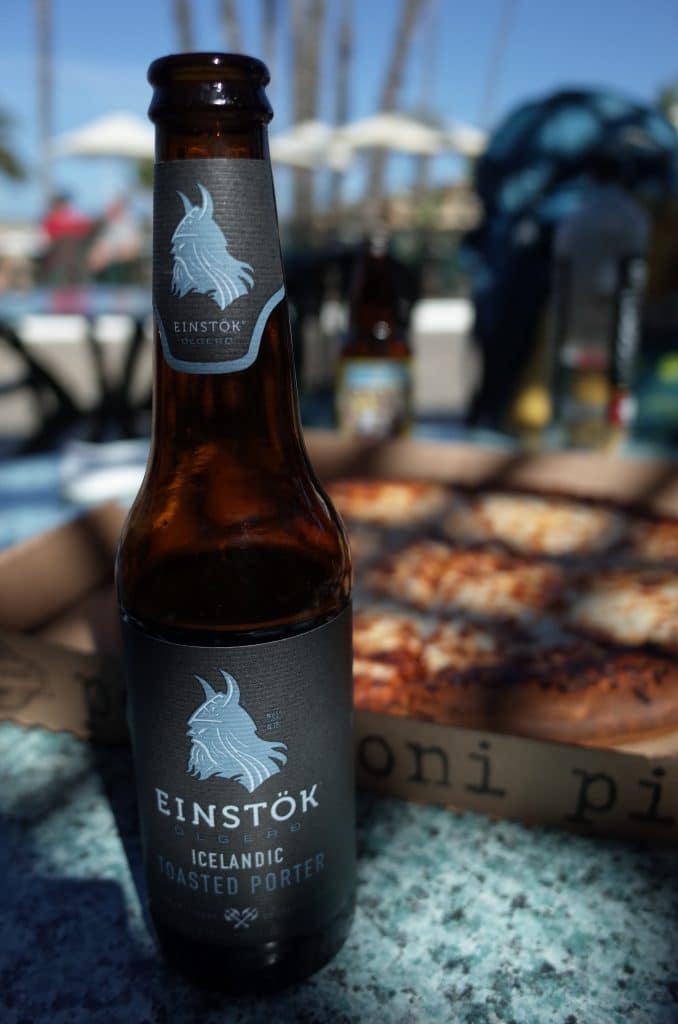 Harbor Sands
After we were done eating we asked someone in the restaurant if we could take a nap on the lounge chairs on the beach and because it was a Monday and not in season yet they were happy to let us lounge. They even suggested we hang out in the cabana on the beach so we wouldn't get too much sun. We spent a couple of hours lounging and it was heaven.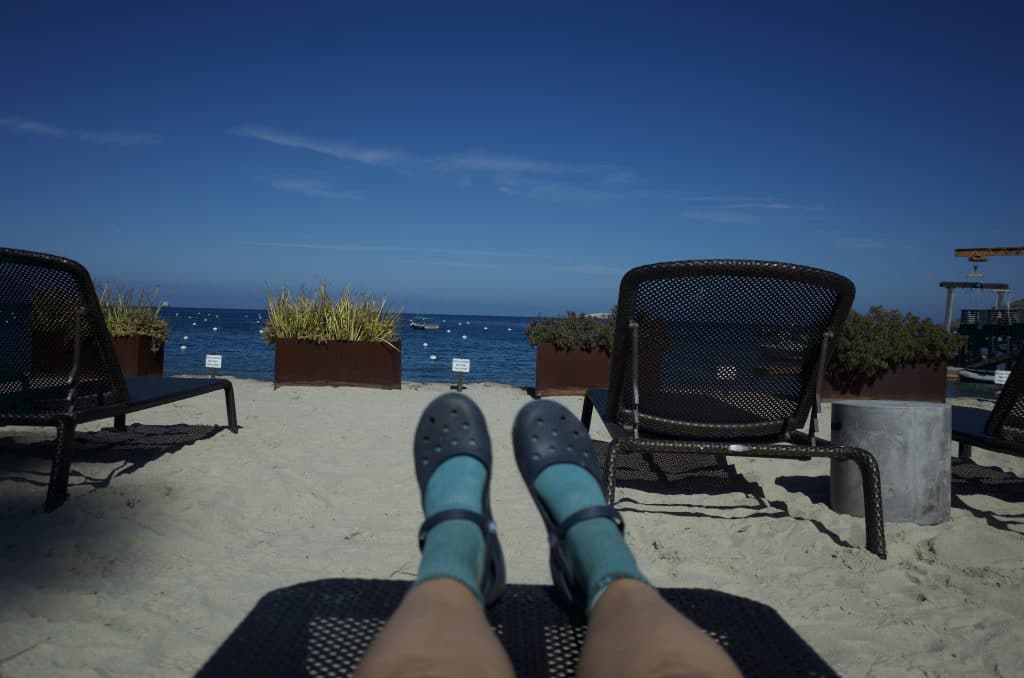 Ravens
Before we arrived on the island we had been warned about protecting our gear from the ravens. While we were lounging we looked over and saw a raven unzipping someone's unattended backpack. While I was walking over to shoo it away it stole their bag of chips and poked a hole in it. I put their chips in their cooler, but later Sally had to go over and coverup their backpack because the raven was trying to take stuff out of it again.
Buffalo Milk
Buffalo Milk is the name of the most popular cocktail on Catalina Island. The Harbor Reef Restaurant opens at 3:00 p.m. so when it opened we went inside to try a drink. The bartender made us our cocktails in plastic cups so we could take them back out to our lounge chairs on the beach. Buffalo Milk is made with the following:
1/2 shot of Creme de Cocoa, Kahlua, & Creme de Banana
One shot of vodka
Half & Half
It is then topped with whipped cream and nutmeg. Buffalo Milk is delicious it tastes like an adult milkshake.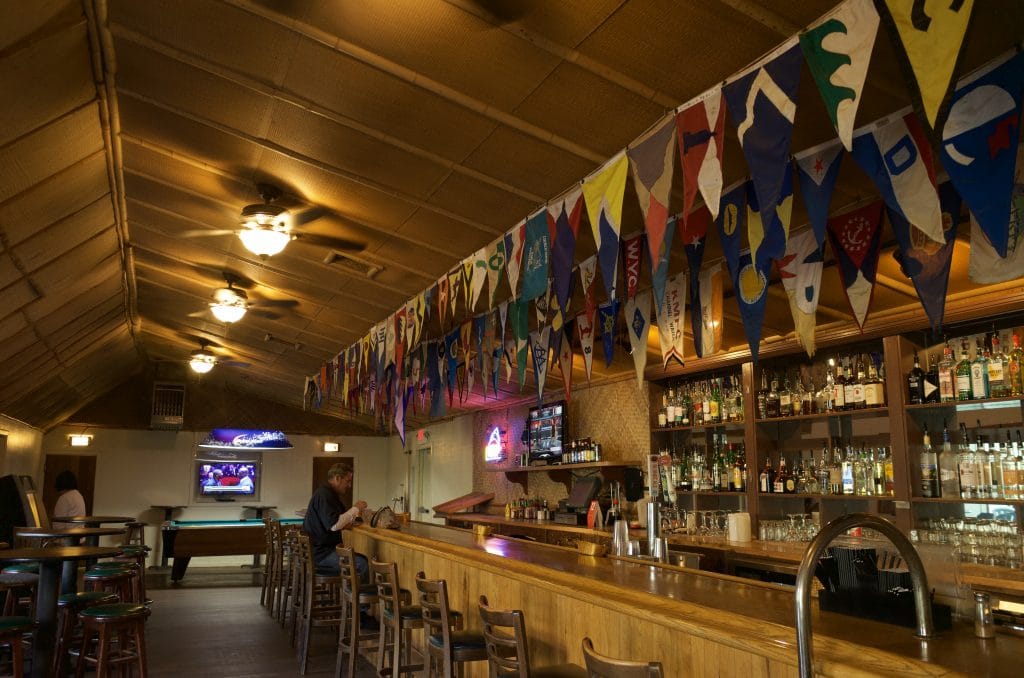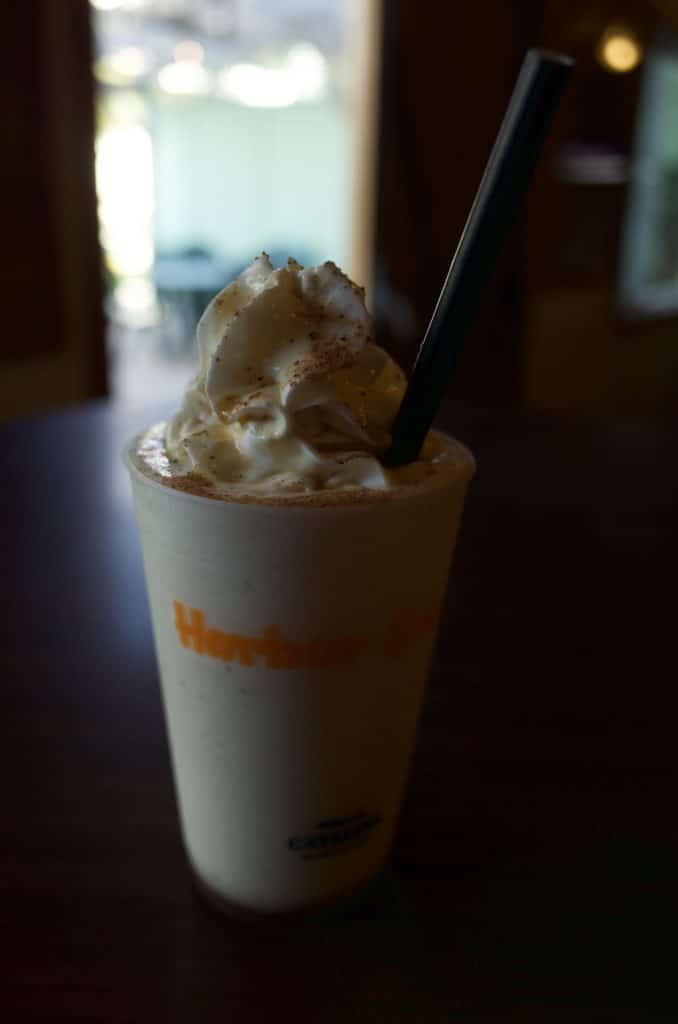 Back to San Pedro
We boarded the 4:30 boat and we were sad to find out that the boat goes to Avalon and then San Pedro. It took us 2 hours to get back to San Pedro and then 1 1/2 hours to get back home. I dropped Sally off at her house and came home and went straight into the shower and then bed. We had a great trip!