When visiting Paris it is easy to get caught up in the feeling that you have to rush around and see everything. You can not visit Paris without waiting 3 hours to go to the top of the Eiffel Tower, right? Wrong, although I did wait a long time even with prepurchased tickets to go to the top of the Eifel Tower my favorite memories are of the little things that Nicole and did that did not involve long lines or huge crowds. Picnicking on the Siene and at Luxingburg Gardens were the perfect Parsian experince.
Our first full day in Paris we took a food tour in the Montremarte area. Our tour guide was fun and knowledgeable. On our tour we walked around Montremarte collecting items for a large feast that we eventually ate in the wine cellar of their building. Along the way we learned how to pick out chocolates, cheese, meats, bread and wine. We used Secret Food Tour and I highly recommend them. We tasted things we might not have found on our own (like the truffle chesse that I'm still dreaming about) and we had a enjoyable family stlye meal with wine and lively conversation.
The next day with our new found knowledge from the food tour we decided to collect items and have a picnic on the banks of the Seine looking at Notre Dame. I brought a small packable blanket with me from the United States just for such an occasion.
Butter, Butter, Oh Salted French Butter….
We learned on the food tour that most Parisians buy their butter from the local cheese shop. The magic occurs from the addition of the salt crystals. Parisians use butter in recipes for both savory and sweet dishes. They also use it for slathering onto bread.
French butter with salt crystals is delicious. I never appreciated butter until I visited Paris. Our first morning in Paris we walked up the street to the neighborhood bakery. We went inside and the sweetest guy took our order. Our French was rusty and he did not speak English, but we were able to order two croissants. The first bite was pure heaven, light and flaky and we could taste the butter. We stopped in every morning that we were in Paris and tried all of their different croissants and pastries. He became one of our favorite people we encountered in Paris.
Bread is baked fresh every morning. Ask any Parisianer and they will tell you their favorite boulangerie to buy a fresh baguette. We bought two baguettes. One traditional and one La Rustique. The La Rustique has multiple seeds and grains mixed in and is darker than the tradional baguette.
We of course had to buy some salted butter to slather on our baguette and we also bought some spreadable cheese. It was good, but it did not come close to the truffle cheese we had on our food tour.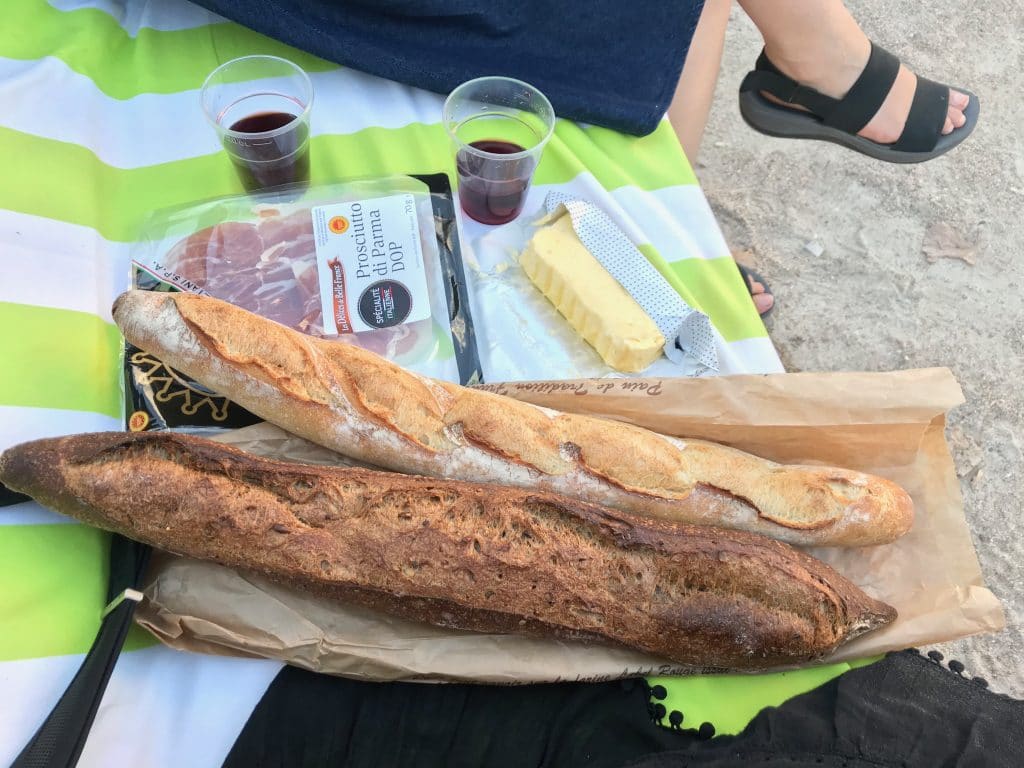 Farmer's Market
We passed by a farmers market. We bought a basket of strawberries. They were so sweet and ripe that the bees were hovering above the fruit like a cloud. I am allergic to bees so I had to stand back and have Nicole pick out and purchase our berries.
Boucher
We stopped by the boucher and bought some sliced prosciutto. We figured that would be okay to carry around in our bag without being refridgerated.
Wine & Utensils
In Paris like in the United States there are little convience stores mixed inbetween the adorable shops. We stop at a Franprix. They sell a little bit of everything. We picked out a bottle of wine. We did not have a wine opener with us. I asked the lady at the register if she could open our wine and she did without a problem. I was also able to purchase from her plastic utensils and two plastic cups. The price was equivalent of 10 cents each. I have heard that you can also ask waiters on the sidewalk to open your wine for you. There is not a law about drinking in public in Paris.
The Ultimate Picnic Locations
Our first day of picnicking was on the banks of the Seine overlooking Notre Dame. We spread out our blanket and sat down with our legs hanging over the edge of the wall. We watched the passing boats. We had multiple conversations with people in our broken French. People were either strolling by or having pinics or cocktails along the banks as well.
Another evening we had a picnic in front of Notre Dame. We had everything spread out and we were enjoying our wine when a one eyed rat jumped out of the bushes and tried to ambush us. He was too much for us and we had to pack up and relocate.
Our last night in Paris we had a picnic in Luxemburg Gardens and it was beautiful. We were sitting in chairs looking at the garden and the fountain. We watched a man wrangle his ponies from the pony ride and countless couples on dates. We had been at Versaille the day before and this was 1,000 times more peaceful and it was so pretty. I'm sure we would have stayed in the gardens longer, but at sunset guards came around and rounded everybody up. The garden is closed at night. This was the perfect way to end our trip to Paris. I am so glad that we took the time to do the small things in Paris, because those are the memories I am going to cherish.